Qualcomm's midrange processor series hasn't received the best reception in recent years, as several brands have opted for previous-generation flagship processors over the midrange ones. Now, in an effort to address this issue, Qualcomm has announced the new Snapdragon 7 Gen 3 processor, focusing primarily on-device AI features. Here's everything you need to know.
Performance
Manufactured by TSMC with 4nm technology, the 7 Gen 3 chip includes one Prime core clocked at 2.6GHz, three performance cores at 2.4GHz, and four efficiency cores at 1.8 GHz. This translates to about a 15% performance and 20% efficiency increase compared to the 7 Gen 1, as stated by Qualcomm.
When talking about the performance, Christopher Patrick, the senior vice president and general manager of Qualcomm Technologies' mobile phone business, highlighted that their goal is to balance performance and energy efficiency, allowing a broader range of consumers to access high-end experiences previously limited to top-tier devices.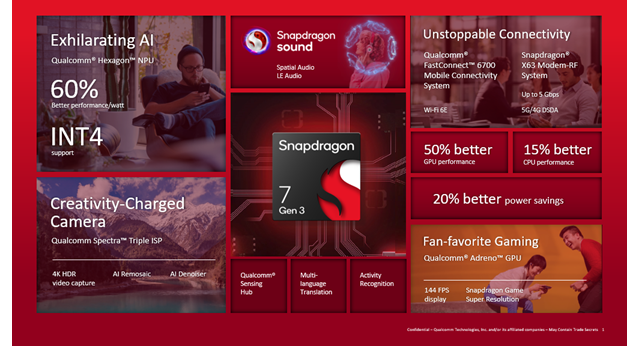 Emphasis on AI
Artificial Intelligence has been the biggest talking point of 2023, with all major companies incorporating the technology into their devices. For example, Google, with its Pixel 8 series, introduced a range of AI features, including image editing options, allowing users to select different faces for group photos or enhance video quality using AI. However, these capabilities were made possible by Google's proprietary Tensor chip.
Therefore, to bring these features to the masses, Qualcomm has improved the AI performance of the 7 Gen 3 chip by 90% while reducing power consumption by 60%. This on-device AI capability reduces reliance on cloud-based solutions, thus decreasing latency while enhancing privacy and security.
However, it is important to note that although the Snapdragon 7 Gen 3 boasts powerful generative AI capabilities, its practical implementation in smartphones will vary across manufacturers due to factors such as memory configurations and model specifications.
GPU
Perhaps the second biggest talking point in Qualcomm's presentation, the Adreno 720 GPU is a pivotal component of the Snapdragon 7 Gen 3, promising a 50% performance boost compared to its predecessor. Additionally, it supports various APIs like OpenGL ES 3.2, OpenCL 2.0 FP, and Vulkan 1.3, resulting in improved graphics rendering and a better gaming experience.
During a demo, the chip maintained an impressive 80 FPS in Aztec Ruins 1080P rounds while reducing power consumption by 20%.
Image Processing and audio
Photos and videos, in recent years, have increasingly started to rely on software, particularly image signal processing and AI. Keeping this in mind, the chipset's Spectra three ISPs enhance colour control, autofocus, and skin restoration while capturing up to 200MP photos and 4K computational HDR videos. Additionally, in terms of configurations, it supports a 21MP triple camera setup or a 32+21MP dual camera setup.
Moreover, the chip includes advancements in audio capabilities, such as spatial audio based on head tracking and clear voice and video pass-through.
Connectivity
In terms of connectivity, the chip includes the X63 5G modem with dual-SIM dual-pass-DSDA. Additionally, it also supports the Qualcomm FastConnect 6700, enabling Wi-Fi 6, Wi-Fi 6E, and Bluetooth 5.3.
When do the first phones with the 7 Gen 3 chip come out?
Although there hasn't been any major announcement from brands like Samsung, Honor has reportedly introduced its Honor 100 series, running on the 7 Gen 3 chip. The phone, initially launched in China, recently underwent Geekbench testing, scoring 1139 points in single-core and 3375 points in multi-core tests, thus giving a glimpse of the actual performance.
However, to put these numbers into perspective, the Snapdragon 7 Gen 2 Plus scored 1691 points in the single-core test and 4402 points in the multi-core test. This suggests that the chip falls between the regular 7 Gen 2 and the 7 Gen 2 Plus rather than being a direct successor to the 7 Gen 2 line.