A new Surfshark study lists the websites with the most and least trackers. Surprisingly, news websites deploy more than 100 trackers, most of which are used to show you personalized ads. The website with the least trackers is Wikipedia, accompanied by Xvideos and XNXX, both of which are porn sites.
The study compares lifestyle websites, news portals, and universities based on the trackers they deploy. Instagram, TikTok, Netflix, and FB Messenger are among the platforms with the least trackers. It shows the limitation of the study as Instagram is owned by Facebook, the second-largest player in the tracker market, after Google.
Surfshark studied 293 websites and spotted 10 trackers. These top 10 online trackers belong to companies like Adobe, Amazon, Facebook, Google, and Microsoft. A 2019 study pointed out that Google and Facebook secretly track users across porn sites as well. So I'd rather not take chances assuming fewer trackers for more privacy.
However, the number of trackers definitely shows the extent of the problem and how you're being tracked across the web.
Websites With The Most Trackers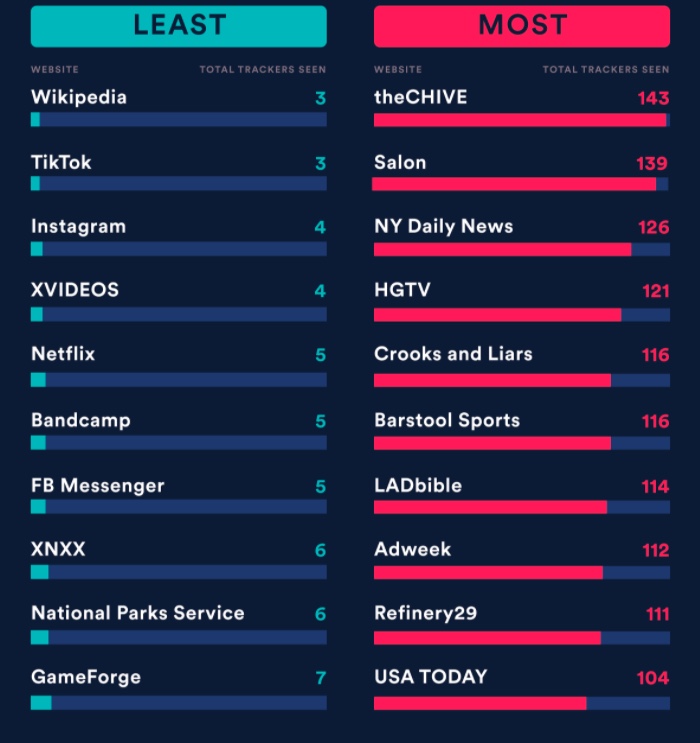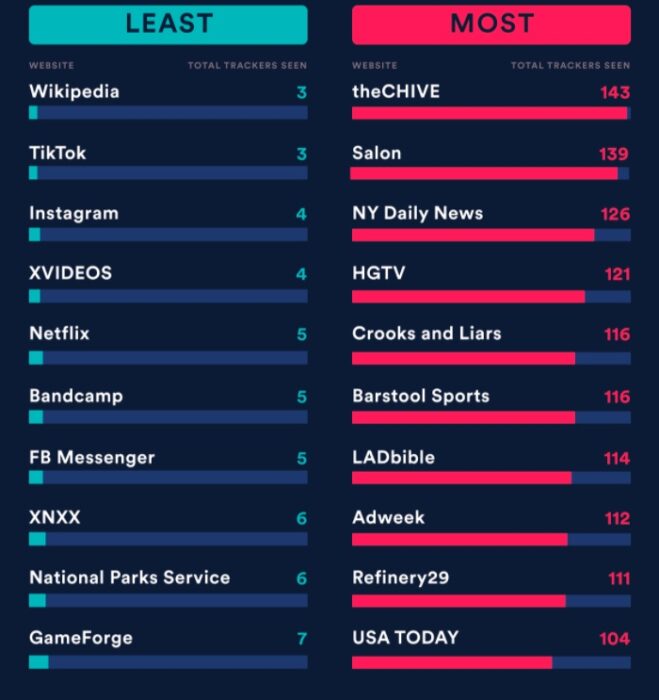 These are the websites that have the maximum trackers. theCHIVE tops the list with 143 trackers, out of which 92 are used for advertising. After this, we have news and media sites like NY Daily News (126 trackers), USA Today (104), and The Independent (83). MSN also makes it to the list with 73 trackers.
Going further, the list mentions OkCupid, which has 26 trackers. While that's not as much as the news sites above, it is more than double its alternative, eharmony (12 trackers).
Websites With Least Trackers
While these are sites that have the least number of trackers, that doesn't make them privacy-loving sites. For instance, Instagram and FB Messenger have the least number of trackers but they're by far the least private platforms.
However, the websites with the least trackers include Wikipedia (3 trackers), TikTok (3), Instagram (4), XVIDEOS (4), and Netflix (5). FB Messenger and XNXX (a port site), also make it to the list with 5 and 6 trackers respectively.
Surfshark's study also says that music and science-related websites are the ones with the least trackers. It says that lifestyle sites like theChive and LADBible average at 63 trackers per site. On the other hand, music and science-related sites like Space.com and Psychology Today have an average of 33 trackers.
Bottom line is that research-oriented websites use fewer trackers, and lifestyle sites use the most. You can check out the full list of sites with most and least trackers here. While companies are actively disabling cookies and cross-platform tracking, these websites remain an issue for user privacy.
You can use a VPN or any privacy-focused browser like Vivaldi, DuckDuckGo, and Brave to reduce being tracked.