When it comes to Multiplayer games, the battle royale genre seems like an undying trend. For instance, millions of players are still crazy about PUBG, Warzone, and Apex Legends. However, players are feeling more reluctant when it comes to new battle royale games.
Now, in the middle of all this comes Spellbreak, a free-to-play battle royale game developed and published by Proletariat. Contrary to popular belief that new battle royale games don't stand a chance against mammoth titles like PUBG or Warzone, Spellbreak seems to be doing pretty well.
Interestingly, the multiplayer spellcasting game managed to grab more than 5 million players in less than a month. However, if you're someone who just heard of this game and wondering if it's worth your time, then go ahead and read our entire Spellbreak review.
Is Spellbreak Worth Playing?
If you're looking for a short Spellbreak Review to figure out if it's worth your time, then YES, Spellbreak is definitely worth playing. It is a unique and non-traditional battle royale game that has a lot of potential. Elements like combining magical spells with two different gauntlets and exploring several magical runes keep you hooked onto the game. However, it should be noted that at first, new players might find the combat system along with different levels of magical equipment and consumables bit overwhelming.
Pros
Unique combat system
Fast-paced gameplay
Diverse map
Squads, Duos, and Solo Mode
Supports crossplay, cross-party, and cross-progression
Cons
Different levels of consumables can be confusing
Lack of skill-based matchmaking
Spellbreak PC Requirements
Spellbreak is available to play on PS4, Xbox One, PC, and Nintendo Switch. Interestingly, the game offers optional Crossplay across all supported platforms. However, if you want to play Spellbreak on PC, here are the official minimum and recommended system requirements. So, it's best to go through the system requirements before reading the entire review of Spellbreak.
Minimum PC Requirements
Operating System – Win 7 64
Processor – Intel Core i3-2100T 2.5GHz/AMD Phenom 9600B Quad-Core
Graphics – AMD Radeon R7 240 2GB or NVIDIA GeForce GT 640
RAM – 4 GB
Storage – 20 GB Hard drive space
DirectX 11 Compatible Graphics Card
Recommended PC Requirements
Operating System – Win 10 64
Processor – Intel Core i5-2300 2.8GHz / AMD FX-6300
Graphics – AMD Radeon R9 280 or NVIDIA GeForce GTX 960 2GB
RAM – 8 GB
Storage – 20 GB Hard drive space
Spellbreak In-Depth Review
A Unique Gameplay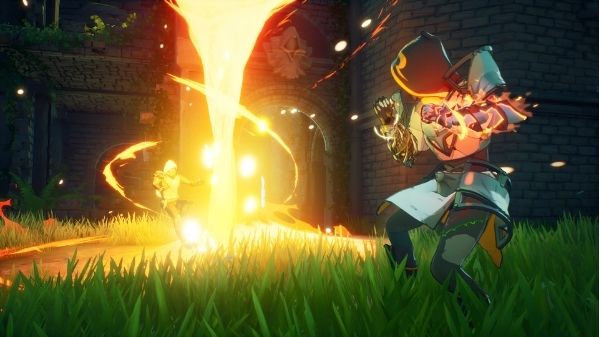 Spellbreak offers a unique gameplay experience that is refreshing when compared to other battle royale games. In Spellbreak, you play as a Mage who uses magical gauntlets to cast spells on the enemies. Talking about enemies, in Spellbreak, there is a total of 42 players at a time. So, Spellbreak offers fast-paced gameplay where you'll mostly see enemies rushing towards you rather than camping in one place.
In the game, you only get one map, which can be disappointing for some people. However, for me, it's a good thing because the player base doesn't get divided into different maps. It further means that matchmaking is incredibly fast, and you'll not have to wait for a long time to get into the pre-game lobby.
Speaking about matchmaking, in Spellbreak, I was matched against players who play way better than me — and that too quite often. That's why in most matches, my entire squad got wiped out by a single person, which is quite frustrating.
Like other battle royale games, in Spellbreak, the safe zone shrinks after a minute or so. The zone comes for you in the form of a powerful wind storm, which can be deadly if you get caught in it.
Unfortunately, most of the time, I felt like the zone in Spellbreak is moving way too fast. I mean, if the storm is few meters away from your squad and you think that you can run away from it in time, then my friend, you're absolutely wrong. I often found myself caught in the middle of the storm, even when I had a huge headstart. However, this is something that could be rectified in the upcoming updates.
Distinct Magical Abilities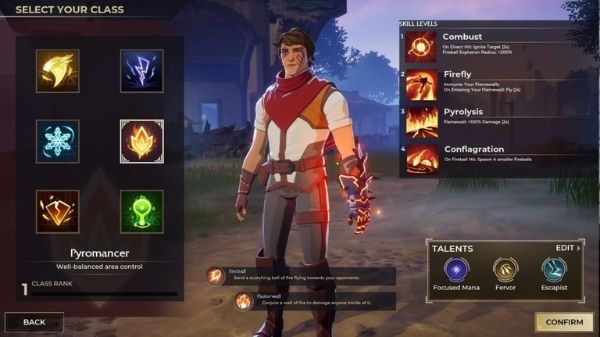 Before getting into the match, players can choose between six different classes, i.e., Frostborn, Conduit, Pyromancer, Toxicologist, Stoneshaper, or Tempest. Each class comes with its exclusive in-game ability.
For instance, Players using the Pyromancer class gain access to the fire gauntlet, which lets you throw fireballs at enemies. Other than fireballs, a Pyromancer can also create a firewall, an ability that comes in handy when you want to hold back the enemies at their location.
Frostborn, as the name suggests, gives you access to the ice gauntlet. This class is perfect for players who want to snipe enemies from far away. Then, there are Toxicologists who can attack enemies using powerful toxic sprays. In short, there are several Spellbreak classes for unique playstyles, which is very much engaging, especially for me.
Besides the primary gauntlet that players get after choosing a class, they can also equip a secondary gauntlet — which is the best part of the game. That's because two gauntlets give players control over two different elements, which can be combined to cast more powerful spells. For instance, by using both Pyromancer and Tempest, I combined the fire element with Wind. Just like that, players can experiment with different elements, which is quite exciting for most parts.
Other than weaponized gauntlets, Spellbreak also brings the system of magical 'Runes.' Apparently, these Runes give players different special abilities to help them during the combat.
For instance, the Invisible Rune makes you invisible for a short time, helping you escape from combat and heal yourself. Also, Flight Rune helps players fly incredibly fast, a lifesaver when you're far away from the zone. Like that, there are several magical runes that players can find lying around on the map.
However, my personal favorite is the Teleportation Rune, which lets you teleport up to a certain distance. By teleporting, I was often successful in escaping several unfavorable situations. The teleportation ability is my first preference if I want to sneak on my enemies without making a sound.
Different Levels Of Magic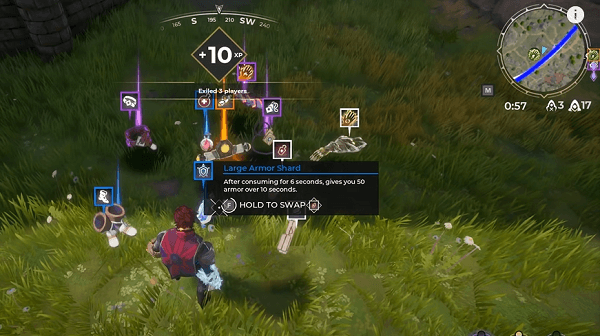 In Spellbreak, there are different levels of magical abilities. For instance, in magical gauntlets, there are common, uncommon, rare, and epic gauntlets in each category. So, you can upgrade your magical prowess by switching from, let's say, uncommon to the rare gauntlet.
Similarly, there are different levels of magical runes, potions, boots, and armor belts, which in my opinion, gets overwhelming most of the time. Why is that? Well, let me present my case by talking about consumables in Spellbreak.
So, in Spellbreak, players can find healing potions and armor shards along with several other things in the wasteland. The healing potions, which are available in large and small quantities, heals your health. On the other hand, armor shards, which also comes in two quantities, are there to heal your damaged armor's health.
However, you can't use armor shards unless you have armor belts, which is understandable. However, the thing that bugs me is that along with all that, there are four different types of armor belts. So, in a battle royale game that is extremely fast-paced, I had to spend too much time upgrading my magical equipment, instead of focusing on the game at hand.
Spellbreak: Verdict
After playing almost 50 combined matches in Solo, Duos, and Squads, I can confidently say in this Spellbreak review that it's quite a fun-to-play game. Initially, new players will find the gameplay a bit confusing because of too many magical elements. However, things only get better once you start understanding the combat system in the game. In short, if you're tired of conventional battle royale games, then Spellbreak is definitely worth a shot.
The only major issue I have with the game is its complicated loot system, which, in my view, should be simplified so that players can focus more on combat rather than upgrading their equipment. Other than that, Spellbreak should improve their matchmaking so that new players don't get matched against the players who are far ahead of them in terms of skills.
Nevertheless, the developers of the game care about its players. So, it's safe to assume that the gameplay will only go uphill through numerous upcoming updates.