We have two fairly big topics to cover in this review. The /e/ operating system and the Fairphone 3. Two distinct products brought together to create what is likely one of the most open and privacy-minded mobile devices we've ever seen.
Fairphone 3 Review (With /e/ OS)
What is /e/ OS?
/e/ OS is the brainchild of Gaël Duval, one of the developers that created Mandrake Linux, which is now known as Mandriva Linux. Formerly Eelo, /e/ is a privacy-minded mobile operating system. Based on LineageOS, which is in turn based on the late CyanogenMod, /e/ is an Android derivative and maintains app compatibility.
However, because of the un-Googling of the operating system, which any Android savvy users will understand is a large task, many apps that rely on Google's services are left unusable. To remedy this issue, /e/ employs the MicroG package. It's an open source subset of Google's services that respects privacy. This allows many apps to work, but far from all.
Android experience with a twist
/e/ OS is Android, so the experience is 95% the same. There are tweaks, just like any OEM branded or community affiliated ROM, but it's really just Android. That's not to discredit the work that the E Foundation teams have done. It's commendable that so much about the operating system can be modified while still maintaining the experience that it is to use an Android phone.
It seems that the engineers at /e/ have respect for what Android is and have not tried to put their own freakish spin on it. In fact, they've made a great effort to make it a much more neutral platform.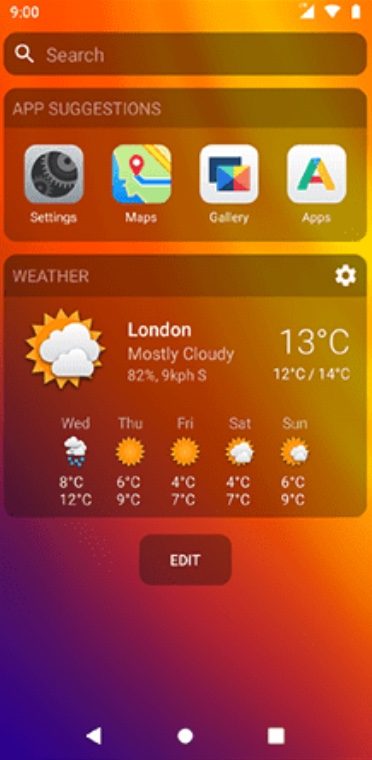 Because /e/ is un-Googled, it doesn't include apps like Google Play, Gmail, Google Photos, or YouTube. Additionally, it's not easy, possibly not even feasible, to get the running on /e/. But you wouldn't be running /e/ if you didn't know what you were getting into. /e/ comes with alternatives to these apps, whether using the /e/ cloud service or a provider of your choice. In addition to the basic smartphone apps we've all come to expect from any modern device, the E Foundation has created a repository of apps that it curates from a variety of sources.
The launcher app that's shipped is the Bliss Launcher, which, from what I gather, isn't available on the Google Play store but is available from the open source Android app repository F-Droid. The Bliss Launcher bears a semblance close to the iOS home screen rather than most Android launchers I've used, but with the ability to add widgets to the left-most screen. The apps add directly to the home screen in contrast to the app drawer that is typical of most Android launchers. While the functionality certainly reminds me of iOS, the aesthetic doesn't in the slightest.
Among the main Settings categories are two of particular interest.
First is the MicroG settings. In here you can sign-in to a Google account. Going deeper, you can configure a variety of services to allow emulation of Google Play Services for compatibility with apps that rely on them. Not everything will work, but this is where anyone looking to reduce Google in their life will have to make sacrifices.
Second, we have OpenKeychain. This was the first I had heard of OpenKeychain. I'm familiar with software like with Gnome Keyring for storing credentials. But OpenKeychain is something worth checking out on its own. I think this is a very interesting stock addition for a mobile operating system.
Overall, I think /e/ is a wonderful offering. I personally am very much tied to the Google ecosystem, and likely will be for the next many years. But I can see the value in a project like /e/. Android is open source, but that doesn't mean that it's privacy-respecting. Nor does it mean that it's easy to use it privately.
Fairphone 3 Review: What makes it special?
Flipping from software to hardware, we have an incredible pairing with the Fairphone 3. For those unfamiliar, the Fairphone is a phone that is modular. Not modular like the ever-promised PhoneBloks or Project Ara, but modular in a repairable way. The Fairphone 3 isn't just repairable, though. It's designed with the intention to be repaired. The world has a growing e-waste problem. It can be both extremely expensive and hazardous to process.
10/10 Repairability Score
The primary goal of Fairphone is to create phones that, rather than be disposable, can be repaired. With all the parts needed to build one from scratch available, including the motherboard, Fairphone's devices can be repaired, no matter what the damage. iFixit gave the Fairphone 3 a repair score of 10/10. Fairphone is so bent on you actually repairing your phone instead of buying a new one that they ship it with a screwdriver-pry combo tool for the device itself. Instead of adhesives like normal phones, screws are used.
Instead of soldered ribbon cables, Fairphone uses push-down and ZIF connectors. Fairphone designs the device so that the average DIYer can repair their own phone, but perhaps more importantly, they make it cheaper to repair the phone than to buy a new one.
Use /e/, Ubuntu Touch, or Sailfish OS
Going beyond that, the Fairphone is designed in such a way to allows anyone to implement an operating system for it, whether it be Android as in the case of /e/, or an alternative to Android like Ubuntu Touch or SailfishOS. The phone really is meant to be used and reused, however you choose.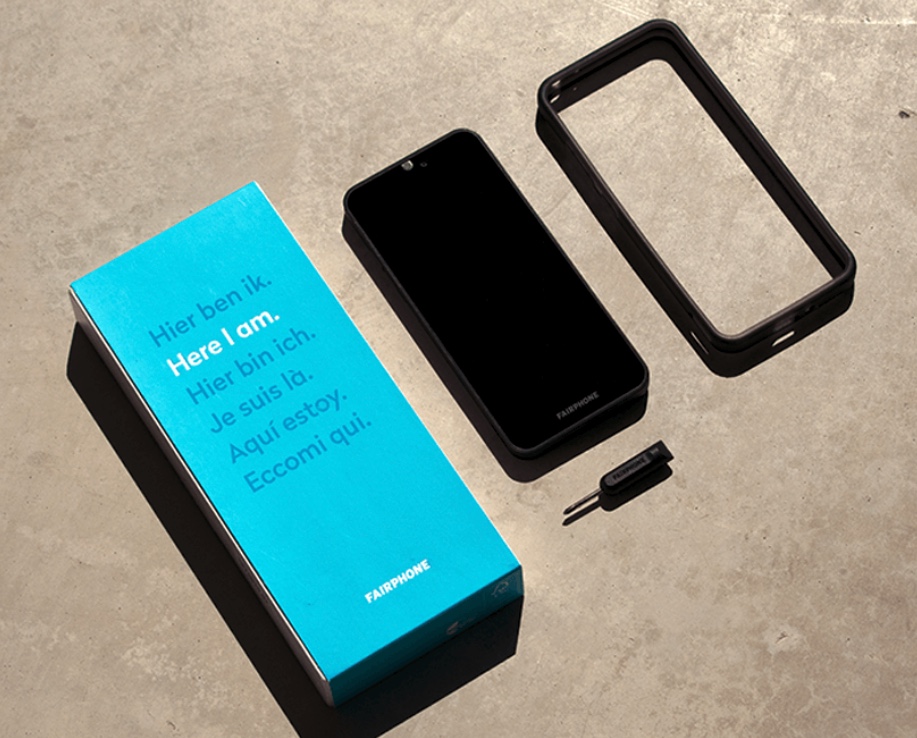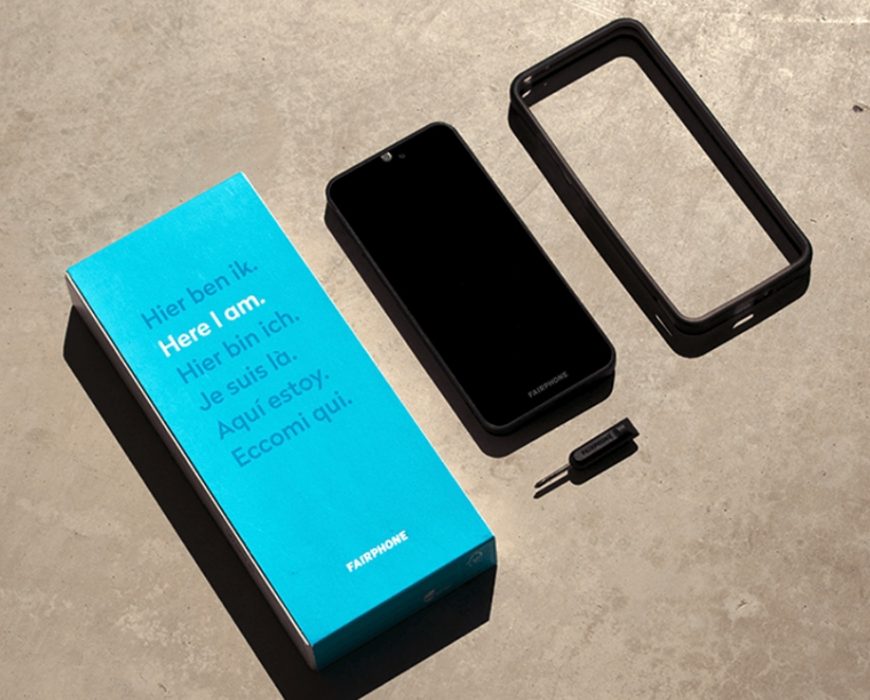 Getting into the details of the phone itself, it comes with a bumper 'case' out of the box to help protect it. This plastic ring-like protector creates a lip around the screen and the back which recesses the surfaces, reducing wear, and possibly blunt force against flat surface. There's a trend in manufacturers providing screen protectors with phones, and I think this is a nice addition.
What are the trade-offs of Fairphone's modularity?
The unfortunate reality is that the modularity of the Fairphone does come with some trade-offs, but they're not necessarily bad. This modularity introduces some thickness. The quest for ever-thinner devices has left manufacturers resorting to the methods that make devices less repairable, like adhesives and soldered connections rather than screws and connectors like the Fairphone.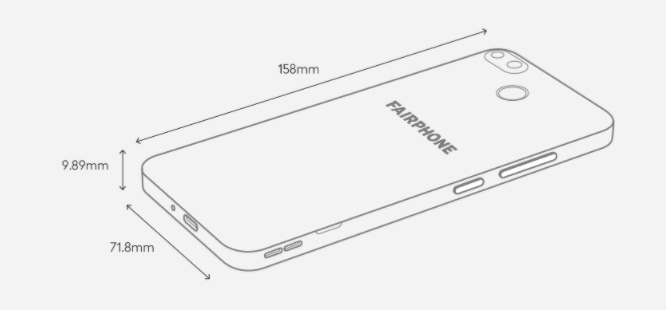 Fairphone's feel and construction fall far short of modern premium devices. Next to my Huawei P20 Pro and my first-generation Pixel, the Fairphone kind of feels like a toy. Emphasizing this, even more, is the 90's-retro style translucent plastic reminiscent of Gameboys and Nintendo 64s. Despite being larger in both height and thickness, it weighs the same. The lower density imparts an impression of lower quality, at least insofar as the construction.
The screen isn't quite as bright as my P20 Pro, nor are the colours as vibrant. But that's what we'd expect from a phone that costs about two-thirds of the price, even after adjusting for release dates. However, in spite of its plastic cladding, the device does feel good in the hand, particularly when admiring the embossed Designed to be Opened on the side and the Change is in Your Hands on the battery, visible through the back.
Fairphone hardware performance and specifications
The device is very much mid-tier, but adds a couple niceties.
The SoC is the Qualcomm Snapdragon 632 with 4GB RAM. The Snapdragon 632 is, as mentioned, mid-tier, however, it has eight Cortex-A53 cores and will run at up to 1.8GHz. That's pretty amazing for what we call a mid-tier phone. I remember my first smartphone, the HTC Desire (2010), it had a whopping single core running at 1GHz with only 576MB of RAM and it was one of, if not the, best smartphones you could get at the time. The Fairphone is quite snappy running /e/. There's very little delay to get going, even after first launching apps.
For storage, you're looking at a solid 64GB with microSD expansion, a welcome feature we've been seeing skipped on many phones. Storage is one of those things that I find very user-dependent. Some people require heaps of it, and others make do ascetically.
The battery is also a very nice 3,040mAh and, given that it's removable, you can easily keep a charged spare with you. Similar to storage, battery is also very user-dependent, and I think this is an excellent feature for people that have longer days than others.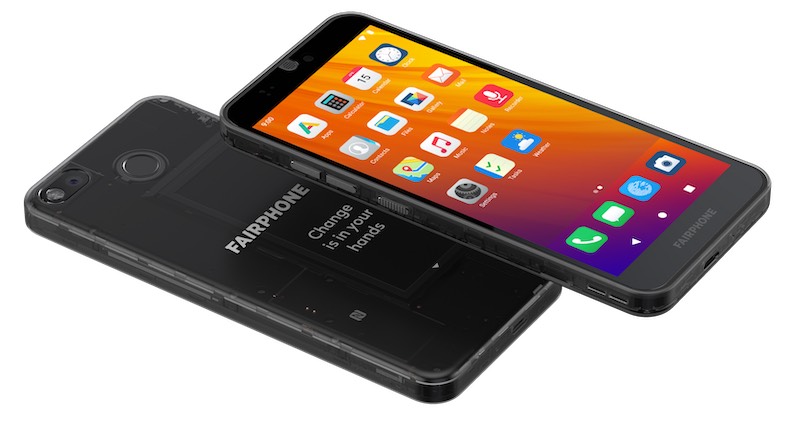 Moving on to the display, we have a 14.3mm (5.65-inch) full HD+ screen. Like many phones, Fairphone has opted for a longer, or taller, display experience with an 18:9 aspect ratio that measures 2160×1080. As mentioned, the display isn't as bright or vibrant as my Huawei P20 Pro, but it's certainly sufficient and much better than many of the washy displays found on average mid-tier phones.
Toward the top of the display, or not the display, there is a notch-like constriction in the glass of the device face where the earpiece is present as well as a holed-out viewport in the black backing of the glass to accommodate the front-facing camera. These peripherals are not in the screen, but above it, mimicking the modern design trends without actually obscuring the display.
The 12MP rear camera is what you would expect on a mid-tier device. It does not appear to be leveraging software enhancements like many modern devices do. But it is certainly passable. The front-pacing camera, while a bit grainy, has surprisingly sharp quality, even in unfavorable light, however, as you move to lower light, the graininess becomes more prevalent.
The audio experience was surprisingly good. I always use the same track for testing audio, and it's this one (be warned, it's not everyone's cup of tea), because it has a wide dynamic and tonic range, and frankly, I think it's an amazing song.
I don't have enough experience with mid-tier phones to know whether they tend to have poorer audio experiences, but I found that using both the 3.5mm jack and USB-C delivered clear audio, even at maximum volume, and this is in comparison to a variety of devices using both my 3.5mm jack headphones (a trusty $10 pair of supremely comfortable Sony earbuds I've had for years) and my Huawei USB-C headphones which are of better audio quality, but nearly as comfortable. No matter how you pick it apart, the audio on the Fairphone is solid. Even the loudspeaker is quite clear. It's expectedly lacking in the low-end, but still clear, even at higher volumes.
In other peripherals, we have a fingerprint sensor that's placed at the rear of the device. I personally think that this is the ideal location because it can be awkward to fumble your phone from the using position to the fingerprint position and back. The rear sensor allows you to pick up the phone, regardless of how it's oriented, and just unlock it. The unlock isn't blazing fast, but it's surely more convenient than a PIN.
Additionally, there are all the other bells and whistles we've come to expect on a smartphone like ambient light detection, an accelerometer, gyroscope, proximity sensor, and a compass.
In terms of wireless connectivity, we more standard items. There's a/b/g/n/ac support, but not ax (or 6, if you're one of those weirdos that prefers naming conventions that make sense). There's Bluetooth 5 for those of you that like your audio wireless.
The Fairphone also contains NFC that's mobile payment compatible and a few different GPS standards. In terms of mobile network connectivity, you'll have to check the supported LTE bands and compare with your service provider to ensure that they're compatible.
Fairphone and /e/ Review: Conclusion
Unfortunately, I wasn't able to employ the Fairphone with /e/ as my daily driver because my day-job requires that I stay connected with a variety of apps and I wasn't sure it was feasible (or wise) to ditch my personal phone. Despite this, I was very happy with the experience of tinkering with the /e/-powered Fairphone. Yes, /e/ is still Android, but it fights the notion of a two-player market, and that's something I can get behind.
/e/ OS is garnering attention and favor for its privacy-minded design and efforts. A result of this is that, on September 21st, 2020, they announced their receipt of a grant from Stichting Internet Domeinregistratie Nederland (SIDN). SIDN is the registrar for the .nl top-level domain (TLD). The grant is for the design and implementation of an Android-based Privacy Center. The app is geared toward raising awareness and providing device users more control to identify and manage tracking software on their devices.
While this development will be integrated into /e/, it will also be available for other Android-based operating systems, as well. In addition to the Privacy Center, the grant will provide funding to develop and Integrate Progressive Web Apps into /e/ as a way to further establish independence from other Android ecosystems and create yet another layer between the apps and user data.
Overall, I like both /e/ and the Fairphone. If not for being glued to Google's ecosystem, I could see myself using the Fiarphone with /e/ on it. I imagine Fairphone appealing to people who don't feel the need to always be connected. As well as for travelers that need an extra battery, or even the ability to keep spare parts on hand in case the device is broken. Both /e/ and the Fairphone are merit-based products that I believe become something more when coupled together.