Rockstar Games' Red Dead Redemption 2 is hands-down one of the most iconic games to release in the past years. While RDR 2 boasts intricately detailed gameplay, it definitely is one of the most beautiful and realistic games. As a part of the July 13th update, both RDR2 and RDR online will get Nvidia's DLSS support.
This comes as great news for the community of Red Dead Redemption 2; with DLSS, the game will deliver crisp images alongside improved frame rates. Furthermore, Red Dead Redemption features beautifully designed landscapes; adding DLSS support means the game would probably look out of the world.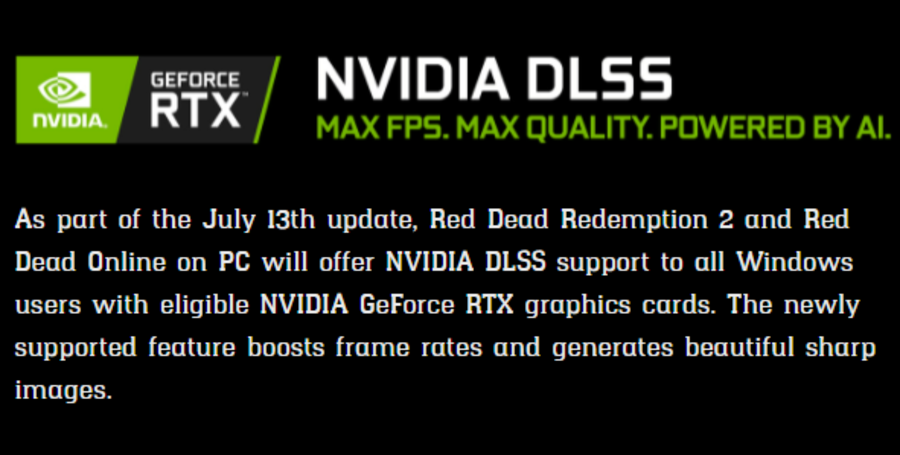 What is Nvidia DLSS?
For the uninitiated, Nvidia's DLSS is a deep learning neural network. DLSS helps boosts frame rates along with creating beautiful and crisp pictures for a near-perfect gaming experience. DLSS, which stands for Deep learning super sampling, also helps optimizes ray tracing for modern titles. Ray tracing is now supported on hundreds of games, taking the gaming experience on a whole new level with lifelike in-game shadows and lightings.
However, for the ones relying on GTX series of graphics cards, bad news, as the previous-gen GTX series graphic cards do not support DLSS. This is because DLSS is powered on the Nvidia graphic cards by a dedicated AI called – Tensor cores, apparently, a tech present only in Nvidia's RTX 20 and 30 series.
Considering developers now optimizing their games for DLSS support, news of Red Dead Redemption 2 and RDR online getting DLSS support doesn't come as a surprise. Sure RDR2 and RDR online will look stunning after the July 13th update. However, fans of the game expected the DLSS support for a best-selling game like RDR2 to get DLSS support sooner. Moreover, Nvidia's DLSS is also available for the latest Unreal Engine 5 via a plugin.