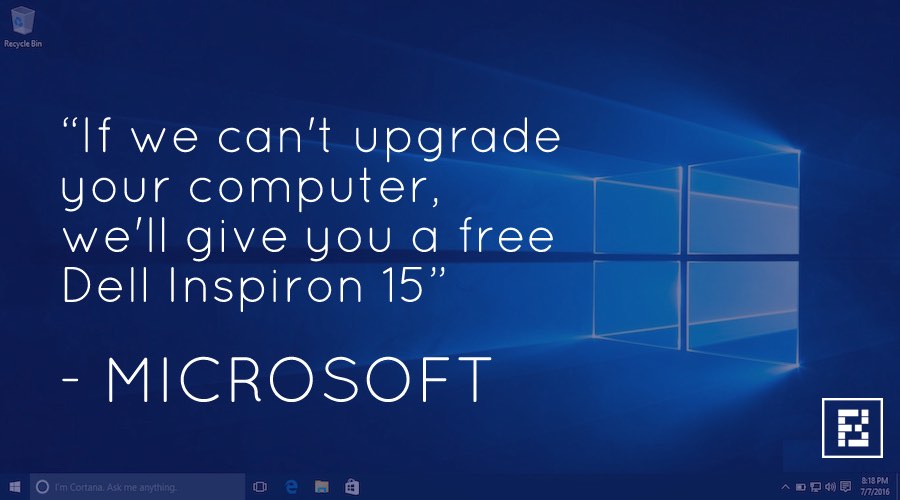 Short Bytes: Microsoft is here with an attractive offer that gives you a chance to grab a free Dell Inspiron 15 laptop. Just locate a Microsoft Store nearby you and visit there with your current Windows 8 laptop. If Microsoft is unable to install Windows 10 on your PC in one business day, they'll give you a free laptop.
M
icrosoft's free Windows 10 offer has benefitted the company in leaps and bounds. It has lured millions of Windows 7 and 8.1 users to upgrade their computers to Windows 10. But, this journey hasn't been a smooth ride for Microsoft. Instead, they ended up ruining a
live weather forecast
, a
gamer's live stream
, and a
lot more
.
But, Microsoft's free Windows 10 offer is coming to an end this July 29. So, Microsoft is trying to attract more and more people before the free offer expires. To do the same, Microsoft has made a bet by launching a new campaign.
So, here's the deal — If Microsoft is unable to upgrade your computer to Windows 10 by the end of one business day, it'll give you a free Dell Inspiron 15 laptop.
There are some set of conditions latched with this offer, obviously. This deal can only be made at Microsoft's stores located all across the nation.
Another thing, this campaign only involves Windows 8 laptops, leaving Windows 7 users behind. It's surprising because Windows 7 is still running on more than 40 percent of computers in the world.
So, if you have tried installing Windows 10 on your Windows 8 computer and failed, locate a Microsoft Store around you and pay a visit. Microsoft employees will try to install the latest operating system on your computer. If your computer can't run Windows 10 and you bring it to the store anyway, Microsoft will pay you $150 to purchase a new PC running Windows 10.
If Microsoft is able to install Windows 10 on your existing PC in its store, you'll get an additional discount of $20 discount for Office 365 Home.
Note that this offer is only valid for the Microsoft retail stores in the U.S. and Canada. Here's a link that you can use to locate a store near you and schedule an appointment.
Did you find this article interesting? Don't forget to drop your feedback in the comments section below.
Also Read: How To Get Windows 10 Upgrade For Free Even After July 29, 2016?