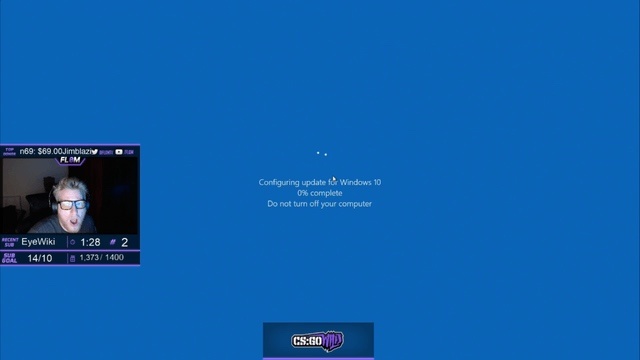 Short Bytes: Microsoft continues to irritate its customers with its latest operating system Windows 10. This time, an unwarned restart due to the operating system update ruined a pro gamer's gaming session while he was live streaming to his 130,000 followers on Twitch.
As Windows 7 and 8.1 users say, there's nothing more irritating than a Windows 10 upgrade popup when you are in the middle of some important work. Well, those who've installed the operating system too aren't on the safer side.
In a recent development, it looks like Windows 10 is looking to break hell on gamers. Full-time game streamer Erik Flom was rudely interrupted by Windows 10 system update during his gaming session live stream that was being broadcasted to more than 130,000 followers.
Sadly, his PC shut down while he was in the middle of a game. While being interrupted live on air by Windows 10 upgrade popup was already annoying, shutting down the computer without any warning is simply outrageous.
This incident happened at around eight hours and 54 minutes into the gaming session as he started to follow his partners. The familiar blue Windows update screen flashed with its restarting icon.
Here's the link to Twitch live stream if you want to see how this happened!
The face of Flom in the bottom-left corner says it all. Here's his pretty obvious irritated reaction:
What!? HOW DID THIS HAPPEN!? Fuck you, Windows 10. Let's see if we can maybe get this back. Hurry up! Fuck!

God, you have one job PC. WE TURNED OFF EVERYTHING.
What are your views regarding this oops moment? Share your views in the comments below.