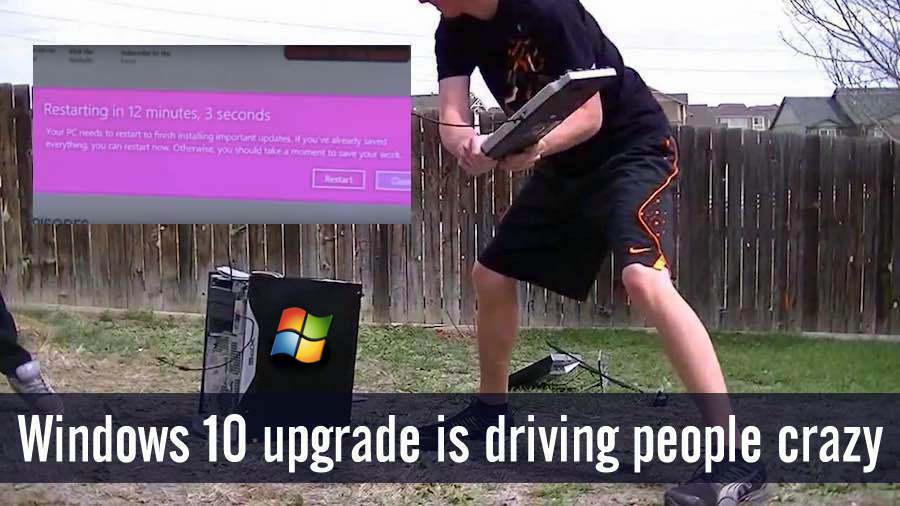 Short Bytes: Remember that irritating Windows 10 upgrade popup that keeps testing your patience while you are busy in some important work? Well, a person has found it too much to handle and expressed his anger in the form of a rant full of swearing.
E
ver since it appeared on the horizon, Windows 10 has created a fair amount of controversy due to its upgrade policies. The forced Windows 10 upgrade has interrupted a
live weather forecast
, ruined a pro-gamer's
live stream
, and irritated thousands of Windows 7 and 8.1 users.
As another chapter from the same book, an old clip from last October is making rounds on the internet. This video shared on Voat shows how a techie loses his cool when Windows Upgrade cuts him off with a notice that his upgrade is going to start soon.
Microsoft has been repeatedly accused of using dirty tricks to push Windows 10 upgrade before the free offer expires on July 29, 2016 (Here's how to grab the upgrade even after the expiry date).
Coming back to the video, you can watch it below:
https://www.youtube.com/watch?v=OMKnMvwc3qs
The Windows user fails to keep his calm and starts yelling an explosive rant about this flawed upgrade policy.
"It doesn't even give you a choice to say no, it just comes up whenever it wants, automatically, and says f*** you, we're turning off your computer in 10 minutes and 47 seconds," he says. He calls it like putting a gun to head and forcing you to upgrade with giving any choice.
While this video is seven months old, nothing much has changed. Windows users who are willing to stick to their old operating systems are still frustrated due to Microsoft's aggressive push.
In an official statement Microsoft has denied these accusations and said that customers have a choice. "As we shared in October, Windows 10 will be offered as a 'recommended' update for Windows 7 and 8.1 customers whose Windows Update settings are configured to accept 'recommended' updates," said Microsoft.
Did you find this article helpful? Don't forget to drop your feedback in the comments section below.