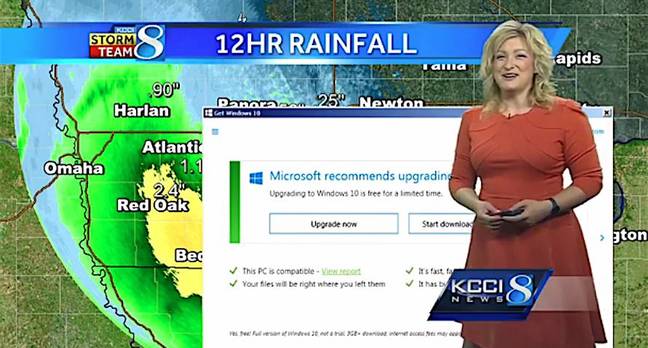 Short Bytes: In a weird incident, Windows 10 upgrade pop-up ruined a live TV weather report being telecasted on KCCI 8 News. The relentless nagware interrupted a weather report, asking meteorologist Metinka Slater to upgrade. 
I
f you are running Windows 10, congratulations! However, if you are running Windows 7 or Windows 8.1, we feel sorry for you because you're a victim of the constant Windows 10 upgrade nagging.
Microsoft's desperation to install Windows 10 operating system was once again noticed when this relentless nagware interrupted a live TV weather report, asking meteorologist Metinka Slater to upgrade the PC.
During the ongoing weather report, the Windows operating system suddenly displayed a big pop-up on the screen, insisting the computer to be upgraded to the latest Windows 10. At that time, Slater was busy explaining the scary thunderstorms moving towards Iowa.
"Microsoft recommends upgrading to Windows 10. Gosh, what should I do?" Slater handled the situation and asked sarcastically. "Don't you love when that pops up," she added.
This happened during the weather broadcast taking place on KCCI 8 News.
Microsoft has been aggressively pushing Windows 10 to the Windows 8.1 and Windows 7 users to achieve its 1 billion devices goal. However, with time, it seems that users have accepted the miserable situation and consider the Windows 10 upgrade pop-up as just another irritating part of their lives.
If you are facing similar problems or pop-ups during your day-to-day life, feel free to tell us in the comments. Meanwhile, if you've installed Windows 10 on your PC, you can go ahead and grab latest games and apps from Windows Store.