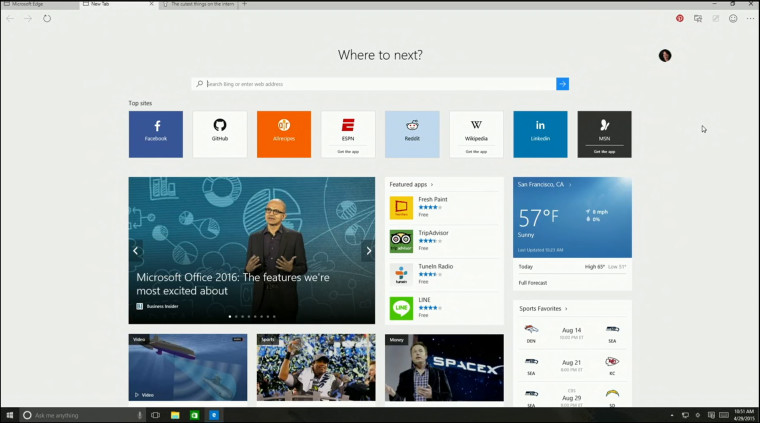 Till now, most of you would be aware of the fact that Microsoft has finally decided to announce the official name of its much-hyped codenamed Project Spartan – Microsoft Edge – the Internet Explorer replacement. Although it's being called a replacement, it won't be replacing the classic IE in the true sense because the IE will continue to exist and Microsoft Edge will be its bigger brother.
F
rom past few months, countless speculations have been made regarding the features and capabilities of Microsoft Edge. Yesterday at
Microsoft Build 2015 Developer Conference
, we got to know more about the Edge.
One of the most striking and useful functionality added to Microsoft Edge is its ability to "steal" the extensions from Firefox and Chrome.

Google's Chrome and Mozilla's Firefox are known for their huge library of extensions and the features they bring along with them. Currently, the details about how this will exactly work are uncertain but it may be possible that developers could easily import the codes of Firefox and Chrome extensions, and develop one for Microsoft Edge in Windows 10.
On the first day of Build 2015, VP of OS, Joe Belfiore demonstrated the same using a Reddit extension. This extension was originally built for Chrome using JavaScript and HTML, and the devs at Redmond had made some minor tweaks to it. Another Pinterest extension "Pin It" was also demonstrated.
We don't have any update on how this system will work and which build of Windows 10 will be having this feature. But given the fact that Microsoft is aiming big with Microsoft Edge and Windows 10, this may happen very time soon, probably in the next Windows 10 build.
Read our whole coverage on Window 10 here.