Intel announced its 10th-gen Comet Lake H-Series mobile processors to give high-performance laptops to gamers and creators. Just as the company claimed, the processors crossed the 5GHz boost speed on a single core. It means that Intel is all set to dominate AMD's Ryzen 4000 series.
What's impressive is that you don't have to go for high-tier Core i9 CPUs to get a Turbo frequency above 5GHz. Both six and eight-core i7 processors could smoothly achieve a boost speed of 5.1GHz.
However, if you want to enjoy the maximum potential of the Comet H-Series laptop CPUs, then Core i9-10980HK could get you to 5.3 GHz.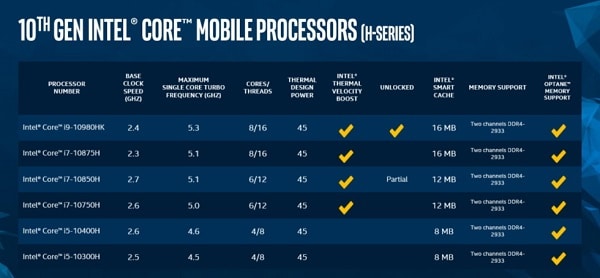 When Core i9-10980HK was tested against three-year-old Core i7 7820HK, it outperformed the older CPU by 23% to 54%. The comparison was made on popuar titles like Red Dead Redemption 2, Assassin's Creed: Odyssey, and Far Cry 5.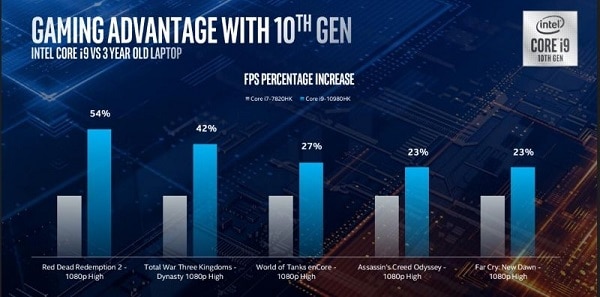 If you compare Intel's new Comet Lake H-series mobile CPUs with AMD's Ryzen 4000 Series, then Intel is far ahead in terms of the clock speed. That is because AMD's latest 4000 series processors give a maximum clock speed of 4.4GHz.
However, AMD's processors are more power efficient with 7nm architecture. Intel is still going with 14nm chip because, according to them, a 14nm architecture helps them deliver a high single-threaded performance.
Other than that, the good thing about Intel's new chip is that they all support Dual-channel DDR4 memory up to 2933MHz.
The support for Wifi 6 Gig+, the latest networking standard, provides higher throughput and lower latency. Also, a feature called Thermal Velocity Boost, which will only be in i7 and i9 chips, will detect if the CPU's temperature is below 65 degrees and boost the clock speed by 200MHz.