Hyundai Ioniq 5 EV has been creating a lot of hype ever since its unveiling by the South Korean automaker. The Hyundai Ioniq 5 has better specs and innovative features, hence, it became a potential competitor for existing players like Tesla Model Y even before its launch.
They will also have a similar price range, which will further increase the competition.
We can say that it's possible we really have someone in the market that can challenge Tesla. Ioniq 5 is nothing like its pre-existing electric siblings as it's built on a completely new EV platform.
Anyway, without any further ado, let's compare these electric cars straight away. Since the Hyundai Ioniq 5 is yet to arrive in the market, we'll only be looking at the on-paper specs.
Hyundai Ioniq 5 EV Vs Tesla Model Y: Specs Comparison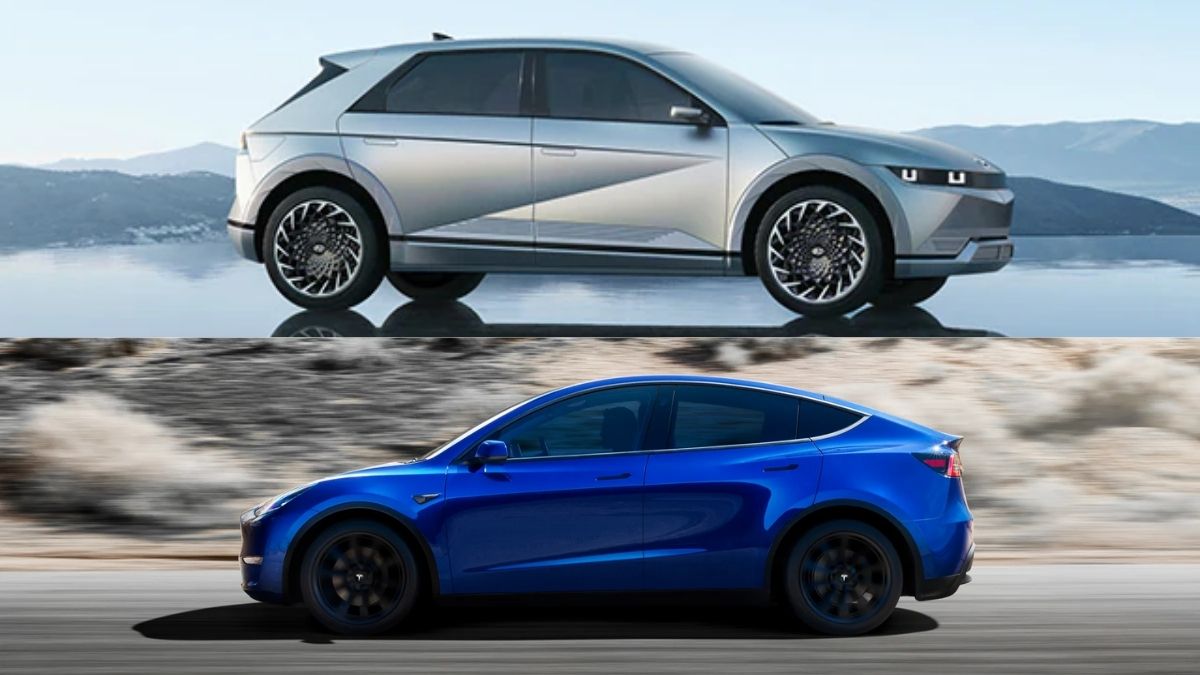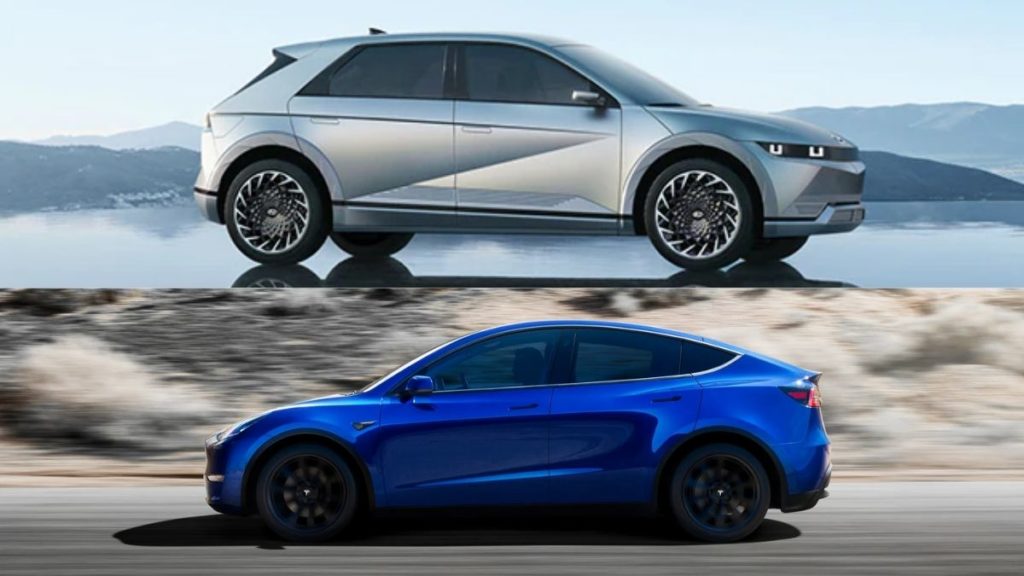 Before we move forward, here's a quick overview of both cars.
Ioniq 5 is an upcoming electric crossover SUV from the South Korean automaker Hyundai. It's built on the latest Electric-Global Modular Platform (E-GMP), which is the company's dedicated BEV architecture.
The automaker has taken a different design approach for Ioniq 5 to demonstrate its new and separate EV wing. Hyundai Ioniq 5 will have multiple variants based on different battery packs and configurations.
On the other hand, we have one of the most famous electric cars of the modern era, the Tesla Model Y. This car needs no introduction, but still for reference, Model Y is an electric crossover from the world's largest EV company, Tesla.
Model Y is available in two variants: Performance and Long-Range.
Dimensions And Seating Capacity
| Specs | Hyundai Ioniq 5 EV | Tesla Model Y |
| --- | --- | --- |
| Length | 4,635 mm | 4,749 mm |
| Width | 1,890 mm | 1,920 mm |
| Height | 1,605 mm | 1623 mm |
| Wheelbase | 3,000 mm | 2890 mm |
Clearly, the Tesla Model Y is bigger than its counterpart Hyundai Ioniq 5.
Plus, the Model Y is available in both five-seat as well as seven-seat options. The performance variant comes with five seats whereas the long-range variant is incorporated with seven-seat options.
Meanwhile, Ioniq 5 EV is designed for five passengers only. However, owing to a larger wheelbase, Ioniq 5 seems very spacious and comfortable.
Electric Range And Battery Capacity
| | | |
| --- | --- | --- |
| Specs | Hyundai Ioniq 5 EV | Tesla Model Y |
| Battery Capacity | Up to 72.6 kWh | 75 kWh |
| Electric Range | 298 miles (WLTP) | 326 miles (EPA) |
| DC Fast Charging | Yes (350 kW) | Yes (250 kW) |
Tesla Model Y has a slightly bigger battery pack and therefore offers some extra miles than the Ioniq 5. Also, the electric range of Model Y is calculated as per the EPA cycle, which means the difference could be around 40 miles, instead of 28 miles.
However, Hyundai Ioniq 5 EV wins it in terms of fast charging. With a 350 kW fast charger, you'll be able to charge Ioniq 5 electric SUV from 10 to 80 percent in just 18 minutes; whereas, it'll take a few more minutes for Tesla's 250 kW charger.
In addition, Hyundai Ioniq 5 is the first electric car to have a patented multi-charging ability that can support both 400V and 800V.
Performance
| | | |
| --- | --- | --- |
| Specs | Hyundai Ioniq 5 EV | Tesla Model Y |
| Acceleration | 0 to 62 mph (5.2 seconds) | 0 to 60 mph (3.5 seconds) |
| Top Speed | 115 mph | 155 mph |
| No. Of Motors | Up to 2 | 2 |
We can say that Tesla Model Y will one-sidedly outperform Ioniq 5 in terms of performance. However, it'll be too early to judge the performance based on mere numbers only.
However, the difference is too much to ignore and it'll be nearly impossible to beat Model Y in terms of performance.
It seems Ioniq 5 is built for relaxed and comfortable rides. We saw the same when some experts who got a chance to test drive Ioniq 5 reviewed it.
Features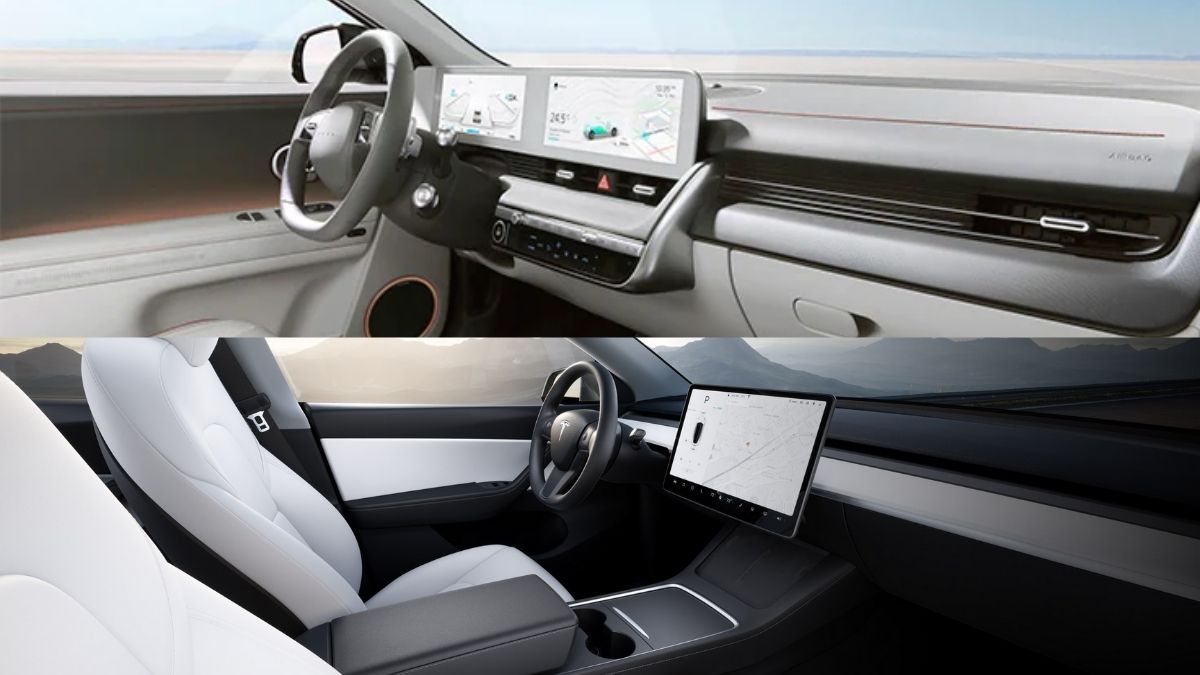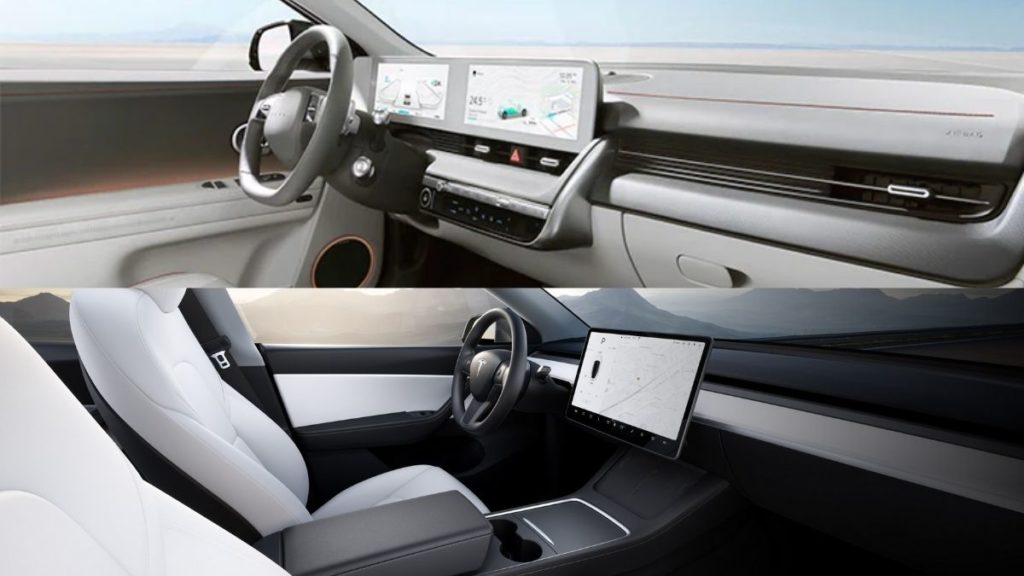 Hyundai Ioniq 5 will come equipped with useful features like a movable center console for extra space, wireless charging, Vehicle to Load function that allows it to act as a movable charger, vision roof, two 12-inch displays, and much more.
Speaking of Tesla Model Y, one of the best features you get is the company's driving assistance system, Tesla Autopilot. Model Y also features a massive 15-inch display and supports over-the-air (OTA) updates to introduce new features and improve the existing ones, a panoramic sunroof, immersive sound system, to name a few.
Plus, Model Y received an interior update earlier this year to enhances the experience inside the cabin.
Price
Hyundai is yet to announce the price of the Ioniq 5 EV. However, as per the Car and Driver and other leading publications, it would be somewhere around $45,000.
The price of the Tesla Model Y, on the other hand, starts at $51,490 before incentives.
Final Thoughts
On paper, Tesla Model Y seems to have a better driving range, performance, and even size. In terms of features, both cars have their own unique set of features that sets them apart.
However, Hyundai Ioniq 5 might be offered with a more affordable price tag. In addition, Ioniq looks quite refreshing with its unique and modern design. The set of features and interior design also make it look more comfortable than Model Y.
Plus, Tesla does not have a very good reputation when it comes to build quality, something you would hardly encounter with Ioniq 5.
In short, in terms of numerical figures, Model Y sounds better but when combined with comfort, luxury, ride quality, and affordability, Ioniq 5 EV seems a worthy opponent.