It's that time of the year when Android fans eagerly wait for the next major Android version. However, in 2019, Google has made a slight delay and Android 10 will come out next week (Android Pie was released on August 6, 2018).
The information became public in the most unexpected way. PhoneArena and a separate user contacted two different Google support agents and simply asked when will Android 10 release. The agents were quick to tell the answer: September 3.
I didn't know it was that easy. Now, we can expect people asking Google when will Pixel 4 release.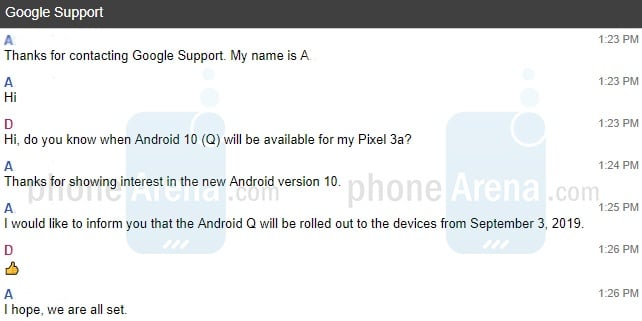 Until now, Google has already released 6 beta builds for the upcoming Android version. Apart from all the privacy changes and new features, Google has made a big change to its operating system.
Speaking of Android 10, of course, Google's own-Pixel lineup including Pixel 3/3XL, Pixel 2/2XL would be the first set of devices to get loaded with the fresh update.
Because of public demand, Google isn't leaving the original Pixel and Pixel XL outdated in 2019, and these older boys would also taste Android 10. I don't know if we can use the word 'taste' here as Android isn't officially a dessert anymore.
Recently, the company decided to drop the official dessert-inspired naming scheme for Android. This means all the Android versions starting with Android 10 won't have any names like Pie, Oreo or Nougat. So, future Android will be called Android 10, Android 11, and so on.
This also fixes one big problem that Ubuntu Linux faced. If Google had gone with the alphabets and dessert names, it would have to rethink its strategy after Android Z. Now, with the numbers game, the company can easily go on for more than a decade. Also, it shows a more mature attitude Google is now having towards its operating system.
Other manufacturers would follow soon. But this time we could expect even more promptness from OEMs that they'd not make their users wait much longer.