Expressions (specifically facial expressions) have been a part of us humans since we started to recognize things around us. This is further applicable for the virtual world, hence, we have our favorite tools, which we lovingly call an Emoji or an Emoticon. 
To keep our 'emotion expression' game strong on the social media platforms — where we live in more than any other physical place — we have various emoji apps. And guess what? I am going to list down the best emoji apps for Android and iOS so that you can express better.
As a reminder, I am listing down the apps that have a decent rating on the Google Play Store as well as the App Store and the ones which are pretty good in my experience. If you have other apps as an option, you can definitely use them as per your own wish.
Top 7 Emoji Apps for Android and iOS in 2019
1. Facemoji
The Facemoji app is an emoji keyboard app that allows you to set it as a default keyboard or an additional keyboard option. It is one of best emoji app on this list as it comes with an option to add various keyboard themes to your smartphone. You can also send stickers and emojis for an expressive conversation with people.
While adding the keyboard to your keyboard option, there will be a pop-up message suggesting that Facemoji will access all the messages typed in by you. The app is divided into five main sections: the Theme section, the Sticker section, a circular button to create your customized themed keyboard, the Emoji section, and the Settings section.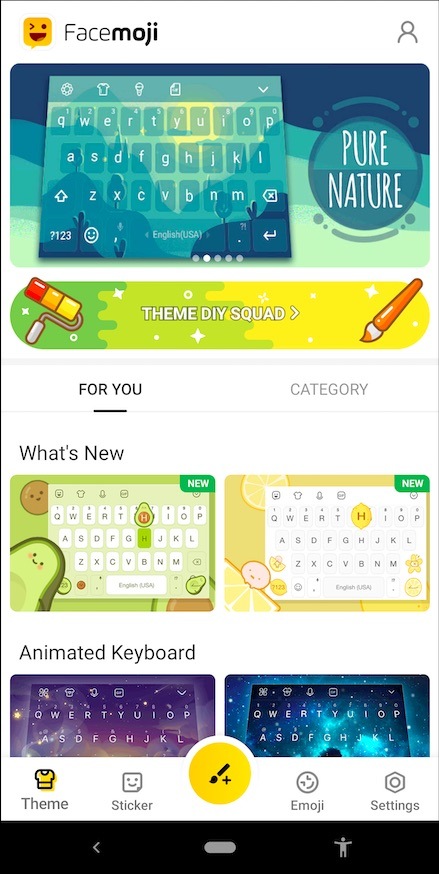 The various themes available include animated themes as well and are quite impressive to try out. By tapping the middle circular button, you can create your own thematic keyboard by adding the desired effects, template, emoticons and more. Following the creation of the keyboard, you can save it and publish it on the DIY community if you wish to.
Although the app is easy to use and has a lot of options to choose from, it appears a bit cluttered that I didn't like.
Pros: Various themes
Cons: Cluttered UI
Do check out our list of keyboard apps for android that you can use in 2022 here!
2. Bitmoji
If you are a frequent Snapchatter, you ought to know about the Bitmoji emoji app, which is why it is on my best emoji app list. As the name suggests, the app allows you to create Bitmoji versions of yourself to put up on Snapchat as identity.
To begin with the app, you are required to sign up either with your Snapchat ID or your Gmail. Following this, you have to select your gender and choose from the skin tones, hair, eyes, and other options to create your own Bitmoji with resembling facial features.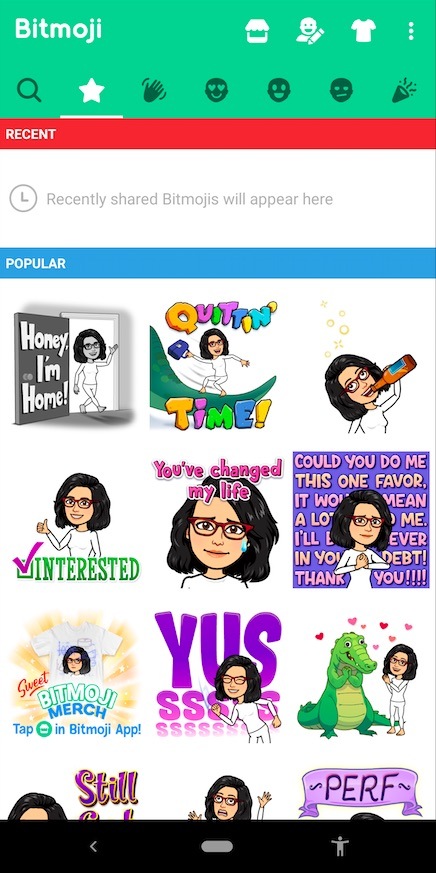 You can either click a selfie to match the face of Bitmoji or continue without it and let Snapchat choose for the face for you.
Furthermore, you can use various Bitmoji stickers customized with your Bitmoji and share it on Snapchat and Gboard.
Pros: Fun to use
Cons: Mostly compatible with Snapchat
3. Elite Emoji
The Elite Emoji app is an emoji that allows you to create emojis, stickers, GIFs, and more (mostly your personalized versions). The app has a plethora of options to choose from and you can choose whichever emoticon you like. 
Upon launching the app, you have to select your gender and answer an optional personality quiz for enhanced emoji experience. The app has various sections to explore: Emojis, Daily Ideas, Robin Hoot, I Think Of You, GIFs, Try Me, Pairs, Survey Pony, Useful Messages, Recipients, Animated GIFs, and a lot more.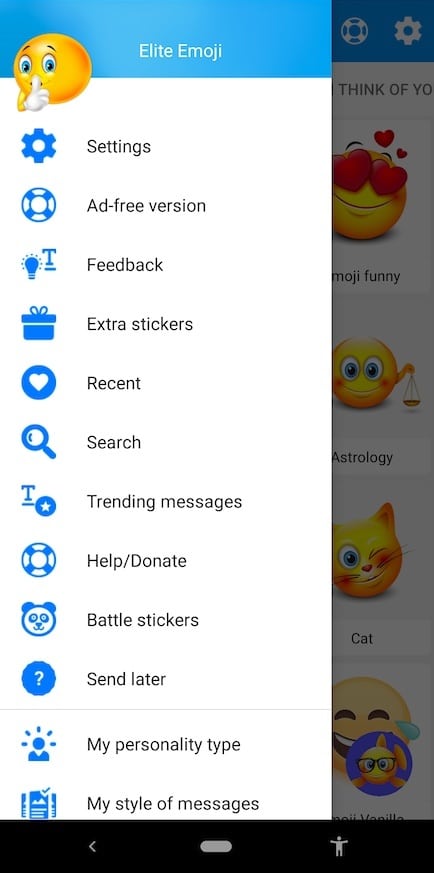 The Hamburger menu too has various options you can choose to further explore the app, and this is the reason to place this app on the third slot on the best emoji app list.
Pros: Plethora of emoji options
Cons: Ads
4. FunType Smiley Keyboard
The FunType Smiley Keyboard is yet another emoji app that lets you create customized keyboards to get loads of emojis, stickers, and more.
The app launches in the same way as many other emoji keyboard apps, but what makes it one of best emoji app is the fact that it doesn't get hold of user data in the form of messages typed in.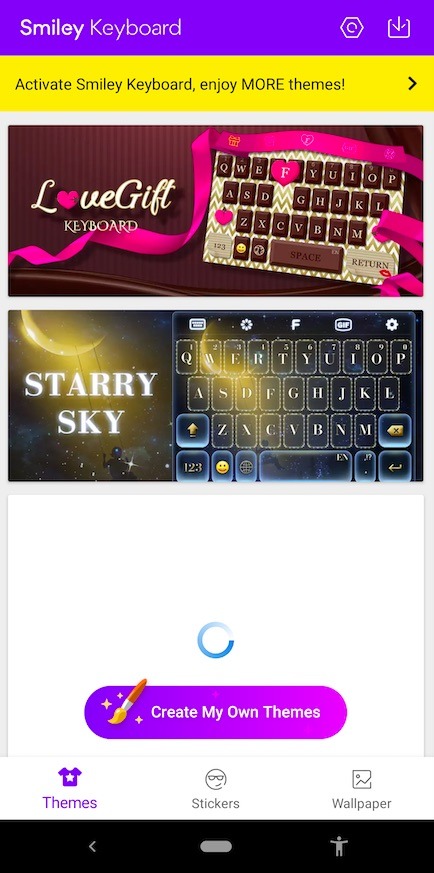 You just have to open up the app, enable the keyboard from the option provided, and start using the app. The app has three sections: Themes, Stickers, and Wallpaper, wherein keyboard themes, stickers and emojis, and wallpapers lie respectively.
The keyboard themes are pretty nice and you can download whatever emoji you like and send them on various messaging apps.
Pros: Doesn't access user data
Cons: Constant ads
Availability: Android
5. Kika Keyboard 2019
Among the best free emoji apps for Android and iOS, Kika Keyboard 2019 is another emoji app that stands out. It lets you create emojis (both on the app and personalized), selection of emojis, stickers, and much more.
The app's interface is much like various other emoji keyboard apps available and it is pretty easy to use.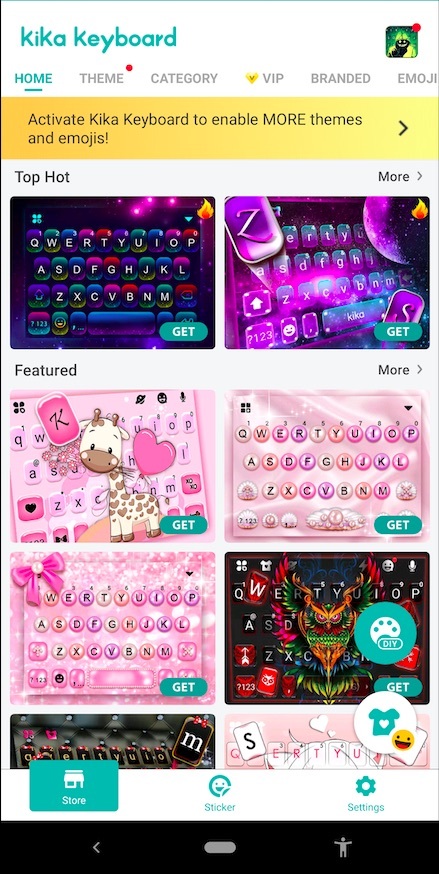 With this app, you get various kinds of themed keyboards, downloadable emoticons and stickers, and the ability to create emoji keyboards as per choice. However, not much is new and you may find it a bit boring at times.
But you can upgrade to a premium version to get new features and get rid of adverts as they can be annoying on an emoji keyboard app.
Pros: Easy-to-use UI
Cons: Monotony and Ads
Availability: Android
6. Kaomoji Go
If you love the idea of Japanese emoticons and the old-school way of sending emojis to people is still your way of chatting, then Kaomoji is an emoji app that will definitely excite you. The Kaomoji emoji app is a really (like really) simple app to use, therefore, mentioning it in my best emoji app list is a must.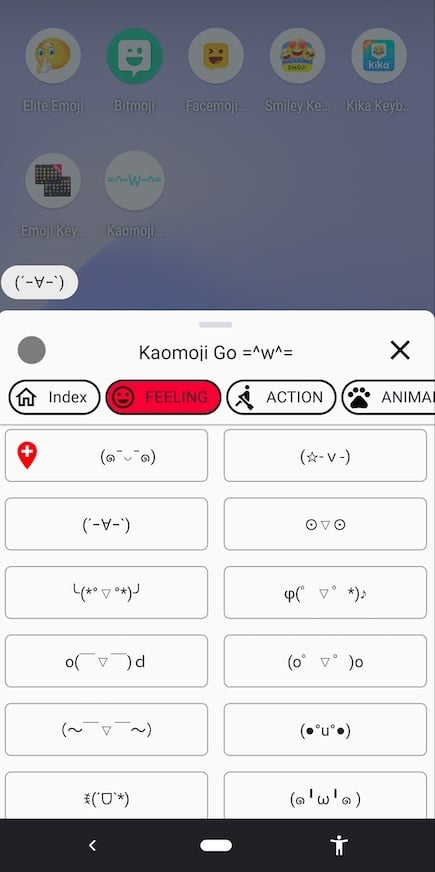 The app opens up in the form of a window, which is divided into various sections for you to choose which kaomoji you want to go for. In order to select the ones you like, you just have to long-press that particular Japanese emoji and it will be copied to your clipboard. Following this, you can simply paste it on whichever messaging platform you want to use it.
Pros: Easy app
Cons: Only Japanese emojis available
Availability: Android
7. Emoji Keyboard
Emoji Keyboard is another good emoji app for Android and iOS that helps you to access emojis, stickers, and a lot more. The app has three major sections: Store, Sticker, and Settings — with each section having various subsections to choose from.
The app also allows you to to use customized emoji keyboards and its various emoji options. While there are loads of options available, most of the keyboard themes were not to my liking. However, the categories offered can help you choose the theme you might like.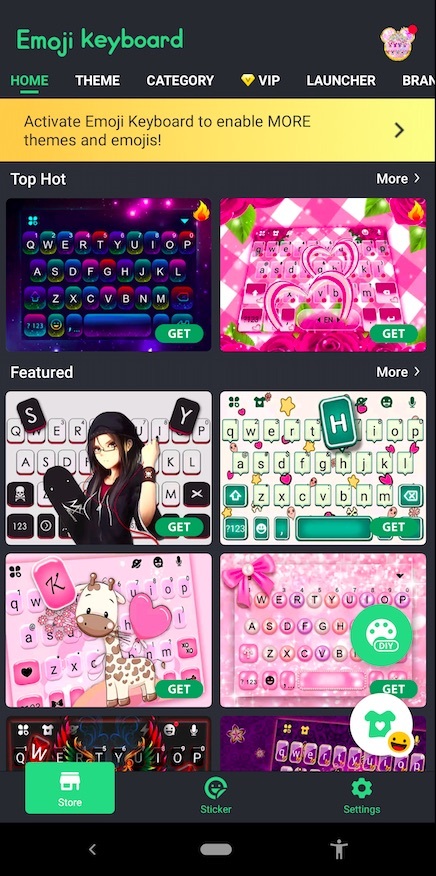 Additionally, the emoji section has various other emoji app options that you can download if you want. You can also upgrade to the app's Pro version by paying money to access some premium features for the app.
Pros: Wide range of emoji keyboards
Cons: Ads
Availability: Android
For those who can't live without emojis, stickers, emoji keyboards, and such classic social media elements, I hope you like my best emoji app list. Do let me know how you like the aforementioned apps. In case you come across any other emoji app for Android and iOS, don't forget to share your findings. Until then, keep on emoticonning!