G
oogle first dropped the word about Chrome's upcoming ad-blocker
in June last year
, set for early 2018 release. A couple of months later, an implementation of the tool was
introduced
in Chrome Canary. Now, the official launch date of the much-awaited ad filtering tool has arrived.
It looks as if Chrome's adblocker is an attempt to weaken the dominance of the well-known software AdBlock Plus (ABP) which made the life of advertising companies somewhat miserable. And Google is one of them.
While AdBlock Plus, through browser extensions, starts kicking out ads right away, Chrome's ad-blocker works in a slightly different way.
It's already known that the tool adheres to the Better Ads Standards set forth by the Coalition for Better Ads after surveying over 40,000 humans. The ad-blocker monitors how well the websites comply with Better Ads Standards and generates an Ad Experience Report.
Better Ads Standards calls different types of ad experiences as intrusive. On desktops, these are classified as pop-ups, auto-playing video ads with sound, large sticky ads, prestitial ads with a countdown, etc. For mobile devices, the list expands to include full-screen scrollover ads, flashing animated ads, etc.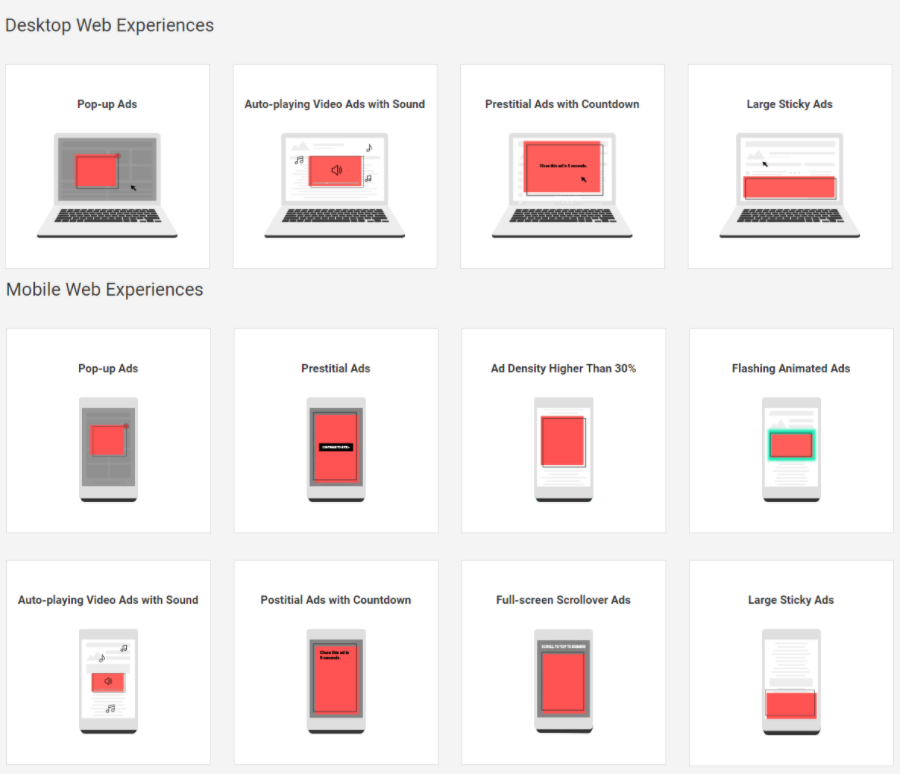 Google says that not all ad experiences are intrusive, the bad practices by websites degrade the experiences. For instance, they might throw ads towards visitors like the bullets from a machine gun.
The tool removes all advertisements on the websites which have a "failed" status in the experience report for more than 30 days. The report is created after analyzing sample pages from the website, and a 'Passing', 'Warning', or 'Failing' status is awarded to the site. But before taking the hard step, the sites are informed about the issues and time is provided to address them.
Out of the websites violating Better Ads Standard, around 42% have fixed their issues as of Feb 12. So, it seems Google doesn't want to wipe the advertisements out of their existence, just make them less annoying. In fact, if they intended to do so, they would have been biting their own hand.
However, having more control could allow them to make better use of their ad platform as they will be the deciding authority on whether to block ads or not. Also, given the popularity of Chrome, providing a built-in ad-blocker would make people search for such tools less often and decrease their adoption over time.
Apart from taking down annoying ads, Google is also working to add paywalls to help publishers who don't want to rely on advertisements.
How to use Google Chrome's ad-blocker?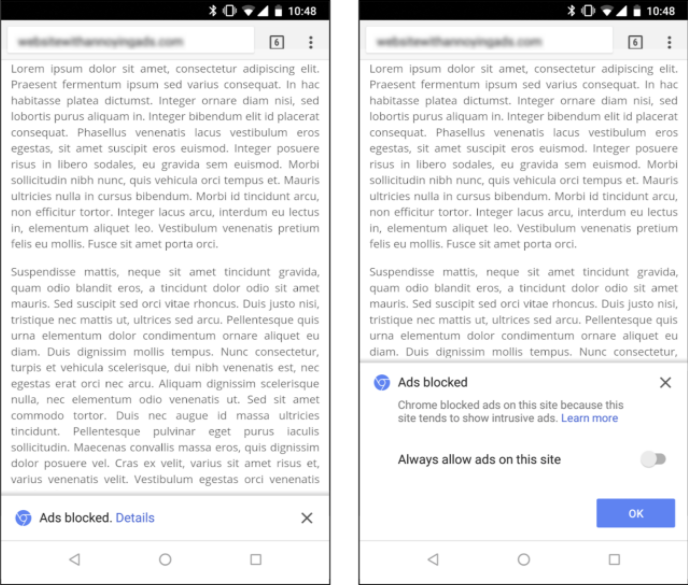 To use the Chromes ad-blocker, the users have to do nothing. When they visit a website, Chrome automatically checks if the site violates the ads standards or not. If it does, then Chrome blocks URL requests related to advertisements. A message informing the user about blocked ads appear on the screen.