With the increasing accessibility of the internet across the world, our ways of getting entertained have changed. Gone are the days when everyone would rush over to their television sets to catch their favorite movie or TV show. Now many of us prefer streaming videos online, and there are multiple services where you can get your daily dose of entertainment — anytime, anywhere!
Premium video streaming services like Netflix, Hulu, and Amazon Prime Video have also increased the popularity of online video streaming apps and websites. But they are paid services, and not everyone would like to spend that much. This is why I have jotted down a list of best free legal streaming apps for both iOS and Android where you can enjoy unlimited streaming.
Now that you are here, do take a look at our other lists of websites and apps where you can get unlimited free movies and TV shows:
12 Free Movie and TV Apps For 2019
Crackle
TubiTV
Popcornflix
Viewster
Internet Archive
Snagfilms
Hotstar
Yidio
Pluto TV
Kodi
Jio Cinema, Airtel Xtreme
YouTube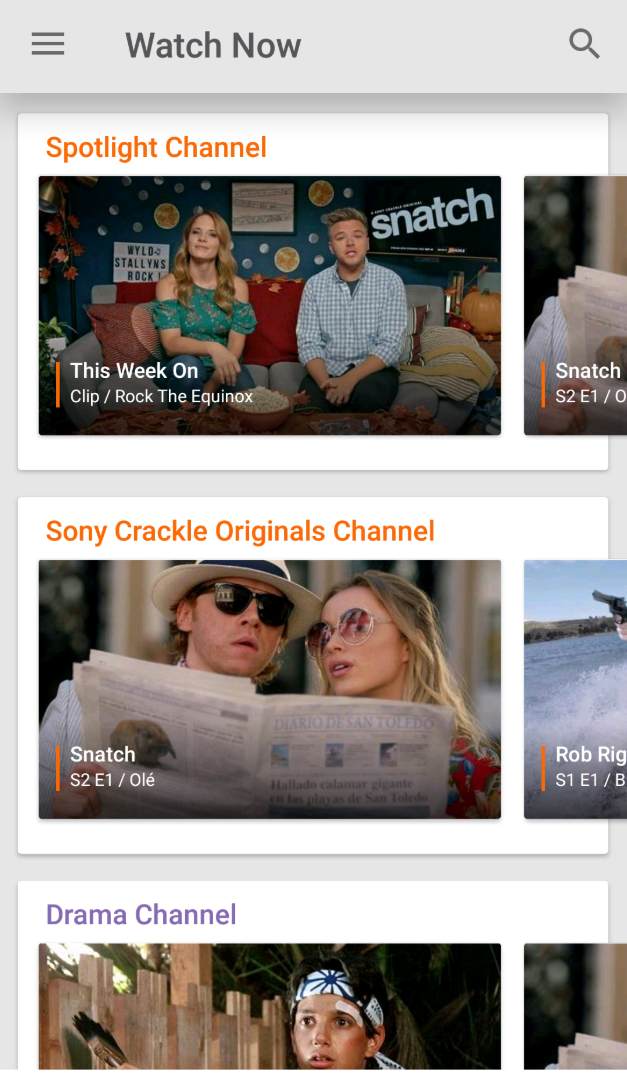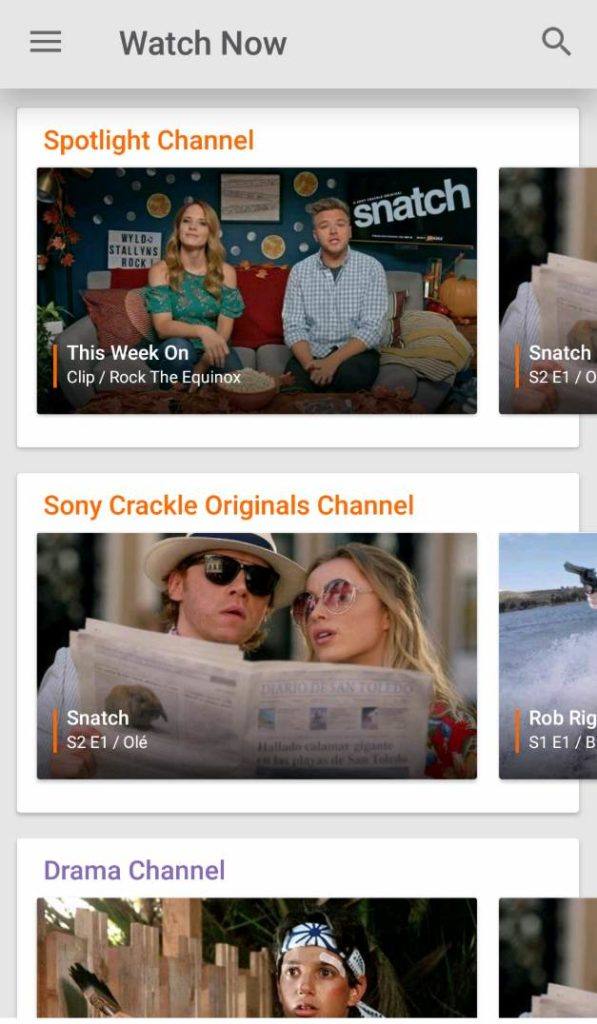 Sony owns the free video streaming app Crackle. It offers an excellent collection of TV Shows and movies that can be streamed for free. The best part about the app is that it doesn't require you to sign up for watching the video. However, if you choose to sign up, it lets you keep track of watched movies. This free movie app in itself is ad-free, but some of the videos might contain some ads.
Crackle runs the videos with high-quality video and sound, but you would need a good internet connection for an uninterrupted experience. This free streaming app has a vast catalog of movies and TV shows ranging from drama, action, thriller, etc. The search option works well, and there are filters for genre, length, and alphabetic order to help you find what you need.
Why use Crackle?
Really good collection of movies and TV series
Subtitles present
No sign-up or subscription
Available for both iOS & Android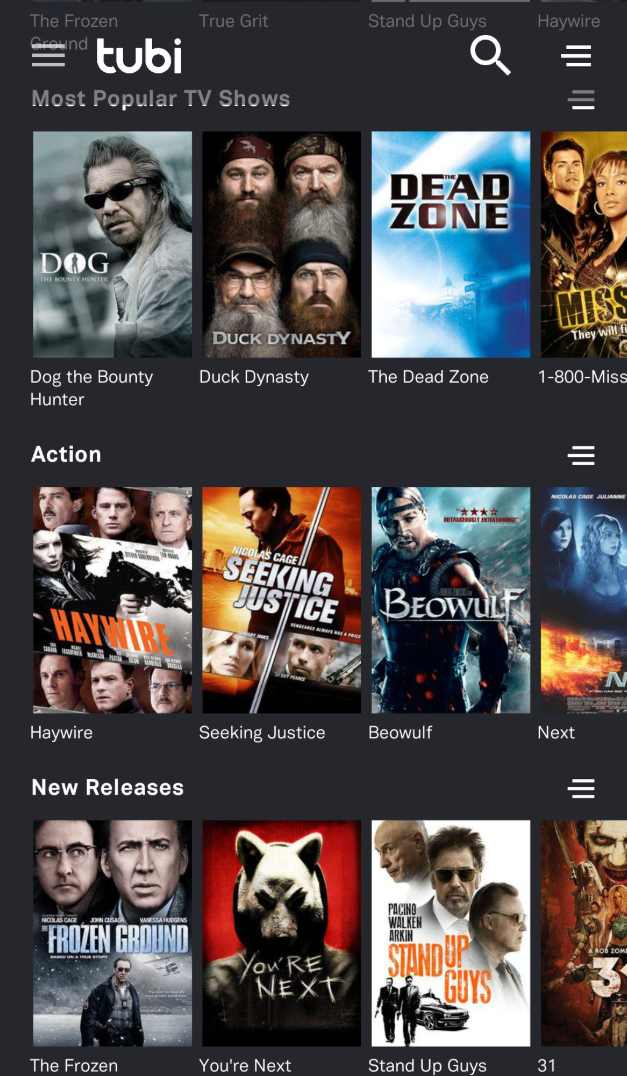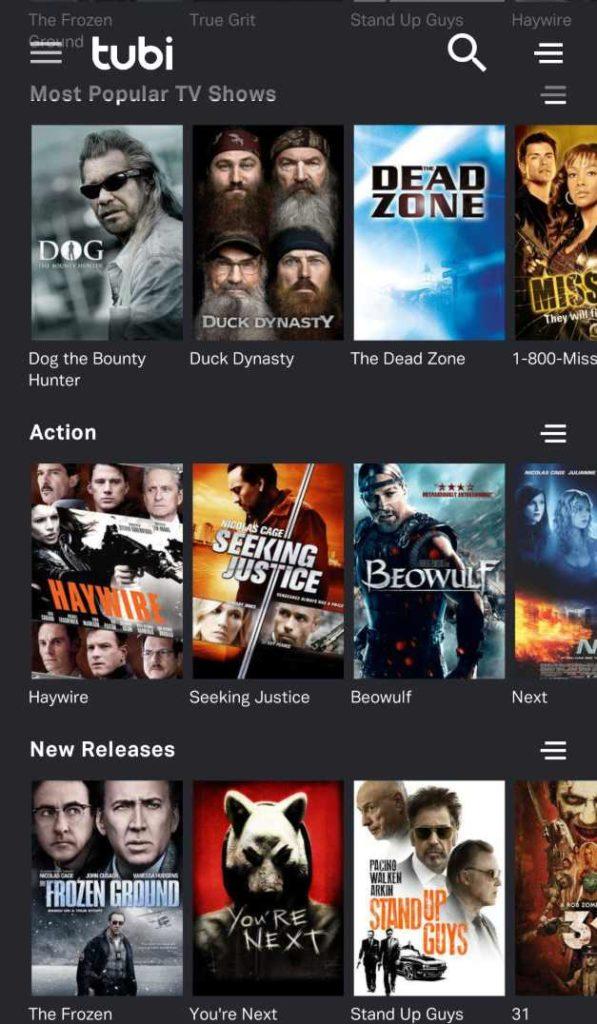 TubiTV is another free video streaming app that hosts a broad selection of movies and TV Shows. The content is well categorized into different genres, and the search option works quite efficiently. What I really liked about the app is its beautiful dark theme and the media player.
The player offers subtitles for all the videos, lets you forward or rewind the track by 15 seconds and lock in landscape mode for a better viewing experience. As far as the sound and video quality is concerned, it's of high quality and the streaming rate is pretty decent, as I didn't face any buffering issues. The only con I could find is the ads that appear after every 15 to 20 minutes.
Why use TubiTV?
Dark themed, subtitles available
High-quality videos
Available for both iOS & Android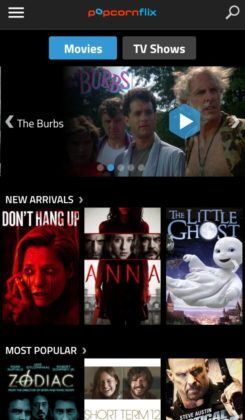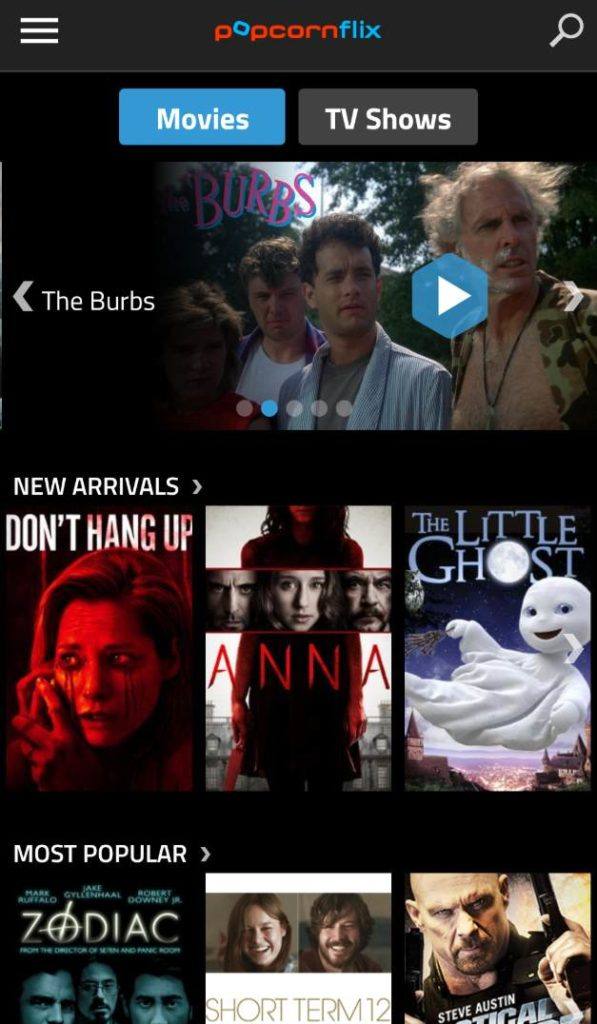 This free streaming app is wholly dedicated to streaming movies and TV shows for free. It has a minimalistic interface that features several genres of films divided into a separate section. You can check the new arrivals or the most popular section to explore more. Just like Netflix, it offers Popcornflix originals which makes it a good Netflix alternative.
Popcornflix sports a dark theme skin and plays movies and TV series at decent streaming speed. However, this free movie app may not be available in all countries so you can use VPN to access the app content.
Why use Popcornflix?
Collection of new movies and TV series
No sign-up or subscription required
Available for both iOS & Android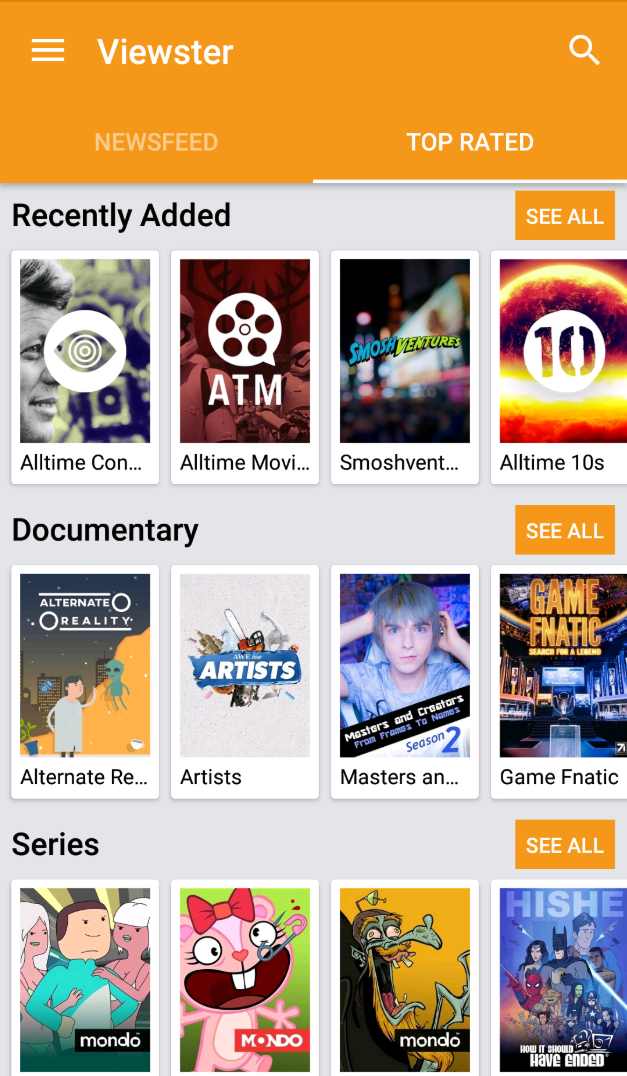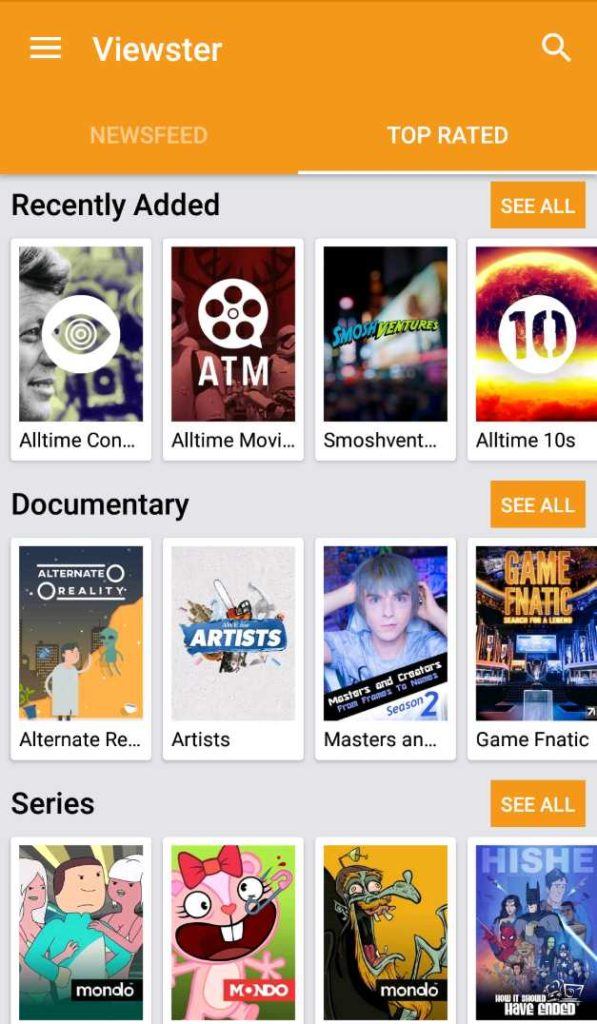 Viewster is another free TV and movie app you can use to watch different kinds of videos. Be it movies, TV shows, documentaries, news, cartoons or even funny clips; you will find it all here. It doesn't have an extensive library as compared to the premium names in the online media streaming apps, but in case you are into anime and fandom, you can check out its growing collection of anime content.
You can leave comments on each video just like YouTube and even add a reaction similar to Facebook's react faces. On the top right corner of the media player, you will find a settings option to change streaming quality, audio and subtitles. Viewster also lets you maintain a wish list of videos you would like to watch and easy sharing options to share content with others.
Why use Viewster?
Great for watching Anime
Different streaming quality option present
Available for both iOS & Android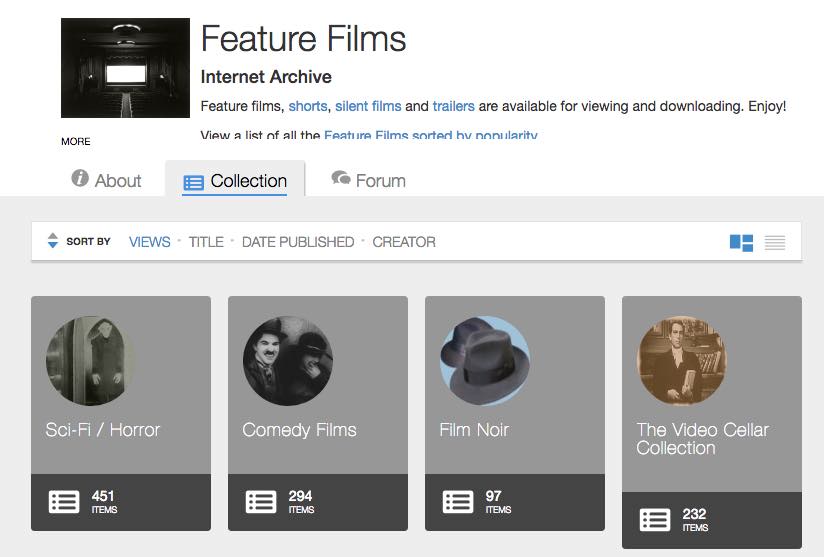 While the Internet Archive doesn't feature any official application on iOS or Android, its free collection is enough to get it featured on this list of free movie apps. You can either watch the content in your smartphone's web browser, or you can install a third-party application for the Internet Archive. I performed a quick search on the Play Store and found numerous apps that stream license-free content from the website.
Here, I won't be listing the features of any specific application as they all differ in terms of features and functionality. So, I'd recommend you to first browse the classic and free content collection on the Internet Archive and then test any app that suits your needs.
Why use Internet Archive?
Lots of classic content
Option to download content in different formats
Multiple iOS and Android apps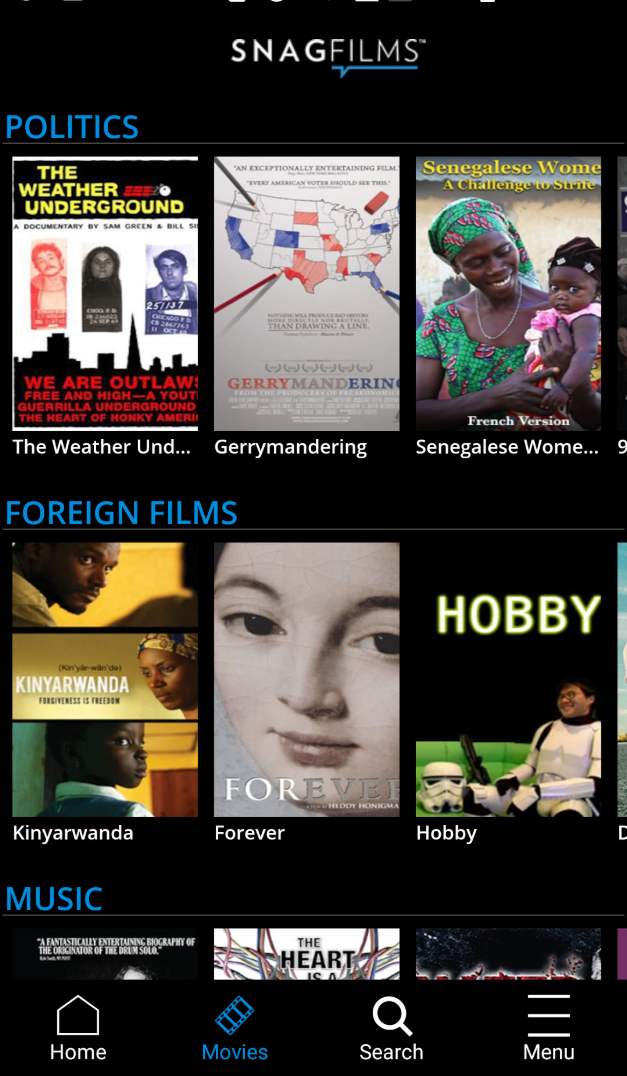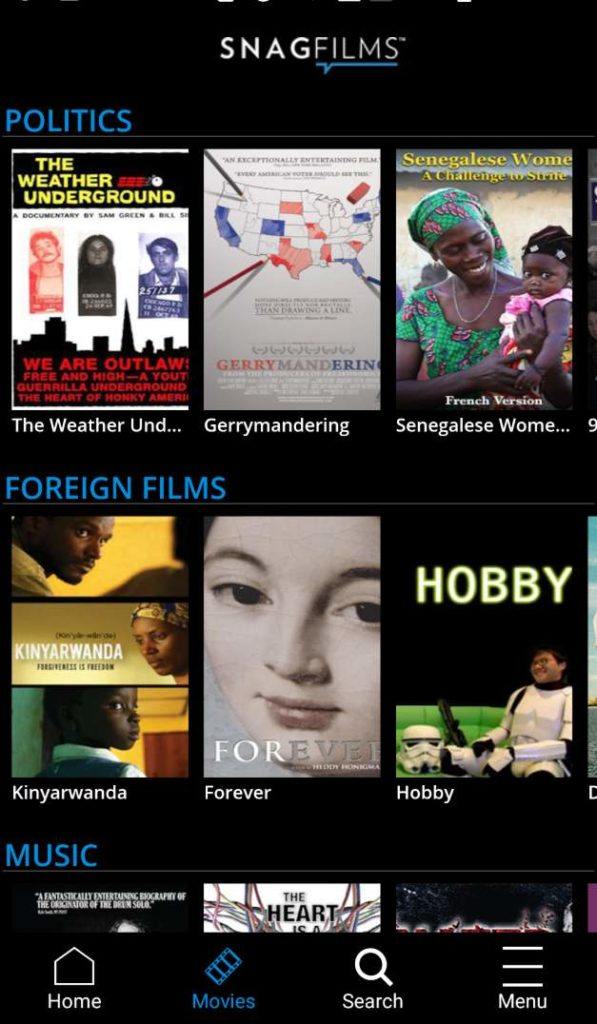 For those who are into documentaries and classic movies, Snagfilms is the best free streaming app. It hosts videos on topics such as Drama, Kids, Family, World History, Wildlife, Environment, etc. It might disappoint you if you are looking for some TV series and the latest movies but if rare classic films are your thing, Snagfilms is a good option.
The TV and movie app has a dark theme and offers trailers for each video. The best part is that it lets you download movies for offline streaming. You can choose to set the download quality on this free movie app as per the amount of internet data you have. The one thing I found missing was the subtitles option which is preferred by many users.
Why use Snagfilms?
Dark theme app; offers previews
Downloading and offline viewing option
Available for both iOS & Android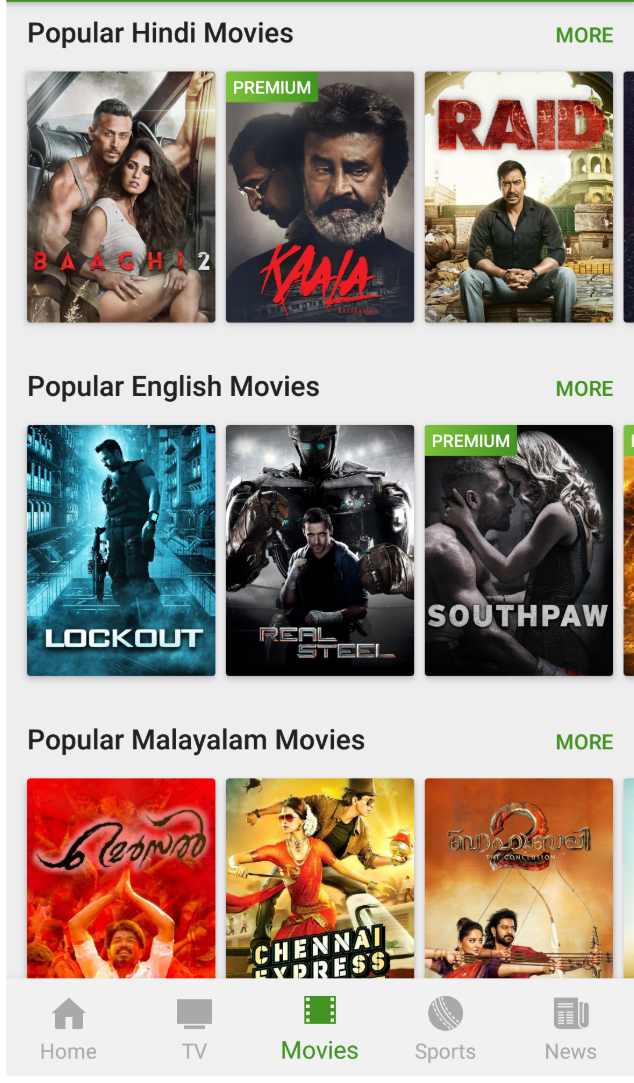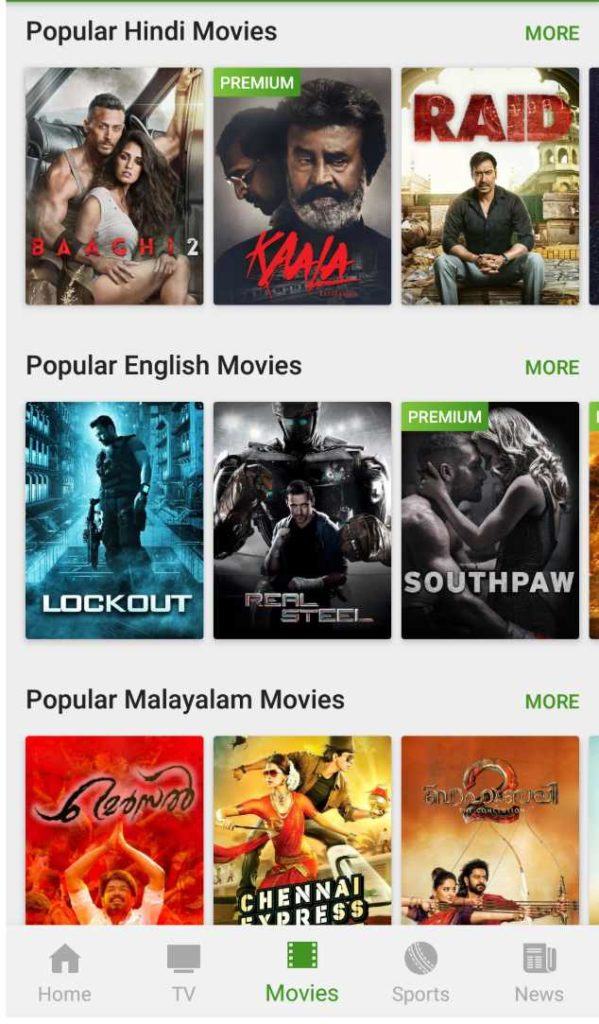 Hotstar is a popular streaming app in India that lets you watch free Bollywood movies online. It has the largest collection of free Hindi movies and daily soaps. The best part is that you don't even need to sign up to stream videos on the app for free.
However, the free stuff is scattered all over the app and you will have to look for thumbnails that don't have 'premium' written on it – they are free! You can also enjoy Indian TV channels on the app. Apart from Hindi language, the app offers a decent collection of videos in English too.
Why use Hotstar?
Three video streaming quality: 720p, 360p, 120p
Offers news and sports as well
Available for both Android & iOS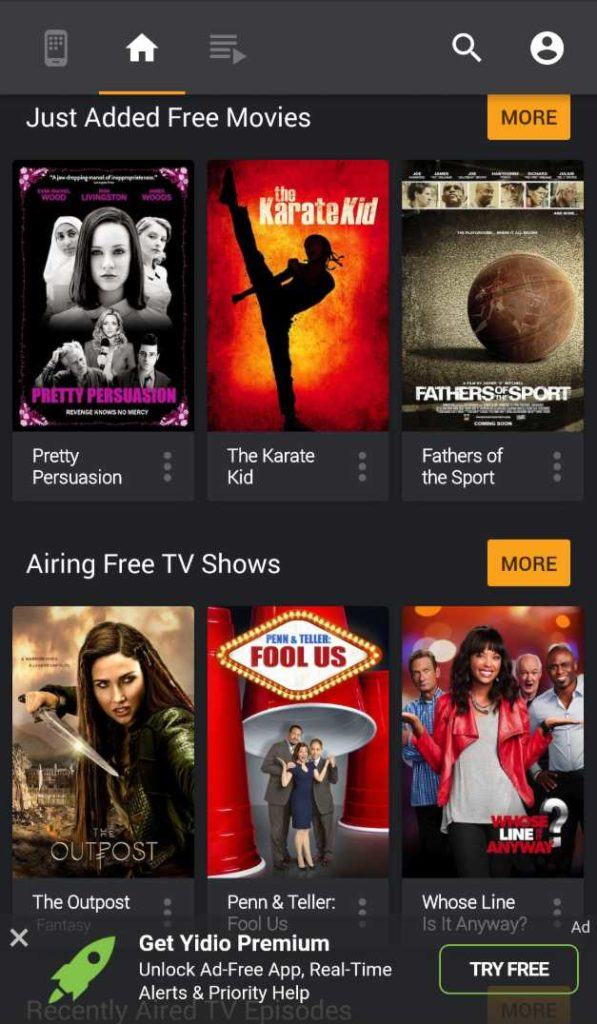 This free TV and movie app is an aggregator that brings content from various legal and free TV streaming sources. While many of these sources are paid, there are free options too on Yidio. There is a complete section titled "Free Movies" and "Free TV shows" so don't forget to check them out.
Those who are interested in popular shows like Rick and Morty, Grey's Anatomy, Two and a Half Men or The Flash are simply going to love this app. But again, I would rank this app lower in this list because of the limited collection of free stuff available here.
Why use Yidio?
Free movies and TV series streaming from legal sources
Dark theme, Picture-in-Picture mode
Available for both iOS & Android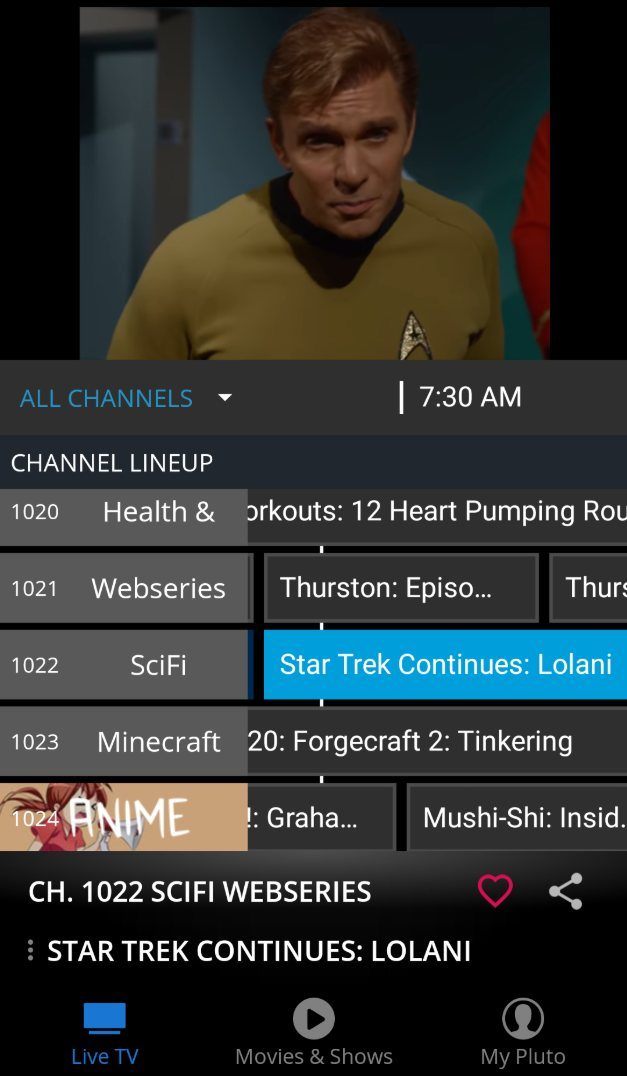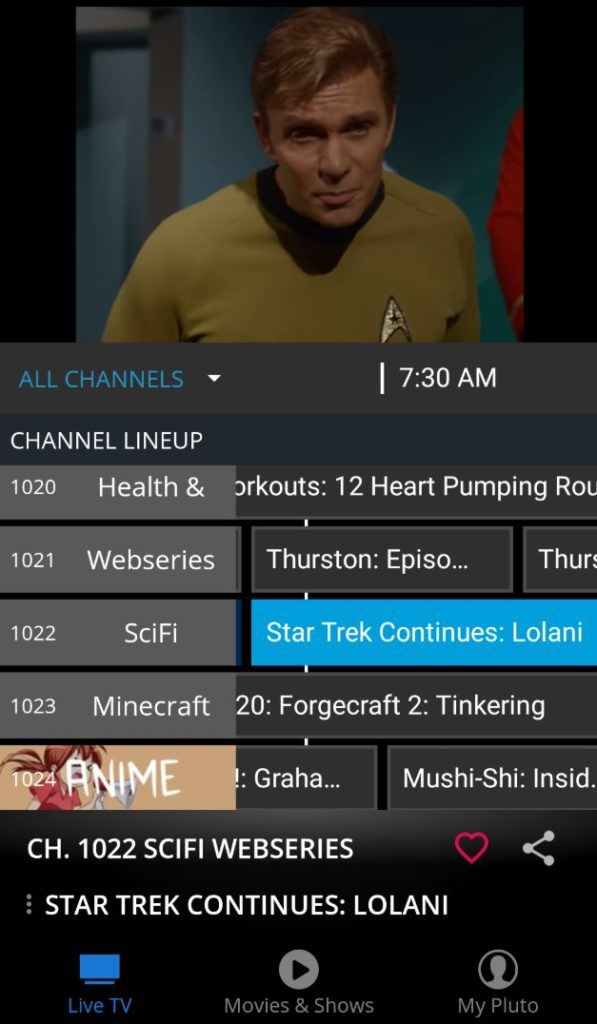 The Pluto TV app feels more like a regular television with its numerous live channels. There are separate sections for live TV streaming where you can flip through channels instantly and Movies, TV show section where you get a large collection of videos.
Its live TV channels work even without signing up and you can pick any channel to stream videos on different topics like travel, food, music, lifestyle, animals, sci-fi, etc. The fast streaming speed of live TV channels really impressed me and its really easy to switch between the channels without any buffer time.
Why use Pluto TV?
Clean interface
Loads videos quickly and in high quality
Available for both iOS & Android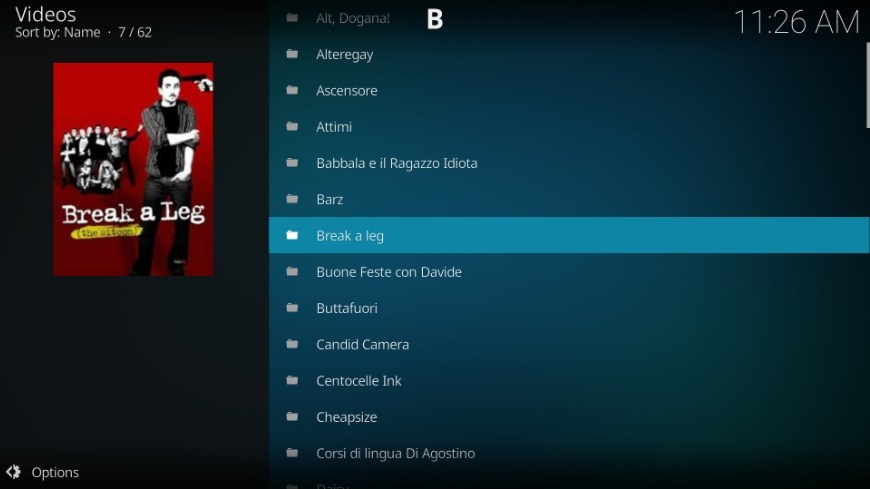 Ever since the launch of Kodi, it has constantly ranked as a favorite app among those who like to stream videos for free. While Kodi itself is a completely legal app, there are certain add-ons that stream pirated content. Hence you should check out the 100% legal add-ons such as USTV Now to make sure you can stream TV shows, films, sports, documentaries, etc. without taking risks.
In case you are not sure, you can check out these Kodi add-ons for streaming videos on your Android and iPhones. Apart from these, there are several Kodi repositories as well where you can download popular add-ons.
Why use Kodi?
An extremely versatile app that offers much more than videos
Easy to use
Thousands of add-ons available
11. Jio Cinema, Airtel Xtreme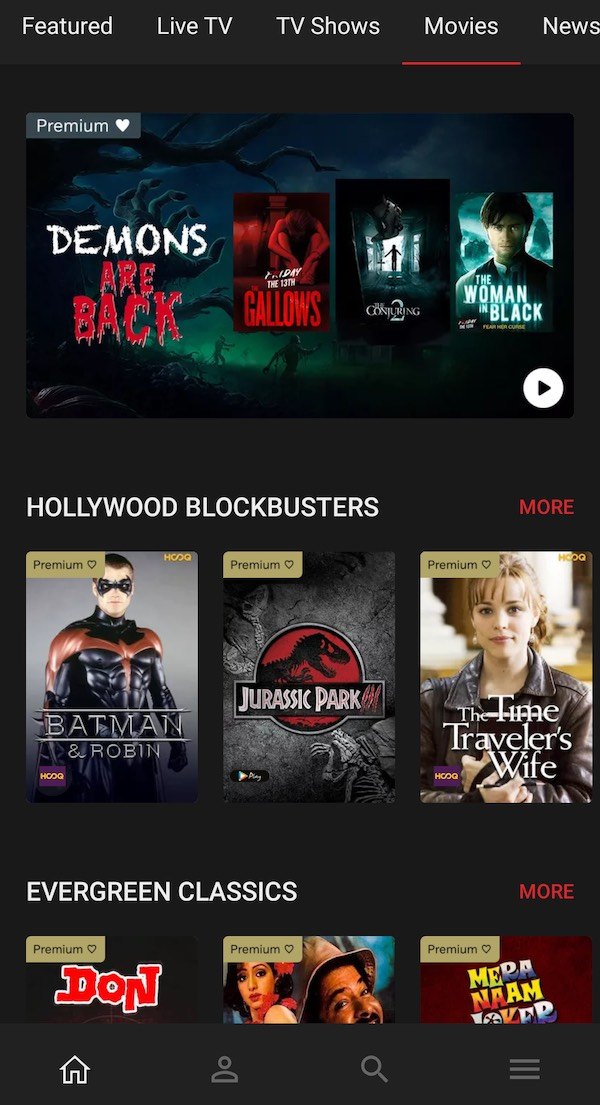 If you're a resident of India, there are numerous options for free movie apps. Due to the increasing competition in this heavily dense market, almost all major telecom operators and shipping a free content streaming and Live TV apps with their paid plans. Out of all such apps, Reliance Jio's Jio Cinema and Bharti Airtel's Airtel Xtreme standout.
Both of these movie apps are well designed and they come with free live TV streaming option to let you watch paid TV channels on the go. All the content on these apps is available in high-definition; you can also enjoy the content in multiple Indian languages as well.
Why use Jio or Airtel movies app?
Totally free content in HD
Lots of premiers of new content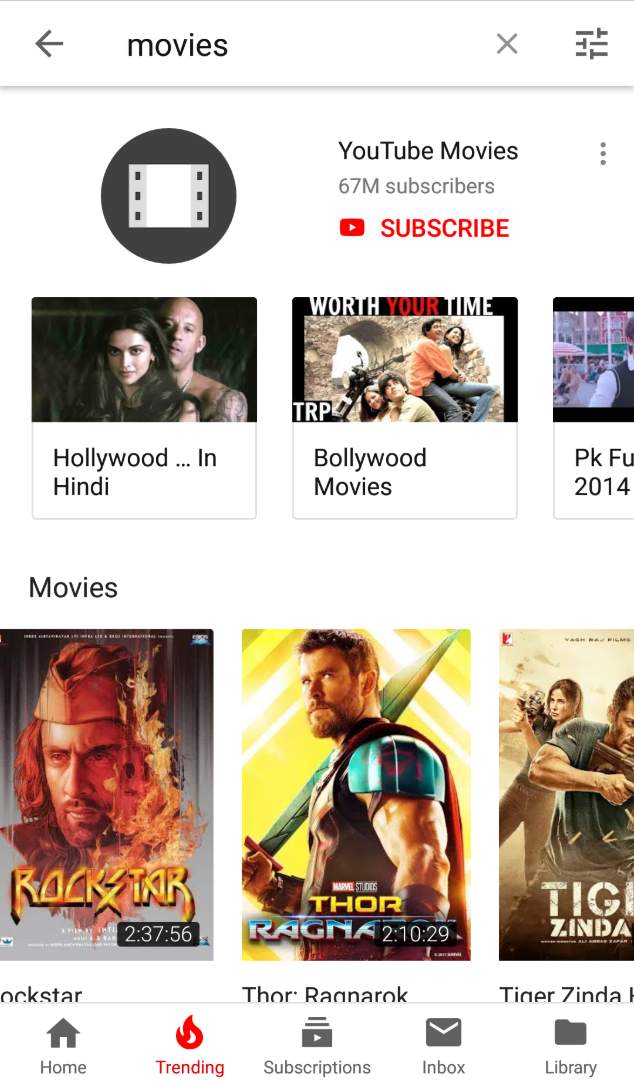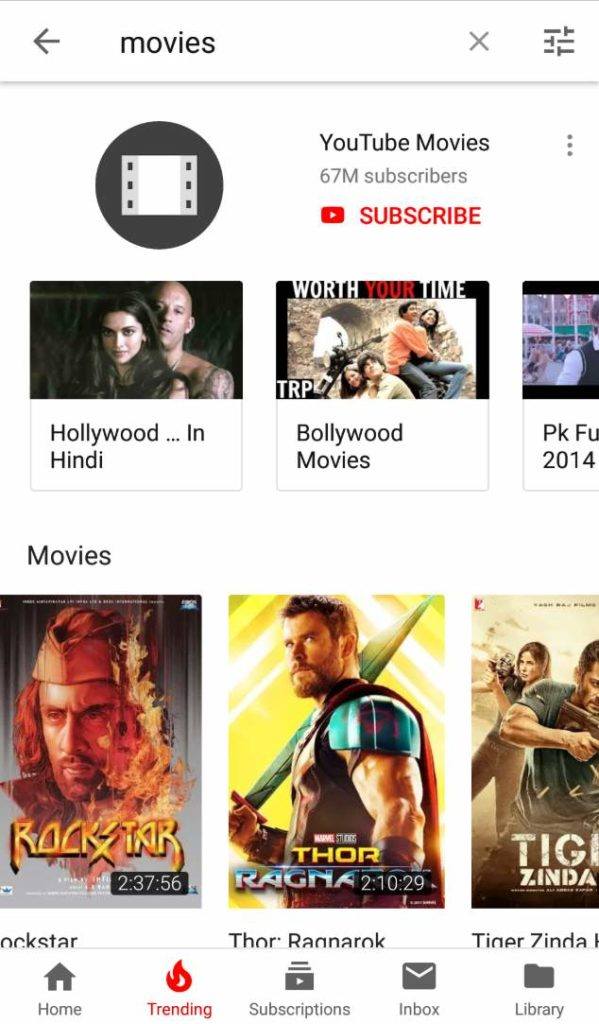 As usual, we cannot skip YouTube when it comes to free streaming apps. This video streaming app brings you the largest collection of videos related to every category. As far as streaming movies and TV shows are concerned, there are many YouTube channels that would let you stream full-length videos for free but keep in mind that all of them are not legal.
Therefore, it is advisable to check the legality of those sources on YouTube because even if you are not downloading those videos, streaming such copyrighted content is also considered illegal.
Why YouTube?
An extensive collection of videos
Good streaming speed at different video quality
Final Thoughts
All the free TV and movie streaming apps listed above are available for both iOS and Android. However, depending upon the country you are located in, some of the apps may not be available to you on the Play Store or App Store. In that case, you can simply download the .APK files to install streaming apps for movie and TV shows. But again, I would advise you to be careful as installing from third-party sources can sometimes lead to the downloading of unwanted or harmful apps as well.
In case you feel I missed some awesome free and legal streaming app in this list, feel free to add your comments below! Keep reading Fossbytes and sharing your feedback.