A
ugmented reality(AR) has gained a lot of attention in the last few years and developers are trying to get their hands on this highly useful tech. AR apps have been on the Play Store for quite some time now. Most of them are full of bugs, but the ones that work will amaze you. Although this technology is still in its early days, we have made a compilation of the best AR apps for Android available in the Play Store.
What are AR apps and games?
The word "augmented" means to make something greater or more intense, i.e., to increase something by adding something to it. Augmented reality refers to the enhancement of our real-world environment through computer-aided sensing. AR Apps are those apps that use our phone's camera or other sensors to give us more enhanced information about our environment.
Augmented Reality vs. Virtual Reality
AR differs from VR although they might seem to be the same. AR enhances our perception of the real world through digital technology. For example, Google Glass used Augmented Reality. But in VR, a simulated world replaces the real world altogether. VR headsets like Oculus Rift are an example of VR devices.
Note: Some of these apps will work only if your device has all the required sensors. This list isn't in the order of preference. It is a compilation of popular and best rated Android augmented reality apps. If you are an iOS user, take a look at our article on 10 Best AR Apps And Games For iOS 11.
11 Best AR Apps For Android
1. Google Sky Map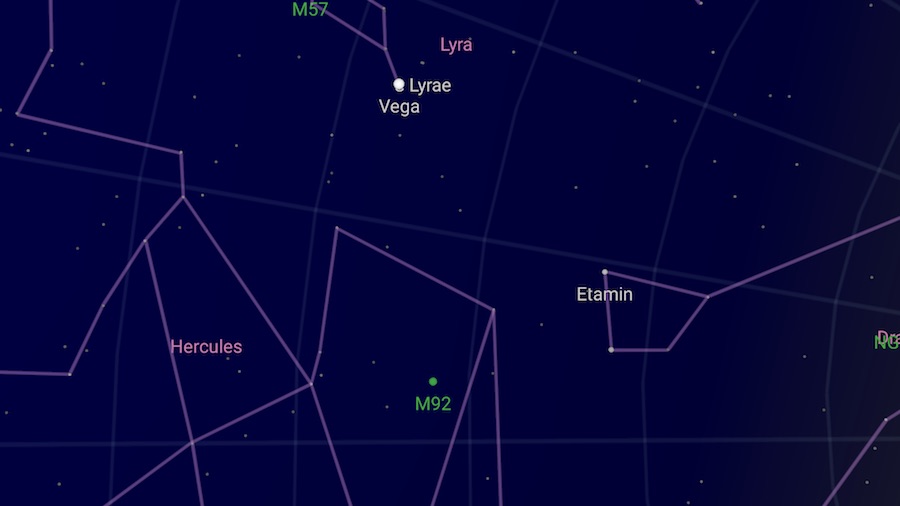 Google Sky Map is one of the oldest Android AR apps on the Play Store. It lets you experience the universe through your phone's camera in augmented reality. Point your device's camera at the sky, and the app will show you the constellations, planets, galaxies and celestial object and their relative positions in the direction you point.
The results are pretty accurate if the device is calibrated. If not, you can follow their guide for calibrating the app.
Download Google Sky Map for Android.
2. Inkhunter-try tattoo designs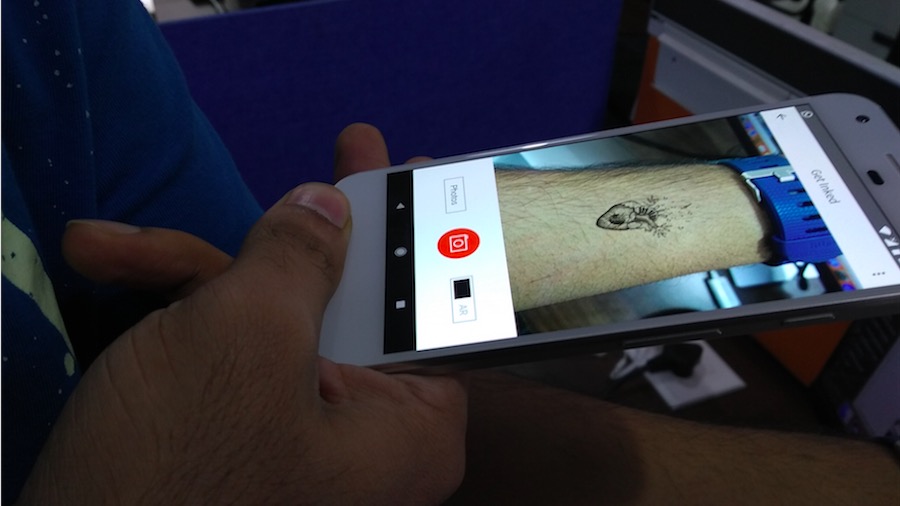 Inkhunter is an awesome AR app for Android. It lets you visualize in augmented reality how a tattoo would look like in your skin. All you need to do is draw a square-shaped smiley on your skin, and the app will project the design you choose through the camera. You can select your own design from gallery or choose from the hundreds of designs available through the app.
Download Inkhunter AR App for Android.
3. Pokémon GO
You must have heard about the Pokémon Go hype. It has been downloaded more than 750 million times and it's one the best AR games for Android you can play. The gameplay is pretty simple. As you walk around with this game installed, your smartphone will vibrate if there is a Pokémon nearby. Aim and throw a Poké Ball to catch one. The game makes you search far and wide for Pokémons and other items. While catching, hatching, and evolving, compete in epic Gym battles and team up to defeat powerful Raid Bosses.
This game is free-to-play with in-game purchases. However, it is only optimized for smartphones, not tablets.
Download Pokémon Go for Android
4. Ingress
Ingress is a classic Android AR game where the whole world is your playground. The game deals with a mysterious energy and portals of this energy across various places globally. You must choose sides in this game. "The Enlightened" is tasked with the duty of harnessing the force while "The Resistance" must work to defend and protect humanity. Although you might need some time to get a grasp of the game, once you do, you will be hooked.
Ingress is free with in-app purchases.
Download Ingress for Android.
6. Google Translate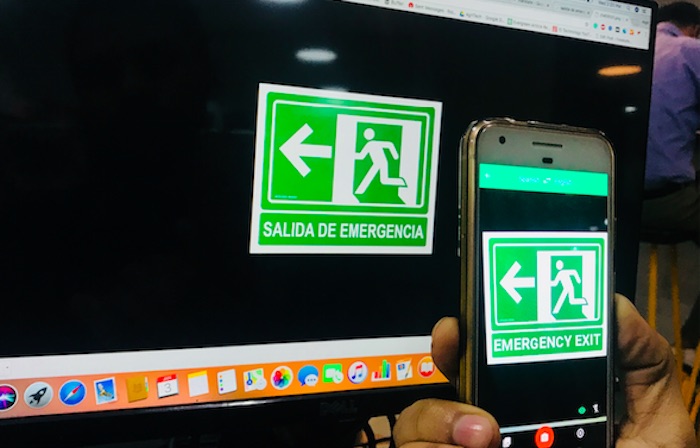 Google has done a substantial amount of work to remove language barrier through Google Translate. It has support for 100+ languages and it could easily top the list of best AR apps for Android due to its real-world usefulness. Apart from voice and text input, Google Translate also allows you to point your camera at written text and see its translation. How cool is that!
Download Google Translate for Android.
5. Quiver – 3D Coloring App
Quiver is an augmented reality coloring app which allows you to print, color, and see your drawings in beautiful 3D animation. It is a free AR Android App with in-app purchases. The app is mainly created for kids to give them happy coloring experience. All you need is to place the Quiver app on top of a coloring page and press the tap button, and the coloring page will automatically come to life in the form of an animation. The users can access and print a range of coloring pages from within the app or from Quiver's website (QuiverVision.com).
In addition to these, you can even play games with the animated characters, take a quiz, capture photos of your coloring creation, etc. The app is fun to use, but not an exception to flaws as it has a few issues.
Download Quiver Android app.
7. Antimosquito AR Game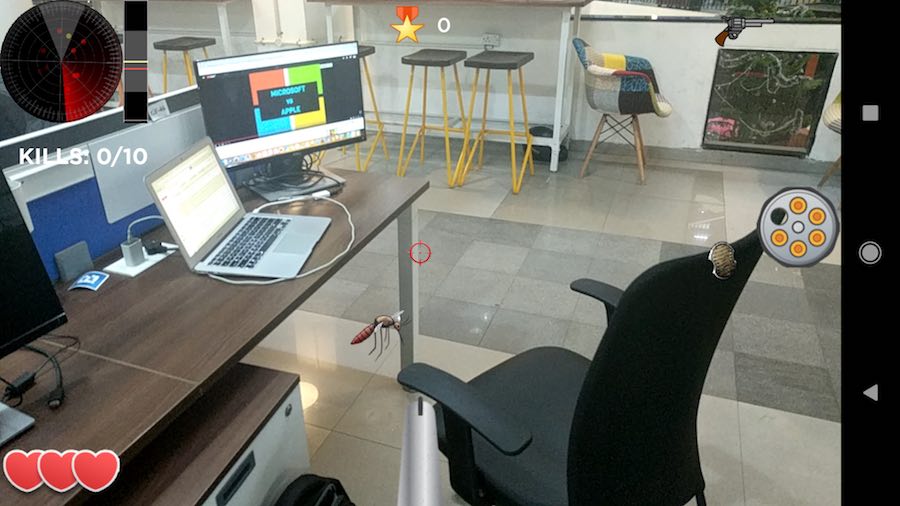 This is a fun Android AR game to totally waste your time. A couple of insects show up on your radar. You have to find them through your camera by moving your device around. The insects show up all around you, and it is a lot of fun to shoot down mosquitos using a gun. This AR game is free with some in-app purchases.
Download Antimosquito AR Game for Android.
8. Field Trip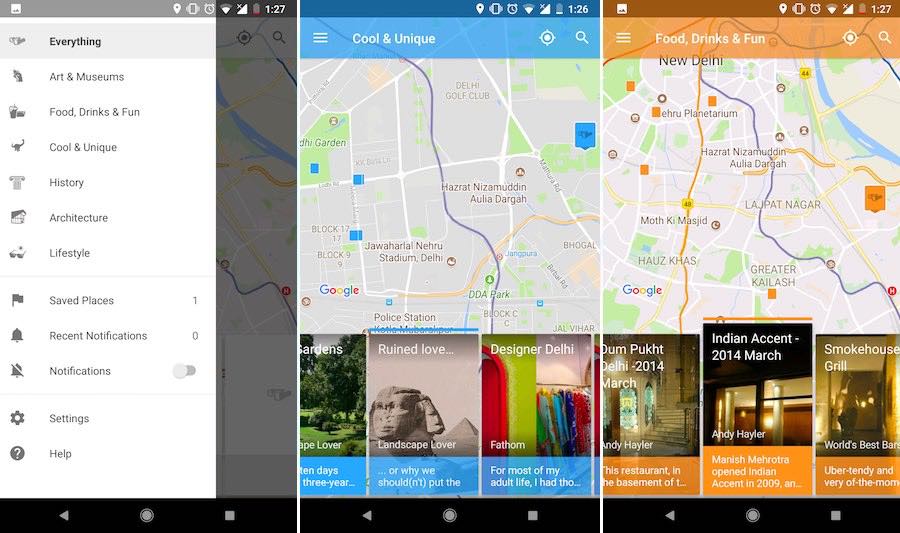 Field Trip is an innovative Android AR app which can prove to be highly useful and informative. It keeps running in the background and shows you helpful information about places around you. When you walk by something interesting, Field Trip will show you details about the location. It can even stream audio information to your earphone without any tap on the screen.
Next time you are on your commute or while visiting a new place, use this app and see what augmented reality has to offer.
Download Field Trip Android app.
9. Google Goggles
Google Goggles can show you information about many things. Point your camera at an object, and if its information is present in Google's vast database, this app will show you details about it. It can read barcodes and QR codes, translate a text you scan and can even solve Sudoku puzzles. Moreover, it can recognize famous locations, paintings, books and many other 2D images.
Download Google Goggles for Android.
10. AR GPS Compass Map 3D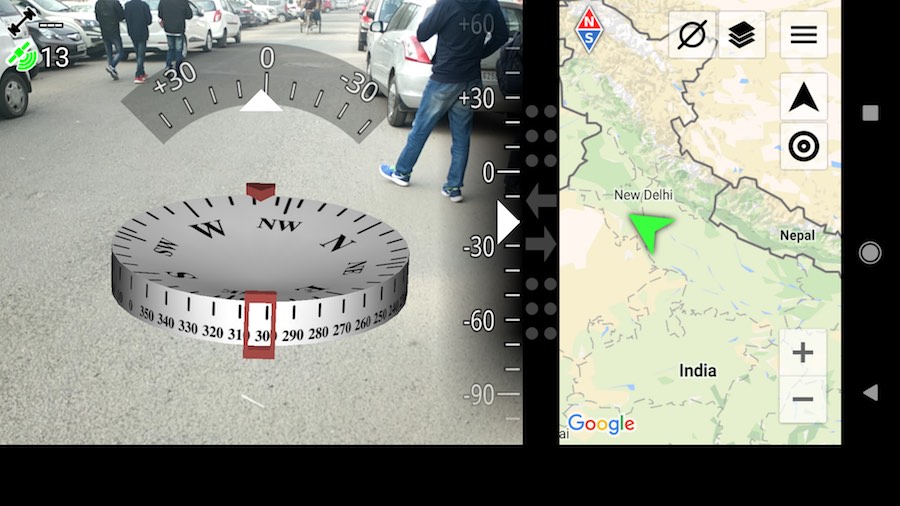 This can be a very unique and useful AR app for navigation. In split screen, it shows a map with your configured destination and an overlay of a compass pointing over your camera view.
AR GPS Compass Map 3D can also measure magnetic field strength and define landmarks by specifying latitude/longitude. Its most noteworthy feature is that it can measure the height of tall objects just by using your phone's camera.
Download AR GPS Compass Map 3D for Android.
11. Augment – 3D Augment reality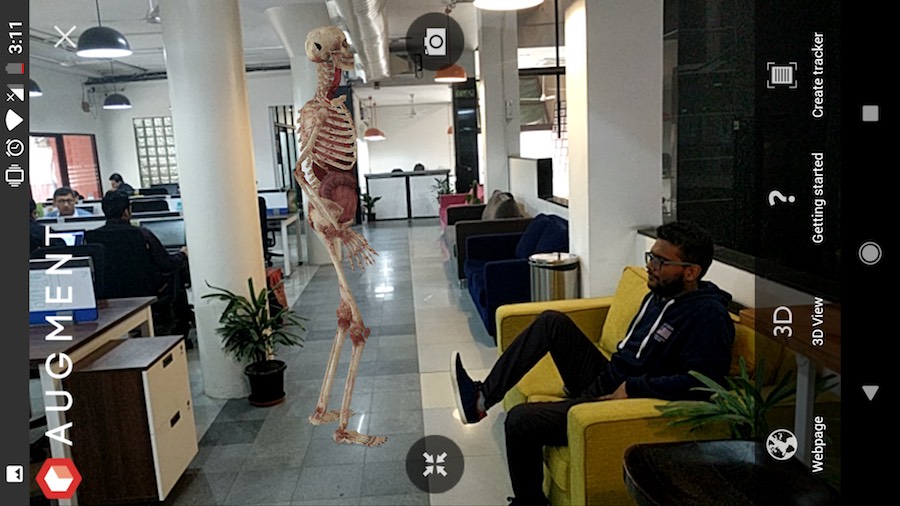 Augment is a powerful 3D mobile app which is designed primarily for sales and marketing purpose. However, that shouldn't stop your from using this AR app for fun purposes. Using the power of Augmented Reality, Augment 3D let its users visualize and share their product in full 3D in a real-time environment. The AR app is free for Android, and there is a short tutorial on how to work with the models in the app.
The models come in different categories and themes, and you can also move and rotate the 3D object as you please with gestures. You can use this augmented reality software for multiple purposes such as in retail, e-commerce project visualization, architecture, project presentation, etc.
Download augment 3D for Android.
Did you find this list of best AR apps for Android to be helpful? Share your thoughts and suggestions in the comments.