Bollywood releases the highest number of movies per year among all the entertainment industries across the world. So it isn't a surprise that majority of Indians are movie buffs. While many of us head towards movie theaters and television to watch Hindi movies, the rest of us are left with online options. However, not all of them are legal as they offer pirated content or torrents that stream Bollywood movies illegally.
I know that downloading pirated movies seems to be a convenient option for many, but such activities can attract penalty. Besides, you also risk malware attack while streaming or downloading Hindi movies from such websites. This is why I have compiled a list of best sites to watch Bollywood movies online for free and legally in 2019.
Before moving ahead, do take a look at our other lists where you can watch some more awesome movies, TV series, and songs for free to get your daily dose of entertainment!
Top Sites To Watch Bollywood Movies Online For Free In 2019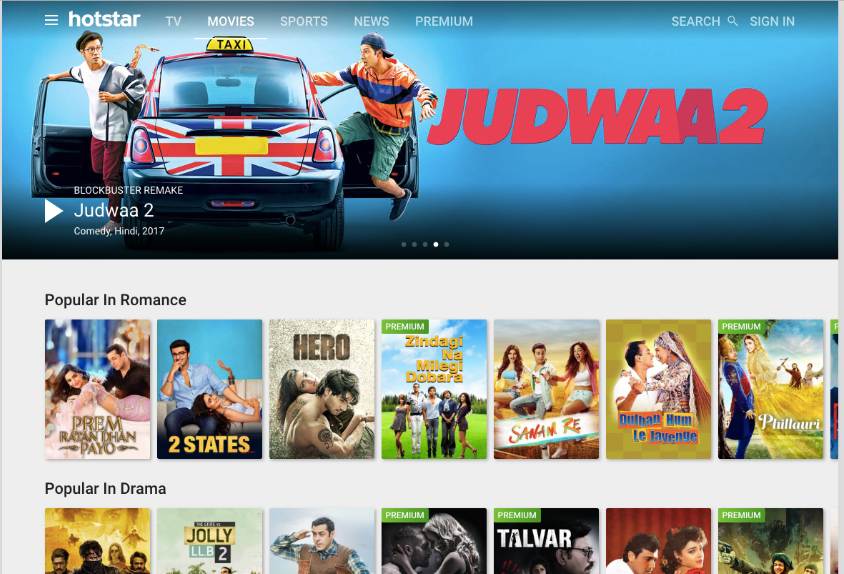 Hotstar is a boon for all movie enthusiasts who'd like to watch Hindi movies online for free. And the best part is that you don't even need to sign up to watch the content here and all of it is completely legal. Just look for the thumbnails that don't have 'Premium' written on it — they are free. The collection movies are amazing with a lot of recently released movies in it.
Apart from Hindi, you can also watch movies in 8 different languages. There are separate sections for watching TV series, sports, and news as well. The TV series section has content from 30 channels mostly owned by Star India. In case you are a sports buff, you can watch live sports including cricket, football, tennis, etc.
To get an uninterrupted, ad-free experience, you can buy a Hotstar Premium account subscription at a fee of Rs. 999/yr or Rs. 199/month.
Why use Hotstar?
Largest collection of online Hindi movies for free
Good video quality and streaming speed
iOS and Android apps available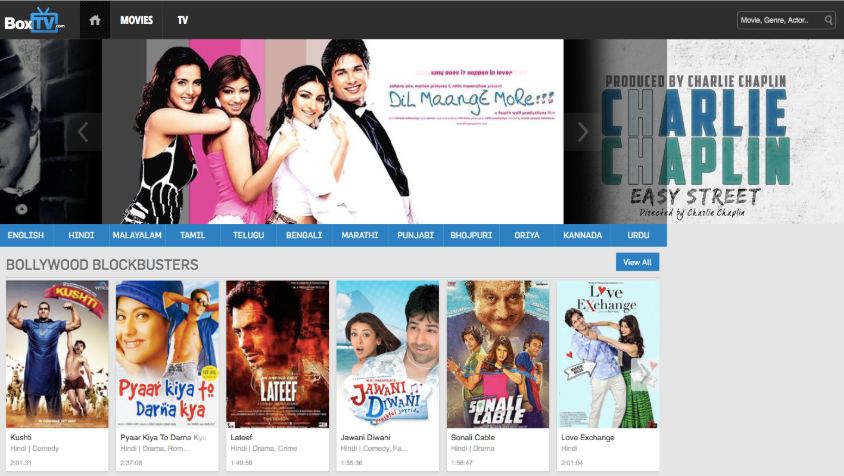 BoxTV is another Hindi movie streaming site that not only offers Bollywood movies but Tollywood and Hollywood as well. It is a venture by the Times Internet group so you can rest assured that the website is completely legal. You can stream a huge collection of movies in Hindi and other Indian languages.
The search box is also efficient and lets you find movies quickly. Apart from movies, you can watch TV shows and short films that can be streamed on your smartphone, PC, tablet, and Roku. Majority of the content on BoxTV is available for free that are supported by ads.
There is also subscription-based content that you can avail at a fee of Rs. 199/mo.
Why use BoxTV?
Huge collection of movie
Supports multiple devices
3. YouTube
While there are many channels on YouTube that hosts Hindi movies online for free, but a majority of them are doing it illegally. There are only a couple of YouTube channels that stream their copyrighted Bollywood movies for free and legally: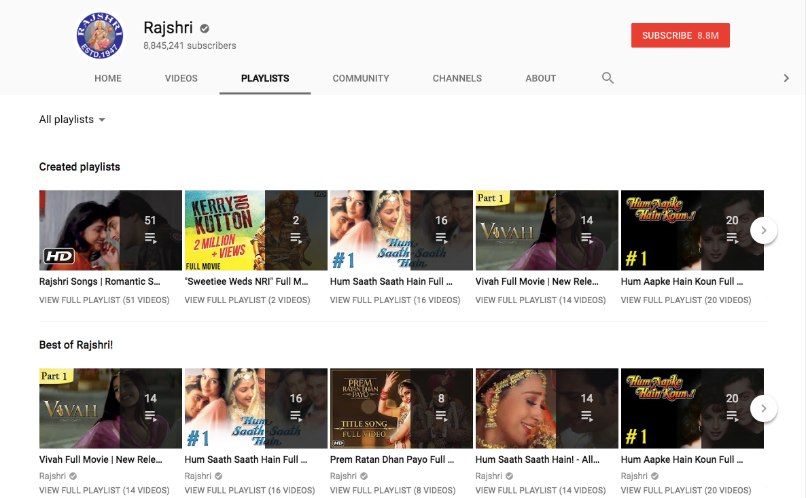 Rajshri Production Films is a well-known name in Bollywood that brought superhit movies like Hum Saath Saath Hain. The channel mostly offers the old Hindi films made by them but they are still worth watching. It also features clippings of best movie scenes and music videos of those movies.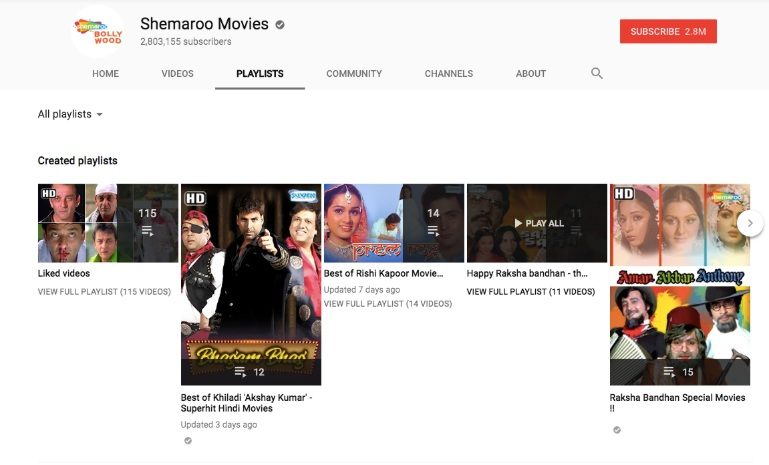 Shemaroo Movies in another YouTube channel to watch Hindi movies online for free and legally in 2019. Just like Rajshri Productions, this channel lets you stream their copyrighted movies free of cost. You can watch full-length Hindi movies here like Amar Akbar Anthony and Bhagam Bhaag.
Websites On Free Trial Basis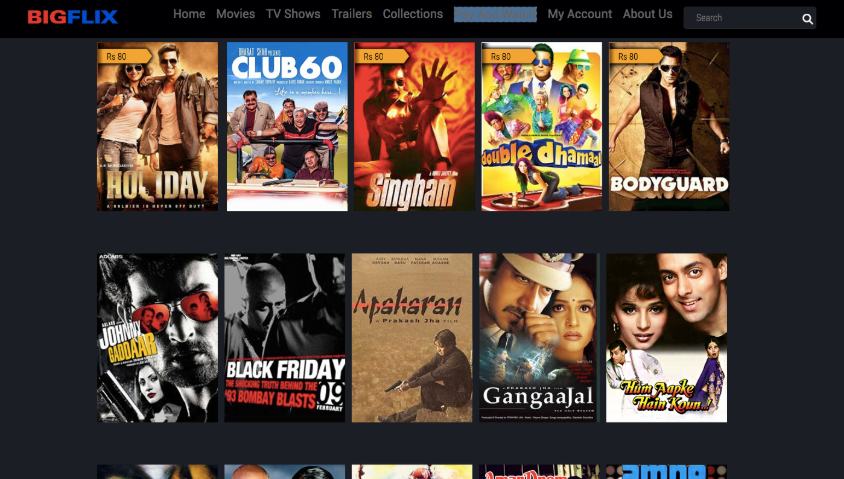 Bigflix is a movie on demand service by Reliance BIG Entertainment where you can watch Hindi movies legally. However, the site isn't completely free and lets you watch movies and videos on a free trial basis for one month. You can buy a monthly subscription for unlimited movies or choose to pay per movie. There are thousands of movies available in various regional Indian languages like Hindi, Marathi, Bengali, and Tamil. The content can be streamed on PCs, tablets, phones, etc.
For ad-free HD content, you can buy a premium subscription at Rs. 50/mo or a yearly subscription of Rs. 500.
Why use Bigflix?
HD quality movies
Pay per movie option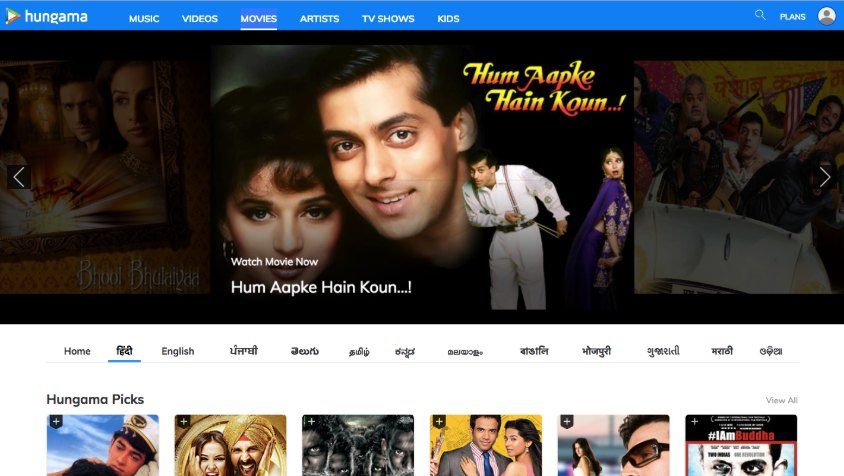 You can watch the first 10 minutes of a film for free at Hungama Movies after which it offers you an option to subscribe and play the entire movie. It also offers a 30 day trial period to users but currently, this option is available for app users only. During this period you can stream Hindi movies online for free or download it for offline viewing.
The collection of movies on Hungama is quite rich ranging from classics to the recently released movies. Besides movies, the site also hosts 3.5+ million songs that can be streamed at HD quality. For an ad-free unlimited experience, you can opt for their paid plans.
The premium subscription for unlimited movies and videos starts at Rs. 199/mo. There are other combo plans as well that you can check out on the website.
Why use Hungama Movies?
Good video quality
Fast streaming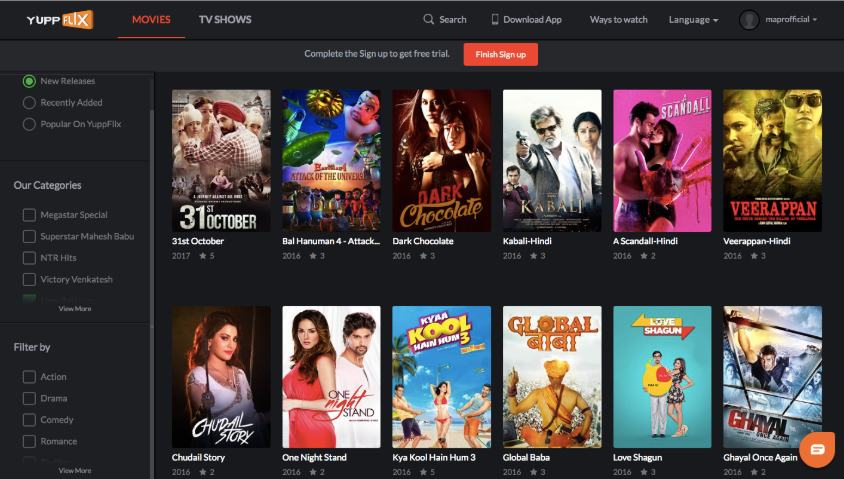 YuppFlix has a really good collection of online movies in Hindi, English, Telugu, Tamil, Kannada, etc. The service is provided by Yupp TV which provides live TV channel services in India and abroad. It also has a mobile app for Android and iOS where you can watch unlimited movies.
YuppFlix offers 14 days free trial for all countries except Malaysia and Middle East where they provide only 3 days of free trial. In case you are interested in buying the premium subscription, you can do so at Rs. 500/mo. One YuppFlix subscription can be availed on 1 web browser, 4 smart TVs and 2 smartphones.
Why use YuppFlix?
Supports multiple devices including Roku and Android TV
Extensive collection of Hindi movies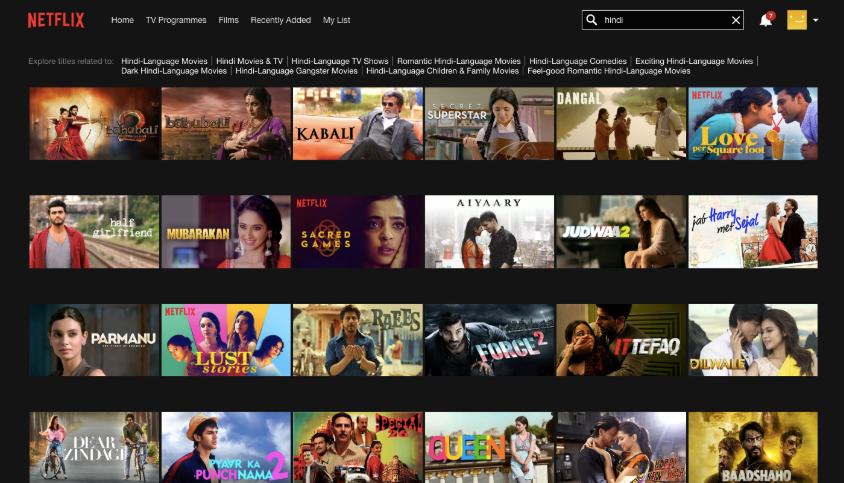 One cannot avoid mentioning Netflix when it comes to online movie streaming sites. This wildly popular platform offers a very limited collection (less than 5% of the entire content) of Bollywood movies but it's nevertheless a valuable investment. Netflix offers movies, TV series and short films in multiple languages and entire compilation of original series in Hindi like Sacred Games and Lust Stories.
You can check out the Indian movies online for free in 2019 on a one-month free trial basis. After that, you can choose any of the following subscription plans: Basic-Rs. 500, Standard-Rs. 650 and Premium-Rs. 800.
Why use Netflix?
Limited but really good collection of Bollywood movies online
Good video quality and streaming speed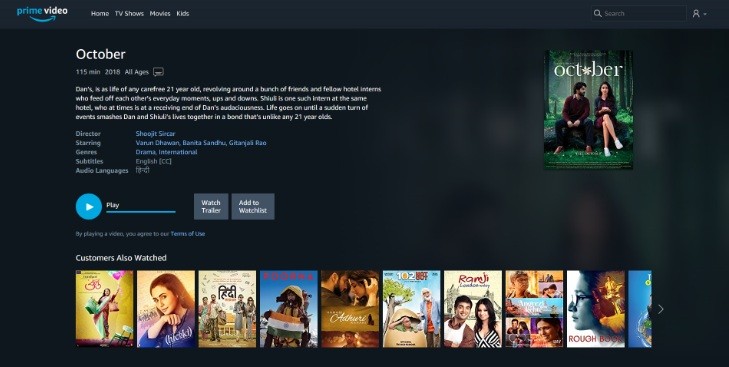 Now that we have mentioned Netflix, let's talk about its rival as well — Amazon Prime Video. It is a cheaper option and they host more content in comparison to Netflix. You can find latest movies like Raazi and stand up comedy by Indian artists too. Just like Netflix, it offers home-grown content too.
It offers a 30-day free trial option where you can watch unlimited Bollywood movies for free. After that, you can avail an annual subscription of Amazon Prime Video at a fee of Rs. 129/mo and Rs. 999/yr.
Bonus: On buy Amazon Prime subscription, you also access to free Prime Delivery and Prime Music service by Amazon
Why use Amazon Prime Video?
Recently released movies, songs and vidoes
Amazon Prime Delivery and Prime Music as a bonus
Final Words
So these were a few legal sources where you can watch Hindi movies online for free. Most of the websites in this list are paid services with a free trial period. However, it is always advisable to go for legal paid services instead of illegal websites that come with a risk of malware.
Do let us know which Bollywood movies streaming site for 2019 you liked the most and if I missed any good source in this list, feel free to add a comment below.
Now Watch: