Short Bytes: Just few of you might be knowing about Facebook Messenger's new and hidden feature that lets your friends track you. Using Messenger's real-time location sharing feature, you can share your live location and help people find you. After making sure that you're running an updated Messenger app, you simply need to find the location-sharing option in a conversation and share it.
R
eal-time location sharing is a very important utility that was missing from Google Maps from a long time. Before bringing this feature to its Maps application, Google launched another app named
Trusted Contacts
that was a dedicated app for similar functions. But, today I'm going to tell you how to share your location in real-time using Facebook Messenger.
Facebook released an update some time ago that now allows the users to share their location with friends and family in real time. What's the utility of this feature in Facebook Messenger? Well, imagine a situation when you're texting a friend who's coming to your place for the first time. With this feature, now, your friend can send the location, and you can track in real time. Isn't that awesome?
But, how to use this real-time location sharing using Facebook Messenger? As it turns out, the process to share your live location with your friends and family is pretty simple. In the following steps, I'll tell you how to do it:
How to use Facebook Messenger's live location sharing?
1. Update your Messenger app
Before trying to attempt Facebook Messenger live location sharing, make sure that you're running the latest version of the app. It could be possible that certain app update settings haven't allowed your Messenger app to get updated in recent times. So, to do that, simply visit Google Play Store and search for Messenger. You can simply use this link and update your app: Android and iOS.
2. Open Facebook Messenger conversation
After making sure that you're running the latest and updated version of Facebook Messenger app, the next involves opening the app and looking for relevant options. After doing so, open a conversation with a friend to whom you wish to send your live location. Here, I'm repeatedly stressing on the word live because your friend can track your location for the next 60 minutes in real time.
3. Tap the More icon in conversation
After you've opened a Facebook Messenger conversation, you need to look for the More button, the one with the ellipsis. Now, click on it.
4. Click on the Location option
After tapping the More button, you'll see different options. For example, in my Messenger app you can see Location, Set Reminder, Tumblr, etc. Now, click on the Location button.
5. Choose the Ok option on new window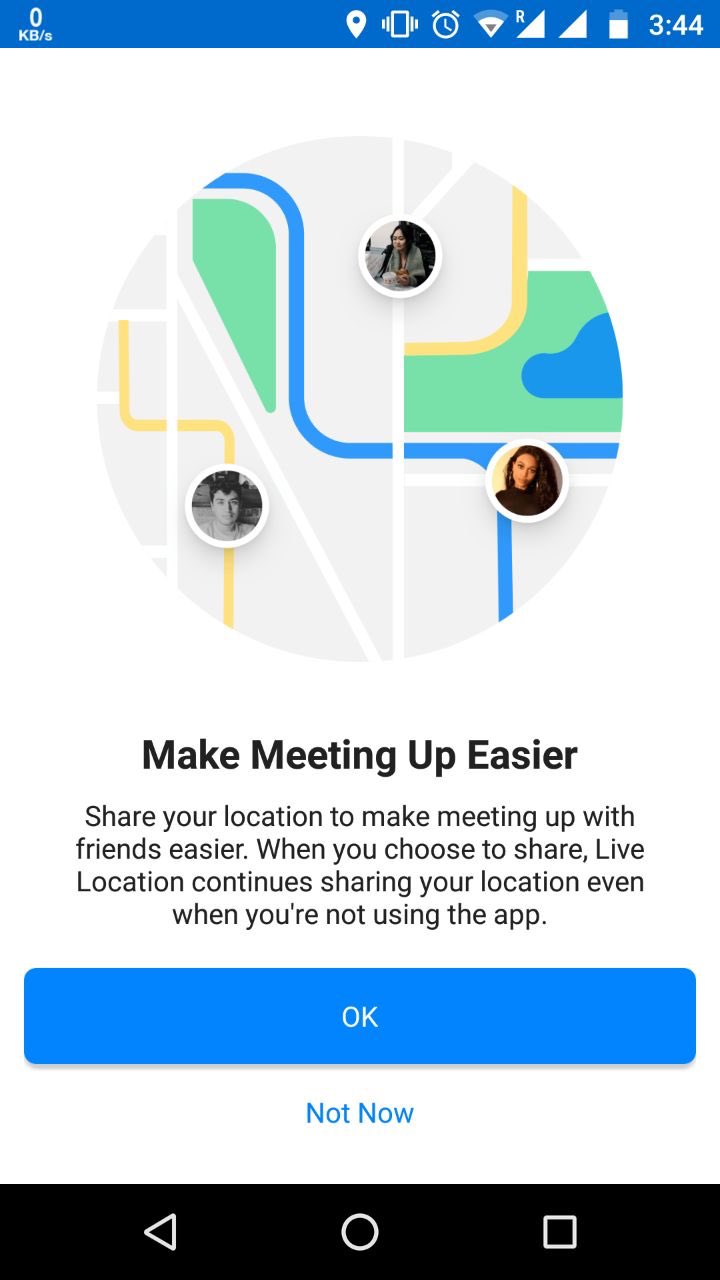 Just in case you're using this hidden Facebook Messenger feature for the first time, you'll see a new fullscreen dialog box. It'll say that Facebook Messenger live location sharing will make meeting up easier. Here, click on the Ok option.

6. Share Live location for 60 minutes
After choosing the Ok option in the previous point, you'll be taken back to the Messenger conversation window with a small map at the bottom. If you look closely at the map, you'll find a blinking dot at your current location. Now, simply tap the big button at the bottom that says "Share Live location for 60min." This step will share your location instantly with your Facebook friend.
7. You're in control. Stop sharing anytime.
Just like you've easily shared your live location via Messenger, you can stop the live location with a simple tap. You just need to open the conversation and tap the Stop Sharing option. That's it.
So, did you find this tutorial on how to share your live location using Facebook Messenger helpful? Don't forget to share your views and feedback.