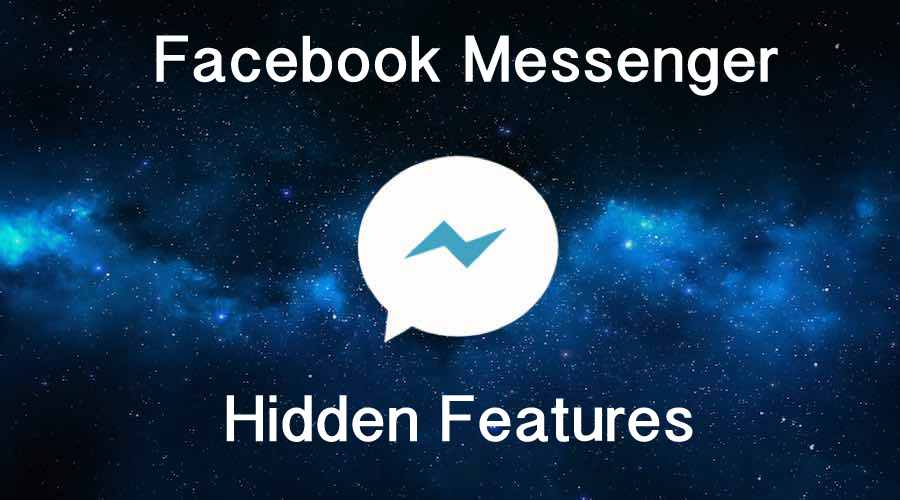 Short Bytes: Messenger is a popular instant messaging platform. It supports text messaging, voice, and video calls. People can also send photos, emojis, stickers, voice messages, etc. in their conversations. But, there are some features in the Facebook Messenger which many people don't know about.
F
acebook has promoted its Messenger as a separate platform in the last couple of years. The is getting equipped and loaded features with every passing day. Recently, Facebook launched
Messenger Lite
which is a trimmed version of the Messenger app for budget smartphones.
Almost every person who uses Facebook for some reason also uses the Messenger. But, Messenger is more than just sending texts, emojis, pictures, and GIFs. Here are some features in Facebook Messenger which might be helpful for you. The article is mainly focused on the Messenger app but you will some find some of these features on the web version on messeger.com and on Facebook.
1. Share Your Location
Just like WhatsApp, Facebook Messenger app also allows you to share your GPS location with your friends. On the chat screen, you need to tap the gray square icon with three dots and tap Share Location. It is situated on the bottom right of the screen above the thumbs up button.
2. Change colors

You can set custom colors for different chats in your Messenger app. On the chat screen, tap the 'i' button on the top right and tap Colors. Other than individual people, you can also change the color for group chats.
3. Mute Messenger Notifications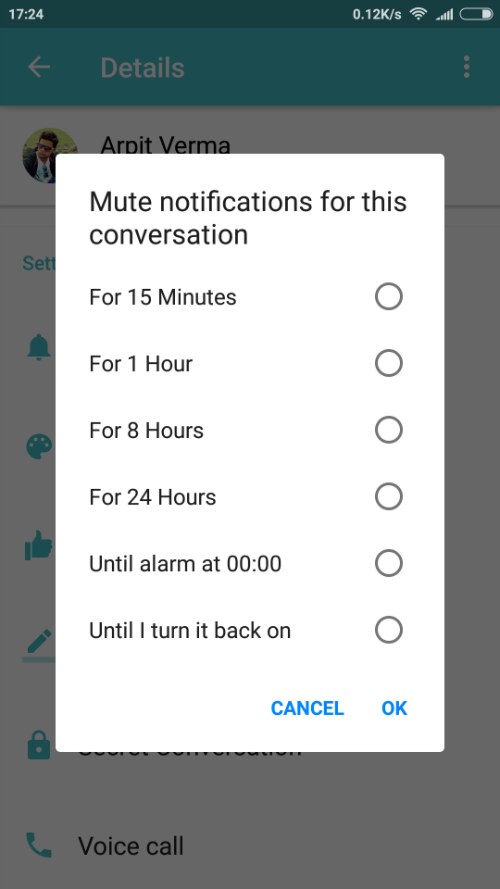 There are times when you get annoyed with the constant sound of notifications from your friends, sometimes in the case of family groups on Messenger. You can mute the notifications in the messenger app for individual friends and groups. Tap the 'i' button and tap Notifications, select the mute time accordingly.
4. Use Messenger without a Facebook account
You don't want to exist on the Facebook social network but still want to connect with your friends? Just like WhatsApp, Google Duo, and other messaging apps, you can use Facebook Messenger using your mobile number.
5. Nicknames
You don't address many people with their formal names. Mostly, your cousins, siblings, and close friends. You can use those nicknames in the Messenger app too. You can find the Nicknames option after tapping the "i" button.
6. Talk to more than one people at a time
Once you create a group in Messenger, you can chat with many people at a time. You can also make a voice call to people present in a group. Tap the phone icon on the chat screen and choose the name you want to include in the Group call. You can also call different people who are not in the same group by tapping the Group Call option under the phone icon on Messenger's main screen.
7. Apps for Messenger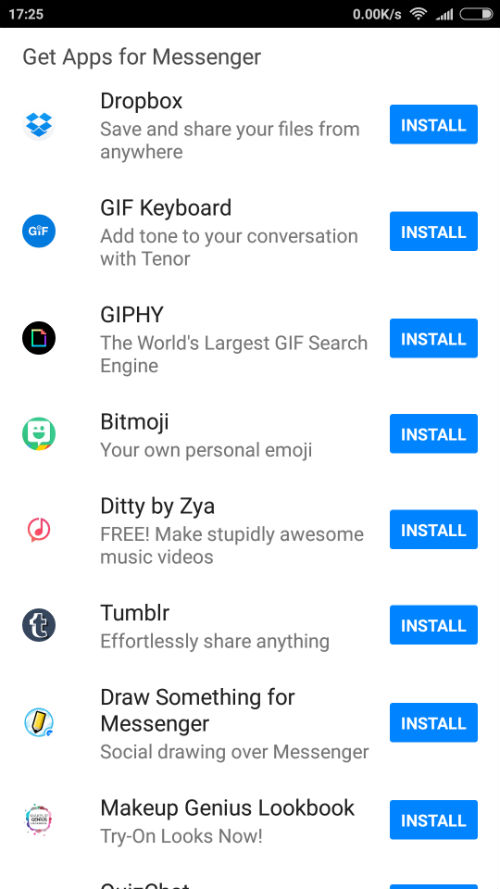 Messenger is a budding platform. Along with loads of communication features, it also offers integration with many apps like Dropbox, Tumblr, Giphy, etc. Tap the button having three dots and choose from the list of apps you want to integrate with Messenger.
8. Chat with the bots
There are times when you want to have a talk but none of your friends is available on Messenger. Now, you don't have to wait for them to come online as you can have a conversation with chatbots. Other than simple chatting, bots can tell you about recipes, nutrition facts, jokes, etc. You can find many of them on platforms like BotArena.
9. Messenger Code
Messenger Code is basically a Facebook version of the QR code inspired from Snapchat. And it's actually meant for other people's convenience. A person can scan a Messenger code of other person and start chatting instantly. Many companies also offer their customer support via Facebook and you can connect with them using their Messenger Code.
10. Messenger Links
Other than Messenger Code, you can reach a person using the Messenger Link. It looks like m.me/username. You can find your own messenger link in the Settings.
11. Shortcuts
The Shortcuts feature is available on Android. It allows you create shortcuts of your Messenger contacts. So, you can directly go to their chat page without opening the Messenger app. You can also create a shortcut for a group.
To create a shortcut, tap and hold a name in your chat history and tap Create Shortcut. It will then appear on your home screen.
13. Secret Conversations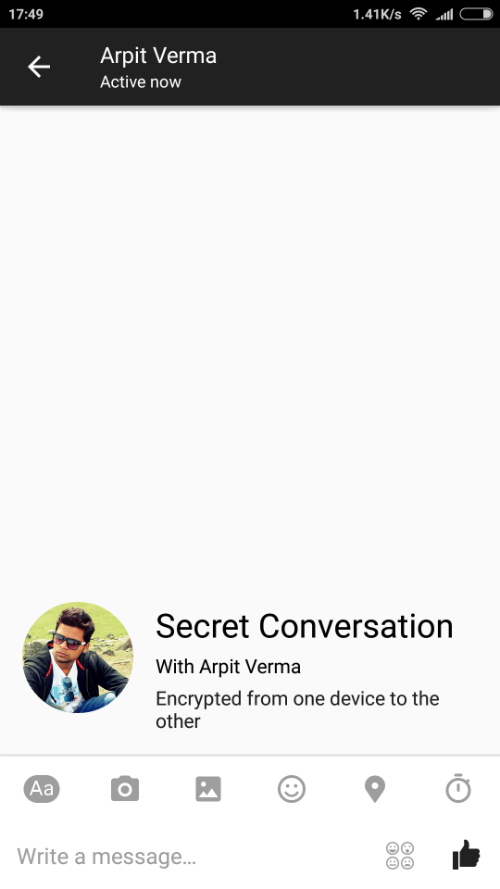 Facebook released the end-to-end encryption feature for its Messenger platform known as Secret Conversations. You can talk with your friends as feel safe that no one is seeing your messages. Tap the i button and tap secret conversation.
14. Switch Account
You can add more than one account to your Messenger app. However, you will be able to use one at a time. The Switch Account feature allows you to shift between the accounts you've added to your Messenger app.
15. Payment and Ride booking
Using Facebook Messenger, you can send and receive money from your Messenger contacts. This feature is currently available in the US.
Another limited edition feature is booking Uber and Lyft rides using the Messenger. For this, you need to have the respective app installed on your device. After configuring Transportation in Messenger, you'll be able to find Uber and Lyft in your contact list from where you can book a cab directly. The payment will be done using the details present in your Uber and Lyft account.
If you have something to add, tell us in the comments below.
Also Read: 10 Reasons Why People Use Facebook