Minibook-Mobile workstation is an ultra-portable laptop/tablet hybrid that wants to replace your smartphone and be your daily driver. The product started its journey as an IndieGoGo project and it reached around $800,000 of funding from more than 3,500 backers from around the globe.
The Minibook-Mobile workstation has been developed by Chuwi, a tech company that specializes in making laptops, mini-PCs and tablet computers. The company started in 2004 as it began manufacturing MP3 and MP4 players. Chuwi's portfolio today includes 4K HDR laptops like LapBook Plus and ultra-portable modular MiniPCs like GBox Pro and Hi-game.
The Minibook-Mobile Workstation is their upcoming ultra-portable machine running a full-fledged X86 Windows operating system. According to Chuwi, the Minibook-Mobile workstation combines the best of mobile portability and PC performance in an easy to carry form factor.
Minibook-Mobile Workstation: What Makes It Great?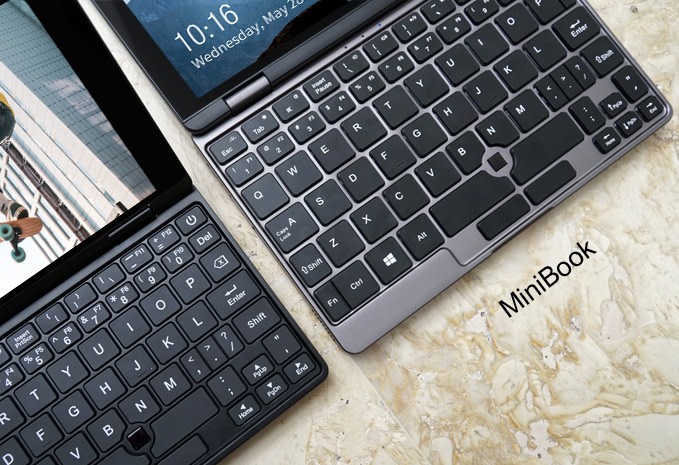 The Minibook-Mobile workstation has been designed from the ground up to accommodate a touch screen, keyboard, and I/O support. Hence the final design looks well built and almost every feature advertised on the machine works as advertised. It comes with a pre-installed with the 64-bit version of Windows 10 Home OS.
The Minibook Mobile Workstation houses the lesser-known Intel Core m series of processors. I said 'lesser-known' not because it is a bad chip by any means. In fact, it is one of the best processors that offer great performance without compromising on battery life.
Top of the line Single Board Computers like Latte Panda Alpha 864s uses the 7th Gen Intel Core m Series processors to strike the perfect balance between power consumed and performance delivered. The Latte Panda Aplpha 864s is apparently so optimized that the entire SBC with 8GB of RAM can be used via plug and play without the need for any external power supply.
The Minibook-Mobike Workstation uses the 8th generation Core-m3-8100Y processor based on Intel's 14nm chipset. It is a Dual-core CPU with four threads with a base clock of 1.10 GHz and a boost clock of 3.40 GHz. The CPU has an incredibly low TDP of just 5 watts making it perfect for an ultraportable windows machine like Minibook-Mobile. Handling the graphics department is the Intel UHD Graphics 615 which is a standard on almost every 8th gen Intel chip.
Provided that Intel is currently working on the latest 10th Gen Ice-lake processor with better power efficiency and performance, it is possible that the upcoming iteration of the product may come equipped with Intel Athena chips that offer upwards of 12 hrs of battery life.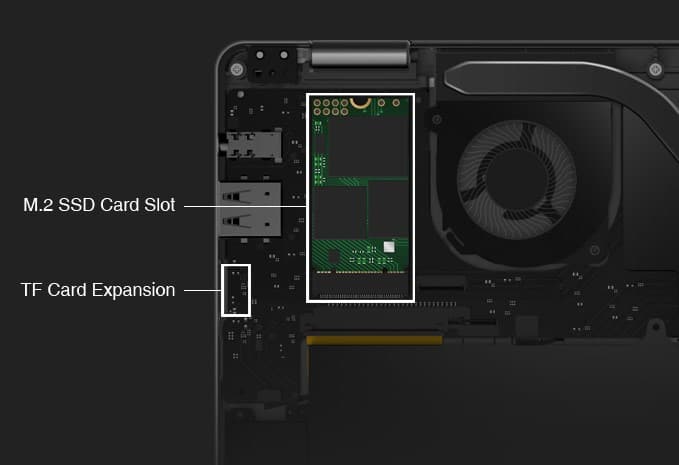 The Minibook is equipped with 8GB of LPDDR3 RAM along with 128 Gigs of internal storage. However, if you're concerned about small storage, the Minibook comes with an M.2 slot for SSD expansion. The best thing is that this slot will also be able to accommodate an NVME drive as well. For the uninitiated, NVME is faster than regular Solid State Drives.
For a better viewing experience, the Minibook comes with an 8-inch display capable of a maximum resolution of 1920×1200. The screen has a pixel per inch density of 283. According to Chuwi, Windows OS works best on an 8-inch screen with a 16:10 aspect ratio.
The Minibook is touch and stylus enabled as well. This ability combined with the 360-degree rotation of the 8-inch screen enables the Minibook usage as a tablet computer. To take full advantage of this, it features a 2.0 MP camera.
In terms of I/O, the Minibook comes with a USB Type-C port, 2 Type-A ports, a 3.5 mm audio jack, a micro-sd card slot, and a mini HDMI slot.
MiniBook-Mobile Workstation Variants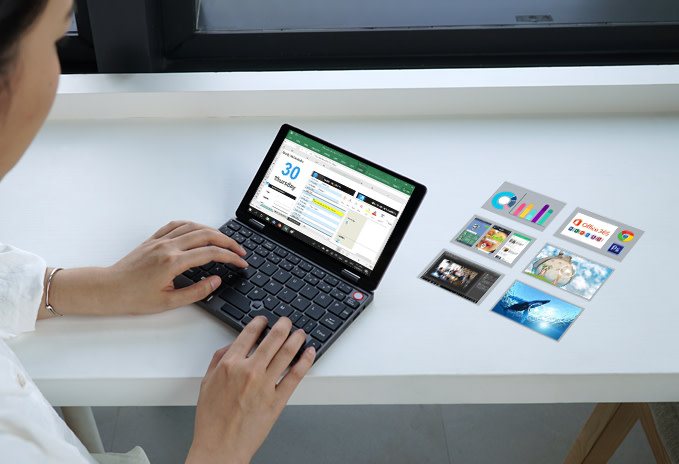 | | | |
| --- | --- | --- |
| CPU Model | Intel Core-m3-8100Y | Intel Celeron N4100 |
| Cores/Threads | 2-core 4-thread | 4-core 4-thread |
| Base Clock | 1.10 GHz | 1.10 GHz |
| Boost Clock | 3.40 GHz | 2.40 GHz |
| TDP | 4.5W | 6W |
| Integrated GPU | Intel UHD Graphics 615 | Intel UHD Graphics 600 |
| RAM | 8GB LPDDR3 | 8GB LPDDR4 |
As clearly visible above, the Minibook-Mobile workstation is available in 2 CPU and RAM configurations. The Intel Core-m3 series processor offers lesser cores but a better TDP and relatively powerful integrated-GPU.
Intel Celeron offers better computing performance with more physical cores and LPDDR4 RAM support. However, it lacks in boost clock speeds and also has a higher TDP.
Besides the CPU option, the rest of the specs of the MiniBook-Mobile workstation are identical.
How To Buy Minibook-Mobile Workstation?
Chuwi will start delivering the Minibook-Mobile workstations in September 2019. However, you can place an order for one Minibook right now on Chuwi's IndieGoGo page. The Minibook is currently 20% off its original price of $667 or Rs 47,674 and is available at $530 or Rs 38,000.
You can also shop for other accessories like a 45W PD charger, Hipen H3 stylus and much more.
Chuwi's objective is to enable users to create excel spreadsheet documents and use handheld video calls while on the GO. Hopefully, with the Minibook-Mobile workstation, they'll finally succeed.