Just like Season 7, the upcoming season of Call of Duty Mobile is also bringing a lot of new exciting content. As of now, there is no official word on Season 9's content from Call of Duty Mobile; however, we have started receiving new leaks from the Season 9 test server.
Recently, the Call of Duty Mobile season 9 test server introduced a brand new battle royale class, which is 'Hacker.'
The Active skill of 'Hacker' class is 'Ice Pick,' which will black out the minimap of nearby enemies. Other than that, the upcoming 'Hacker' class in Call of Duty Mobile could very quickly neutralize the opponent's class. In short, it will stop your enemies from using gadgets such as EMP drones, which can be quite useful.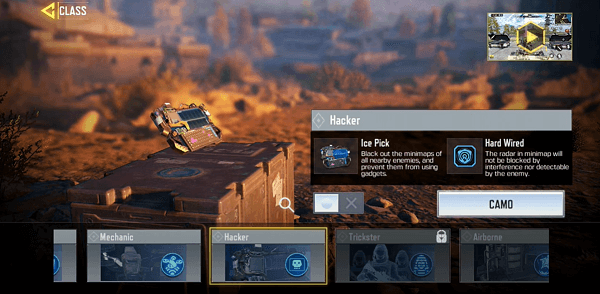 Now, let's talk about the Passive ability of the 'Hacker' BR class, which is 'Hard Wired.' So, this ability will prevent you from getting revealed whenever an enemy is using the 'Scout' class. Also, the good thing is that any interference will not block the radar in your minimap.
It's safe to say that 'Hacker' BR class in Call of Duty Mobile Season 9 is extremely overpowering. It can give you a considerable advantage over your enemies, who will not be able to use their abilities when their systems are hacked.
As we are on the topic, there are rumors that Call of Duty Mobile Season 9 might introduce a new battle royale map, Alcatraz. Also, the test server for Season 9 has already launched a new Multiplayer 'Pine' map along with 10v10 game mode.