Reviews are coming in for Volvo's sister brand Polestar 2 electric car and people finally think we have a genuine Tesla Model 3 competitor on our hands. Make no mistake, the Polestar 2 is designed to compete against the Tesla Model 3 in every aspect. I know this, the engineers at Polestar know this, and even the reviewers know this.
Which is why here's everything you need to know about Polestar 2. We will be exploring exactly how Polestar 2 is better than the Tesla Model 3 and how it's worse. We will compare the Tesla Model 3 Long Range and the Polestar 2 with a 78 kWh battery.
The video review was done by Matt Watson from the YouTube channel Carwow.
Polestar 2 Vs Tesla Model 3: Pros And Cons Explained
Electric Powertrain, Acceleration And Real World Battery Range
Polestar 2 uses a dual-motor setup and is powered by a 78 kWh battery. The claimed battery range of Polestar 2 is around 292 miles, but in reality, you'll get a real-world economy figure of 222 miles, with a mix of city and highway driving. Polestar 2 produces 408 HP and 660 Nm of torque. Volvo claims it has a 0-60 mph timing of 4.7 seconds, but in actual testing, this figure comes out to be 4.4 seconds.
Meanwhile, the Tesla Model 3 Long Range uses a 75 kWh battery which offers a range of 322 miles. In terms of real-world battery range, Tesla obviously beats Polestar 2. The Model 3 LR offers around 290 to 300 miles of real-life fuel economy per single charge. In terms of performance, the Model 3 Long Range has an official 0-60 timing of 4.6 seconds. This figure improves to 4.4 seconds during actual tests, but it means that Polestar 2 is quicker than the Tesla Model 3 Long Range in a 0-60 mph run.
Polestar 2 Vs Tesla Model 3: Interior Build Quality And Exterior Compared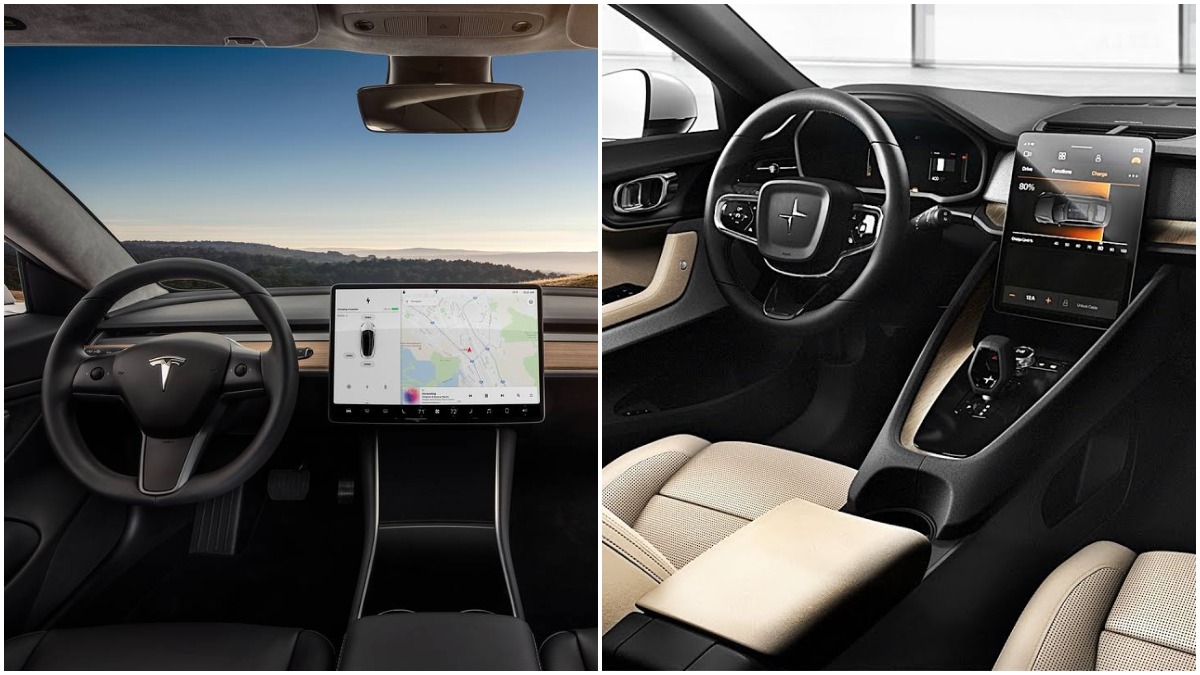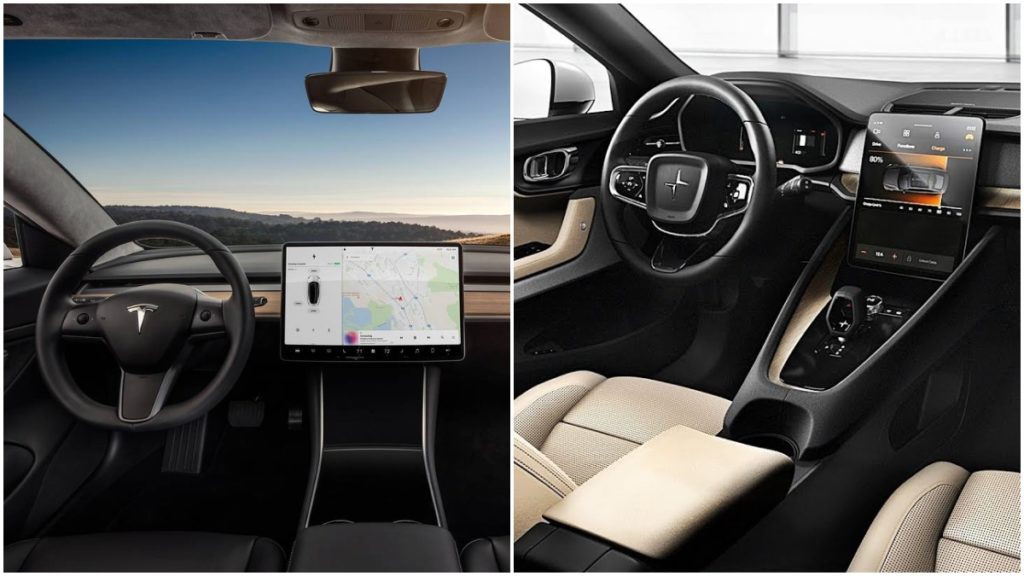 The only objective about the looks of a car is that it's totally subjective. Similarly, you may love or dislike the design of either the Tesla Model 3 or the Polestar 2. Personally, I like both of them. Tesla Model 3 is a sedan but the Polestar 2 is a bit higher and more rugged. It's design falls somewhere between a sedan and a Compact Utility Vehicle or a CUV. Nonetheless, both cars look great.
In the interior though, it is a different story. The Polestar 2 has arguably better fit and finish than a Tesla Model 3. It has minimalistic interior, just like the Tesla, but each corner is filled with essential stuff. The gear selector placed between the two seats plays an important role in filling up the cockpit.
The digital screen offered on Polestar 2 is a fully-fledged Android Tablet. It runs on AndroidOS instead of Android Auto and has access to Play Store with thousands of apps in it. Google Assistant is very much functional in Polestar 2 and follows commands to manage stuff in the infotainment system. The digital assistant can also control several in-car features like managing air conditioning, heating or cooling of seats, etc. Provided, you know the right voice command for it.
Exterior is a tie between the two cars. In terms of interior build quality, Polestar 2 is the winner and when comparing infotainment, it's again a tie.
Handling And Driving Performance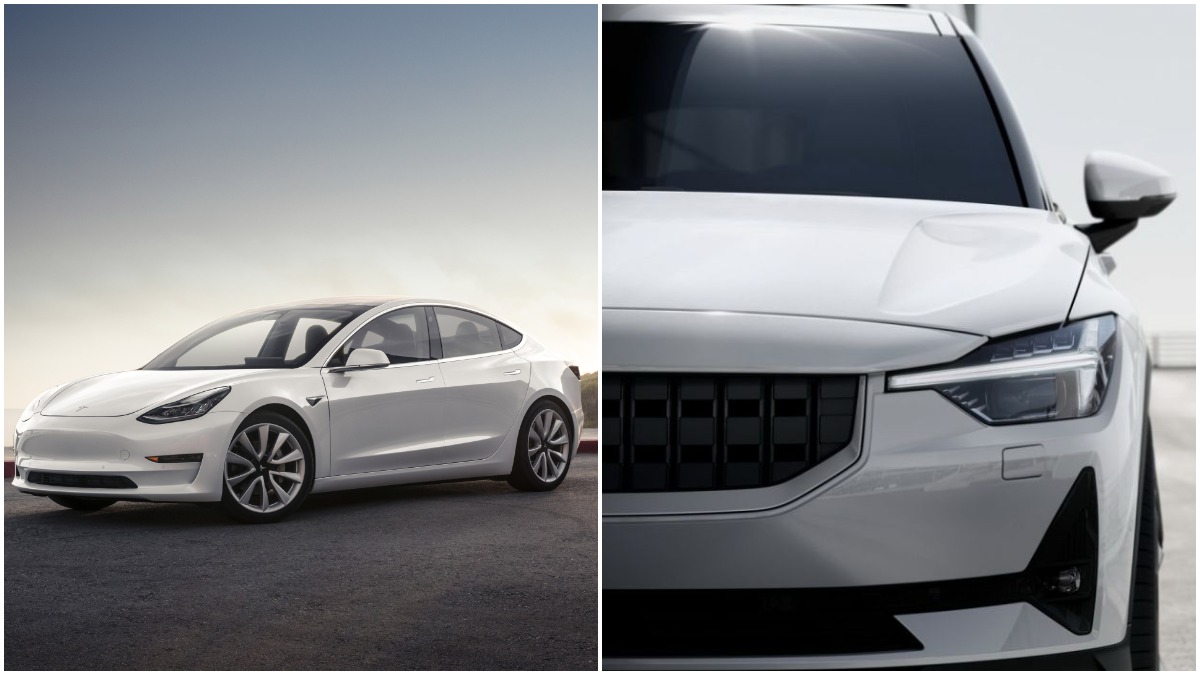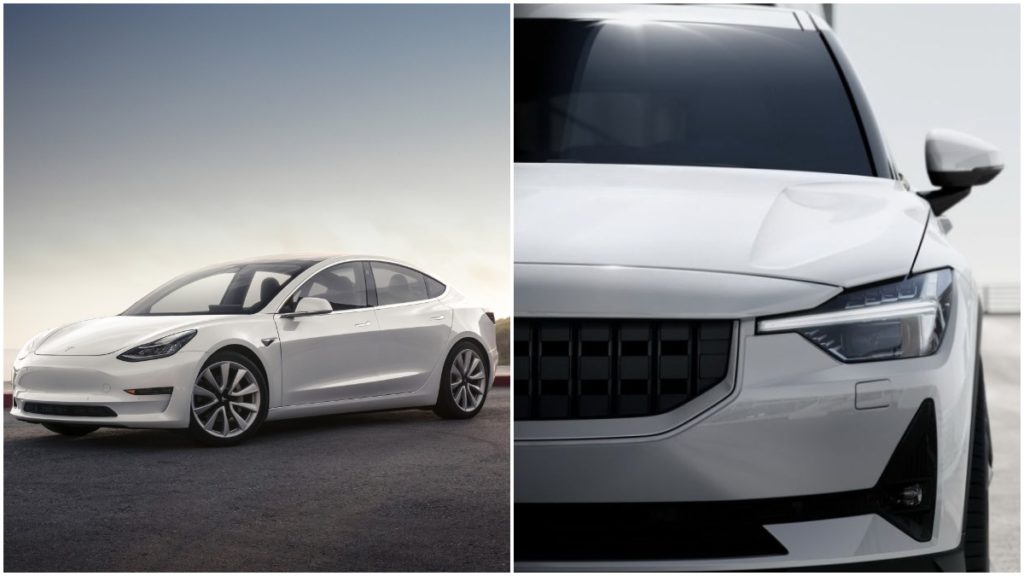 Before we take a look at the handling, here are a few points we need to know about the two cars. The Polestar 2 has more height and ground clearance than the Tesla Model 3 Long Range. It also has more weight than the Model 3 LR. The drive of both cars is amazingly stable. But when going through potholes it is Tesla Model 3 LR that feels plusher than the Polestar 2.
To compensate for the increased ride height, Polestar 2 has a stiffer suspension setup. This setup helps the car in gripping the road well and the stiff shock maintains the high ride-height despite the heavy weight of the vehicle. So in conclusion, what you get is a car with great handling that offers a slightly higher seating position.
However, Tesla offers equally better handling, with plush ride quality as well. Therefore, Tesla Model 3 LR wins in terms of handling.
Convenience And Space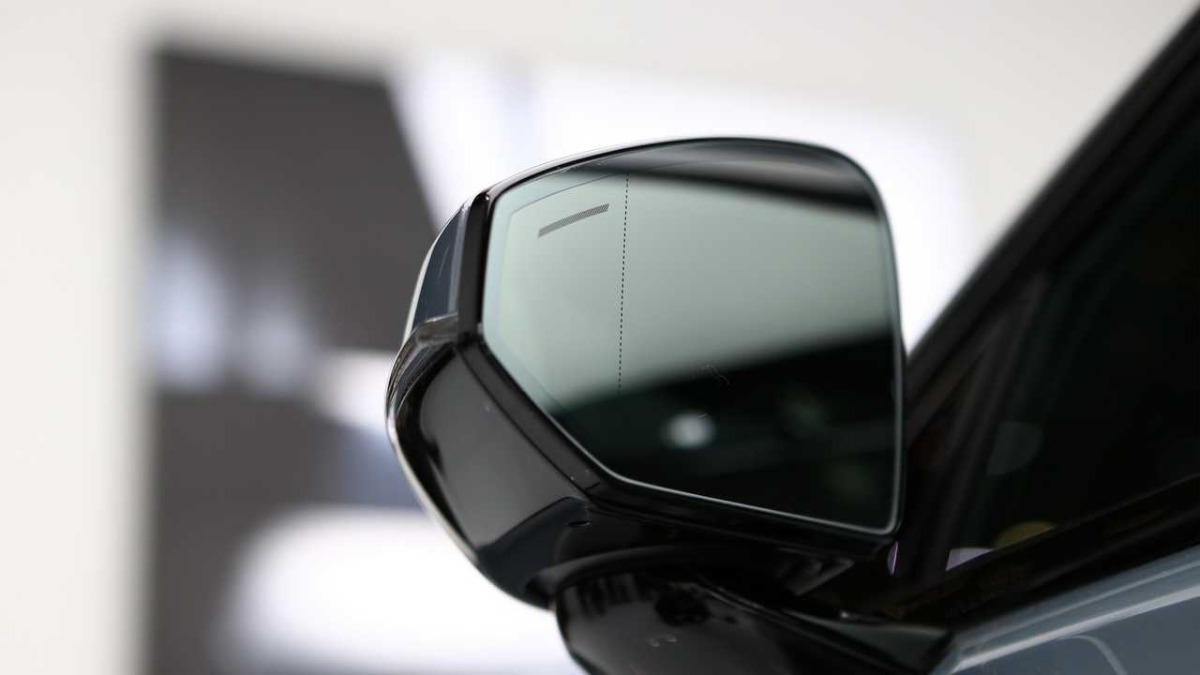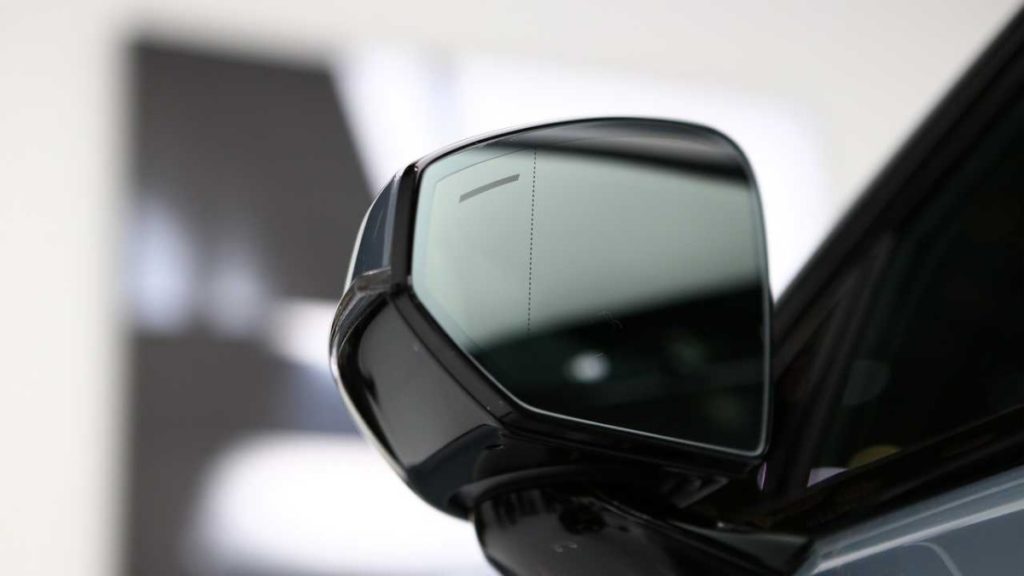 Polestar 2 has a smaller boot but is easier to take stuff in and out of. Tesla Model 3 has better headroom in the back seat compared to the Polestar 2. Although the Polestar 2 has autonomous driving features, they aren't as good as the Tesla Autopilot. The sensors in the Model 3 monitor the surroundings a lot better than the Polestar 2. The Autopilot navigation screen in the Model 3 is quite simply unbeatable. Another really cool feature in the Polestar 2 is the frameless mirrors. In normal cars, only the side mirrors are electronically adjustable whereas in Polestar 2, the entire casing can be moved in any direction.
Polestar 2 has partnered with a company called to provide fast charging support with speeds of up to 50 kW. But it is nowhere near as good as the Tesla Supercharger network, with charging speeds of up to 250 kW.
Which One Should You Consider?
The Tesla Model 3 is still a better car and no amount of vegan leather can change that. You can go for Polestar 2 if you want something refreshing. It looks like a Volvo sedan, which means it looks sophisticated and commands a good road presence. But if you want to own a single electric car for all your needs, buying a Tesla Model 3 is still the best option.