Call of Duty Mobile Season 11 is currently live to celebrate the first anniversary of the game. Activision decided not to release a test server for the Season 11 update to keep everything a surprise for the players, which turned out incredibly well.
Most Call of Duty: Mobile players were happy that all the amazing Season 11 content was kept a secret. Well, it looks like the same is going to happen with the next season as well. That's because the developers announced that Season 12 would not likely get a test server.
Recently, Call of Duty Mobile released the October 22nd community update on Reddit. In the post, developers talked about all the upcoming events and game modes in Season 11, along with their release dates. Other than that, the devs addressed all the in-game bugs in Multiplayer and Battle Royale.
In the community update's comment section, one user asked about the Season 12 test server. Surprisingly, COD Mobile developers answered the question to confirm that Season 12 most likely won't get a test server. So, just like Season 11, players will be completely unaware of the content in Season 12.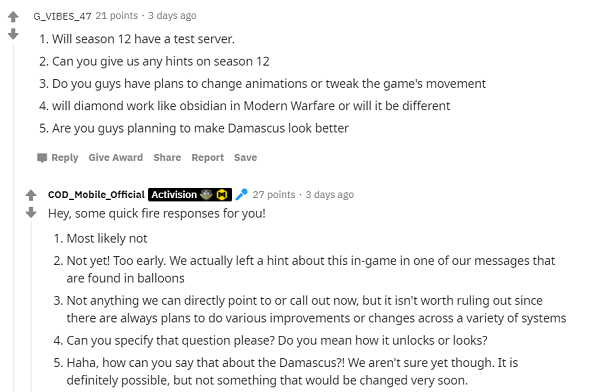 Moreover, the same Reddit user went on to ask the developers if players could get any hints for Season 12. Unfortunately, Call of Duty Mobile developers denied the request by saying, "Not yet! Too early." However, the devs also confirmed that they have hidden a Season 12 hint in the in-game balloons.
Also Read: Call Of Duty Mobile Season 11 Review
For those of you who don't know, Call of Duty Mobile released the much-awaited 'Alcatraz' map in Season 11. Also, the Halloween update is now live with some spooky in-game content.