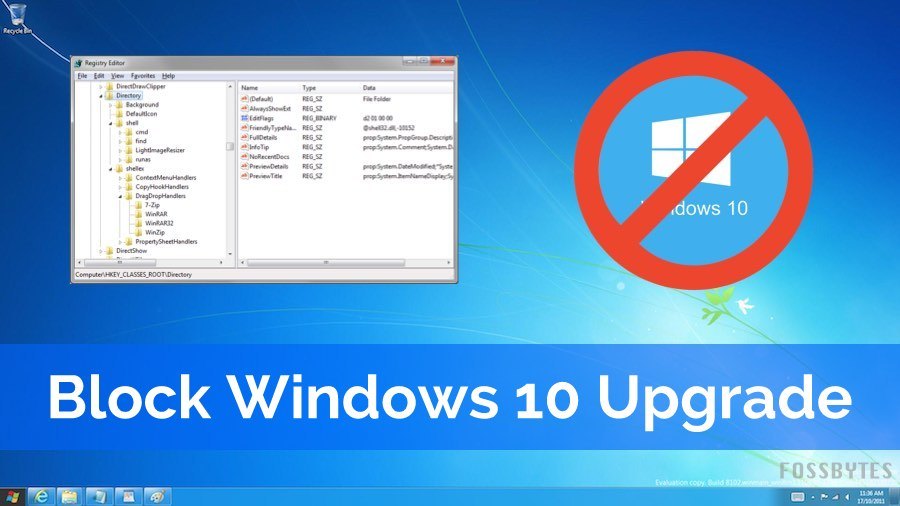 Short Bytes: Are you tired of declining Windows 10 upgrade notifications on your Window 7 PC? Don't worry, using two simple methods related to Group Policy Editor and Registry Editor, you can block Windows 10 upgrade on your PC. 
I
f I start listing down the complaints regarding the forced Windows 10 upgrades and updates by Windows 10, Windows 7 and Windows 8 users, I'll be typing tirades all day.
But, there are some interesting incidents I'd like to share. These mentions include the live TV weather forecast interruption by Windows 10, ruined live stream of a pro-gamer, and an abusive rant of a Windows user.
While some users try to block these forced update popups on their PCs using some software, other experienced users don't need any third-party software to do this.
In this article, I'm going to share two methods to block forced Windows 10 upgrade on your Windows 7 and 8 PCs. This has been made possible with a new update that was released last year.
Also read: How To Get Windows 10 Upgrade For Free Even After July 29, 2016?
Blocking Windows 10 upgrade on Windows 7 PC:
So, before going ahead, download these system updates manually for your PC: 32-bit and 64-bit. After restarting the PC, follow any one of the following methods:
Method 1: Use Group Policy Editor to stop Windows 10 upgrade
You simply need to type gpedit.msc in RUN to open the Group Policy Editor on your Windows 7 PC.
Now, follow this path to find the right options to make changes: Computer Configuration > Administrative Templates > Windows Components > Windows Update
In the left sidebar, look for "Turn off the upgrade to the latest version of Windows through Windows Update". Click on it and make it Enabled.
The required changes have been made and you just need to restart the computer for the changes to take place.
Method 2: Use Registry Editor to block Windows 10 upgrade
To open Registry Editor in Windows 7, you simply need to type regedit in RUN and press enter.
Now, go to this path and find Windows folder: HKEY_LOCAL_MACHINE\SOFTWARE\Policies\Microsoft\Windows
Now select the Windows folder, create a new entry called "WindowsUpdate" by right-clicking.
The required changes have been made and you just need to restart the computer for the changes to take place.
Did you find this article helpful? Don't forget to drop your feedback in the comments section below.
Also read: Minimum Requirements To Run Windows 10 Changed, Anniversary Update Needs More RAM