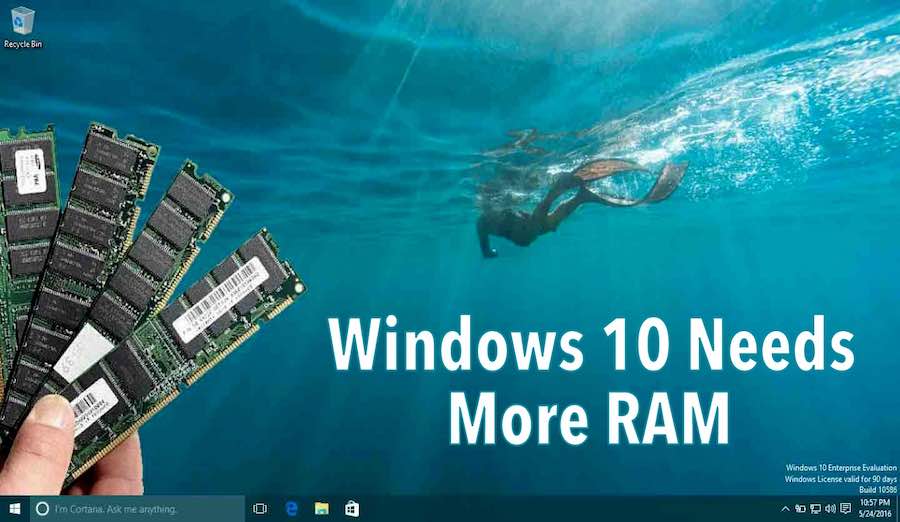 Short Bytes: In the form of the first big change in Windows system requirements in the last 7-8 years, Microsoft has changed the minimum RAM required for 32-bit systems to run Windows 10. As a result, Windows 10 Anniversary Update, which is expected to roll out on July 29, will increase the minimum RAM requirement from 1GB to 2GB.
W
hen Microsoft released Windows 10 in July 2015, it maintained the same system specifications as compared to the previous Windows versions i.e. Windows 7 and Windows 8.
But the upcoming Windows 10 Anniversary Update, being called as version 1607 by Microsoft, is coming with some bad news. Microsoft's documents mention that version 1607 will need more RAM, increasing the minimum RAM needed for 32-bit systems from 1GB to 2GB.
However, the RAM requirements for 64-bit systems continues to remain the same i.e. 2GB. Interestingly, Redmond has hinted at the first big change in the Windows system requirements in last 7-8 years.
If we take a look at the other minimum system requirements, they remain unchanged. You still need a 1GHz processor, 16GB free space for 32-bit and 20GB free space for 64-bit systems, and DirectX 9 support.
With Windows 10 Anniversary Update, the acceptable size for tablets and smartphones for running Windows has been increased up to 7.9 inches. The screen size for running full Windows 10 is now 8 inches or greater.
So, how would this change in RAM requirement affect me?
The answer to this question is very simple. If you got a new system in the past 1-2 years, you won't be affected by this change.
However, for older 32-bit system owners from Windows 7 era need to check their PC's specifications.
You shouldn't worry if your system needs more RAM as upgrading the RAM is now cheaper and simpler than ever. But, if you are running a netbook with no slot for expandable storage or a tablet, things are looking bad for you.
Windows 10 Anniversary Update release date:
As its name suggests, Microsoft is expected to roll out Windows 10 Anniversary Update on July 29, 2016 i.e. exactly one year after Windows 10 was launched last year. If you are interested in knowing more about this Windows 10 update, we've got your covered.