The job of a good system information software is to tell you every detail about your PC's hardware and software. Some of the best system information software accomplish this by providing you with a slew of information in an easy to understand format.
Knowing your current PC's system specs is imperative when you're buying a new PC, upgrading your current hardware or software, and while you're comparing the performance of two different computers.
However, before we take a look at the list of best system information software, let us understand what does it actually do.
What Is A System Information Software?
A system information software or PC information software is a tool that tells you the detailed specifications of your computer. A good system information tool tells you everything from RAM usage and CPU usage to what type of graphics memory you have and so on.
Moreover, such tools can also be used to measure CPU load while running a certain application, comparing the workload of two different applications, and a lot of other stuff as well.
Pro Tip: Several tools that I am going to mention also come in the form of small ZIP files. You can save these zip files in the cloud or on your smartphone and take them with you on the go. If you ever need to check the specs of any PC, simply download the file and run it on the PC.
10 Best System Information Software 2019
Speccy
Everest Home Edition
Wise System Monitor
HWiNFO
CPUz And GPUz
HWMonitor
Belarc Advisor
Astra32
Sandra Lite
Agaue Eye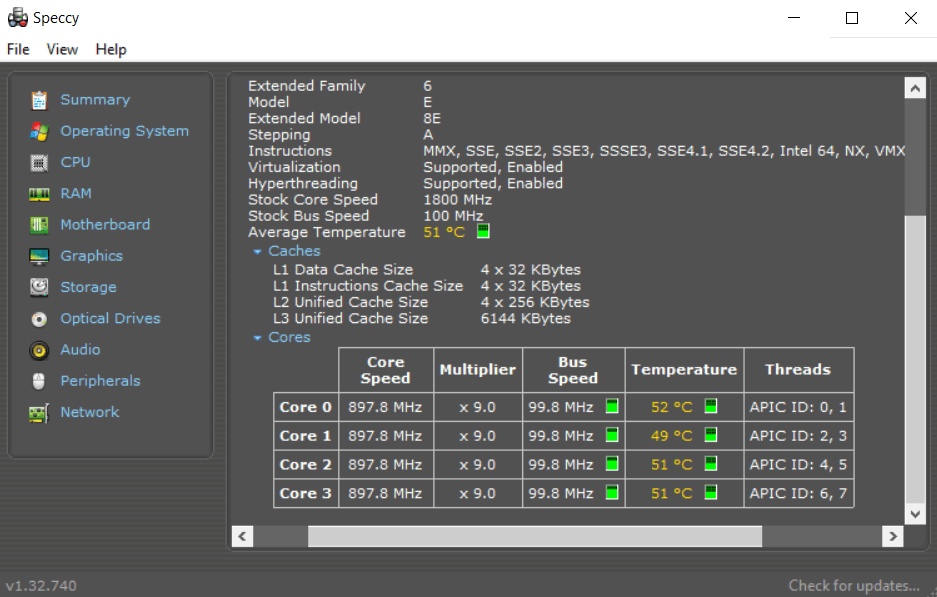 | | |
| --- | --- |
| Pros | Cons |
| Speccy has a clean layout and offers all the information in an easy to understand format | Monitoring real-time performance of CPU and GPU is difficult as each of them is in a different tab |
| Speccy shows in-depth information like CPU core temperature, clock speed and much more | Reports are too big to read, there's no option to get a report on a single component |
| The software allows you to take a snapshot of real-time specs like CPU usage etc | |
Speccy is a popular system information tool, probably one of the best out there. Speccy's window consists of two sections. It features a clean layout and display's information of all system components including the Motherboard, CPU, RAM, Graphics, Storage, etc in the right column and their detailed information in the left one.
Speccy showcases real-time information of the CPU and GPU like the CPU core temperature, available memory, etc with elegant animations.
You can't read all the real-time information at once, which is kind of disappointing. Also, the generated reports are too big to dig through to find the necessary information.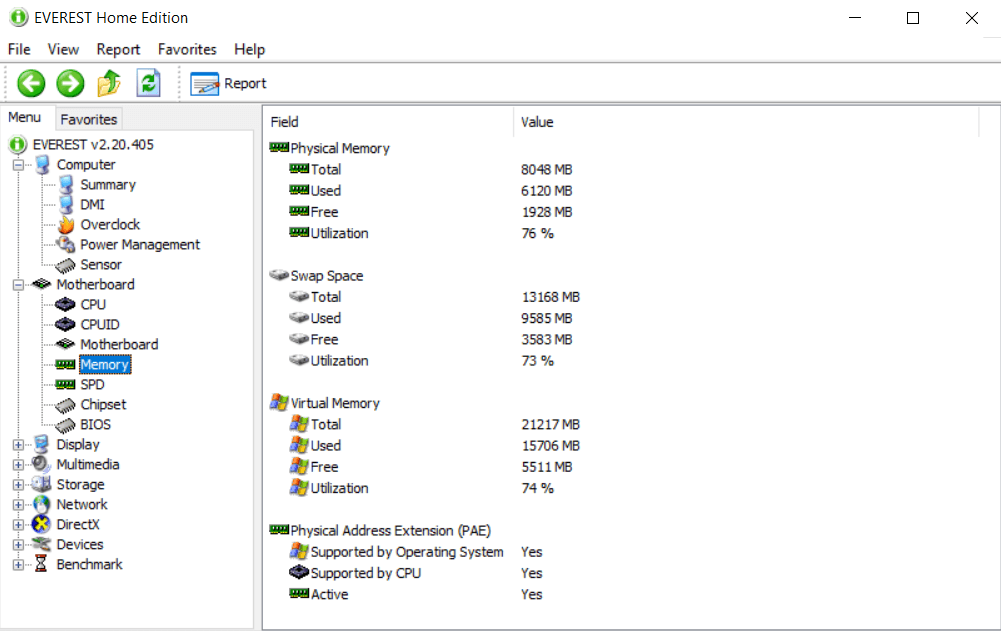 | | |
| --- | --- |
| Pros | Cons |
| Everest Home Edition has an interface similar to the old Windows OS | Information regarding GPU and drivers isn't available |
| The menu is simple to navigate through | Specs on the Motherboard are also not available |
| Detailed information about connected peripherals | |
The Everest Home edition also comes in a Zip package, so you can save this handy tool in the cloud and take it with yourself. The system information tool has an easy to understand icon design and menu.
Some of the sub-menu like the OpenGL and peripherals are quite detailed while it is difficult to find out which GPU I am using.
The interface gets a little bit cluttered if you open too many several tabs at once. Overall Everest Home Edition is a good enough PC information software.
Although the product's website states that Everest Home edition is not suited for modern operating systems, it worked fine on my Windows 10 PC.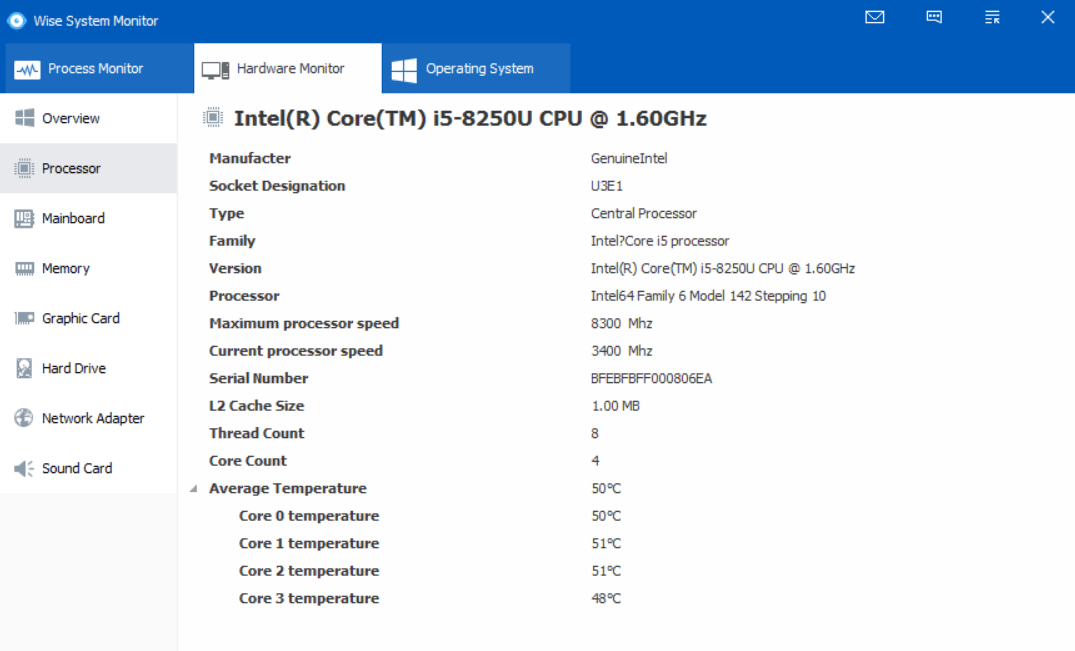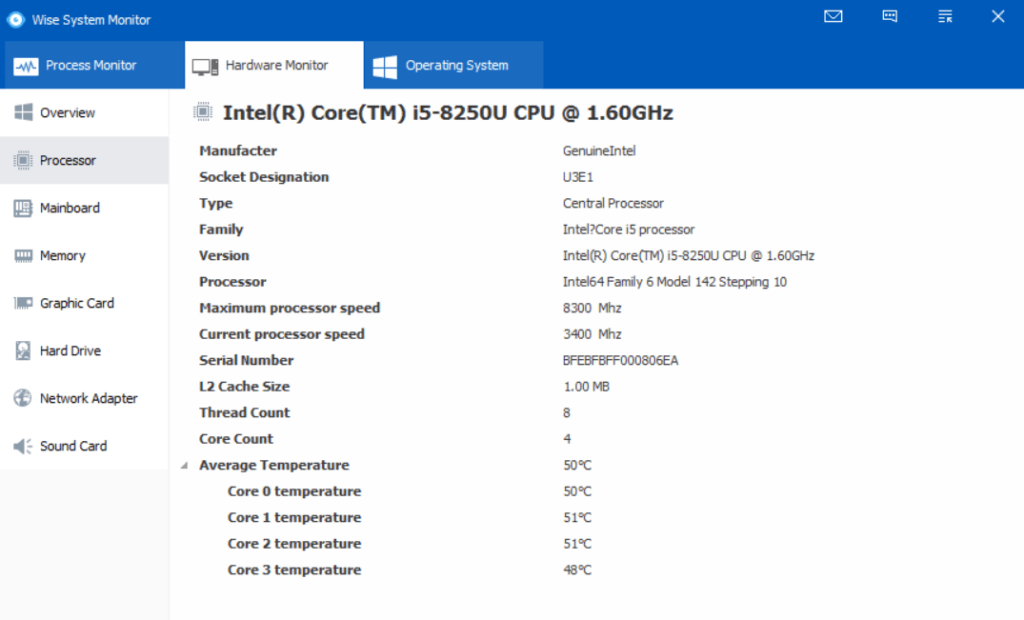 | | |
| --- | --- |
| Pros | Cons |
| Wise System Monitor shows you real-time hardware and application information | The system information in the hardware tab is less detailed |
| It shows you all the processes that are running in the background of your system | The specifications of a GPU, including its available memory, are not available |
| The interface is very clean and easy to understand | |
Wise System Monitor is a PC information software that can easily keep track of background applications. This tool divides the system information into three parts namely, Process Monitor, Hardware Monitor, and Operating System.
In the 'Process Monitor' tab, you can keep track of all the tasks that are running in the background. In the 'Hardware Monitor' tab, you can check most of your system specs. I said 'most' and not all because some information about the GPU is not displayed by this software.
Wise System Monitor is compatible with Windows 7, 8, and 10.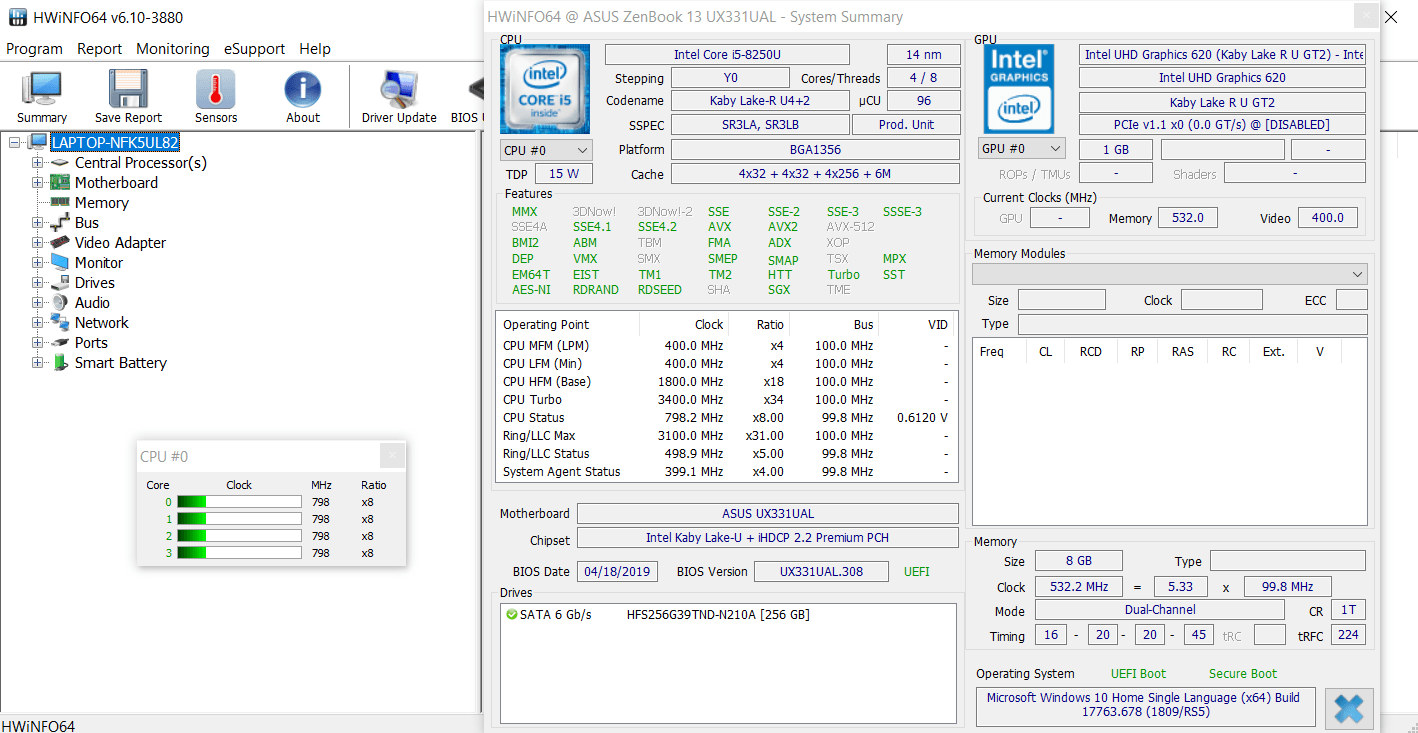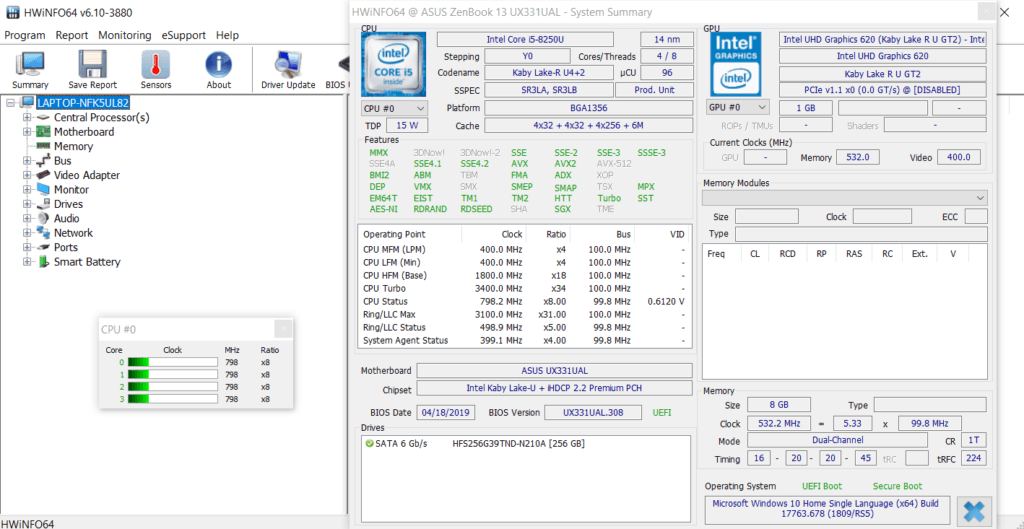 | | |
| --- | --- |
| Pros | Cons |
| HWiNFRO provides in-depth details of the GPU and CPU. | The information could feel cluttered to some users. |
| It provides detailed specifications of RAM, Motherboard, drivers, etc. | HWiNFO does not provide enough details about the OS, including its build and version. |
| If you're using a laptop, then it provides you details of the battery including charge levels, Wear levels, etc. | |
HWiNFO is a fantastic tool to find full system information. It comes in two forms, portable and installer. Both work similarly. This tool shows a lot of real-time information about the processor and the graphics card. It shows the entire specs of your CPU, GPU, Memory, motherboard, etc.
HWiNFO can also keep track of individual CPU clock speeds under different loads, making it a versatile tool to check system information.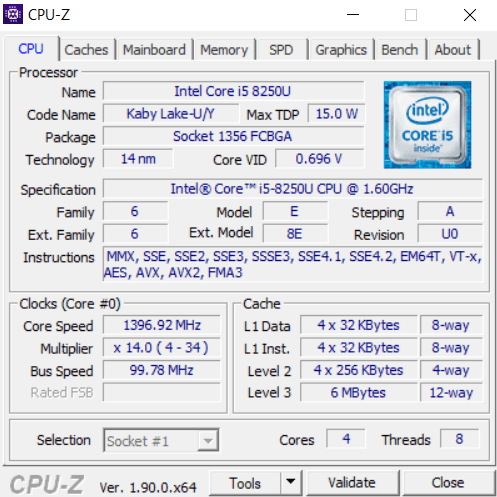 | | |
| --- | --- |
| Pros | Cons |
| CPUz is a light and simple app for getting CPU information | It cannot be used to find out the rest of the system specs |
| Easy to understand the specs layout | |
| Inbuilt benchmarking tool for easy CPU comparison | |
CPUz is a PC info software that also has an inbuilt tool for CPU benchmarking. Unlike other info tools, the CPUz delivers specs of only the CPU and not of other hardware and software components.
In terms of CPU specs, it shows real-time clock speed, cache memory, integrated graphics of the processor along with a lot of other information.
CPUz also has an inbuilt benchmarking tool that can be used to test your CPU chip against several popular processors like the AMD Ryzen 3700x and Intel Core-i7 7900X, to see how powerful it is.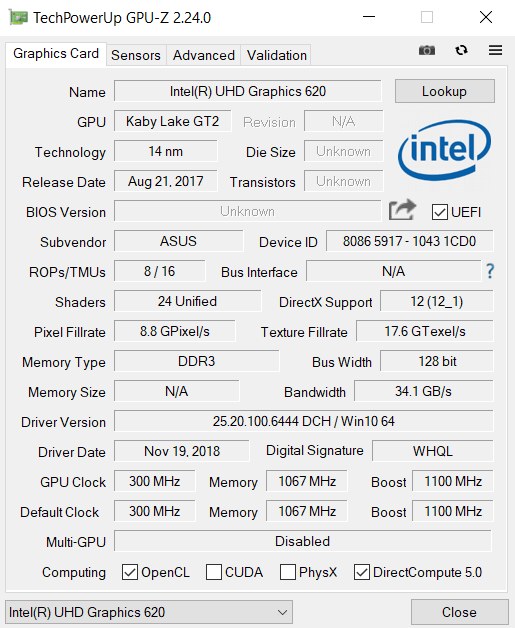 | | |
| --- | --- |
| Pros | Cons |
| GPUz gives all the information about the graphics processor | GPUz does not tell you that the rest of the system specs |
| It is light and easy to use | There is no inbuilt benchmarking tool like the one in CPUz |
GPUz is another free system information tool that provides all the details about your graphics card. It tells you the GPU name, memory type, clock speed, and VRAM of your graphics chip.
GPUz has no inbuilt benchmarking tool like the CPUz however it still provides a lot of details regarding your graphics processor.
Both of these system information software support Microsoft Windows 7, 8 and 10.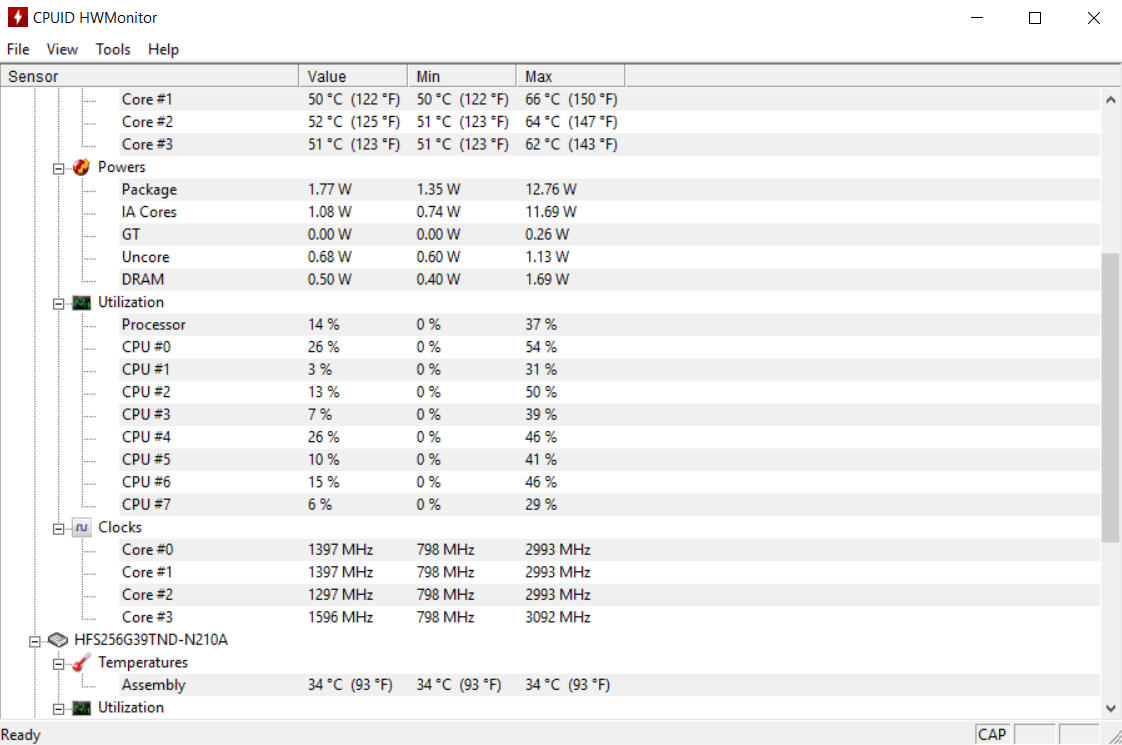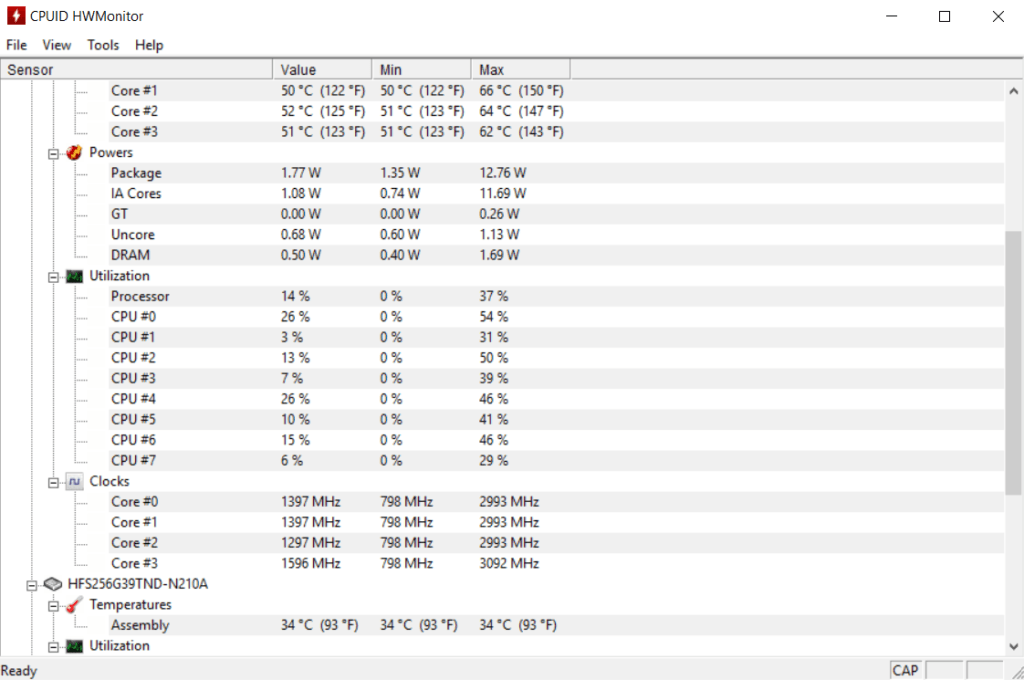 | | |
| --- | --- |
| Pros | Cons |
| HWMonitor is a real-time data checking app that tells you to change data like CPU temperature, voltage, etc | HWMonitor does not tell you about some system specs like VRAM, driver information, etc |
| It is very useful in checking system usage under a particular load | |
| On laptops, the app also tells you about the current state of your battery, including charge levels and wear-levels. | |
HWMonitor free system information app also works better as a real-time diagnostic tool. The software shows most of the basic information about your system.
Furthermore, HWMonitor also tells you the voltages, temperature, power consumed, clock speed, etc. of the processor.
HWMonitor also tells you other system specs like hard drive space, system memory usage, charge levels, temperature, etc.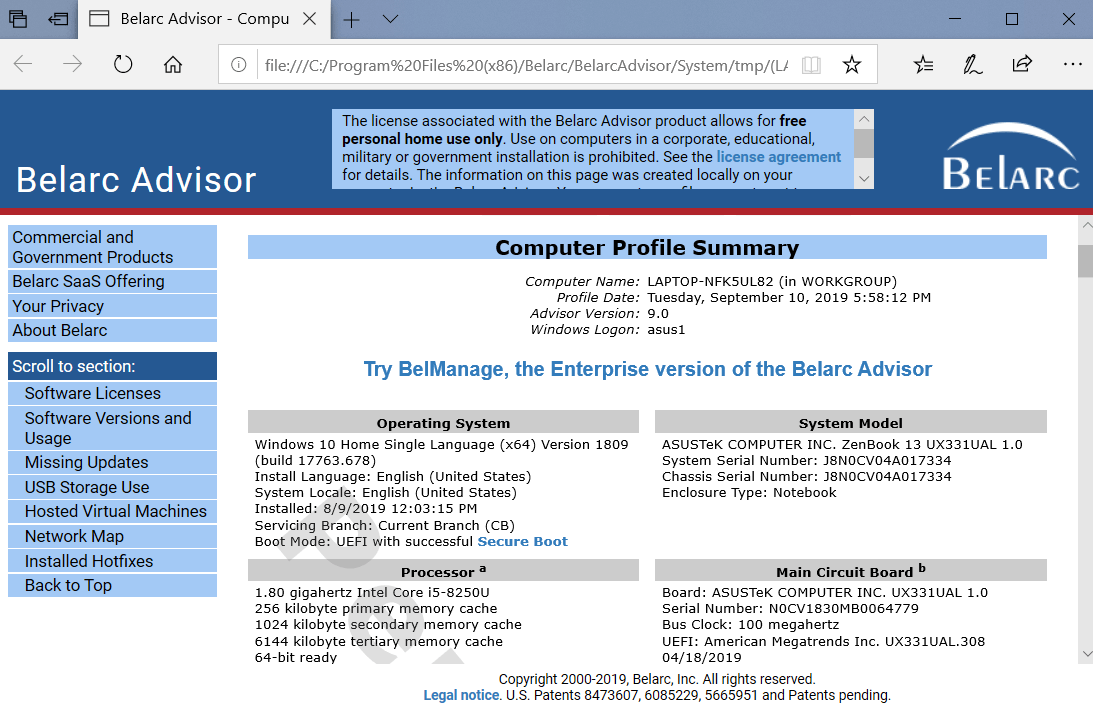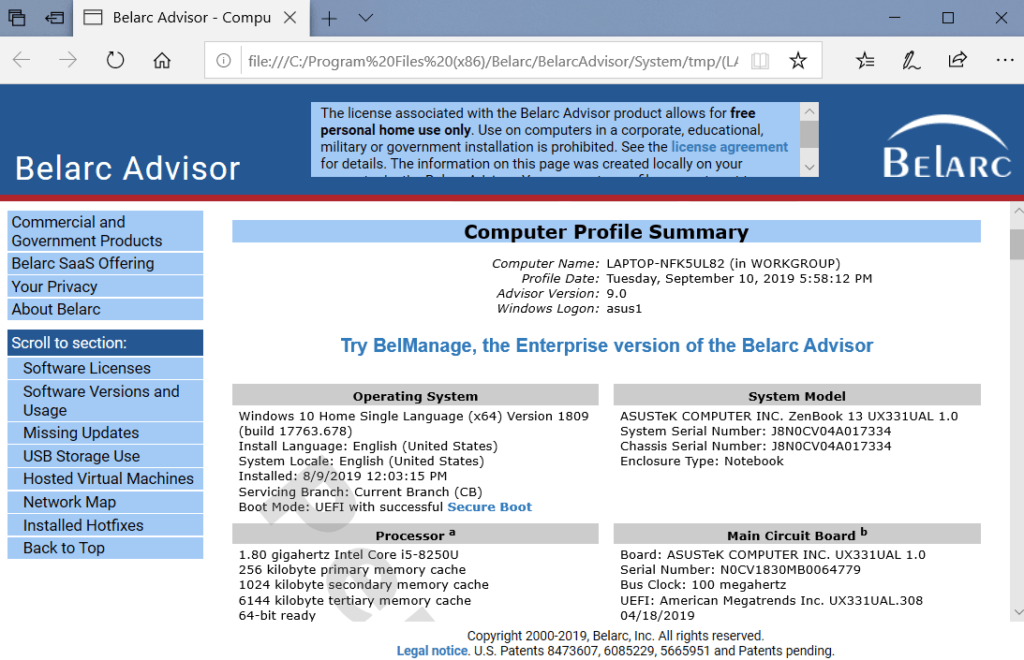 | | |
| --- | --- |
| Pros | Cons |
| Belarc Advisor is a PC information tool which tells you about system specs, driver information, etc | This PC info tool is more focused towards software monitoring |
| It also informs you about outdated driver information | It displays basic hardware system specs, nothing in detail |
Belarc Advisor is a system tool that shows you information related to your hardware as well as software.
It only gives you basic information about your PC's physical components but a lot of details about your software and drivers.
Belarc is a little slow to work with as compared to other PC information software.
In my test, I found Belarc Advisor compatible with Windows 10.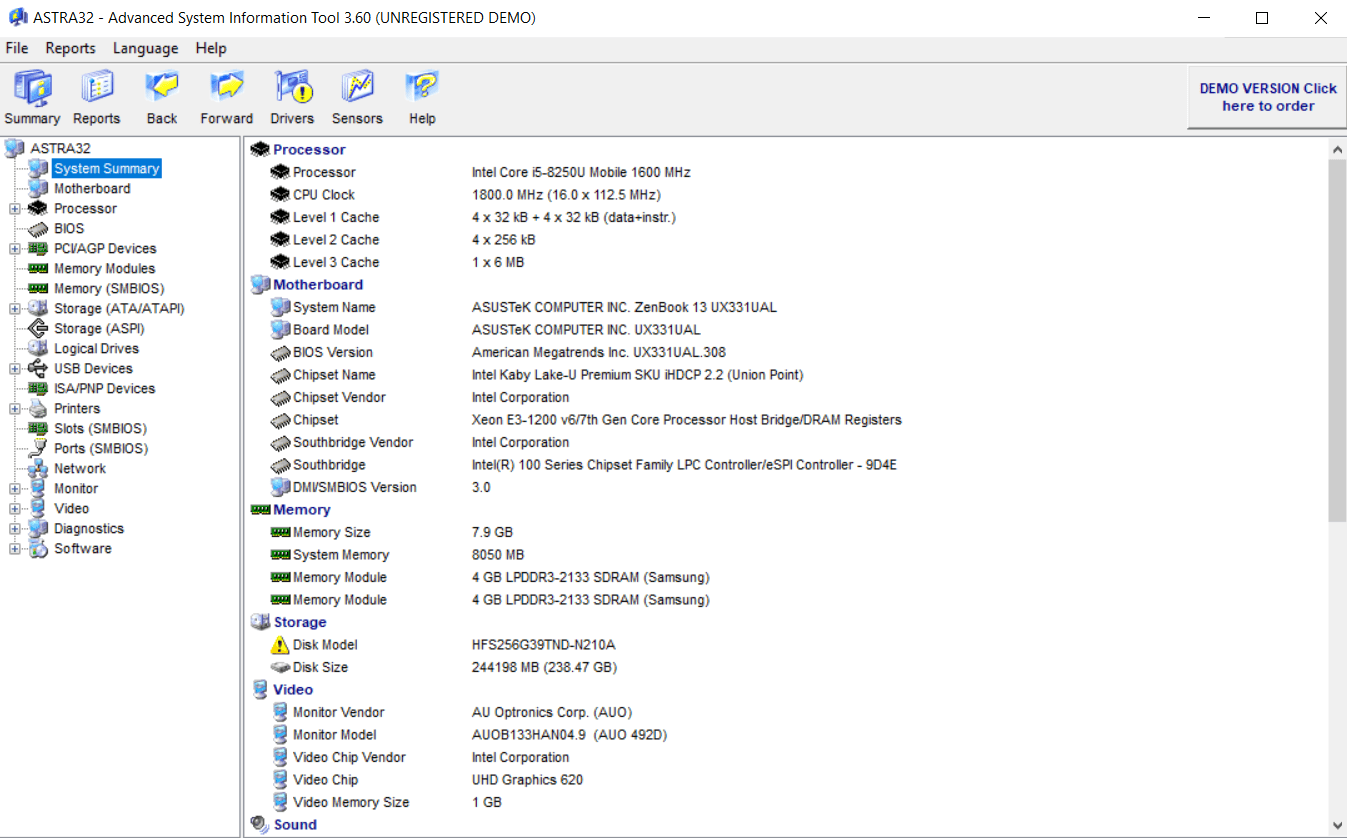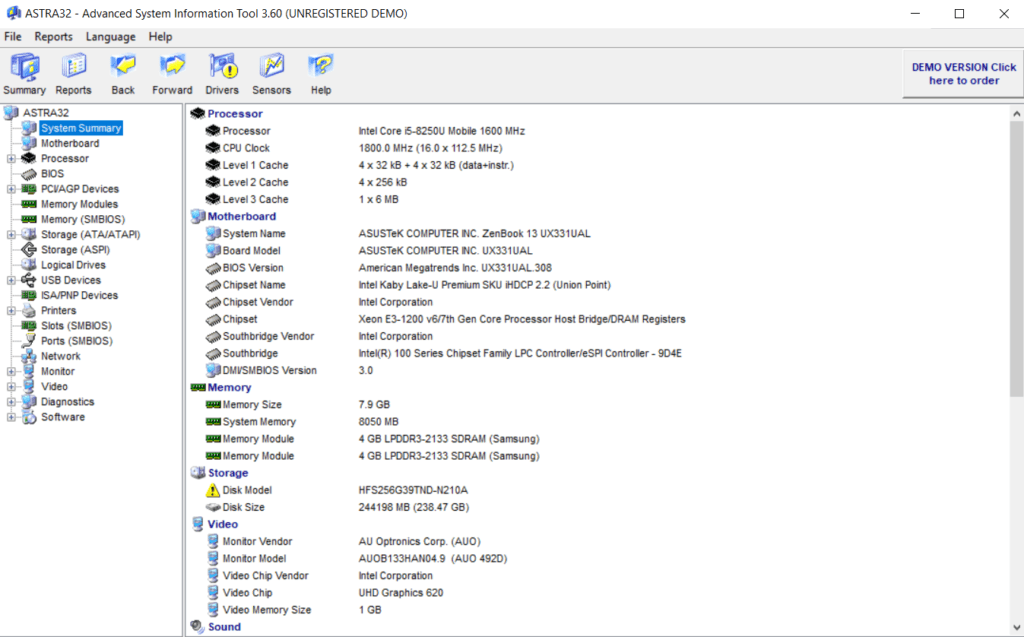 | | |
| --- | --- |
| Pros | Cons |
| Astra32 provides complete in-depth information about system specs | No real-time information on Memory or GPU usage |
| It even provides details about installed programs and recent hotfixes | shows ads prompting you to buy the full version |
| The software's layout is easy to read and understand | |
Astra32 is a free PC information tool for Windows PC. It gives you a lot information about your hardware components as well as your software.
Astra32 will tell you details about the PC's motherboard, processor, BIOS, memory modules and much more.
In terms of showcasing software info, it gives details about installed programs and also about installed hotfixes.
Astra32 gives you in-depth info about Windows OS including its build, version, product key, etc.
Overall, Astra32 is one of the best free software for checking system specs. It is available for Windows 7, 8 and 10 and also for Windows server 2008 edition.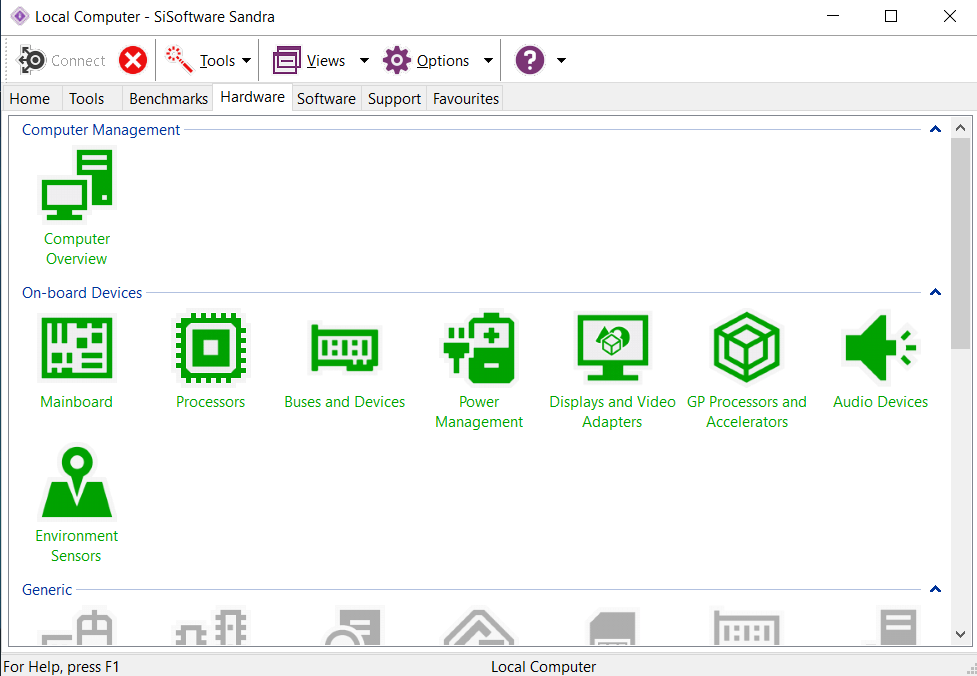 | | |
| --- | --- |
| Pros | Cons |
| Sandra Lite is a PC info tool with an emphasis on easy to understand information | Less real-time information |
| Sandra feels lively and more interactive to use than other PC info software | The app is slow when compared with other apps |
| The information is delivered with color-coding in a neat format which is a nice touch | |
This free PC information software looks quite lively and interactive because of delightfully laid out color-coded icons. This system info tool is a little slow but it shows plenty of in-depth information.
It displays the main components as block icons and their respective details in a separate new window. This method of showing information keeps the layout very neat and tidy.
The sub-components also have their own colorful icon which is a nice touch. The inbuilt benchmarking tool is also an added benefit for people who build PCs and compare their performance every day.
You can get benchmark scores for CPU, memory, video adaptor, etc. Also in this free system info app is a stress test and 'create a report option.' You can also monitor the entire PC environment using Sandra Lite.
Sandra Lite is available for Windows 7, 8 and 10.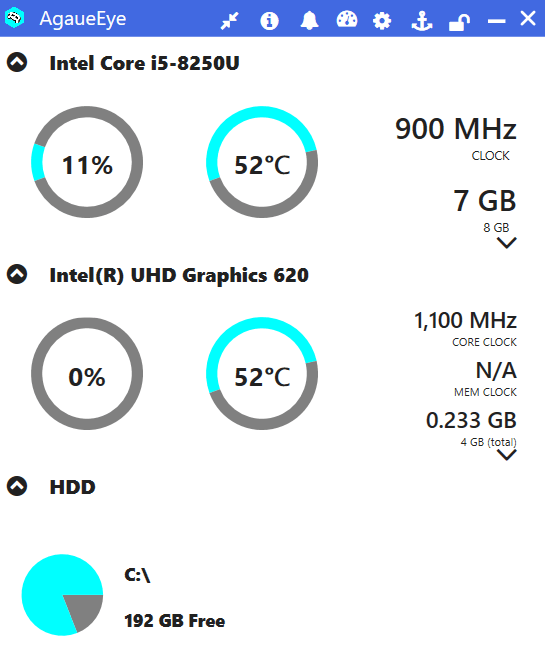 | | |
| --- | --- |
| Pros | Cons |
| Agaue Eye is a system info tool that doubles up as a real-time performance monitor. | Ague Eye does not show detailed information as compared to other system information software. |
| The app showcases CPU and GPU performance, especially while gaming. | |
| It has support for Steam, Ubisoft Uplay, and EA Origins. | |
Agaue Eye is a PC information tool that can also be used for real-time performance monitoring apps. It mainly displays CPU, GPU and HDD usage on the front screen.
It also has a mini dashboard that can quietly run in the background. You can also check detailed information about VRAM, Memory, and CPU cache by clicking on the bell icon.
It can also work while you're in-game to record your FPS.
Overall, the Agaue Eye has a neat layout and it is quite easy to use for everyone. It's compatible with Steam, Ubisoft Uplay, EA Origins, etc.
Agaue Eye works fine on Windows 10.
Which Information Software To Use In 2019?
Among all the above-mentioned system information software my personal favorite is Speccy due to its fast performance, accurate information display, and interactive icon.
Other really great software on this list includes Sandra Lite, Astra32, and HWiNFO.
Nonetheless, you can't go wrong with any of the system information software on this list.
If you have trouble while using any of these PC info tools feel free to contact me on my twitter handle.