Microsoft has started the roll-out of the Windows 10 May 2020 Update. Now, it could be a matter of a few days when the update will land on your machine.
At the same time, people have started to report various issues in the Windows 10 2004 update that are causing trouble to their PCs. For example, the feature update has compatibility issues with the Intel Optane memory.
Moreover, all of this builds on top of the list of issues in May 2020 Update that Microsoft published recently.
So, if you're feeling skeptical and you want to block the latest Windows 10 update, then you can take the help of this open-source tool called Wu10Man.
How to use Wu10Man and block Windows Updates?
Wu10Man was initially launched in 2018, but its developer has recently updated the tool to support more functions after he saw the previous version gained traction. However, right now, we should just focus on blocking Windows Updates.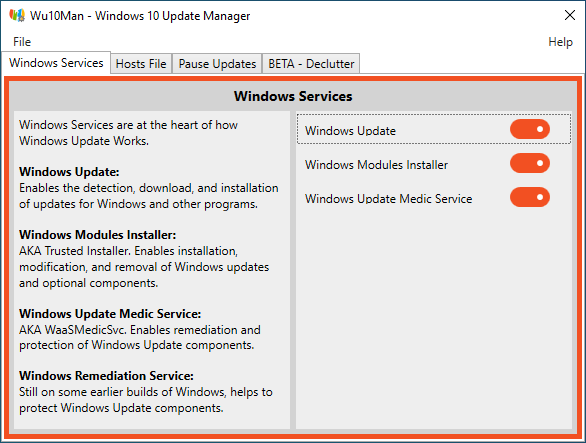 Wu10Man lets you disable all the Windows Services that are responsible for updating your system. The list includes Windows Update, Windows Modules Installer, and Windows Update Medic Service. You need to click on simple-to-use toggle buttons to get the job done.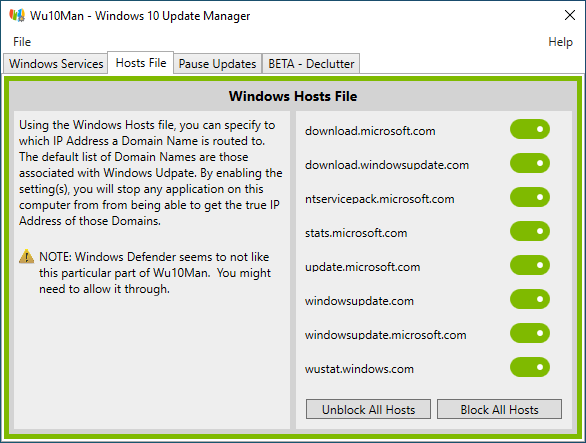 In addition, Wu10Man can also block all the domains that Windows 10 tries to access when it wants to download a feature update or cumulative update. These URLs are listed under the Host File tab and can be blocked by clicking on their relevant toggle buttons.
What's more, is that the tool extends the time limit for which you can pause or defer updates in Windows 10. The functionality is already there in the Settings app but only allows updates to be deferred for a limited number of days.
With Wu10Man, you can set different dates, or the number of days, for feature updates and cumulative updates.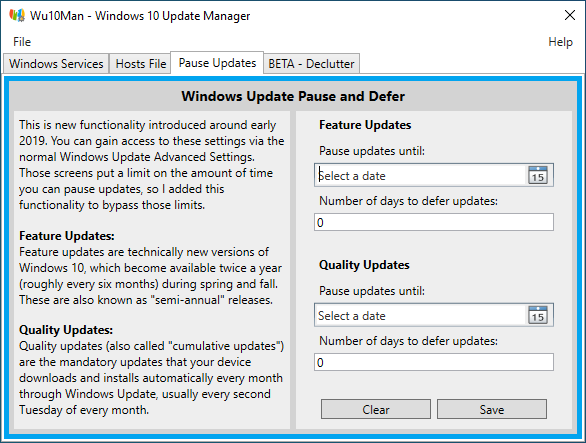 Other than blocking updates, you can also use this open-source utility to remove some unwanted apps from Windows 10, commonly known as bloatware.
You can download Wu10Man from its GitHub repo. You can either install it as a regular Windows 10 app or use the portable version.
One thing to keep in mind is that the tool makes changes to the Windows Registry, tweaks services. So, you should know what you're doing, and at least keep your system backed up. Also, it might get flagged by your anti-virus software as well.