At Mobile World Congress 2018, Samsung launched its latest flagship Galaxy S9 and S9+ smartphones. They're available for pre-order. Just like the previous iterations, both these phones differ in terms of price, screen size, power, and a couple of other features.
If we take a step back and look at the flagships launched last year, 2017 was a great year for smartphones. Google shipped Pixel 2 with the best camera in a smartphone, Apple redefined the way one interacts with an iPhone, and Samsung's Galaxy S8 and Note 8 were overall great packages in themselves.
So, where does 2018's first big smartphone launch fit it? Are Samsung Galaxy S9 and S9+ smartphones good enough to tackle the upcoming launches, or even compete with 2017's giants?
Before I start diving into the reasons why you shouldn't buy Samsung Galaxy S9 and S9+, let me tell you that these aren't bad phones from any aspect. They look beautiful and pack great hardware. The company has focused a lot on camera and shipped the first phone with a variable aperture camera. It can also record super slow motion videos at 960fps. While the exact real-world performance is yet to be seen, on paper, it could be a revolution in smartphone camera space.
Now, coming back to the pitfalls of buying these devices and the reasons why you should skip this one.
First and foremost, my biggest reservation with any Samsung smartphone is the company's crappy update policy. When you buy a premium device worth $750+, you do expect the latest Android updates released by Google at the earliest. But, that's not the case here. Unlike Google Pixel and Android One devices, Samsung's track record in delivering the updates is dismal. Galaxy S8 has just now starting to get the Oreo update. Moreover, the update is currently only being rolled out to unlocked devices that aren't tied to any mobile carrier.
If we compare Galaxy S9 to S8 and leave the camera aspect behind (whose performance is yet to be seen), there are no apparent differences. It doesn't come with an upgrade in screen size or resolution. Both devices have a reflective glass on the back and aluminum edge. There's just a change in fingerprint reader placement, which looks more convenient.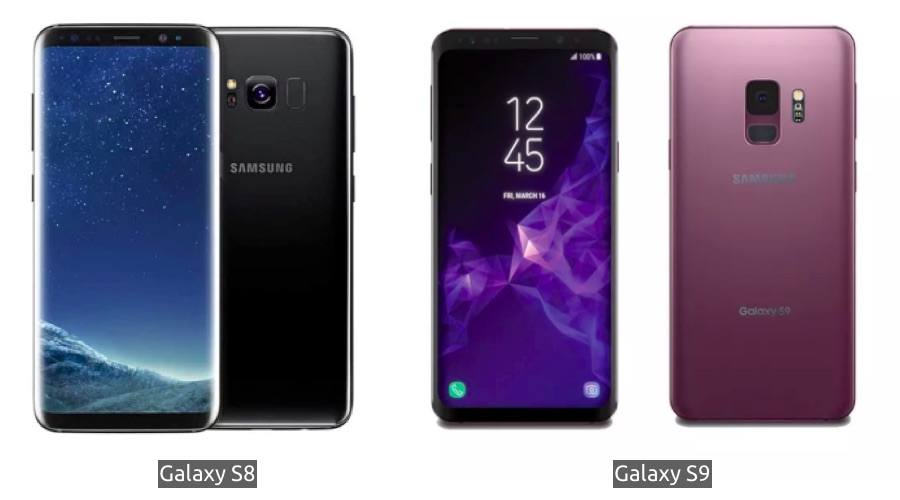 In the first glimpse, it's very difficult to distinguish both the devices and pinpoint which one is S9. It's not a bad thing, given the polished and likable design of S9. But when you're having options like Pixel 2, LG V30, and iPhone 10, or you can get a similar design and features in the cheaper Galaxy S8, spending more money doesn't make much sense. Moreover, many sellers have also started offering heavy discounts on S8.
In case you love colorful devices, you've also got more options in Galaxy S8. While S8 is available in 6 variants, S9 comes in lilac purple, midnight blacks, and coral blue.
Another weak point of Galaxy S9 is its Bixby virtual assistant. While it's great for some tasks, it's not that deep-rooted inside the OS. If you can't compromise on this aspect, pick some other flagship with Google Assistant. The placement of the dedicated Bixby button on S8 has also been reported irritating by many and S9 doesn't change that.
Overall, Samsung Galaxy S9 is a great smartphone, and I don't hate it. But, apart from the camera upgrade, there isn't anything to root for. If you're an owner of a flagship from last year, I'll recommend you to skip and wait for other device launches taking place later this year. I have a feeling that next year's Galaxy and Note launches will feature more redesigning to compete with iPhone X and the camera is just a start. If you're too dazzled by the new camera and it's tempting you to upgrade, wait for the user reviews and decide accordingly.
Still want to buy S9? Pre-order here.