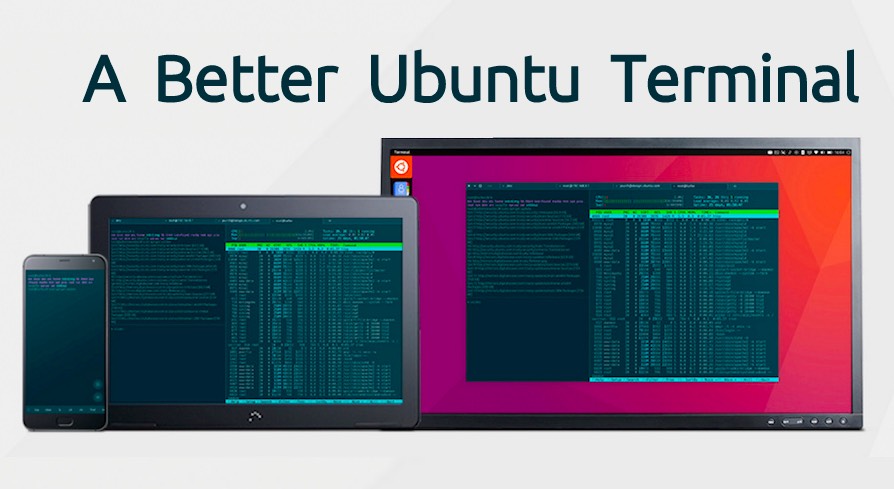 Short Bytes: Canonical is taking some big steps to improve its community developed Terminal app. Canonical developers and designers are working to add functionalities like split screen, keyboard shortcuts, unlimited history, more themability, etc. to the app. Canonical has also urged the users to contribute and make Terminal even better.
O
n August 15, 2016, Canonical's Jouni Helminen
announced
that some major changes are coming to the community developed Ubuntu Linux
Terminal app
. These changes are expected to turn the Ubuntu Terminal app into a convergent Terminal that'll be easy to use on desktop and mobile phones.
In a blog post, Helminen shared the new design ideas and the improvements coming to the Terminal. He also urged the users to comment what kind of features they would like to see in the Terminal app.
The Canonical design team has managed to bring the app in line with its Suru design language. The team has also adopted Solarized as the default palette, giving the customization power to the user.
The other changes coming to the app deal with keyboard shortcuts and their customization, screen splitting (horizontal and vertical), customization of palette colors, window transparency, unlimited history, and search functionality in the history.
Some major changes are discussed here in brief:
Split screen and tabs:
Very often we feel the need to split our Terminal screen vertically and horizontally. Canonical is working to bring this change along with enabling keyboard shortcuts. On the mobile devices, you will be able to access the tabs through the bottom edge, just like your web browser.
More customization and themes:
Giving you more control over your Terminal application, Canonical is planning to let you define the custom themes easily. You can do it by importing a JSON configuration file, theme importing, or via in-app settings with color picker. You'll also have the option to enable transparency in the windowed mode of Terminal.
Easier access to command and shortcuts on mobile:
A welcome addition to the Terminal is coming in the form of having modifier keys (Alt, Ctrl etc.) working with the on-screen keyboard on touch. However, this change won't be coming to your Terminal app in the immediate near future.
Till then, you can access these key combinations on touch with the help of shortcuts at the bottom of the screen. These shortcuts will be arranged by recency and you'll have the complete control over them.
Canonical is also discussing the possibility of adding an auto-correct dictionary to make your mobile Terminal experience more immersive.
You can contribute and make Terminal better!
As Terminal app is a community developed project, you can contribute and make it even better. For more information, you can read Jouni Helminen's blog post.
Did you find this article helpful? Don't forget to drop your feedback in the comments section below.
Also Read: How To Use StackOverflow Inside Your Terminal Window?