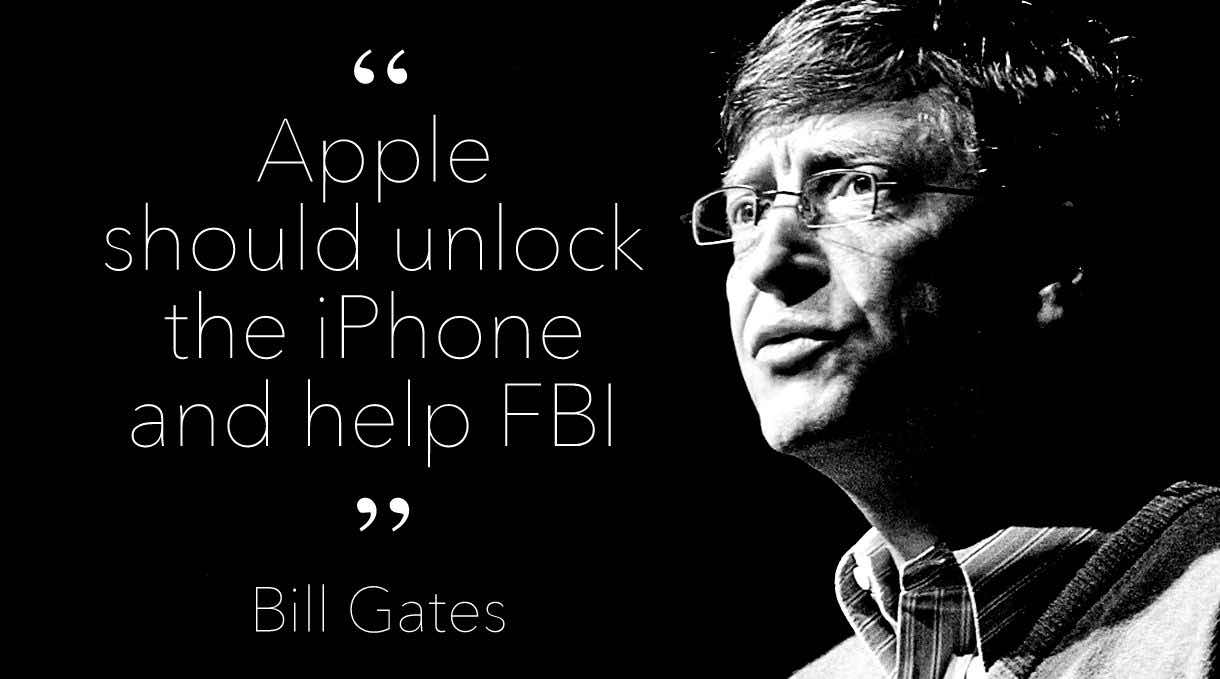 Short Bytes: The big names of American tech industry have expressed their support for Apple in its fight against the government's demand to unlock the San Bernardino shooting iPhone for the FBI. However, the US government has just found an unlikely ally in the form of Microsoft co-founder Bill Gates. "They are not asking for some general thing, they are asking for a particular case," Gates told the Financial Times.
T
he former Microsoft CEO told the Financial Times that tech companies should listen to the law enforcement agencies when it's an issue of the terrorism investigation.
Bill Gates labeled this incident as a specific case where the government has asked for access to important information. "They are not asking for some general thing, they are asking for a particular case," Gates told the Financial Times.
The views of Bill Gates are opposite to the general sentiment of Silicon Valley, where people like Mark Zuckerberg and Sundar Pichai have said that Apple shouldn't be forced to reveal its encryption keys to the FBI as it could be used as a backdoor by the law enforcement agency.
But, Bill Gates begs to differ and lists his own reservations. "It is no different than [the question of] should anybody ever have been able to tell the phone company to get information, should anybody be able to get at bank records. Let's say the bank had tied a ribbon round the disk drive and said 'don't make me cut this ribbon because you'll make me cut it many times,"' Gates says.
This statement has come amid a new war of words that was fuelled by Tim Cook's letter to customers, expressing concerns that it would pave the way for numerous security issues. He said that Apple would fight the court order, igniting the ongoing battle between the American government and the technology industry. Notably, last week, a judge ordered Apple to lend "reasonable technical assistance" to FBI in unlocking the iPhone used by Syed Rizwan Farook, who killed 14 people in San Bernardino shooting.
Talking about the need of proper rules regarding such incidents, Bill Gates said, "I hope that we have that debate so that the safeguards are built and so people do not opt — and this will be country by country —" [to say] it is better that the government does not have access to any information."
What do you think? Express your opinions in the comments below.
Also read: Here's What Apple Co-founder Steve Jobs Had To Say About Privacy In 2010