Disney's newly launched streaming service, Disney+, has instantly become the primary destination to watch Marvel movies.
However, binge-watching all 23 Marvel movies on Disney Plus will have to wait a while since a few titles are still out of Disney's reach.
Nevertheless, the studio is planning to take back the rights to every major title from the streaming giant, Netflix.  For now, these are all the Disney Plus Marvel movies you can stream:
Marvel Movies On Disney+ You Can Stream Right Now
1. Iron Man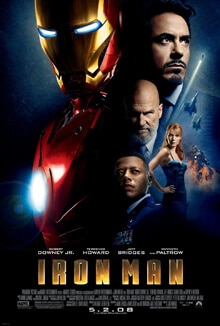 This is where it all started, with Robert Downey Jr. taking up the role of Iron Man.
Tony Stark, a billionaire weapon manufacturer, is kidnapped in unknown territory. Somehow, after escaping from the enemies, Stark realizes all the wrongs he has done and decides to atone for his mistakes by stepping on to the path of heroism and inventing a weaponized suit.
2. Iron Man 2

This movie is unique for several reasons. First, Black Widow made her first appearance in this movie. Secondly, we saw a mainstream superhero revealing his identity to the public. As a consequence of that, Stark gains the attention of some powerful foes and the military. The world wants him to share his suit's technology; however, Stark is reluctant to share the technology to prevent it from falling into the wrong hands. 
3. Thor

Welcome to Asguard, a place that is home to powerful Norse Gods like Odin and Thor. In the movie, Odin kicks Thor out of Asguard and takes away his powers to teach him a lesson. After being banished to Earth, Thor discovers friendship and love. However, enemies follow Thor to take whatever he has. So, he must stand against his foes to protect his new home and the people he loves.
4. Captain America: The First Avenger

The Marvel Cinematic Universe timeline begins with Captain America: The First Avenger. The film is set during World War 2, one of the darkest times in human history. Steve Rogers, a U.S. Army soldier, goes through a scientific experiment to become the First Avenger. With his new superhero-like abilities, he must fight against the enemies of humanity.
5. The Avengers

Iron man, Captain America, Thor, Black Widow, Hawkeye, and Hulk unite to fight off the evil forces unleashed by Loki to destroy the Earth. This movie is the first time where MCU characters combine forces to give us a masterpiece.
6. Iron Man 3

A superhero who doesn't rest. Just six months after the events of The Avengers movie, Tony Stark has to face a new threat known as "The Mandarin."
The third installment of the Iron Man franchise continues the struggle of Tony Stark. In the movie, he learns how to fight his inner demons before fighting the enemy outside.
7. Thor: The Dark World

After fighting off his brother several times, Thor is forced to join hands with Loki to defeat Malekith The Dark Elf. Also, this is the first Marvel movie to mention all the Infinity Stones. So, this is a movie that you can't miss if you're trying to follow the entire MCU timeline.
8. Captain America: The Winter Soldier

Steve Rogers teams up with Black Widow and the Falcon to bring down hidden enemies inside S.H.I.E.L.D, a law-enforcement organization that investigates strange occurrences around the globe. While going through harsh revelations, our hero witnesses his past standing in front of him after he looks at a familiar face.
9. Guardians of the Galaxy

'Guardians of the galaxy' was the movie that took MCU to space and also expanded the universe. Peter Quill (aka Star-Lord) teams up with other degenerates like him to fight Ronan, a radical Kree Warlord who wants to become more powerful by harnessing the power of an Infinity Stone.
10. Avengers: Age of Ultron

The mighty heroes once again unite to fight against a powerful A.I robot, created by Tony Stark, that has gone rogue. Also, this was the first time Scarlett Witch (aka Wanda) and Vision entered the MCU.
11. Ant-Man

Scott Lang, a thief who wants to turn his life around for his daughter, stumbles upon a super-powerful suit. The suit allows Lang to shrink to the size of an ant, and sometimes, expand to the size of a giant. However, foes have their eyes on the suit's technology, so Lang must protect the knowledge from falling into the wrong hands.
12. Captain America: Civil War

Iron Man and Captain America form their superhero teams to fight off each other. Also, this was the movie when we were first introduced to Tom Holland's Spider-Man.
This movie had so many Marvel superheroes that it should have been named 'Avengers: Civil War.' So, if you want to watch only Avengers movies in order of the story, then this particular movie is the one you can't skip.
13. Doctor Strange

An egotistical know-it-all surgeon goes through a terrible car accident that takes his ability to perform surgery. In the search for a cure, Dr. Stephen Strange goes to Kathmandu, Nepal, where he discovers that there are magical powers that are beyond science. He becomes Sorcerer Supreme and stands against someone's greed for power.
14. Guardians of the Galaxy Vol. 2

Star-Lord is having the time of his life with his team, including Baby Groot. However, things change when Peter Quill learns the truth about his past. The rest of the team has to do their best to get Quill out of a dangerous situation.
15. Thor: Ragnarok

A new threat awaits for Thor when he gets back home, and that threat is Thor's mysterious sister, Hela. After being completely overwhelmed by his sister's powers and thrown away to a different world, Thor unites with his earth buddy, Hulk, and his mischievous brother, Loki, to save Asguard.
16. Black Panther

T'Challa returns to the hidden African nation known as Wakanda after the death of his father, where he has to take his father's place to the king. However, he is confronted by a powerful enemy who wishes to dethrone T'Challa.
17. Avengers: Infinity Wars

If you want to watch Marvel movies in order, then you can't really miss Avengers: Infinity Wars. Thanos, who is hellbound on wiping out humanity, is very close to grabbing all the Infinity Stones. So, to stop him, our heroes have to come together by leaving behind their differences.
18. Ant-Man and the Wasp

After the events of Captain America: Civil War, Scott Lang has put everything behind him. However, he gets one more opportunity to be the Ant-Man and protect Hope van Dyne and Dr. Hank Pym.
19. Captain Marvel

If there is someone in the MCU who can go head to head with Thor, then it's Kree Warrior, aka Captain Marvel.
U.S Airforce pilot, Kara Danvers, unknowingly tangles herself with dangerous alien forces. After becoming the most fearsome warrior, Captain Marvel returns to Earth to discover the truth about herself.
20. Avengers: End Game

Avengers: Endgame is something that'll be remembered throughout generations. Endgame is where all the on-screen MCU characters come together to fight for humanity. If you were frustrated that you didn't get to see all cross-overs in Avengers: Infinity Wars, then you'd be delighted after watching Endgame.
So, these are all the Disney Plus Marvel Movies that are available on the streaming service. There are so many movies you can watch on Disney+, but the highlight of the streaming service will definitely be the collection of all Marvel Movies and TV Shows.
However, the list of Marvel movies on Disney Plus won't be complete if the remaining Marvel movies don't land on Disney's Streaming service.
Marvel Movies That Won't Be On Disney Plus Anytime Soon

The Disney Plus Marvel movie lineup is only missing below three titles.
Spider-Man: Homecoming

Spider-Man: Far From Home

The Incredible Hulk
Sony still holds the rights to Spider-Man movies, so it's highly unlikely that we'll see Tom Holland's Spider-Man movies on Disney Plus. However, Disney may strike a deal with Sony in the future.
Meanwhile, the rights to the Incredible Hulk are still with Universal Pictures. Fans can, nevertheless, understand the entire MCU timeline, even after skipping that movie.
Aside from movies, there are a lot of different Marvel shows coming up on Disney Plus. Moreover, these Disney Plus Marvel shows will be a continuation of the MCU timeline.