There are times when you take a great picture from the perfect angle, so all you need to do is crop or sharpen the image before posting it social media. But more than often you need to go on full photoshop mode with the color balance, focus, exposure, color, etc., to make it look perfect.
Now if you are not a professional photographer, you might find yourself in a sticky situation as learning your way around Photoshop isn't that easy. Also, Photoshop is a premium software for which you will have to cough up more than a few dollars which can be expensive.
But that doesn't mean you cannot get some fancy photo editing job done on your pictures. In this article, I have made a list of best free online Photoshop alternatives that will help you fix your photographs like a pro.
Before moving ahead, do check out some other lists of useful stuff you might need:
10 Best Free Online Image Editors In 2018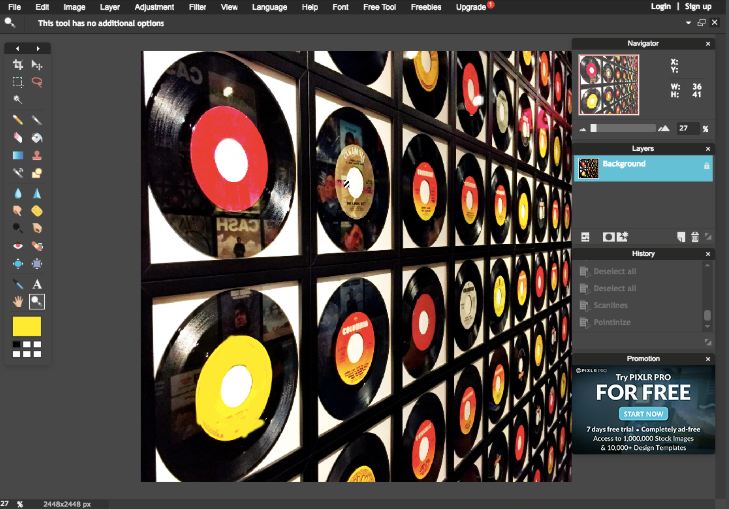 Pixlr is by far the best online Photoshop alternative you can get for free. It is easy to use and has advanced editing tools like cloning and color replacement that you generally find in paid software. You can use popular image file formats including PSD on Pixlr and export in JPG, PNG, BMP and even its own layered PXD format.
As far as the interface is concerned, it looks great and has various tools, brushes, and filters that you can find easily. There are options for layers and masks, automatic and manual color adjustments, etc. One thing that can annoy you is the ads that take up a lot of screen space, but that is expected from the free version.
In case you want advanced editing tools, try the Pixlr Pro version for $5.
Why use Pixlr?
Perfect for quick editing, making web banners
Available on Web, Desktop, Chrome, iOS, Android
Supports 28 languages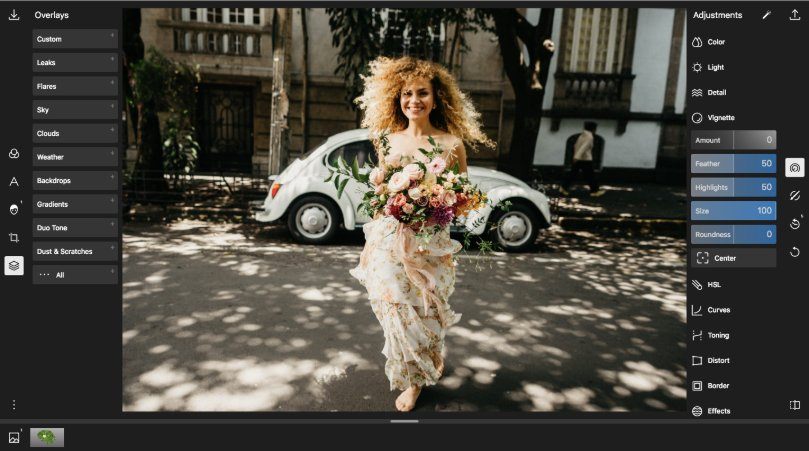 Polarr gives you a walkthrough of the features on opening it for the first time. There are a variety of filters and options to edit photos like any other online image editor. The advanced options include luminance adjustments, lens distortion, spot removal healing brush, and other tools for fixing facial imperfections in portraits.
You can batch save images in three different quality settings and dimensions for different platforms like Facebook, Instagram, Twitter, Pinterest, etc. It offers a comprehensive tutorial for Polarr and even a YouTube channel that will guide you step-by-step to achieve a particular effect.
The free version has limited options so in case you want to unlock all the advanced options, try it's Pro version at $2.49/mo.
Why use Polarr?
Completely ad-free
Available on web, macOS, Windows, ChromeOS, Linux, Android, iOS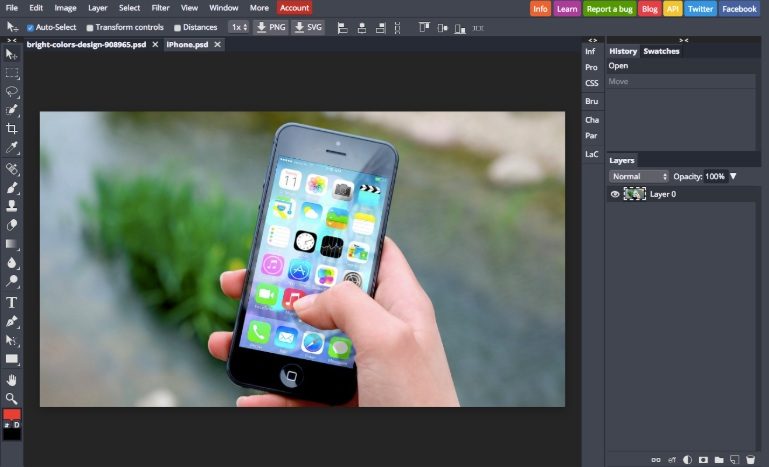 Photopea is another web-based photoshop alternative that is packed with advanced tools. Unlike other online image editors, Photopea is an HTML5 web app, so it runs easily on any latest web browser without installing plugins.
You can find the usual set of brushes and color editing tools, filters, layers, blend modes, and procedural adjustments for brightness, hue, saturation, convolutions (blur, sharpening), etc. There are advanced text editing tools as well for designing banners and posters.
To remove ads, get the Premium version at $5.
Why use Photopea?
Lets you save your work as PSD file and supports as JPG, PNG, GIF, BMP SVG, XCF and Sketch formats
Clean interface, variety of tools and same keyboard shortcuts as Photoshop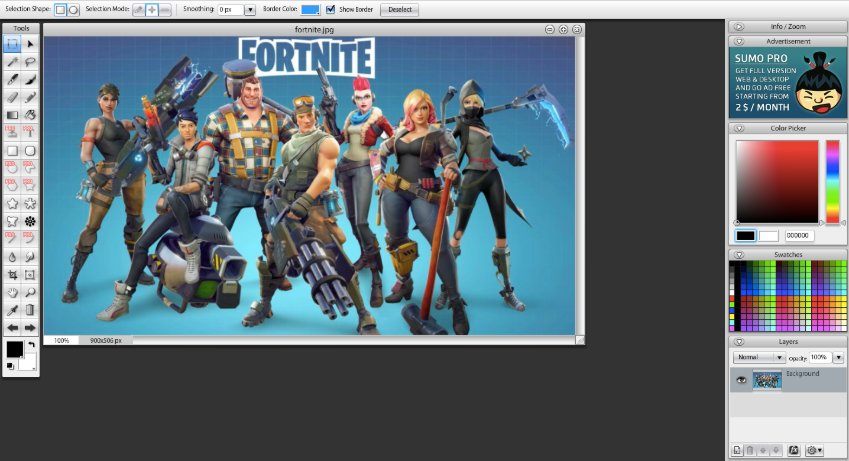 The next free online photoshop-styled editor is Sumopaint that is used by 30 million users worldwide. While it has limited options in comparison to Photoshop, it does have a similar docked panels and option to choose colors, add layers, apply numerous filters and effects to images.
One thing it really needs to upgrade is dependence on Flash. The free version supports the native SUMO format along with PNG and JPG — which is sufficient for web graphics. While the free version works fine, there are a lot of advanced editing options that are available in the paid version only.
So in case you are interested in unlocking more features and zero ads experience, try its paid offering for $9/mo.
Why use Sumopaint?
Save your work on its cloud storage and share easily
User-friendly UI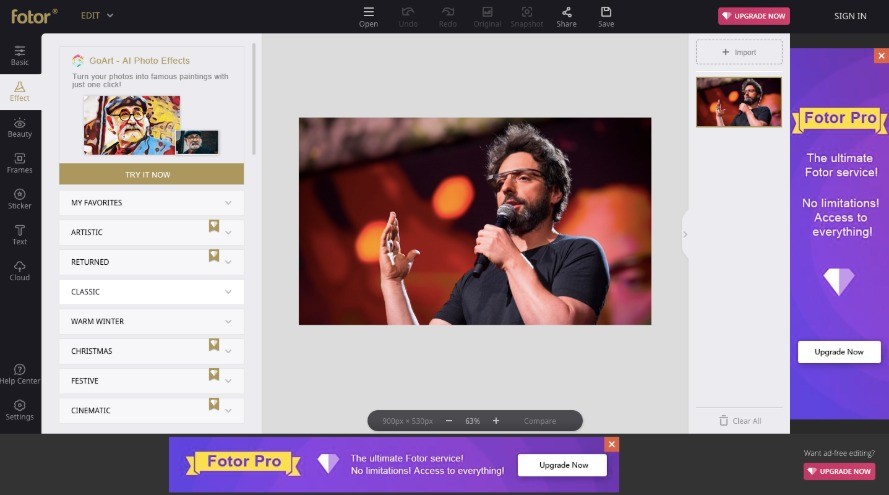 Fotor keeps things simple with its clean UI and some useful options which are appreciated by newcomers. You should definitely use this online image editor for fixing up portraits as it lets you fix blemishes, remove wrinkles, use cloning tool, etc.
Functionalities like special effects, face and body enhancement, frames, stickers, and text editing put an artistic touch to the image. To add some pro-level stuff, you can try Lens Flare, Film Grain, Color Splash, and Tilt-Shift. I really like the Snapshot features which lets you keep track of multiple edits and comes in handy at times.
Fotor's premium subscriptions start at $8.99/month.
Why use Fotor?
Great for editing portraits and provides batch processing of images
Create collages, web graphic designs and save it cloud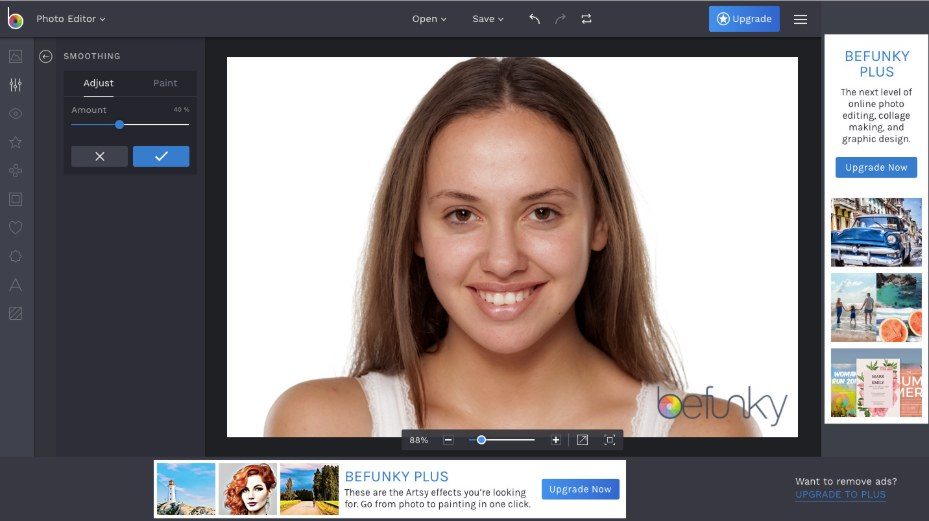 The unique selling point of BeFunky is its simplicity which is not seen usually in web-based photo editors. The website is interactive, so you just need to select and apply those filters and effects from the toolbar.
This website also offers a dedicated Collage Maker for making beautiful collages and a Designer tool to create fully customized graphic designs. BeFunky offers free stock photographs, fonts, and art vectors to help you design cool designs.
To get an ad-free workspace and premium features, you can upgrade to BeFunky Plus at $4.95/mo.
Why use BeFunky?
Good for online graphic designing
Simple, easy to use, and suitable for quick editing of portraits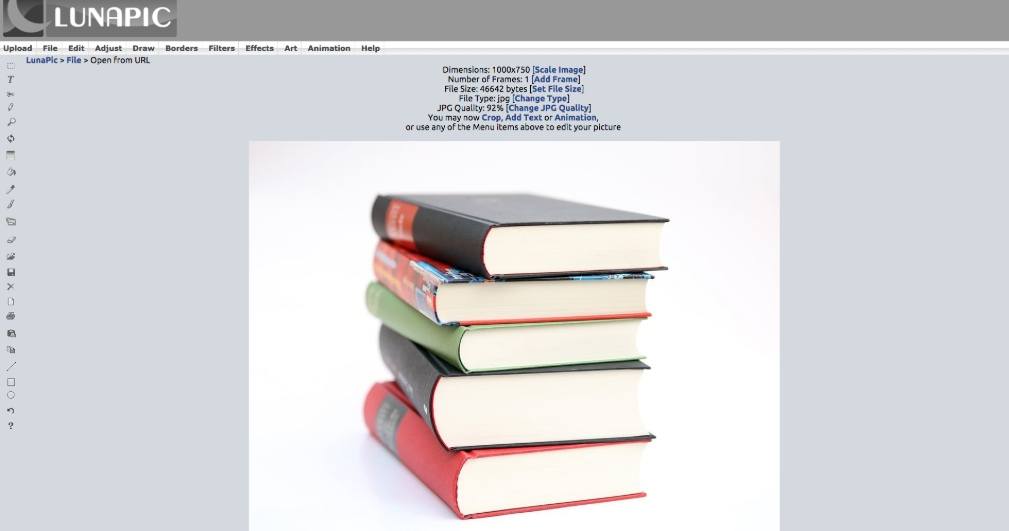 Lunapic is one of the best free Photoshop alternatives online that you should use to get to edit images without paying a dime. The navigational menu is comparable to famous photo editors, and it offers tons of options right from effects, filters, art, animation, etc.
Do not underestimate the text-based menu selections and grayed-out theme that looks plain. Some of the effects are simply mind-blowing, and you will have to try them yourself to understand how good they are. Apart from uploading images from computer, it lets you insert URL and picks up the image itself.
Lunapic is a completely free photo editor.
Why use Lunapic?
Image types supported: GIF, JPG, BMP, PNG, etc.
Options for sharing pictures directly on social media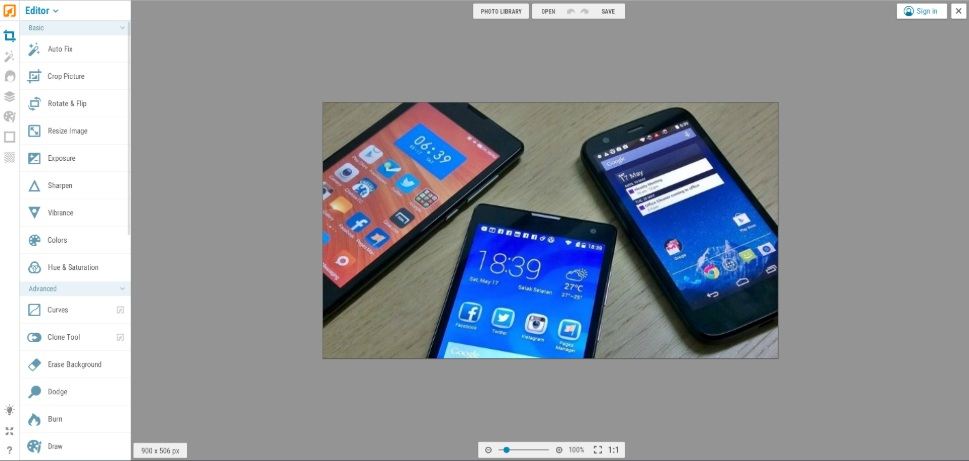 Like most of the online free photoshop editors, iPiccy also requires Flash plugins to run the web app. Once you provide that, the site is easy-to-use and has a layer-based editor that is quick and responsive.
iPiccy offers a variety of basic and advanced edits with dedicated controls for adjustments, colors, filters, effects, etc. There is a set of retouching tools for portraits that removes wrinkles and even applies makeup to enhance facial features.
The best thing about iPiccy is that there is no premium version at so all the features are available for free.
Why use iPiccy?
Doesn't require you to sign up
Great for image resizing, making collages, and graphic design elements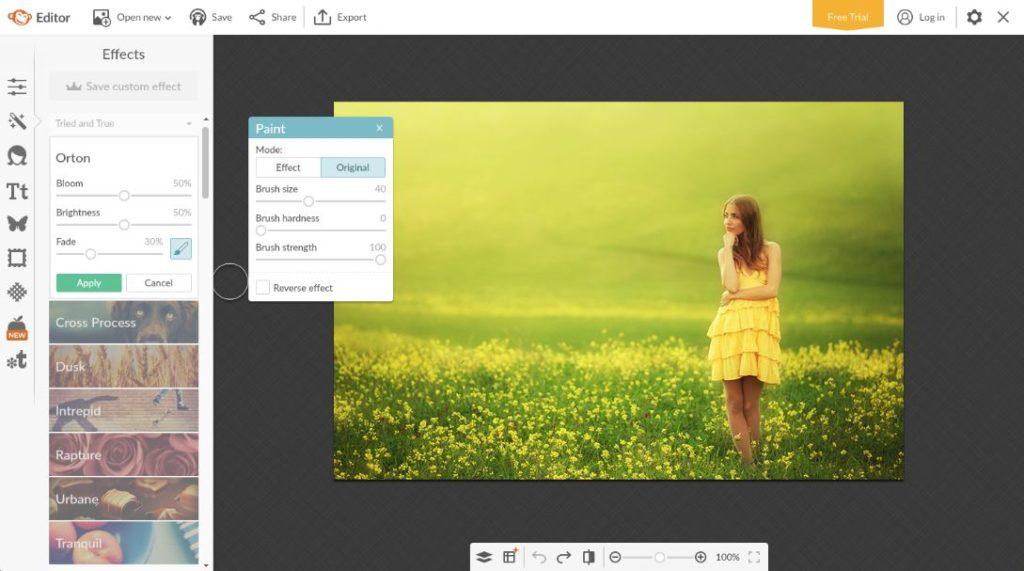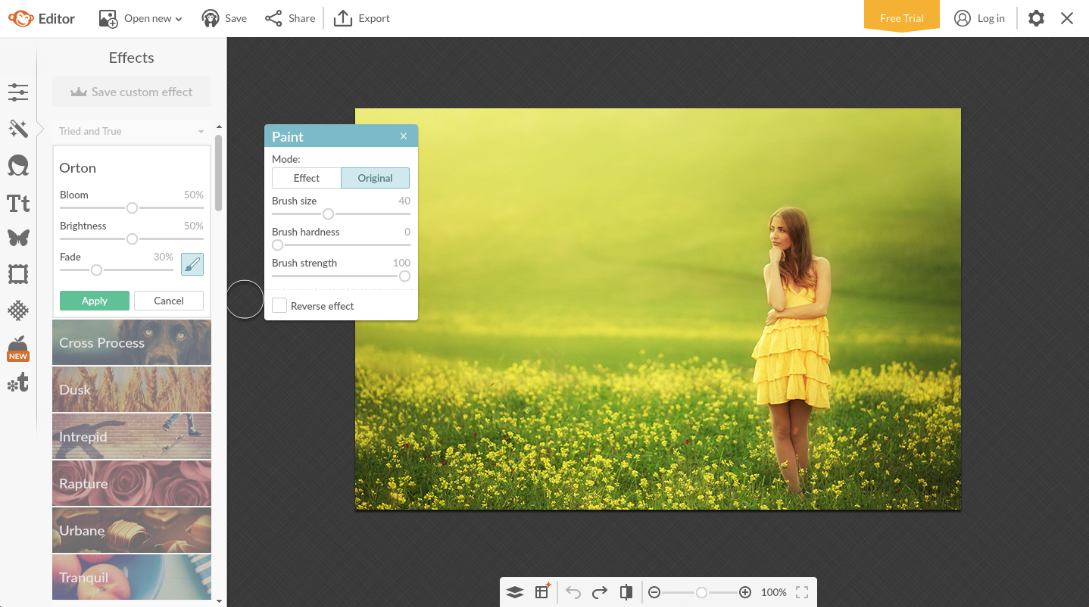 PicMonkey is another simple and powerful alternative to Photoshop editor. This web-based image editor lets you add elements, background, text, etc., to your picture without overwhelming you with functionalities you don't need.
You don't really have to be a photo editing wizard to produce amazing pictures with this editor. I find it excellent for designing flyers, logos, invitations, posters, and quote pictures. However, one thing that disappoints me is the absence of fixed size image templates that can be useful for creating pictures for social networking sites.
To save, export or share the pictures on PicMonkey, get an upgraded account for $7.99/mo.
Why use PicMonkey?
Offers thousands of overlays
Amazing filters and effects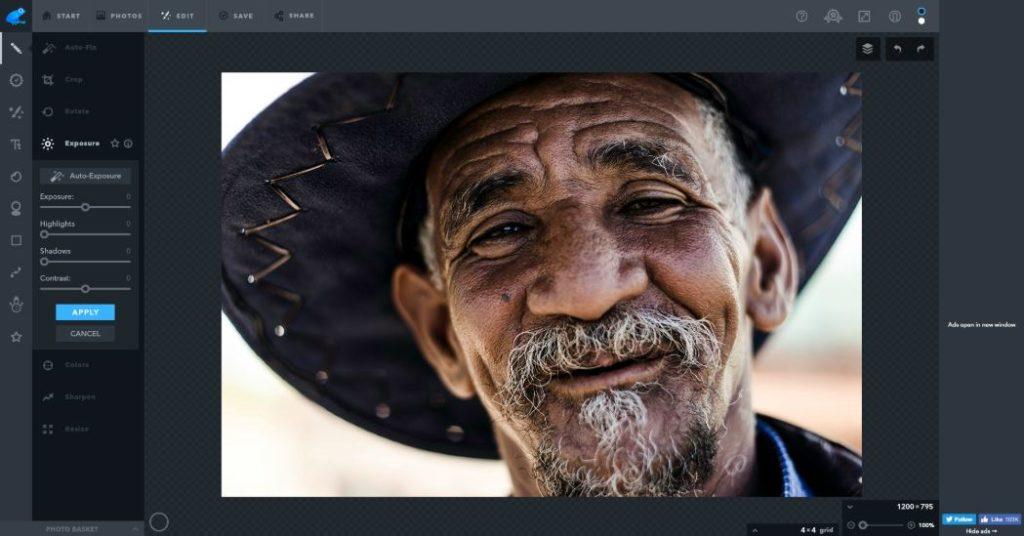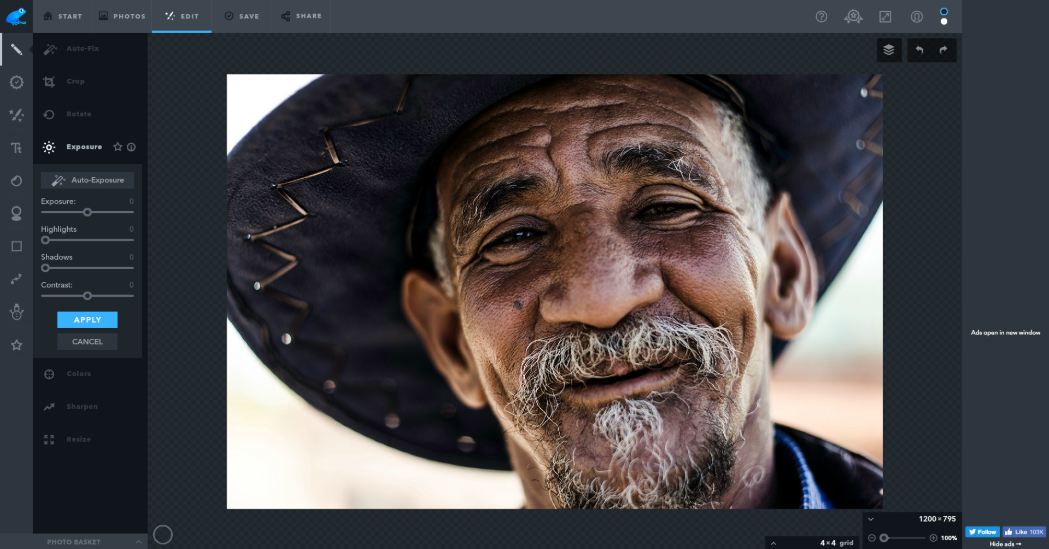 Ribbet is another great online photo editor that is easy for newbies to master. While it cannot be viewed as a complete Photoshop alternative, but it offers the most commonly used features and does a decent job in adding enhancing images.
There is a convenient option for sizing photos specifically for Facebook, Twitter, or YouTube and optimizing the picture quality for printing. Besides, it offers many stickers and frames that can be searched through in-app search box.
To unlock advanced features, you will have to purchase the premium membership at $4.95/mo.
Why use Ribbet?
Available as web and iOS app
Free cloud storage
Multiple themes include dark one
Final Words: Which Photoshop alternative to use?
The sites mentioned above are not mentioned in any particular order as all of them have something different to offer. While they may not offer comprehensive options like Photoshop, I have tried to include the best online photo editors that have as many features as possible. Also, I have skipped those image editors that offer only a couple of filters and limited editing range. So go ahead and try out these Photoshop alternatives and let us know which one you liked the best. In case you feel I have missed out on a good image editor, feel free to suggest names in the comment box below and I might consider adding them in the next update.