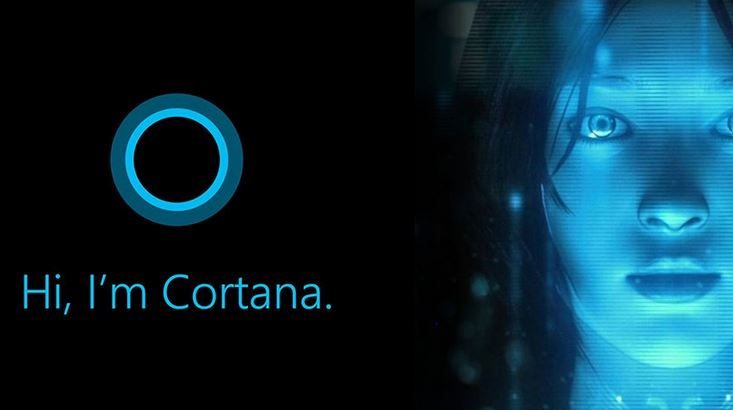 ShortBytes: FossBytes brings you the list of the best Cortana features and commands available for the Windows users. You can search for anything from facts to finance, weather to work, a calendar to currency and much more on Cortana.
What is Cortana?
Windows 10 Cortana is a personal assistant service by Microsoft. Cortana helps in finding things out on your PC and manage many Windows 10 features like managing your calendar, financial reports, daily weather report, facts, traffic to work and even telling jokes.
Cortana is based on machine learning which reutilizes your personal data to learn more and more from your personal experience. So the more you use Cortana, the more personalized your experience will be.
How to Use some of the best Cortana features?
If you want to use Windows 10 Cortana features, you can do it in two ways:
Type a question in the search box on the taskbar
Or select the microphone icon and talk to Cortana
Best Cortana Features and commands:
Here are some of the best Cortana features and commands that you can use on Windows 10.
Windows operating system is ported across the globe in different languages in different countries. Localization of language is specific to a country where Windows is being used. The localization of language has an effect to such an extent that even a common language like English is spoken in different styles and accents in the different language. For example, US English is different than UK English or Indian English. So, to be able to communicate properly with Cortana, you need to change Cortana's language for a better personal experience. However, to use your local language, you will have to first install the language pack on Windows 10.
Ask Cortana: How can I change your language Cortana?
Cortana is able to deliver the latest and the most trending news over the web. You can also see the full list of news of Windows 10 Cortana features. Most of the news are influenced by the bing news. The News is surely one of the best Cortana features.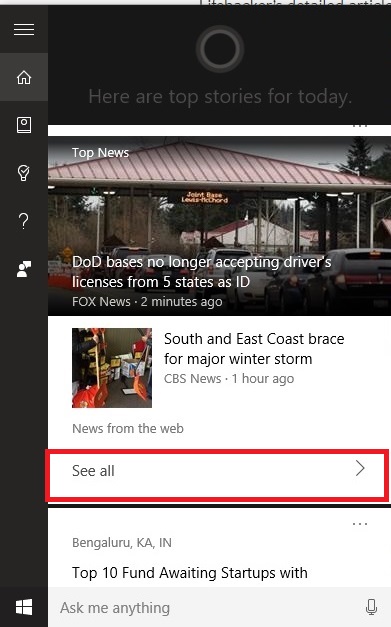 Ask Cortana: Show me news on latest bombings by Russia
Cortana is capable of reminding you the important events you tell her to. Cortana reminder feature is not only limited to timings but also, you can add a reminder for a person or place. For example, a reminder to call a person. The reminder feature on Cortana is very handy on Windows Smartphones.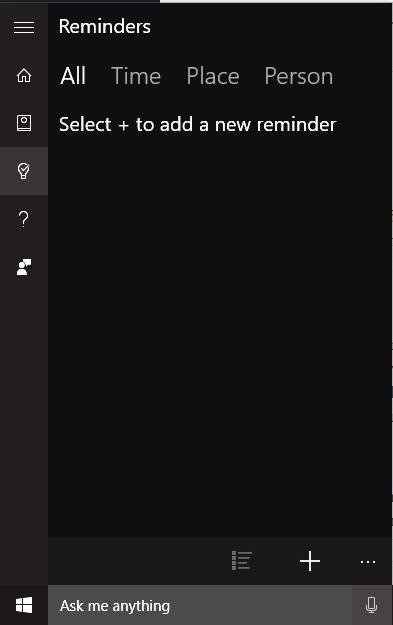 Ask Cortana: Show my reminders
Weather is almost a vital information especially if you want to know if it is raining or if there are some chances of snowfall in the downtown while you wonder sitting inside your warm room. The weather report on Cortana uses data from Foreca. You just need to click on Cortana on the taskbar and scroll down the same window to be able to view the current day's weather. You can look out for more weather report on MSN weather.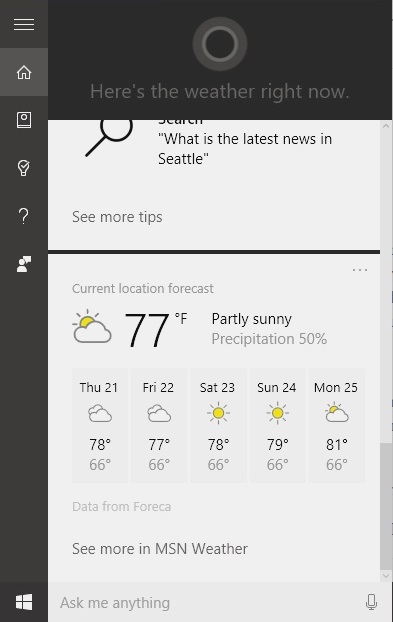 Ask Cortana: What's the weather like in Berlin?
You just returned from a foreign trip or you are paid in a different currency from their own, then, in such case, you would surely like to have a currency converter. You can use Cortana for the same.
Ask Cortana: What's the exchange rate for Euro to Pound
We all love to eat nice and our favorite cuisine. Our favourite cocktails or the Punjabi chicken Tikka or a veg curry always increase our hunger for more. This is one of the best Cortana features to be able to use Eat and drink. The search result on eating and drinking is just not limited to the name of a restaurant and making a reservation there but other things I like in Cortana about eat and drink are:
price range
Ambience
Cuisine preference
Distance etc.
Ask Cortana: Show me Chicken Biriyani restaurants nearby
We love to get around when we have some free time with us. But we like to more about the traffic updates on a particular place before we decide to set out. Cortana gives you some of the best options to make your personal getting around option more granular. Here are some of those options:
Traffic, time and route information
Getting around preferences
taxi timings
Traffic updates of a favourite place
Ask Cortana: Show me directions to the nearest lover's park
You can use Cortana features to compose an email and send it to the desired recipient. However, for this service of Cortana, you need to login to the outlook account or any of the Microsoft account.
Ask Cortana: Write an email to my boss
Google search in Edge browser using Cortana
Just like Google voice search, you can use Cortana in the Edge browser of Microsoft. Cortana is integrated into the browser. But be reminded that the default search results are from the bing searches. If you are looking for Google results, you might want to use Google voice search or ask Cortana to show you the Google results.
Ask Cortana: What is more famous Google or bing?
Also read: How To Change Cortana's Bing Search to Google in Windows 10 Using Bing2Google
We all love watching a great movie and here is Cortana to your service. You can use Cortana to find a particular movie showtime in the nearby area and you can also see the latest movie trailers.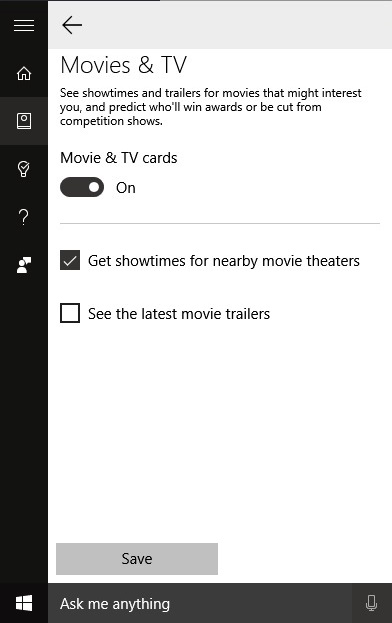 Ask Cortana: What's the timings available for Starwars tonight?
Apart from these services, there are a lot of other services that Cortana has to offer in Windows 10. Some of the best Cortana features are:
Events (Events like DJ night or live Karaoke nearby)
Finance (Stock exchange trend)
Health and fitness
Sports
Packages (Keeping an eye over shipment deliveries)
Reservations
Special days (Birthday, engagement etc. reminders)
Travel etc.
If you want to explore these features of Cortana, you can open Cortana from the taskbar and click on Notebook (Refer the picture below)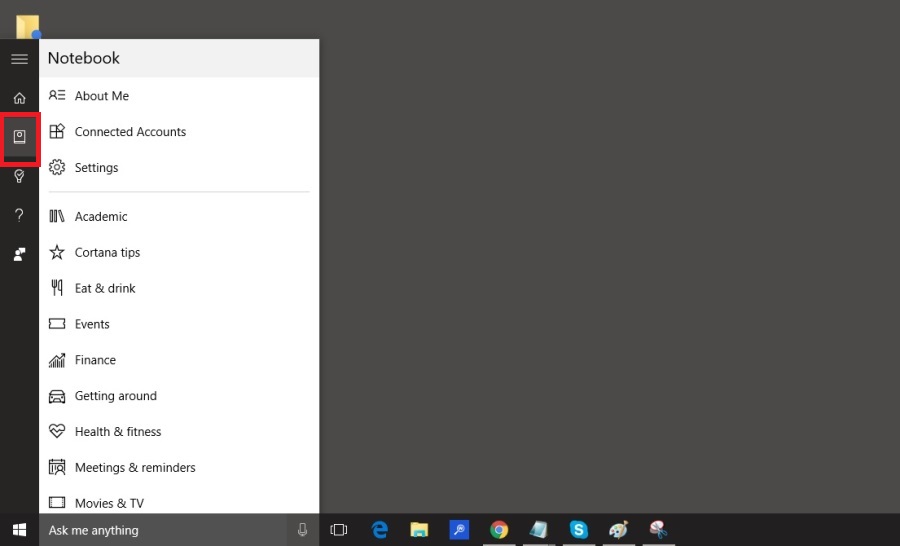 Just below the same icon, you can see the 'tips and tricks' icon. If you have also come across some other best Cortana features, let us know in the comment below.
Also read: How To Maximize Battery Life On Windows 10