For wanderlusts, its a dream come true when they get to visit all the exciting places around the globe. Once you have all the funds you need, you have to ensure that you have all the necessary things to make your travel a good and safe one.
For the very purpose of a safe and sound trip, you need to have the best travel apps on your smartphone. So to spare you the hassle of choosing the apt ones, I am at your service to tell you about the right travel apps you need if you have a thing for traveling.
As a reminder, my list has the apps needed while traveling, covering areas such as flights, itinerary, hotels, currency, and more.
15 Best Travel Apps 2019 (Android and iOS)
1. Skyscanner
Skyscanner is probably the best app to book flight deals. However, this free to use travel app that allows you to book hotels and car rentals as well. When you open the app, it will update you that it keeps your data such as app usage and app preferences to make your user experience better.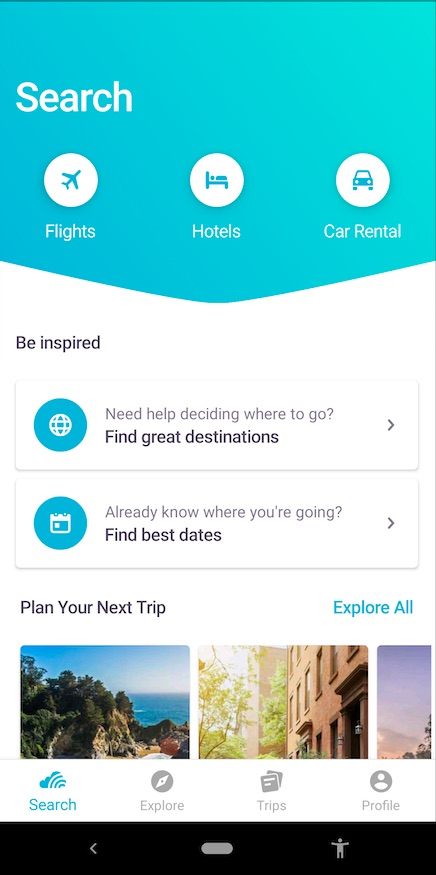 While you can start using Sky Scanner without logging in, you will eventually have to do so while making your bookings. The app has four sections: Search, Explore, Trips, and Profile. At the top, there are three options: Flights, Hotels, and Car Rentals to choose any for searching.
The 'Explore' option has various trip suggestions for you if you are confused as to where you could go. The app has an easy-to-use UI and doesn't appear cluttered.
Furthermore, you can change the currency and region to get an accurate price for flights and more. The app provides various destination options (even international), making it one of the best international travel apps.
2. Currency Converter
While on a trip, one thing that is a mandate is a currency converter so that shopping is never a problem in an alien country. Which is why you should add the aptly named Currency Converter to your arsenal of the best travel apps as it could turn out to be really helpful.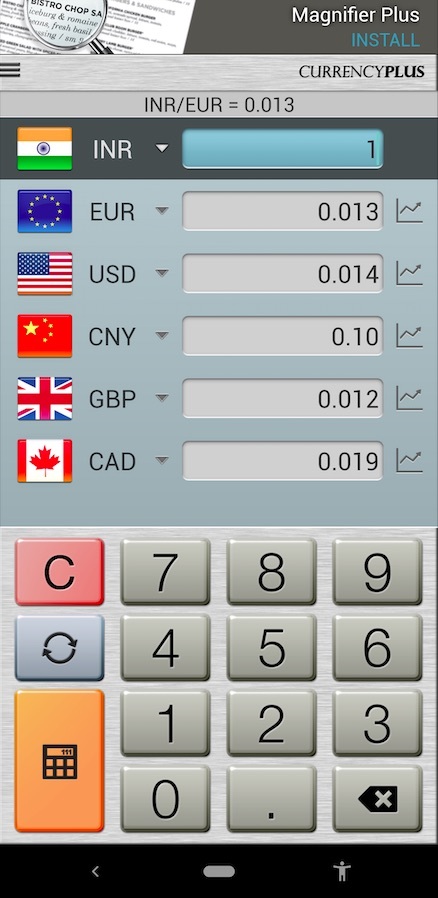 The app uses your location and is a pretty simple app to use. Once your location is detected, the app lists down currencies from various countries such as India, Europe, USA, China, Britain, and Canada for you to convert currencies accordingly.
There is a hamburger menu that includes Settings option and even a dark theme option for dark mode lovers. Additionally, the app can be upgraded for an ad-free experience, which can further make it one of the best free travel apps.
3. Airbnb
The most popular travel app — Airbnb — tries to fulfill the various requirements of a traveler by providing various options such as stay, experiences, adventures, restaurants, and more. This makes it an obvious choice to be on my 'best trip planning app' list.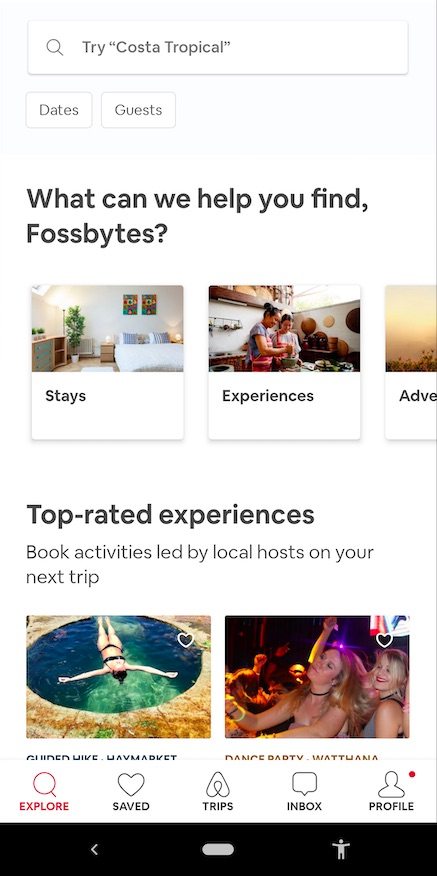 The app first asks you to log in and takes you to the main page, which has five sections: Explore, Saved, Trips, Inbox, and Profile, with each section's name being self-explanatory.
You can choose from the plethora of options available (based on the ratings) for the things you desire to do. Additionally, you can also post on the app if you need to be a host of stays so that you can earn some extra money.
There is the Settings option when you have to change some settings or even the currency option. The various options available make it a good travel itinerary planner.
4. Hopper
Hopper is one of the best flight apps that allows you to look for the cheap flight options for convenient travel. Upon launching the app, there is a simple UI to enter your departure and arrival details.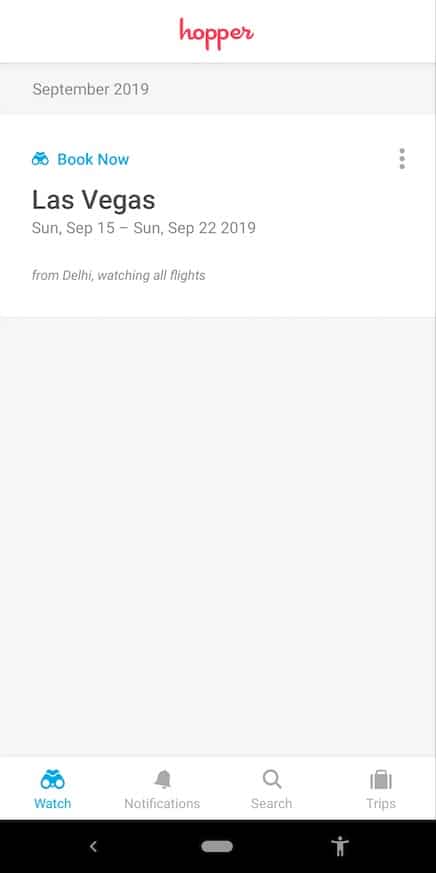 The bottom part has four options: Watch, Notifications, Search, and Trips.
Once you select the destination, you have to select the dates and Hopper will provide you with the best flight options to choose from. If you 'watch' the flights, the app will notify you about price drops and more. Additionally, the app also predicts price variations, which prove to be quite useful.
5. TripIt
When you open the TripIt app, it is mandatory to sign up to move ahead. Once that happens, the app asks for some permissions, following which you are all set to use the app.
The trip planning app allows you to book flights and stay updated about flights. There are five sections: Trips, Alerts, Profile, Unfiled, and More.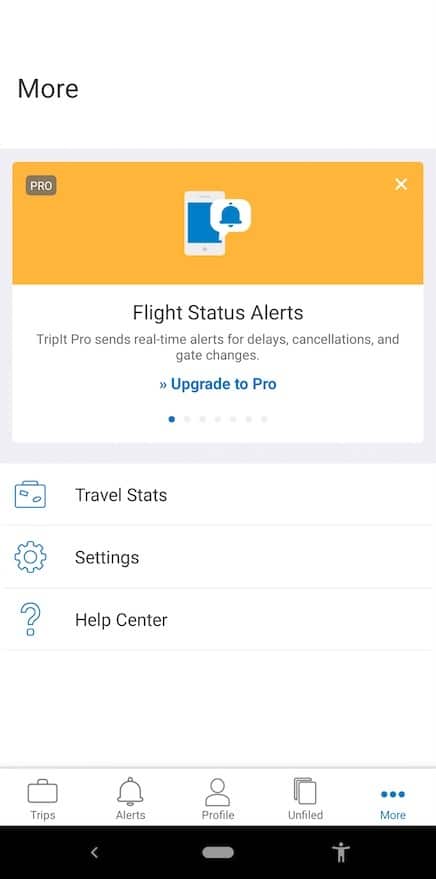 In addition to booking flights, the app lets you view flight-related information such as alternate flights, seat tracking, flight refunds, and more.
You can also save various travel documents such as passports, visas, and driving licenses. Additionally, the app has a section called Travel Stats that allows you to keep track of all the activities done on the app.
6. Klook
With the aim of being a "go-to travel app," the Klook app provides users with several in-destination services such as activities, transportation, Wi-Fi, SIM cards, train tickets, etc.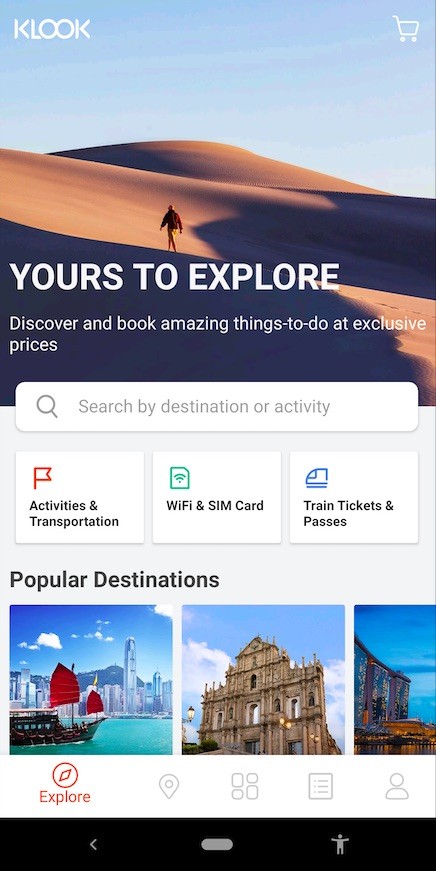 You get to view these options in the 'Explore' section. Other sections include the 'Destinations' section, the 'Categories' section, the 'Bookings' option and the 'Account' section.
Overall, this vacation planner app is easy to use and lists down various exciting activities you can go for when you visit the desired destinations. Furthermore, there are various options that can make the user experience very convenient.
7. Google Maps
While traveling, an essential trip planning app we need is the one that can lead us through unfamiliar roads and streets. Google Maps is, without a doubt, the most popular mapping app out of them all. Hence, its presence on my best travel apps list is a must.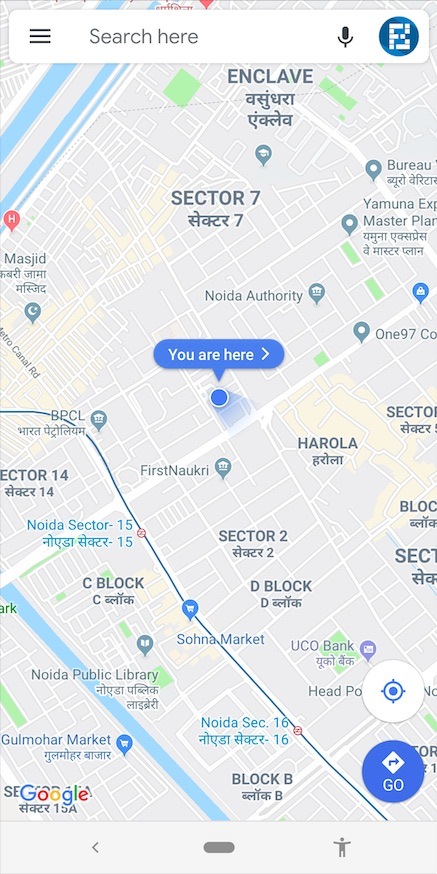 The app allows you to mark certain places of a particular location you search for so that it becomes easier for you to visit those places.
As most of us know about how Google Maps works, I won't go deep into the process. All you are required to do is enter the destination you want to know directions to, and you will be able to reach the location with ease.
Additionally, Google Maps has options (in the hamburger menu) such as 'Your Timeline,' 'Messages,' 'Location sharing,' 'Your Transit,' and a lot more.
8. Kayak
Kayak is a popular and easy-to-use travel itinerary planner that you should be aware of. The app helps you find flights, hotels, and even cars while you are on a trip.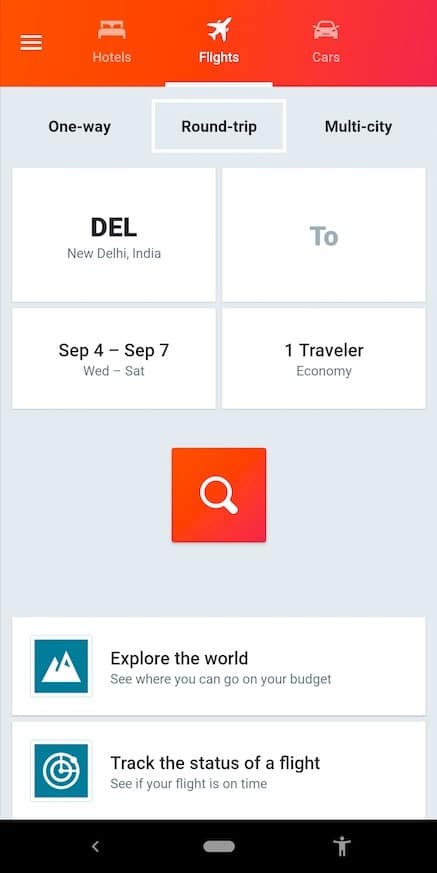 All you need to do is select your requirements (flights, hotels, or cars) and then choose the appropriate dates to commence the process and find yourself the desired hotel, flight, or rental car.
This free vacation planner app also lets you track your flight status, measure your baggage (a needed feature), and explore various options you can choose according to your budget.
Furthermore, the app has an option to change the country and currency for your convenience along with other setting options.
9. Google Translate
Imagine a situation where you are in a country whose language is totally unknown, and you don't even have a translator app. That's when the most mandatory travel app — Google Translate — comes into play.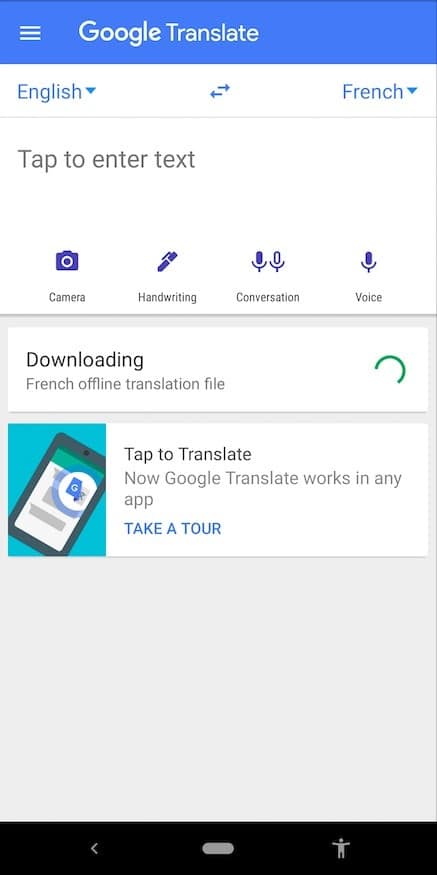 While there are various translator apps, Google Translate is the most popular one, making it a reason for its entry in my best travel apps listicle.
Google Translate allows you to translate various languages in written, verbal, or pictorial forms. Along with the settings option, it has options such as offline mode and Phrasebook option to save phrases for ease of usage.
10. Couchsurfing
Couchsurfing allows you to connect with people traveling so that you either host them or get hosted. But what makes it one of the best free travel apps is that it makes your travel stay literally free – you stay at some host's place.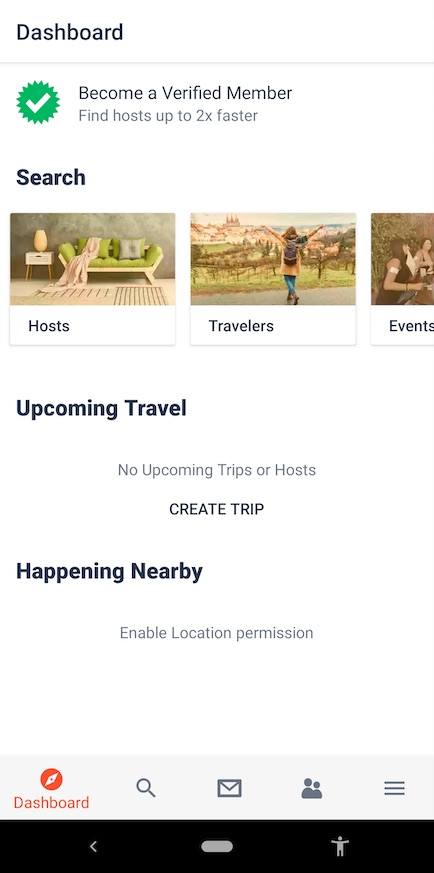 This app is one of the best itinerary apps, allowing you to create trips and look for people traveling to the place you live in. Before you start using the Couchsurfing, you have to sign up. The app has five sections: Dashboard, Search, Messages, Hangouts, and More for other app options.
Additionally, the app has various events taking place so that you can join any of them and go visit the place.
11. Trivago
Popping up a question that forces you to consider if you are searching for hotels the right way (especially in India) Trivago is one of the most popular travel apps you need to book a hotel at the best price.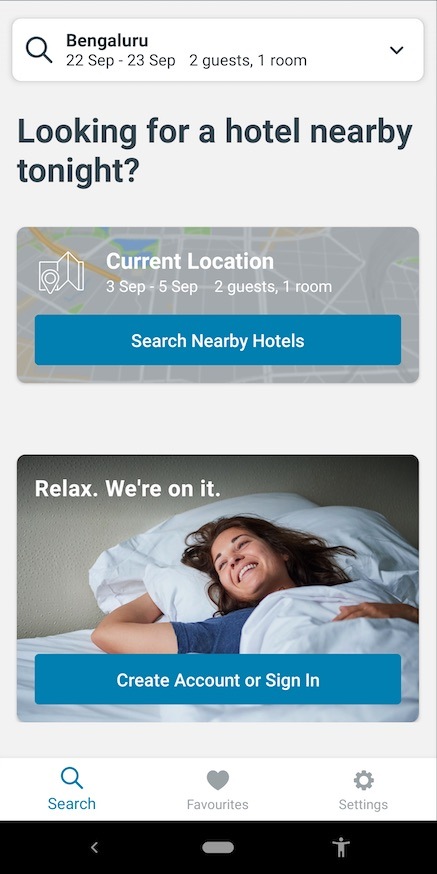 It provides you with an accumulated list of hotels as per your location, price bracket, and other preferences. Following simple steps, you can finally book a hotel of your choice with ease.
The app requires your location and country to go about, and it is a pretty simple app to use. You just have to select your dates and the place you need to stay at, and you are good to go.
12. Wi-Fi: Wi-Fi Map and Passwords
While we are on a trip, the one thing we need the most is internet connectivity, and there are times when social media posting is impossible due to no or low internet. This is why the Wi-Fi app is a much-needed one and is the reason for it being on my best travel apps list.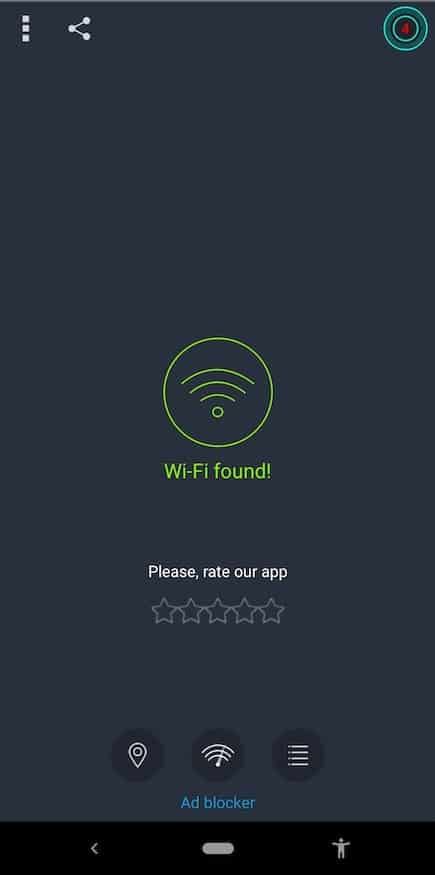 The app lets you search for the nearest free and public Wi-Fi networks by displaying them on an interactive map, lets you do Wi-Fi speed tests, and helps you connect to a password-protected Wi-Fi network with ease.
The main problem with the app is the appearance of ads. While you can enable an ad blocker, you will have to pay for it.
13. TripAdvisor
Among the best trip planner apps, TripAdvisor is a popular one that has hotels, flights, restaurants, vacation rentals, and more options to choose from.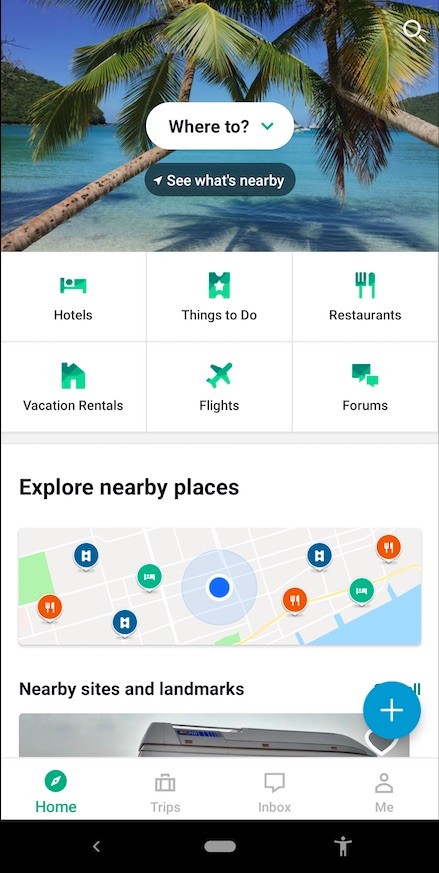 This travel itinerary app acts as a one-stop solution for various activities you tend to do on a vacation. The app has four major sections: Home, Trips, Inbox, and Me, along with options you would like to go for.
The various options available make it overall a great travel guide app you need while on a trip.
14. HotelTonight
The Hotel Tonight travel app allows you to look for the best hotel options when you are on either a work trip or vacation.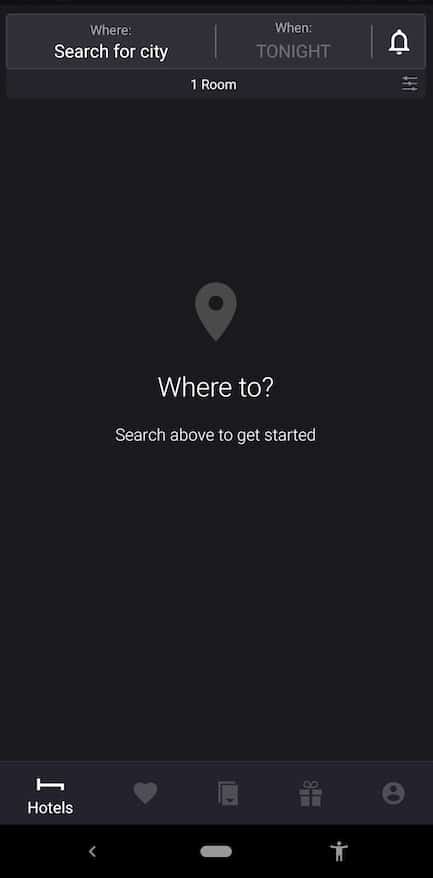 The app has a simple UI, divided into five categories: Hotels, Favorites, Bookings, Invite, and Account. You just have to select the city and the dates, and you can find various hotel options as per your choice.
Additionally, the app lets you earn some promo codes by referring the app to others.
15. XE Currency
XE Currency is another app for money conversion on my best travel apps list, which you can use.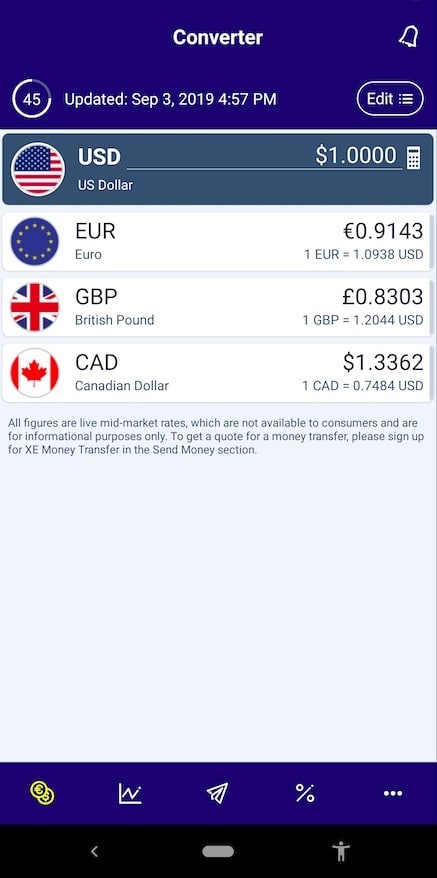 As the name suggests, itis a currency converter and also allows you to send money to other people. This app also has a simple interface, and you have to perform the basic steps to use it.
With five major sections available (Converter, Charts, Send Money, Compare, More), the app allows you to view market analysis and do much more than just convert currencies.
Which Travel App You Are Most Likely To Use?
I hope my best travel apps list becomes your companion each time you go on a trip, giving you all the convenience you need and not feel as if you are in a different place.
I would love to hear which one is your favorite out of all the top travel apps I have mentioned. In case you have more to recommend, I am all ears!
Note: The aforementioned apps have decent ratings on the Google Play Store and the App Store. Hence, they have been mentioned.