If you have a habit of reading articles online, you must have felt the frustration that arises from the presence of distracting elements present on the webpage. But we can get rid of annoying ads, pop-ups, or videos on online content by using reader mode.
While there is a secret reading mode in Chrome, it is a rather simple one. You can also choose from some of the best Chrome reader extensions to enhance the reading experience.
Before you move ahead, check out our other Chrome extension-related articles that will help you improve your browsing experience. We've listed the best Chrome extensions for productivity, the best Chrome extensions for reading news, and a neat way to manage Chrome extensions.
5 Best Chrome Reader Mode Extension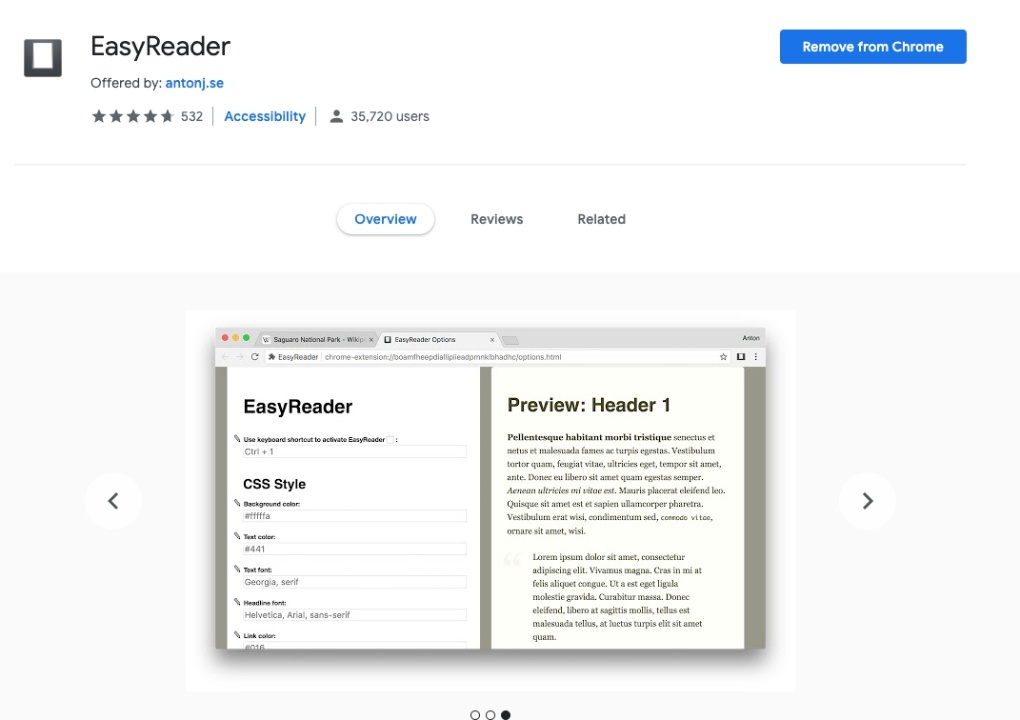 Easy Reader is the best Chrome reader extension that customizes and improves the readability of long web articles. It is the easiest one to use as well. Once you activate this text reader in Chrome, you just have to click on the text you'd like to read.
It will open up a new interface where there are no distracting elements and annoying popups. This reader mode creates an index on the left side of the screen which you can use to skim through the content, especially longer articles.
Pros And Cons of EasyReader
Pros
Cons
– Easy-to-use, clean, and minimalistic interface
– Doesn't remove JavaScript-based content
– Crops or resizes images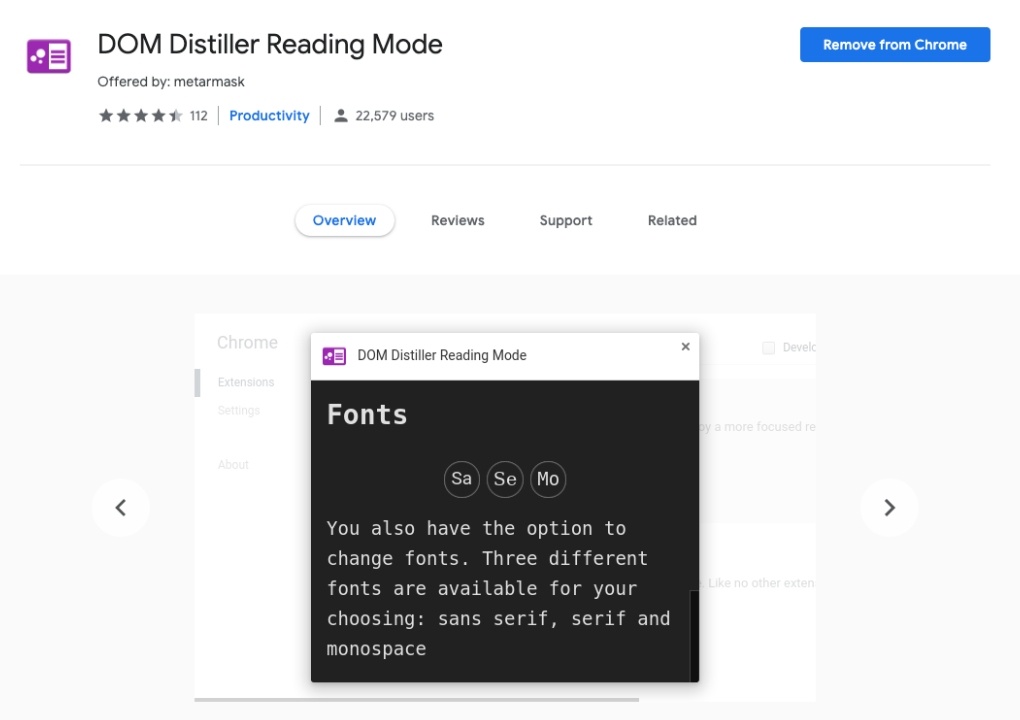 This reader mode for Chrome focuses on the important content to provide you with a more focused reading experience. DOM Distiller reading mode removes the unimportant sidebars, share buttons and displays the content in a new interface.
The best part about this Chrome reader extension is its speed. It takes just a single click to filter out all the distracting elements from the text instantly.
Pros And Cons of DOM Distiller Reading Mode
Pros
Cons
– Process text quickly
– Clean and minimal interface
– Keeps embedded photos and videos intact
– No themes or font scalability
– Cannot run JavaScript-based content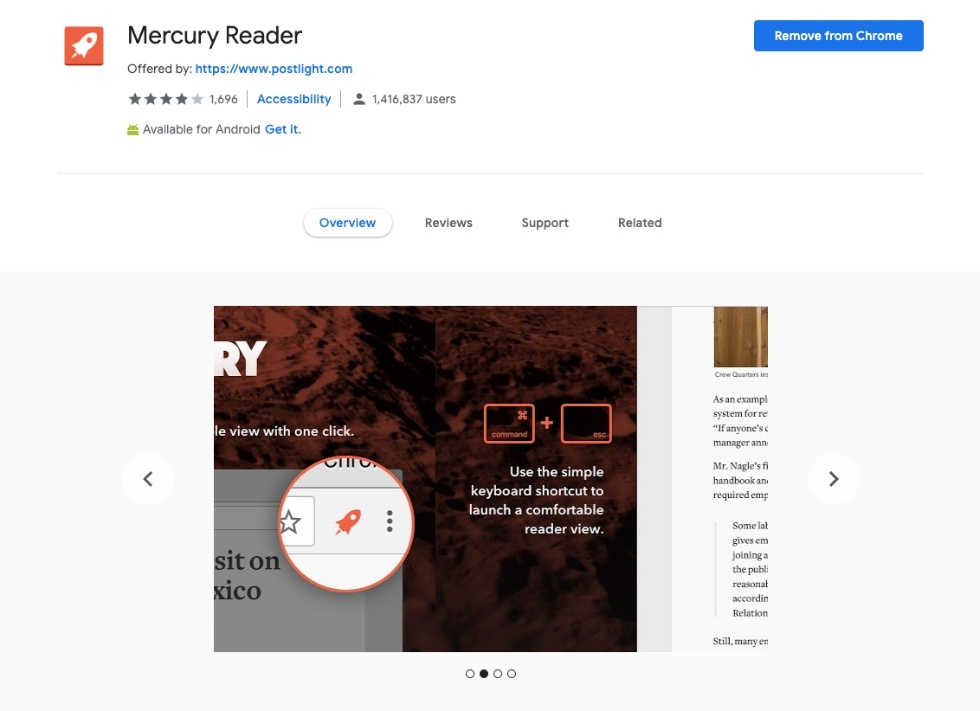 Mercury Reader instantly clears away the clutter from all of your articles. It is my favorite Chrome reader extension to read long articles, especially those that do not have supporting images and figures because Mercury Reader cannot retain images or videos in the reader mode.
Another good thing about this text reader is that it comes with support for Kindle. It lets you send articles to your Kindle device once you set up your account. Besides, it offers dark and light themes, which are usually not present in most of the reader extensions for Chrome.
Pros And Cons of Mercury Reader
Pros
Cons
– Impressive user interface
– Additional options for changing text size, font, and themes
– Kindle integration
– Cannot run JavaScript-based content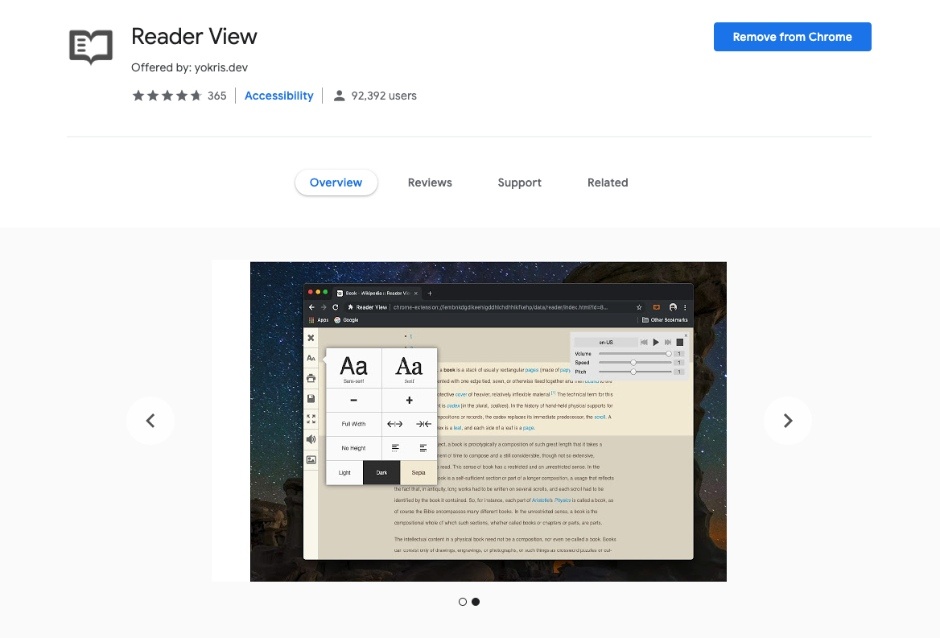 With Reader View, you can strip away clutter from your articles such as buttons and background images. This Chrome reader extension also lets you change the text size, contrast, and layout for better readability.
You can toggle between normal view and reader view by clicking the page-action button. Reader View works best for web pages that have a lot of content. To personalize the reader mode, use the tools on the left side. It will let you change the text color, background color, font size, and type.
Pros And Cons of Reader View
Pros
Cons
– Best for reading long articles and novels online
– Sepia color themes that are relaxing for the eyes
– Options to change the font size and type
– Removes attached pictures
– Cannot run JavaScript-based content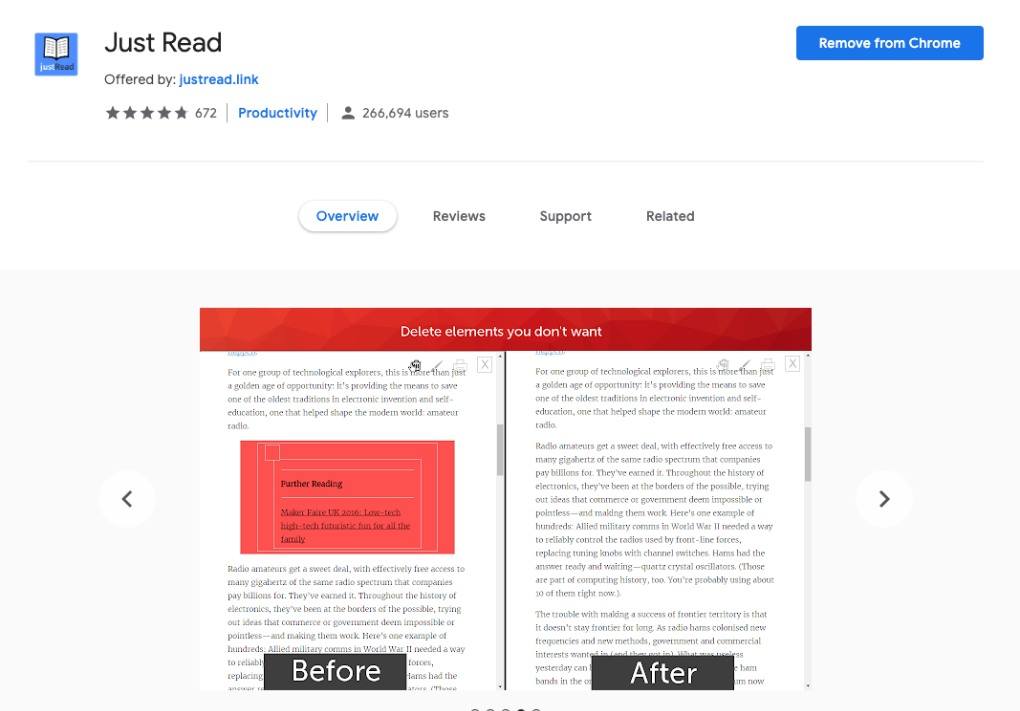 This customizable reader extension for Chrome presents online articles in a simplified format to help you focus on the content. It offers default white and dark themes but you can always modify them using a graphical editor or CSS.
Just Read even lets you print a custom-styled version of the article. The best part about this Chrome reader extension is that it doesn't collect personal data from users and it is completely open-source software.
Pros And Cons of Just Read
Pros
Cons
– Minimalistic interface
– Blocks pop-ups effectively

– Some parts of the content (like bullet points) may appear in a jumbled form.
Which Is The Best Chrome reader extension?
Among all the text readers mentioned above, Easy Reader is my favorite Chrome extension for reading articles online. However, I'd suggest that you try all of them before settling on the best one.
If you find this list helpful, you should also check our list of best Netflix Chrome extensions and our list of best free VPN extensions for Chrome.
Do let us know which reader mode you like more. In case you've come across some other Chrome reader extensions that I have missed in this article, drop the comments below.