Whenever you are online on Google Chrome, it collects information on your browsing patterns and habits — right from your location, to operating system, to hardware. Therefore, securing your browsing sessions through Virtual Private Networks (VPN) is a good idea. VPNs are useful services which help you overcome geo-location restrictions and avoid getting tracked on the internet.
While there are many Chrome VPN extensions available in the Chrome store, picking out the best ones can still be a confusing task. This is why I have put together a list of the best VPN Chrome extensions that you can use to encrypt your browser traffic and browse anonymously. But before that, check out our other lists of the best Chrome extensions to improve your browsing experience:
Top free VPN Chrome extensions for browsing privately in 2019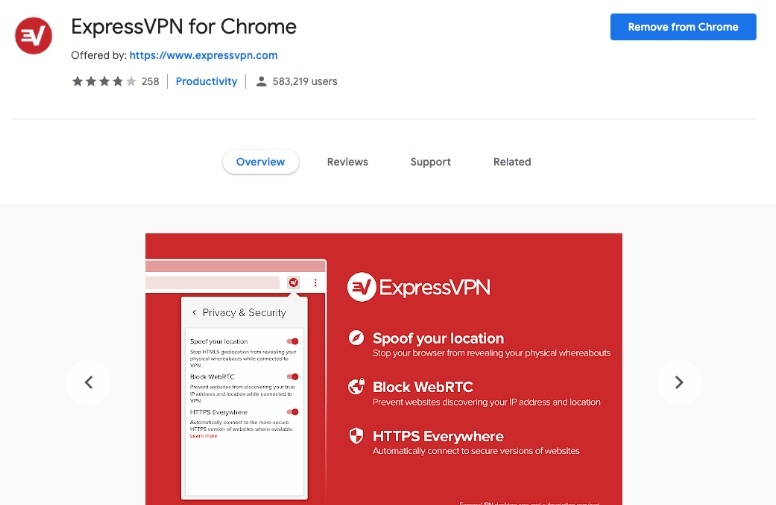 Even though ExpressVPN isn't exactly free, I'd recommend it anyway because it is one of the best VPN extensions for Chrome. Why, you ask? Let's begin with the fact that ExpressVPN has a privacy policy that prevents logging of traffic data and online activity. It has an impressive server coverage with almost no speed throttling. Features like the DNS leak prevention and kill switch are worth mentioning too.
That being said, you cannot use this Chrome extension VPN without ExpressVPN desktop app installed on your system. And the most important thing: ExpressVPN offers a 30-day free trial after which you'd have to pay a monthly fee. So just in case you need a VPN for a short time, you should opt for a premium VPN  extension for Chrome rather than a free one.
Even though free VPN extensions work fine, they aren't reliable as there is always a possibility of your personal data being sold to third parties, besides other issues such as speed throttling and security.
This is why I would recommend using a premium VPN extension for Chrome. In case you are interested in knowing more about them, check out this article: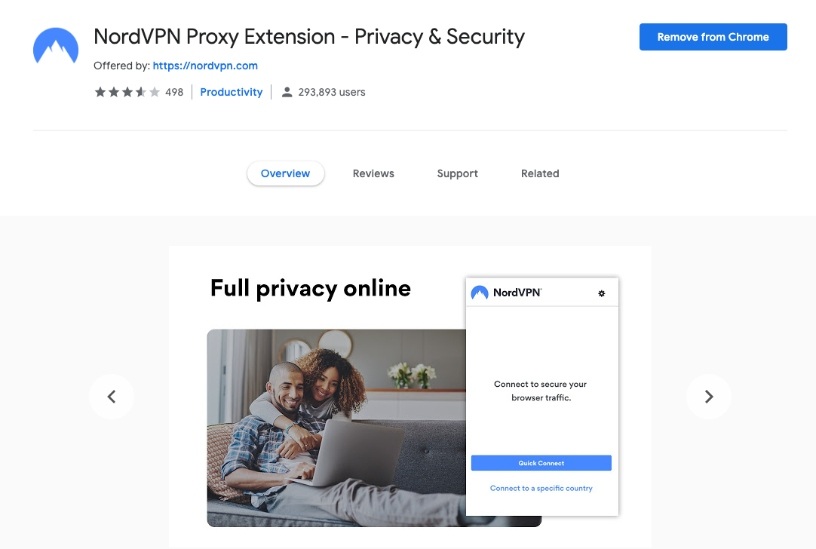 NordVPN is a super fast VPN extension for Chrome that encrypts your browser traffic and masks your IP address to keep your browsing activity anonymous. What I really like about NordVPN is that it's lightweight and doesn't slow your computer down. Upon signing in with your NordVPN account, the VPN Chrome extension will automatically connect you to the best server available.
It has a feature called CyberSec which doubles as an ad-blocker and malware blocker. Once again, NordVPN requires a premium subscription to use it, however, it offers a risk-free trial for 30 days with a money-back guarantee. You can use it to find out just how powerful the VPN is.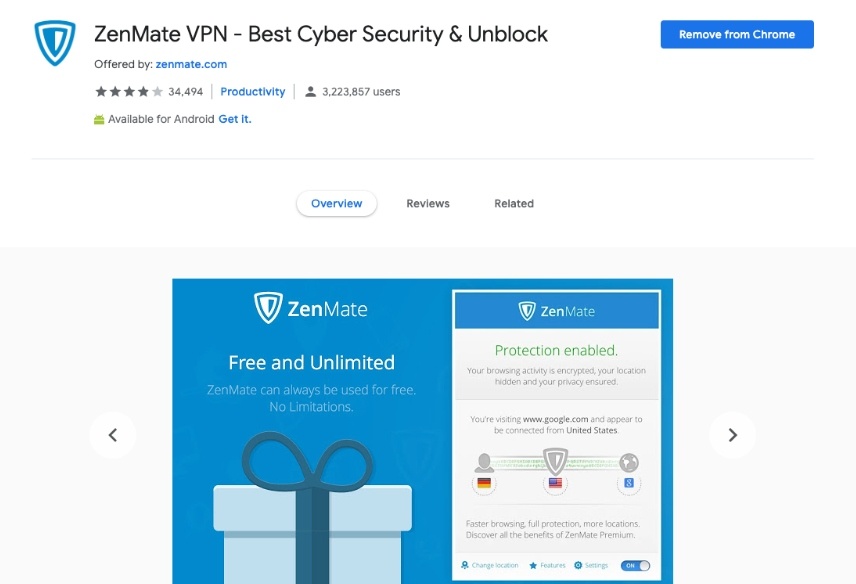 ZenMate is another good VPN extension for Chrome which offers a free unlimited plan for a lifetime. It also offers paid subscriptions that come with its own set of perks, but if you are not interested in shelling out extra money, just use its free VPN service. For the first 7 days after signing up, ZenMate VPN lets you experience its Premium service. Once that is over, your account is rolled back to the basic free plan which works pretty good given the fact that it's free.
As far as performance is concerned, this free Chrome VPN extension offers good speed and multiple servers across the globe. You'll also be able to connect up to five devices with one account at the same time. ZenMate VPN has additional security features as well such as encryption, WebRTC blocking, and NATFirewall to prevent hackers from scanning your device.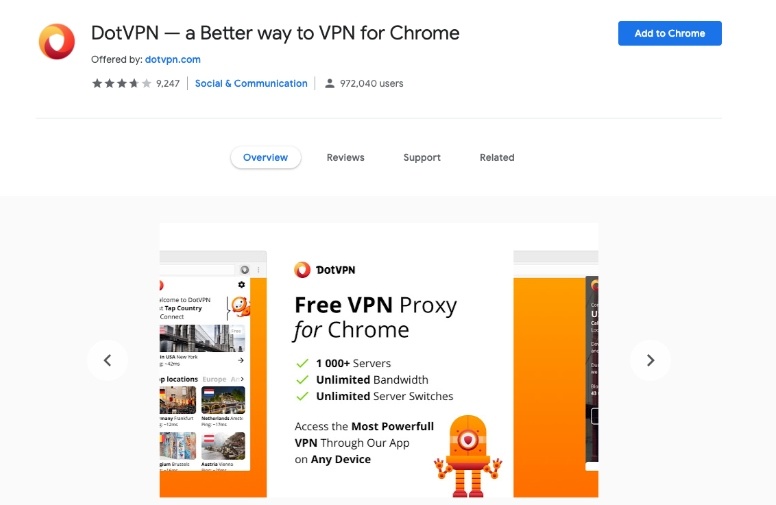 Here's another free VPN extension for Chrome that offers secure connections, unlimited bandwidth, and unlimited switches between locations. DotVPN offers more than 10 virtual locations in countries such as Canada, Japan, Sweden, the US, and the UK. This VPN extension for Chrome offers 4096-bit key encryption which is twice the banking standards.
DotVPN also compresses traffic up to 30%, reduces your data usage, and integrates with Tor to let you surf .onion websites from Chrome. There is also an integrated firewall in this free VPN extension that blocks all inbound connections to your device. Overall, DotVPN gives you 80% of all features in its free VPN service.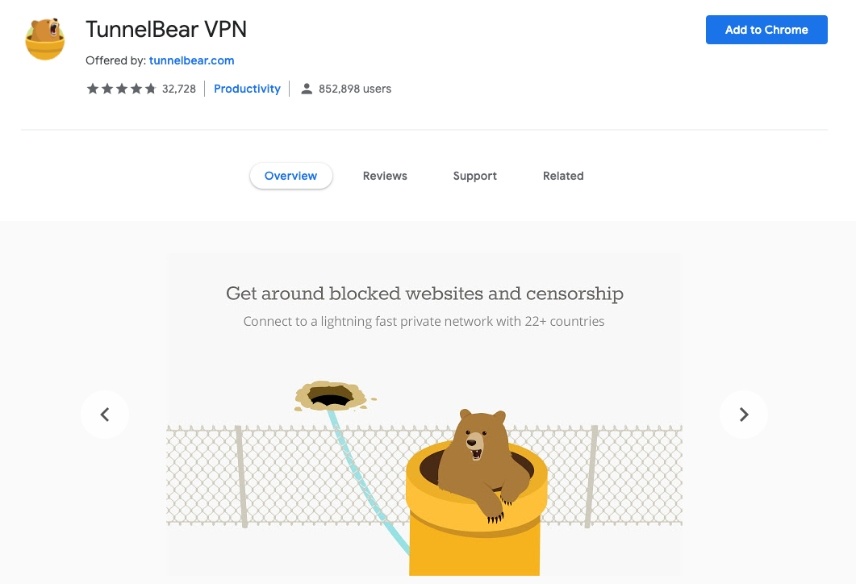 Many of you might already be familiar with TunnelBear. It's one of the best free Chrome VPN extensions and has great user reviews as well. TunnelBear also promises not to log any of your data and has all the necessary features like protecting your privacy, giving access to blocked sites, and securing your browser on public Wi-Fi.
To use proxy locations, you can connect to servers from 20 different countries. The best part about this VPN extension is that it's super easy to use. Features such as 'Closest Tunnel' are pretty handy too as it connects you to the most optimal server with a click of a button. Also check out our article on a specific website not opening on your browser here!
Which VPN extension for Chrome do you prefer?
Now that we have reached the end of the list, I'd suggest that you try out all of the extensions above and choose the best one for yourself. Don't forget to tell us which free VPN Chrome extension you picked. Just in case you use some other VPN extensions for Chrome that deserve a mention on this, do let us know in the comment section. Until then, have safe browsing sessions online and remember, they are watching you! ;)