When it comes to choices and freedom to customize, Android is one of the most desirable operating systems among enthusiasts and average users. One of the things you can customize in Android is the keyboard. There could be instances where the pre-installed keyboard might not comply with your needs, and that's when you would want to change it. To make it easier for you to choose from some of the best keyboard apps, we have compiled a list of the twelve best Android keyboard apps that you should try out.
These alternative keyboard apps have plenty of themes, new features, advanced options, and highly customizable layouts. Let's start with the privacy-focused keyboard apps and then move on to others, because let's be honest, not every keyboard app is perfect, and not everyone cares about their privacy.
12 Best Android Keyboard Apps For 2022
There are tons of keyboard apps that you can download, but here are some of them that stand out thanks to their unique features.
1. Typewise Keyboard
Price: Free / $25
The Typewise Keyboard app for Android was an honoree at the CES Innovation Awards 2021 due to its innovative honeycomb layout keyboard. The layout makes it easy for users to hit the right keys. Typewise says the hexagon approach reduces typos by up to 80%. You can also type in multiple languages simultaneously without switching keyboards, which makes Typewise is one of the best keyboards for Android that you shouldn't miss out on in 2022.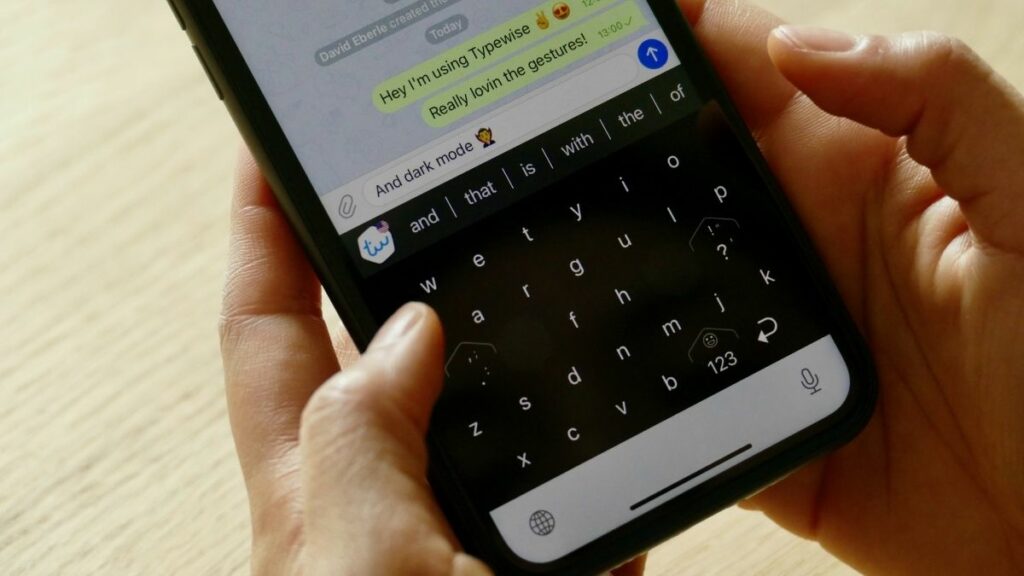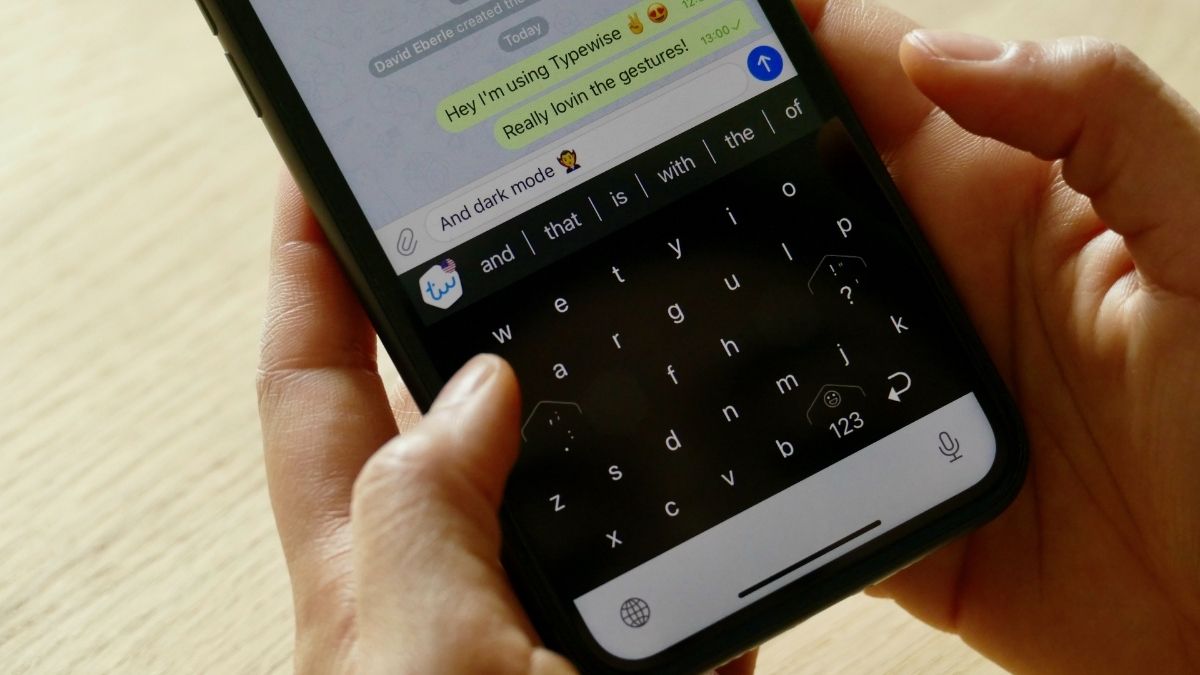 It also has all the features that you look for in the best keyboard for Android, such as intuitive gestures, smart autocorrect, and more. The typing app runs locally on your device and doesn't transmit your data over the cloud. We interviewed Typewise's CTO and Co-founder Janish Berneker recently and asked him about the company's vision with Typewise, so if you're interested in learning more about the features in Typewise, make sure to check it out.
2. OpenBoard Keyboard
Price: Free
The name says it all. OpenBoard is a straightforward open-source keyboard, which essentially looks and feels like a cut-down version of Gboard. It's built with user privacy in mind; hence it doesn't collect user data. One of the key features of OpenBoard is the incognito mode, which you can enable to disable the keyboard from learning new words.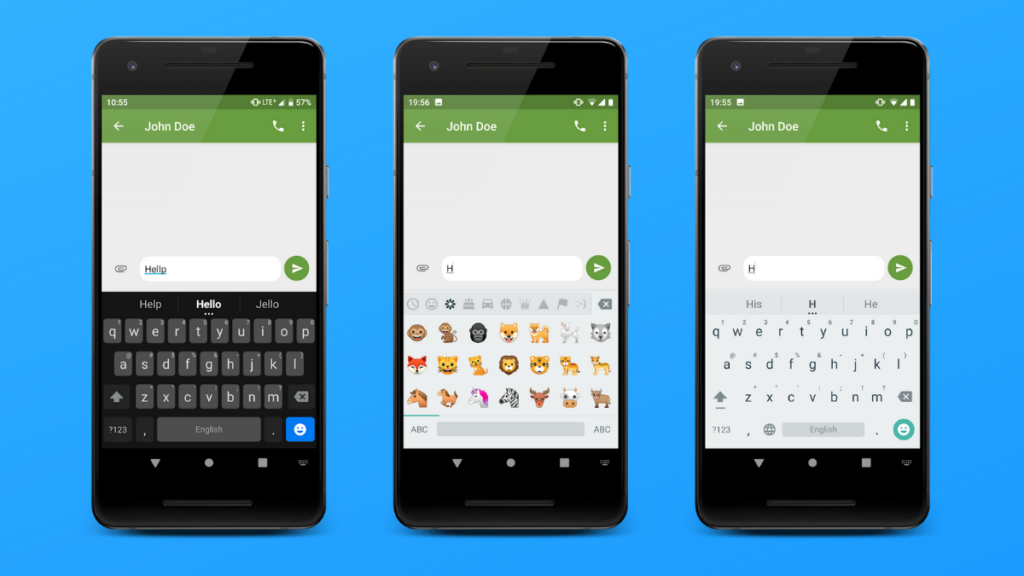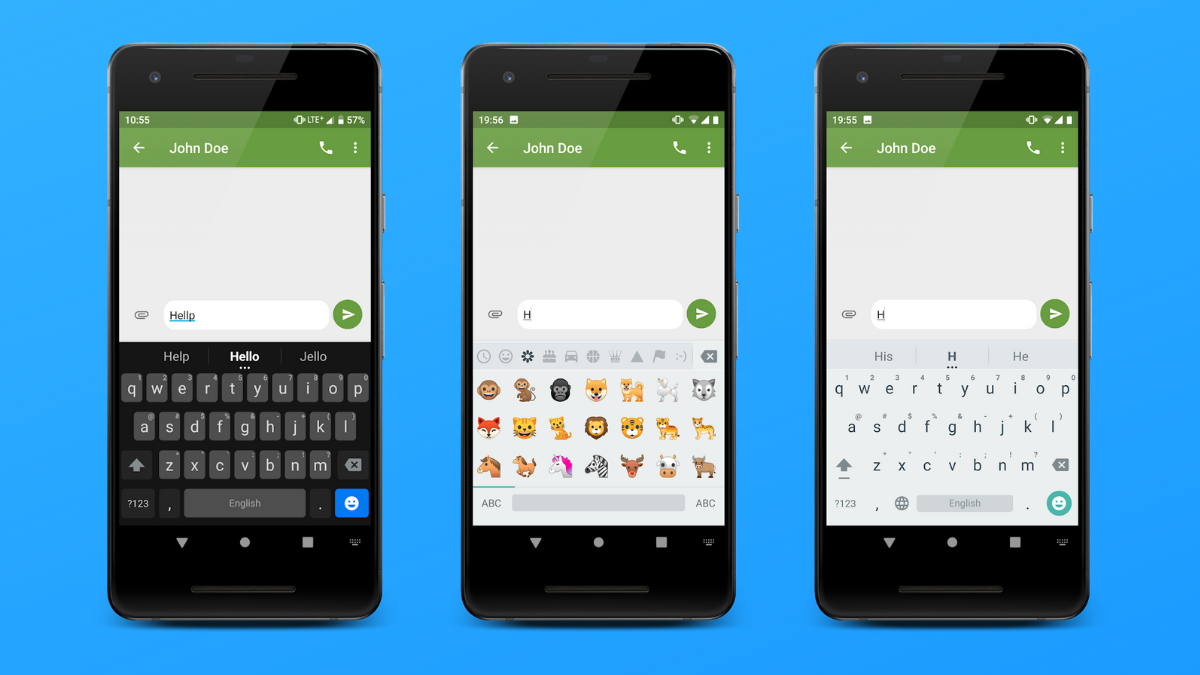 OpenBoard also has a fair number of customization options and features that you find on any typical Android keyboard. If you're someone who takes privacy very seriously, this keyboard might just be for you. It's available on the Google Play Store to download.
3. FlorisBoard
Price: Free
Yet another open-source keyboard, FlorisBoard, is just like any other typical Android keyboard except for a few things that make it one of the most flexible keyboards in terms of features. For example, you can enable clipboard history to access the stuff that you copied before. It is also highly customizable, allows you to assign other options to the utility key, like switching to emoji, language, or the keyboard app. There's also a one-handed mode to help you from typing uncomfortably on larger displays.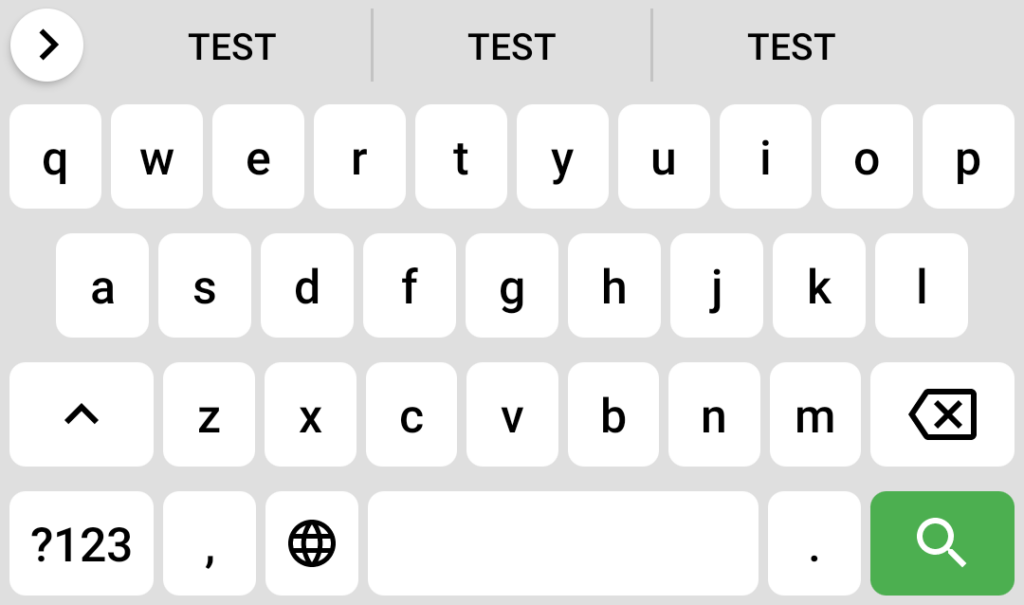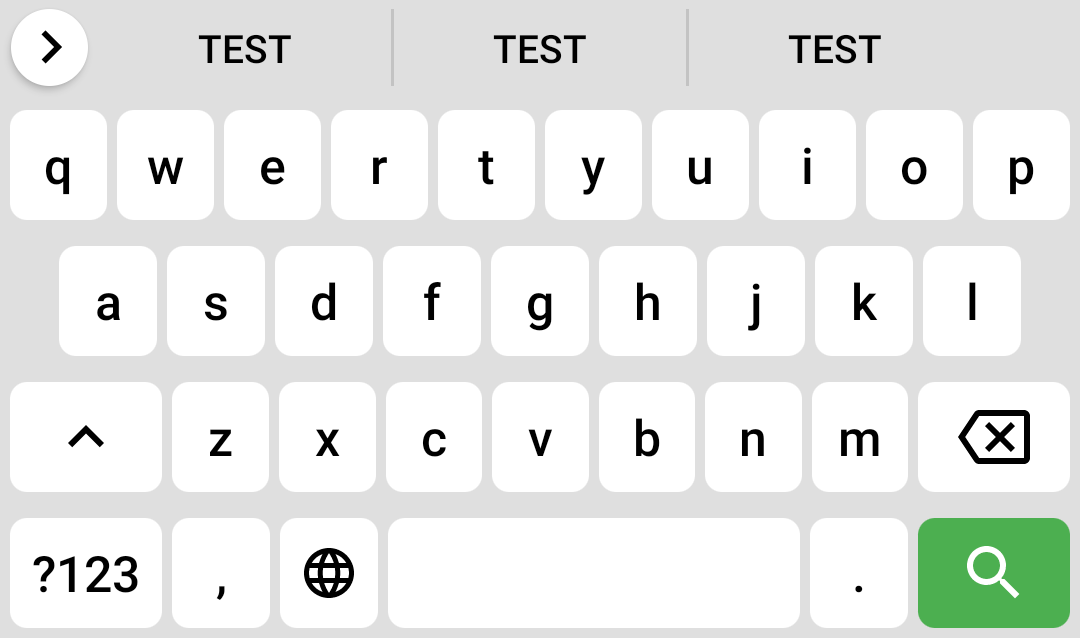 Overall, for FOSS software, FlorisBoard is incredibly good and will make your typing experience more pleasurable because you needn't worry about it sending and selling your data.
4. AnySoft Keyboard
Price: Free
AnySoft is an open-source keyboard for Android that is highly transparent in its data collection. The privacy-friendly Android keyboard app even suggests users look at their source code on the welcome page.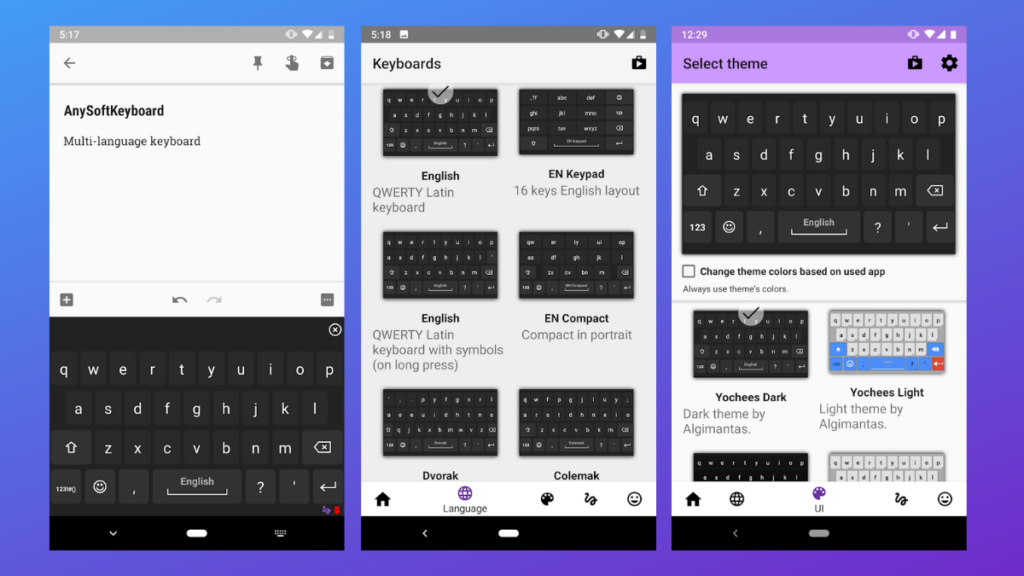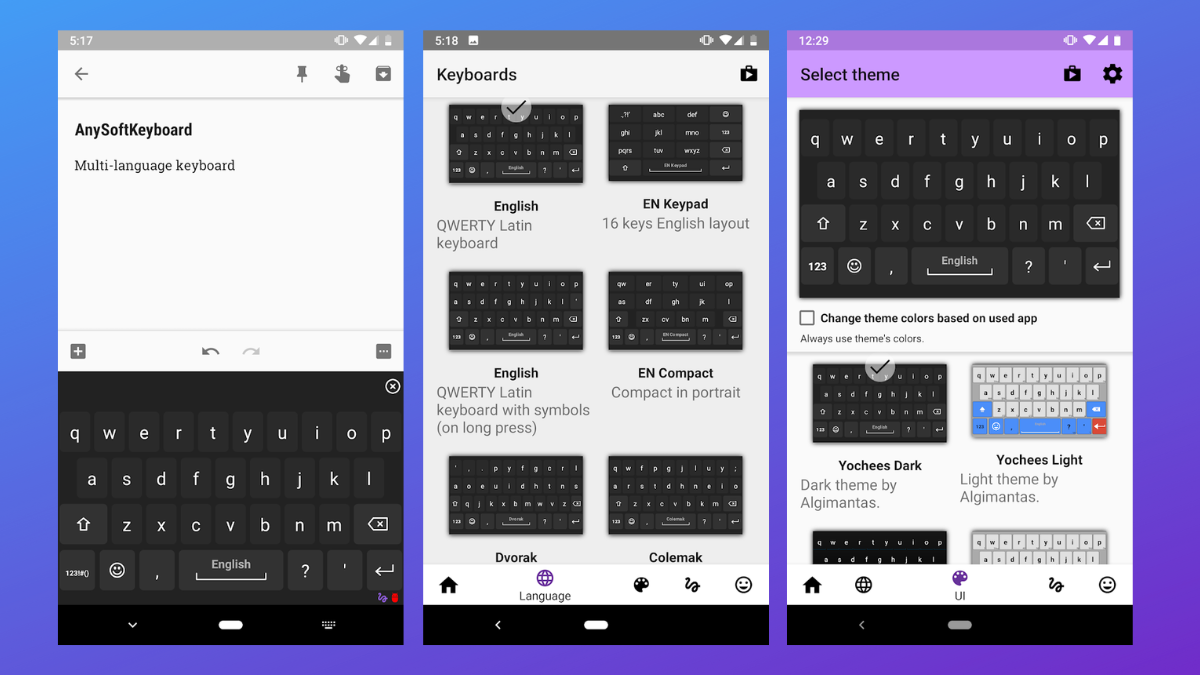 But privacy is not the only highlight. The app also features excellent keyboard app themes, multi-touch support, power-saving mode, gesture typing, and much more. AnySoft can also change the keyboard theme based on the used app.
Thankfully, given its small size, the app does not use a lot of RAM. Hence you could use it on a lower-end phone if the other keyboard apps lag on the same. It features text prediction; however, it's not the best one out there. Overall, AnySoft has enough features to be worthy of being included in our list of best Android keyboard apps.
5. Simple Keyboard
Price: Free
Simple keyboard is another open-source lightweight Android keyboard app that is known for its minimalistic design and simplicity. Users untroubled by the lack of contemporary keyboard app features, Simple Keyboard, is for you.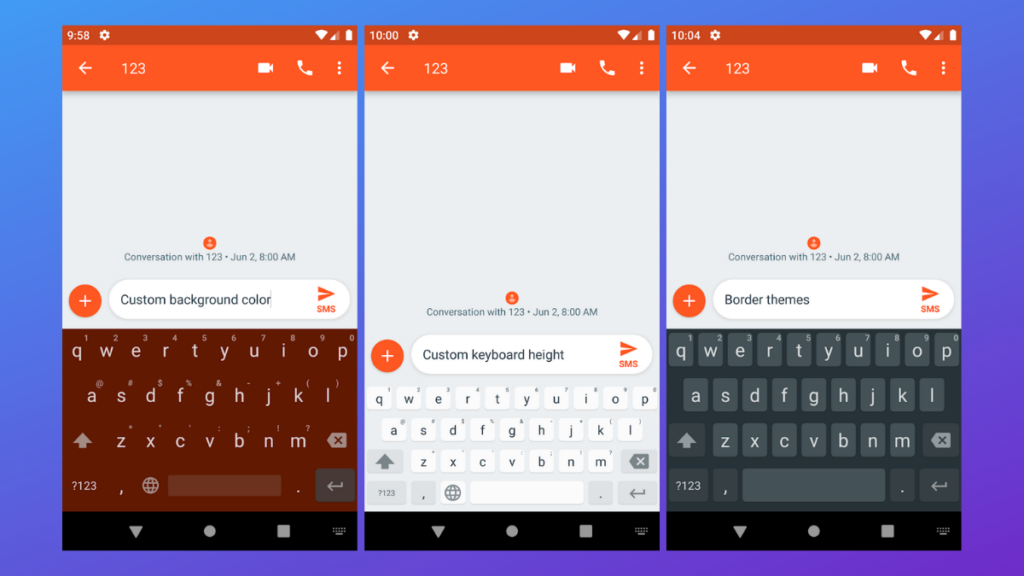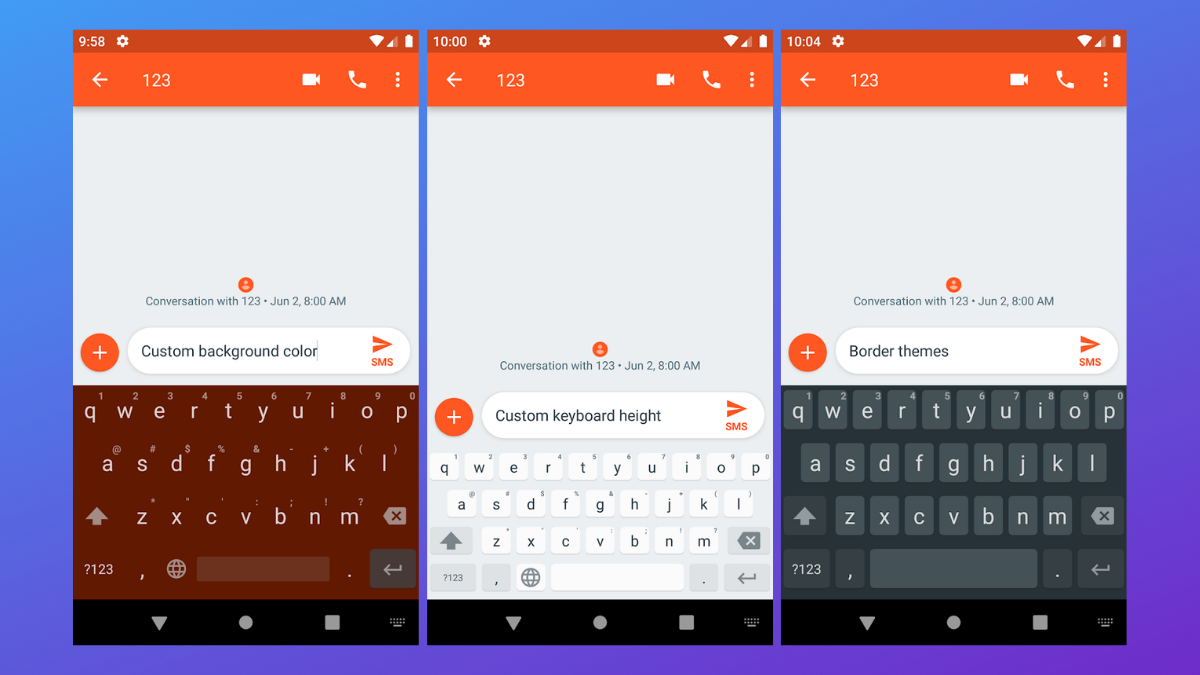 The maximum you will find is options to change the theme and color of the on-screen keyboard. Other than that, it's pretty basic: You have support for multiple languages, changing keyboard height, separate number row, and a few more. Note that there are no emojis, gifs, spell checkers, or even swipe typing.
6. Fonts
Price: Free
As the name indicates, the Android app enables you to send messages in the font and style of your choice. You can send your texts in cursive, typewriter format, emoji format, and many others. The fonts work in most apps, so you won't have compatibility issues while sending texts to your friends.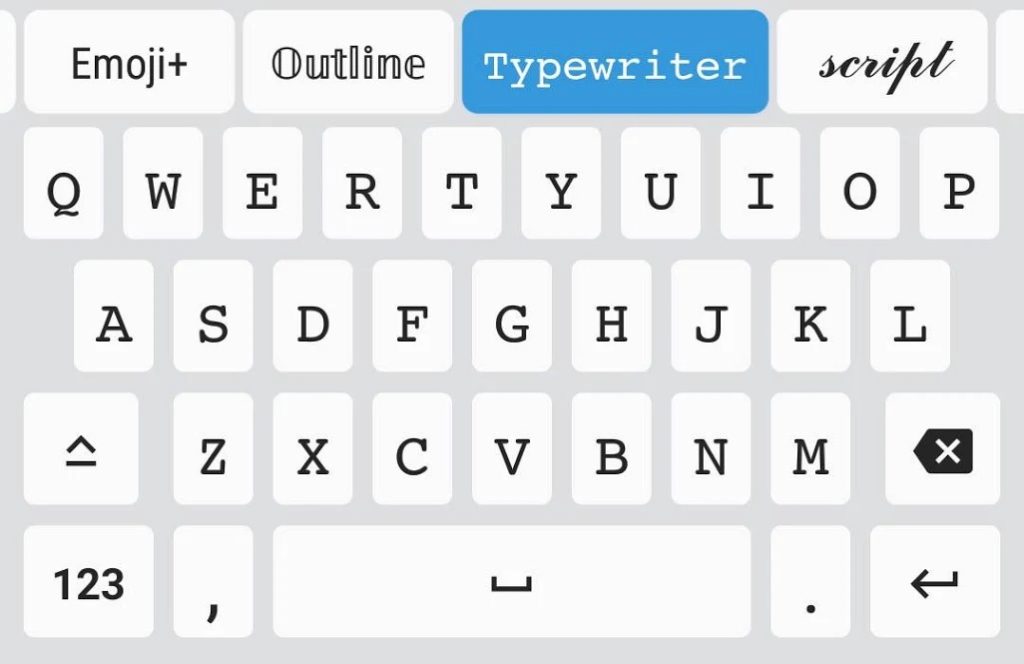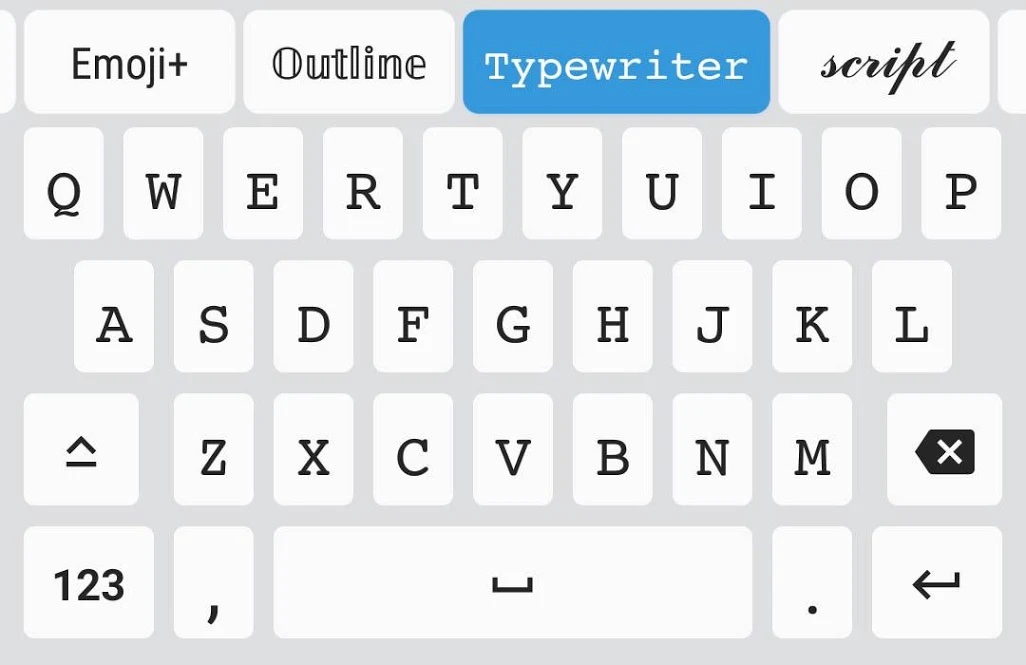 While Fonts is a unique app, it lacks standard features that you would expect in a keyboard app. For instance, you cannot change the theme of the keyboard, and there is no predictive text or an autocorrection feature.
Still, when it comes to fonts, it's probably the best font keyboard apps for Android. You could keep it as a secondary keyboard and switch to it whenever you want to send cool tests to your friends.
7. Gboard – The Google Keyboard
Price: Free
There's no way this list would be complete without Gboard. Google is known for its excellent software, and Gboard is no different. While its features definitely have been questioned for logging users' data and what you type, there's no denying the fact that Gboard is one of the most feature-rich keyboards out there. In fact, if you're using an Android device, chances are, you might have used Gboard to search and find this article.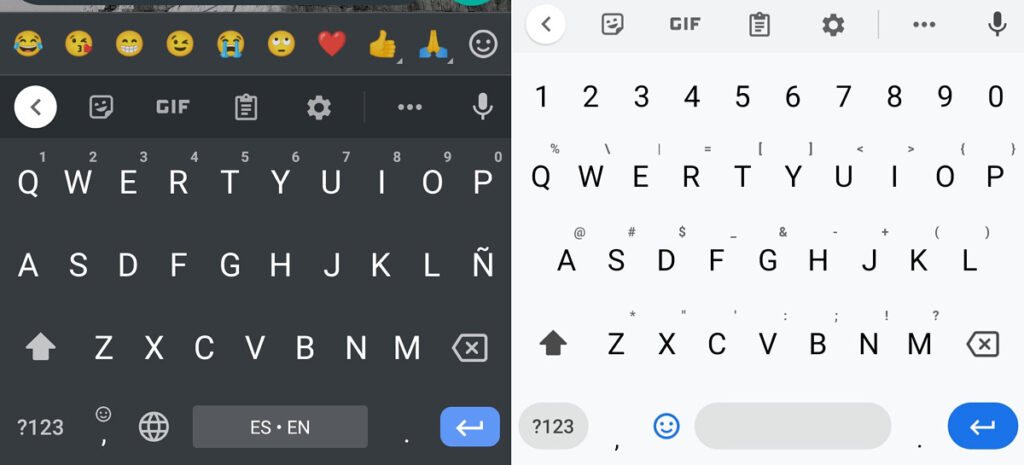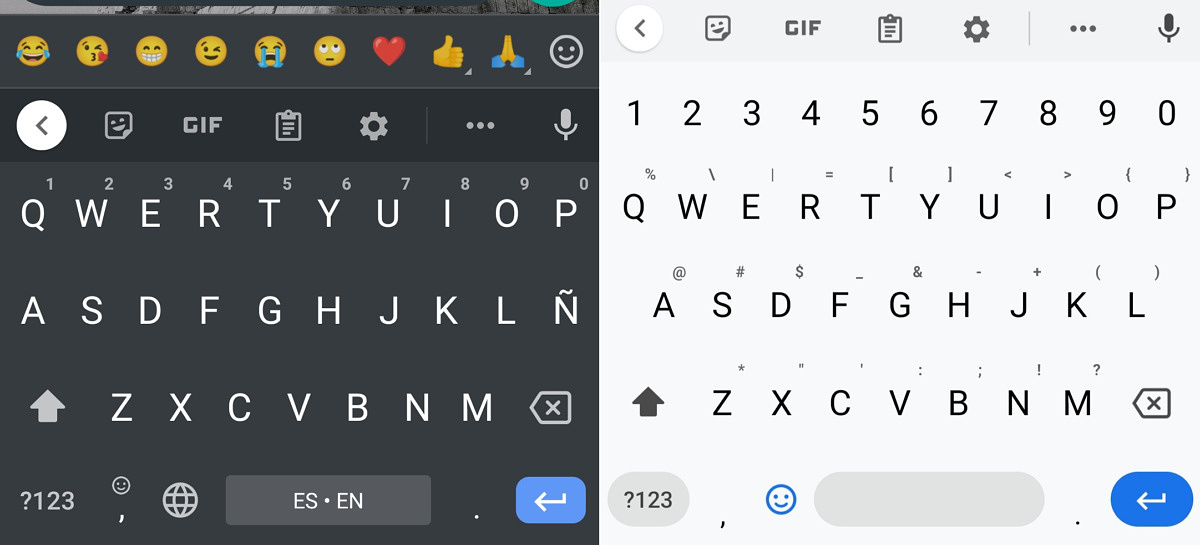 The Android app comes integrated with Google search; suggests GIFs and emojis as you type. It also allows you to send stickers. You can also make your sticker if you like. People who use lots of Google services will get real benefits from its text prediction.
And it does all of that while staying reasonably minimalistic, and the material design also fits perfectly. Other features include comprehensive theming, adding a personal image as the keyboard background, voice dictation, phrase prediction, and hand-drawn emoji recognition. Google recently updated Gboard with an adaptive theme that uses the color scheme picked Material You and applies it to the keys making the keyboard look even better.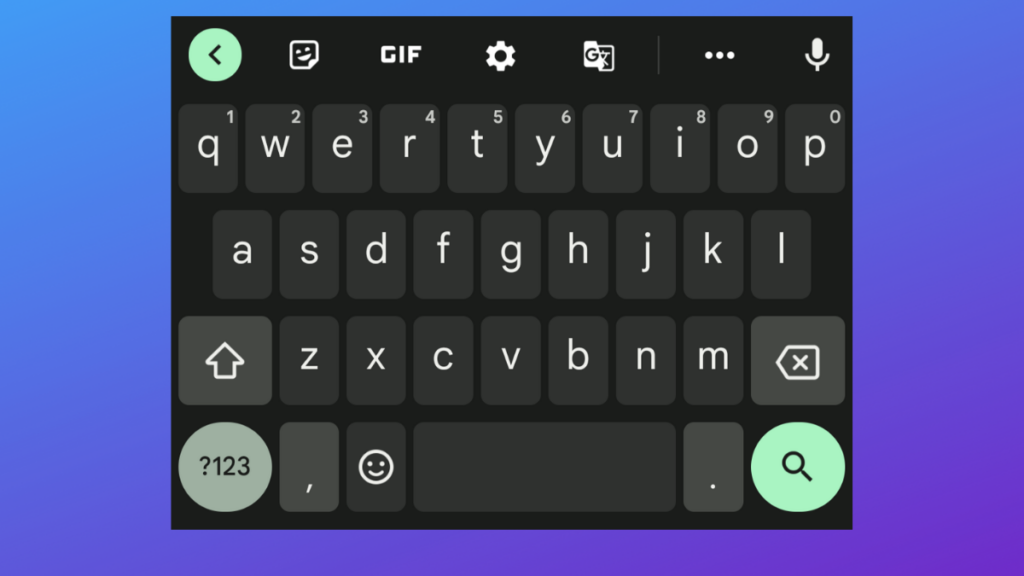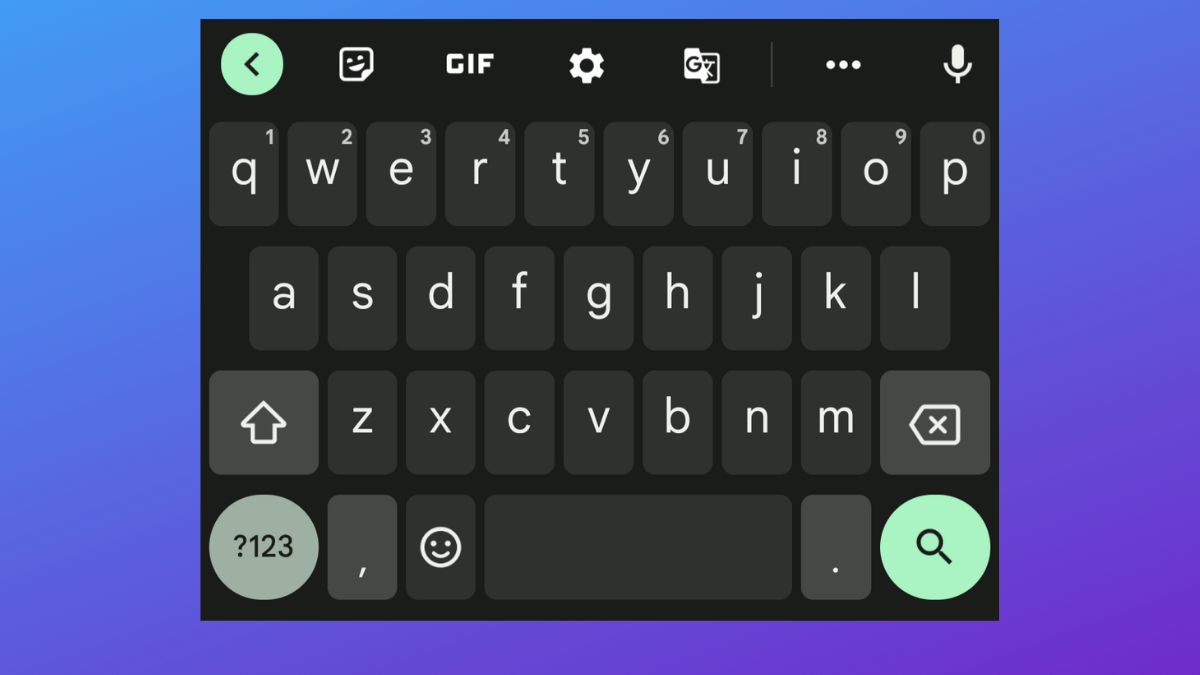 We could talk about every Gboard feature all day. Overall, the sheer number of features, design, and ease of use make Gboard one of the best keyboard apps for Android.
8. Grammarly
Price: Free / $12.95 (Billed Annually)
You might've heard of Grammarly. It's known for its grammar check extension on Firefox and Chrome, but did you know that it has an app? The Grammarly keyboard has all the essential perks from the extension to its keyboard app, making it one of the best Android keyboards since there are not many keyboard apps with this feature.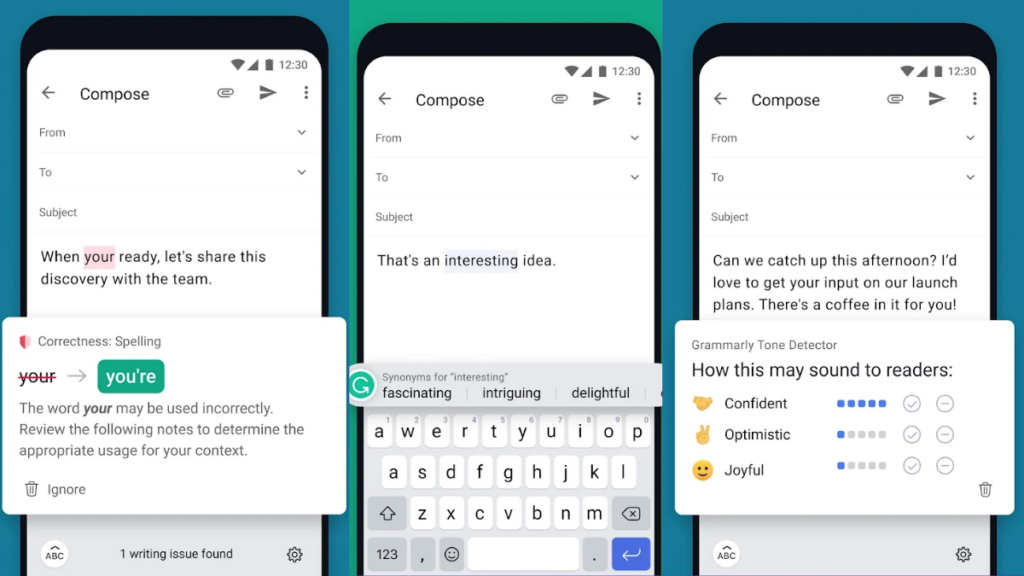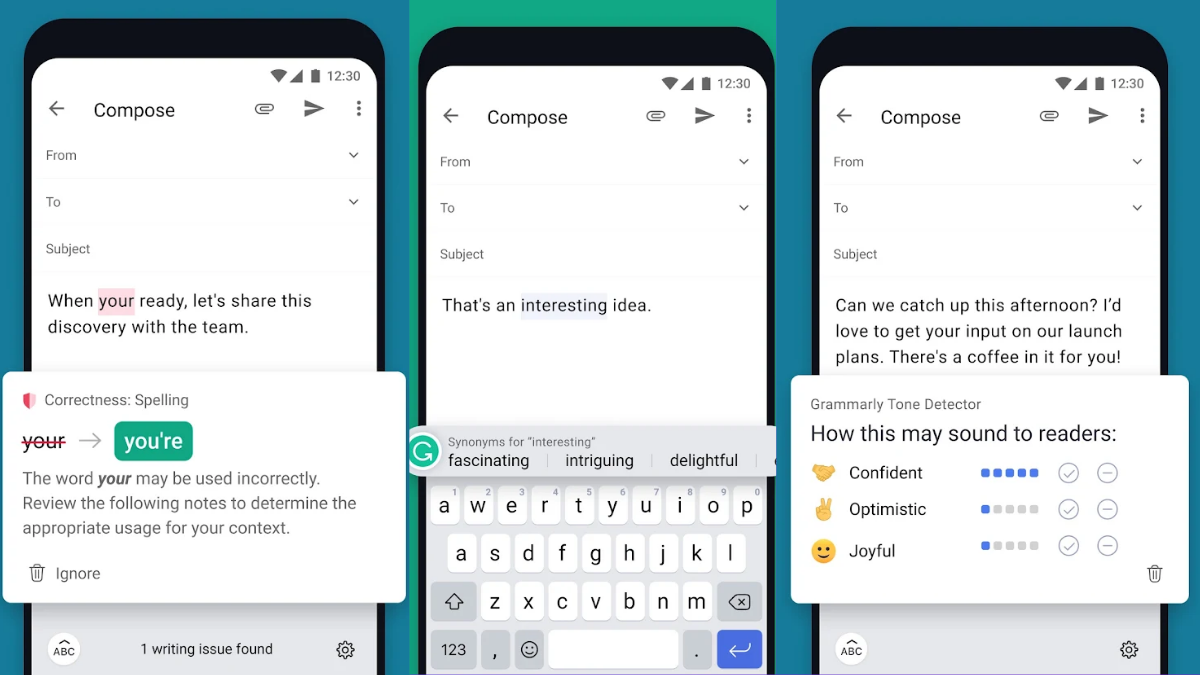 Sliding casual (and I mean, very colloquial) English while texting your friends is so easy to get used to that you might not even realize that you are using it in professional emails or messages. Grammarly can be extremely helpful to get over your bad habit of replying, "Hey! Can u come over fr dinner" to "Hey! Can you please come over for dinner?"
Apart from the well-known spelling and grammar checker feature, I also like its pleasant visual design, particularly the mint-green color theme. There is a dark theme option as well if you're fond of the darker interface. All in all, it's a basic texting app for Android that won't let you down if you find yourself indulging in tons of professional communication while using your smartphone.
9. SwiftKey By Microsoft
Price: Free
There's no doubt that SwiftKey is one of the best keyboard apps for Android to replace the native keyboard app. It was acquired by Microsoft in 2016 and has seen a lot of Ui and feature improvements since then, which further boosted its reliability. Privacy-wise, it's not the best keyboard out there, but if you want a highly customizable keyboard, and if you don't like Gboard, SwiftKey is for you.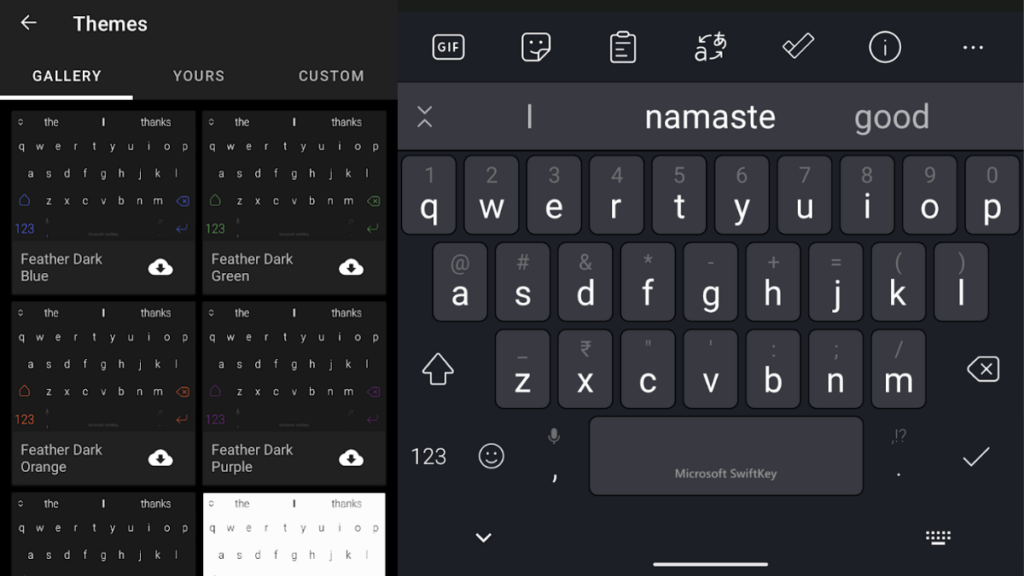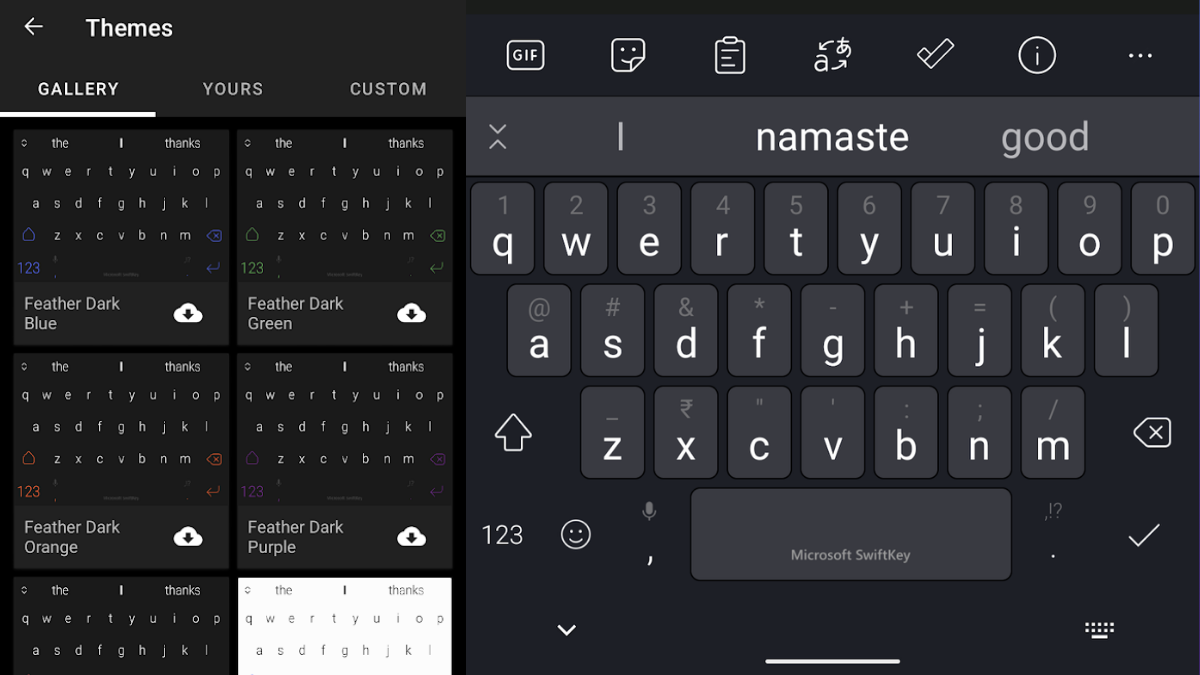 The app uses AI (Artificial Intelligence), which helps it in word prediction. SwiftKey also features an autocorrect feature and gesture typing for faster input. It intelligently learns your typing pattern and adapts to it.
This keyboard app for Android is also a spectacular emoji keyboard that brings tons of emojis, GIFs, and more to the table. Under keyboard customization, one can choose from hundreds of themes and create a personal theme. Overall, SwiftKey is definitely one of the best Android keyboards both in terms of customizations and features.
10. Fleksy Free Keyboard
Price: Free
The Fleksy Keyboard is known to be the fastest keyboard app for Android. It holds the world record for its typing speed twice. Fleksy uses next-generation autocorrect and gesture control so that you can type accurately within less time. Swiping gestures are used to control standard functions, such as quickly adding punctuation, space, delete, and word corrections.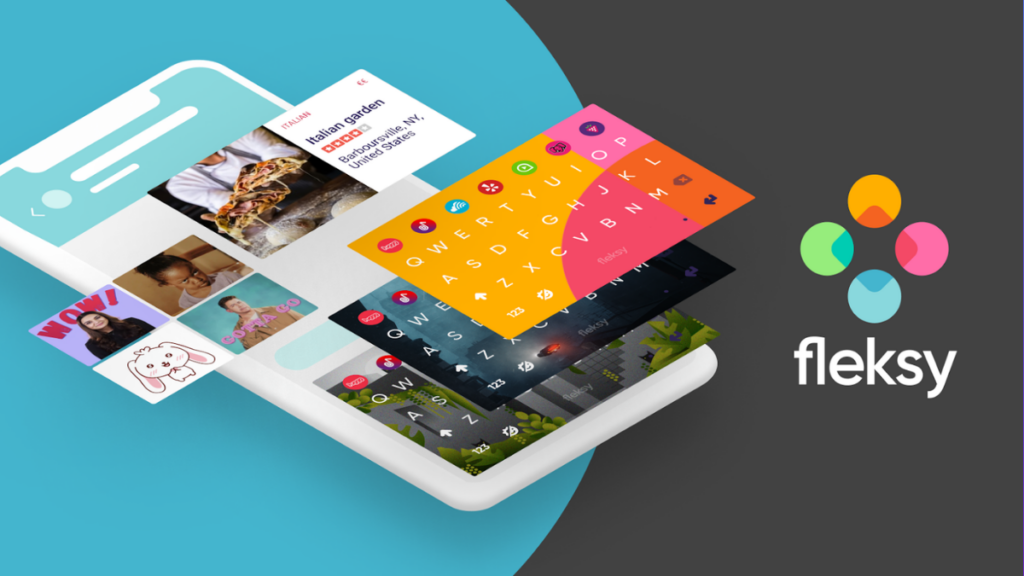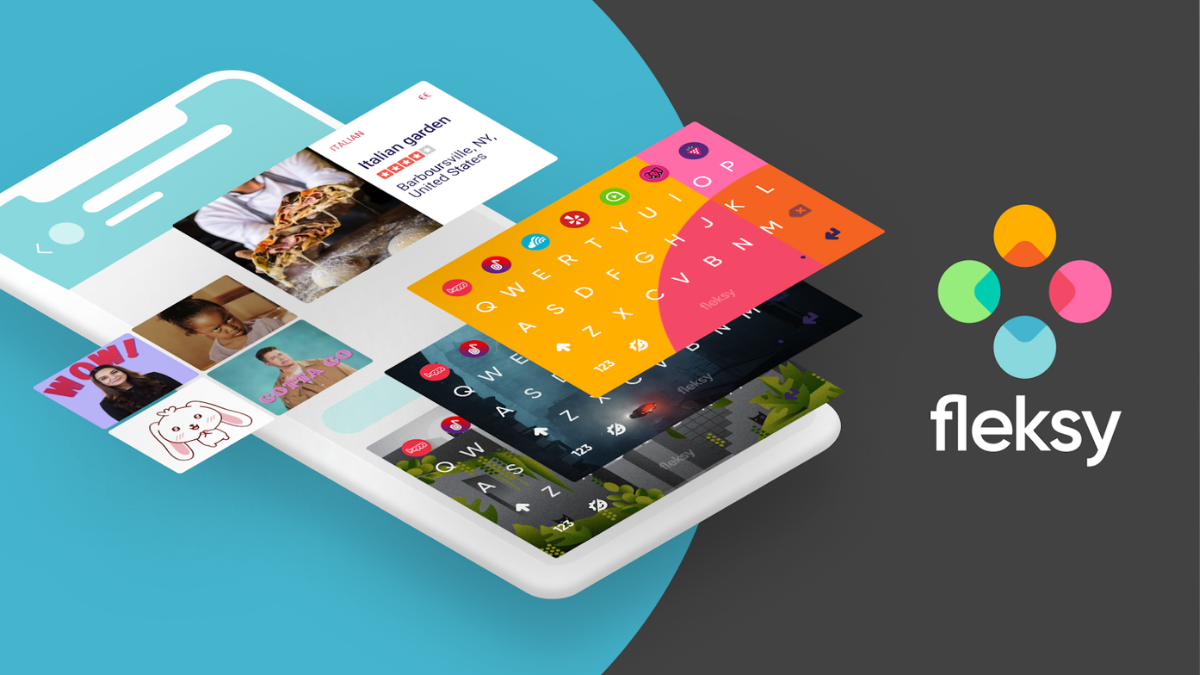 It is also highly customizable. It covers over 50 colorful themes, three separate customizable keyboard sizes, and over 800 emojis and GIFs. Moreover, users can create keyboard shortcuts, access navigate apps right from your keyboard, copy/paste, and even have easy access to a number row. It also supports over 40 different languages. We liked Flesky's all-caps key approach since it reduces the chances of typos.
This third-party Android keyboard app follows a strict privacy policy and does not collect personal data without your permission. All in all, Fleksy is another best keyboard apps for Android and a great Gboard alternative.
11. Chrooma Keyboard
Price: Free
Chrooma is quite similar to the Google keyboard, except it provides more customizations options. You will find all essential features such as swipe typing, keyboard resizing, predictive typing, and autocorrect.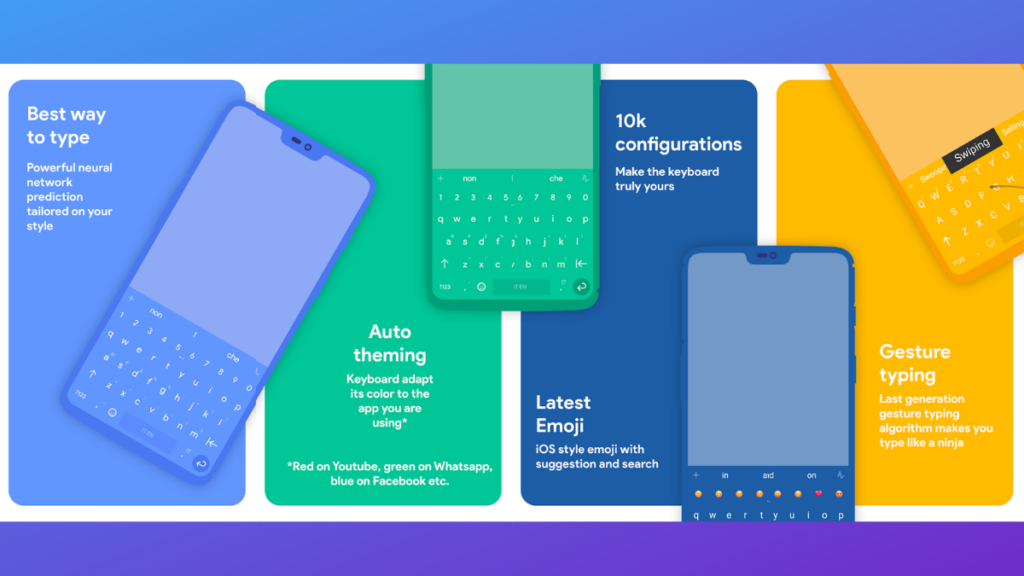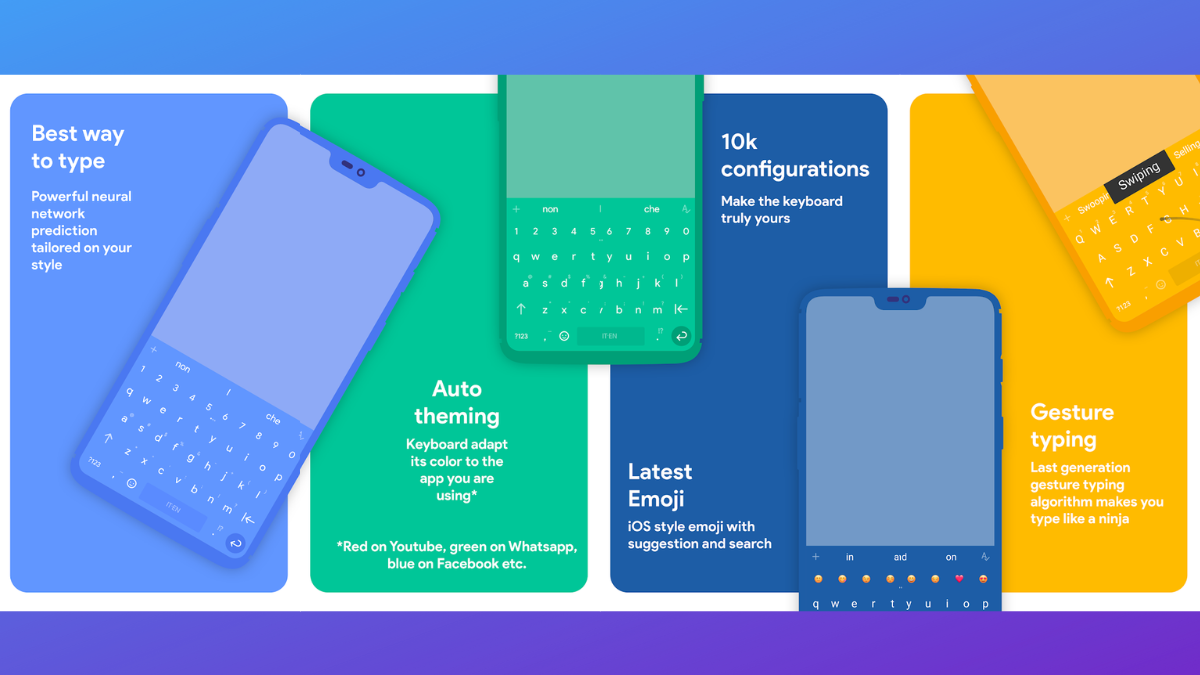 Chrooma has a neural action row that helps you with emojis, numbers, and punctuation suggestions. It has also added a Night mode feature that can change the color tone of the keyboard when enabled. You can also set the timer and program the Night mode. This free keyboard app for Android is also powered by smart artificial intelligence that provides you with more accuracy and better contextual prediction while typing.
Adaptive color mode is by far one of the best things that you can try out on Chrooma. For starters, it can automatically adapt to the app's color and make the keyboard appear like it is a part of the app. However, it tends to come up with bugs and glitches, especially in the emoji and GIF sections.
12. Google Handwriting Input
Price: Free
The last entry on this list of the best Android keyboard apps isn't a traditional keyboard app that will let you press simple buttons, and you'll be able to type what you want. For a change, you can also consider Google Handwriting Input as an add-on to the regular Google keyboard app (Gboard).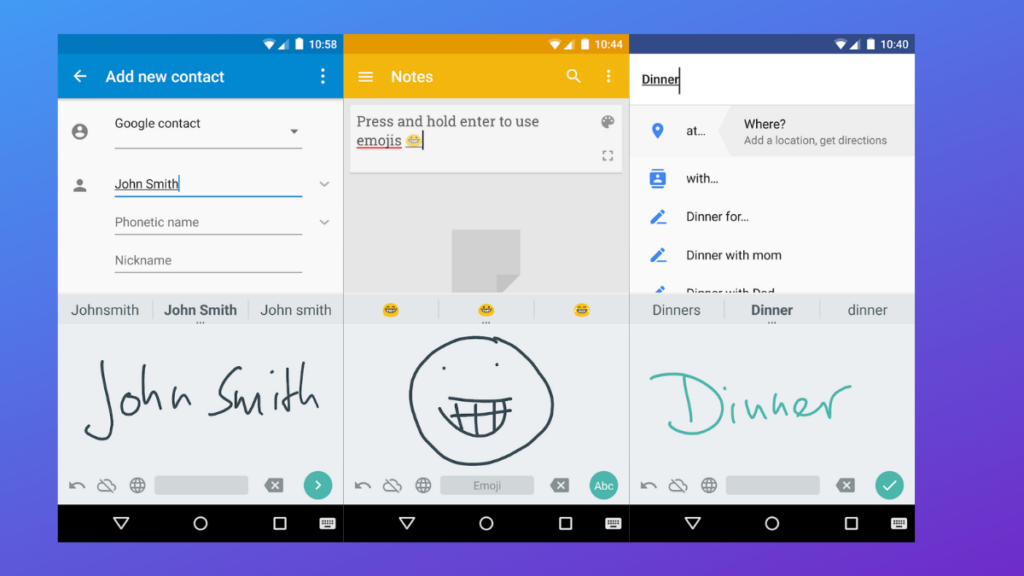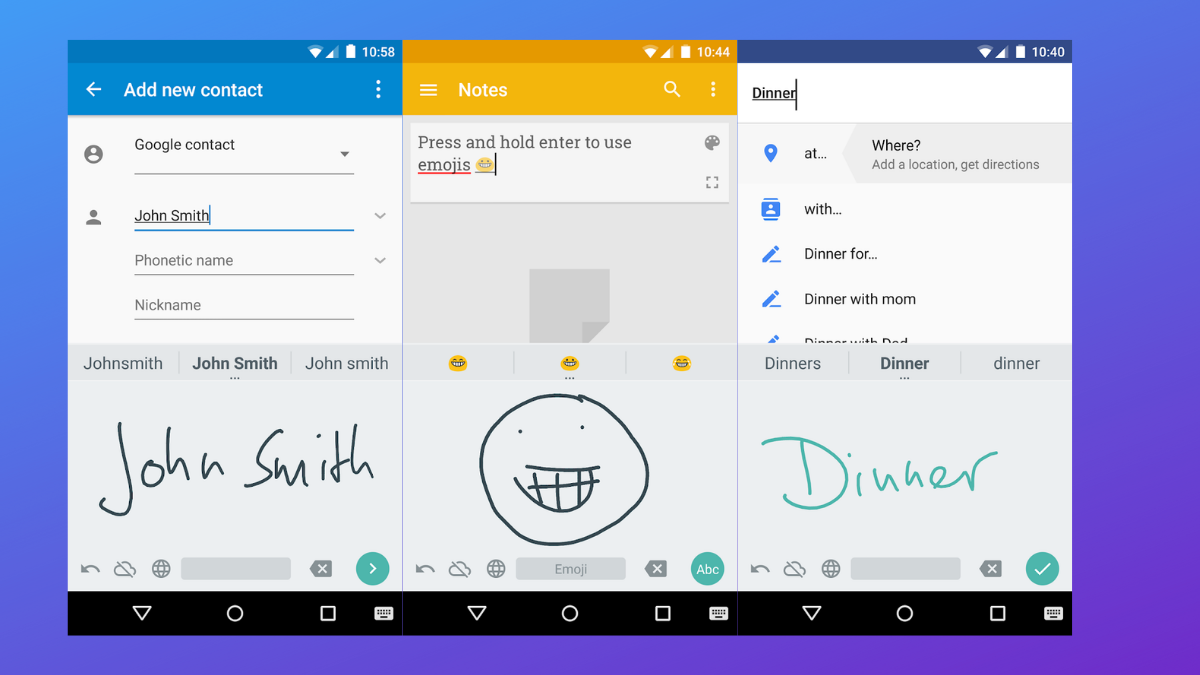 By enabling it, you will get a blank area in place of the buttons that lets you write using your fingers or a stylus. The text recognition of the keyboard is pretty fast. If you're using an Android tablet, you should definitely give it a try on the big screen.
Conclusion
So these were some of the best keyboard apps for Android that you can try out. If you're already using Gboard and have grown tired of the same, we'd highly recommend trying out TypeWise and SwiftKey, as they come with tons of features and customization. You can then settle on the keyboard app which suits you the best.
If data and privacy are important to you, then look no further and try out OpenBoard, FlorisBoard, and AnySoft Keyboard as they have strict no keylogging policies. Most keyboards in this list are fast enough for daily usage, but if you have a potato phone, a Simple keyboard is the one you should definitely check out.
Are Keyboard Apps Safe?
Naturally, that's a privacy concern for many Android users. All keyboard apps list privacy policies about their data collection; therefore, it's best to look at them before using them. Google doesn't appreciate apps Play Store apps that mine data; hence you can give these keyboard apps the benefit of the doubt.
Which keyboard app are you currently using on your Android device? Do you know of any other keyboard apps that deserve to be on this list? Let us know in the comments section below.
FAQs
Is SwiftKey safe?
Yes, SwiftKey is entirely safe to use. However, like most popular keyboards, it collects data, which doesn't make it an ideal choice if you're looking for a privacy-focused keyboard.
Which is better – Gboard or SwiftKey?
Gboard is a better overall keyboard since it's built by Google, the same company that owns Android. Since Android is a Google product, Google has a better idea of creating the ideal keyboard for its operating system. Don't get us wrong, SwiftKey is no slouch, but it falls short of features and perks compared to Gboard.
Which is the fastest Android keyboard?
There could be two answers to this question — fastest as in the fastest keyboard to type on and keyboard that's snappier to use overall. If you're implying to the former, every keyboard is good enough for faster typing. It all boils down to how efficient and experienced you are at typing and has little to do with the keyboard app itself. If you're implying to the latter question, Simple Keyboard is one of the lightweight keyboards on this list; hence, it should be snappier/faster than other keyboards.