When it comes to essential Windows apps, one can't deny the importance of a good and fast download manager. If you know, some years ago, even Microsoft made an unknown and somewhat failed attempt with their software called Microsoft Download Manager.
Mostly third-party, a download manager, download accelerator, file downloader, or whatever you call it, makes the files download faster by downloading them in parts – a process known as parallel downloading.
Why A Download Manager?
Various free download manager software come with features that are nowhere to be found in the built-in download management components in web browsers. For instance, scheduling file downloads, exporting download list, and more.
Moreover, download managers also come with browser extensions to capture download links directly from web browsers. So, with all that said, here are some of the best download manager software for Windows 10/11 and earlier versions.
But before reading further, if you're using on an Android device, you might want to check out our list of 8 best Android video downloaders.
Note: This list is not arranged in any order of preference.
Best Download Manager For Windows 10/11 (2021)
1. Free Download Manager – the best free file downloader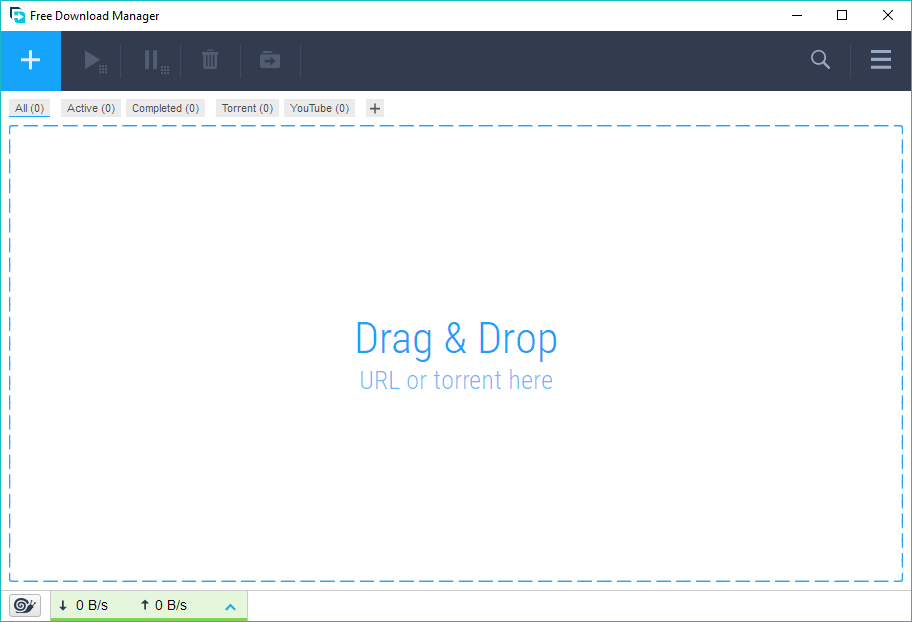 Also known by the abbreviation FDM, it has stood as a reliable Internet Download Manager alternative. It's available for macOS and Windows operating systems.
Free Download Manager provides seamless integration with web browsers, including Chrome, Firefox, Edge, etc. It's loaded with a variety of download management features to schedule downloads easily, limit connections speeds, and more. FDM has different modes for light, medium, heavy downloading, as well as, a snail mode which frees up bandwidth for other apps on the machine.
Many things make FDM one of the best download manager software for Windows. It also doubles up as a BitTorrent client. Users can easily drag and drop URLs and torrents into FDM's window to get the downloads running. For instance, users can directly add YouTube videos URLs to FDM and download them.
Pros:
Easy to use interface
Easy organization tools for downloaded files
Also acts as a torrent client
Free to use
Cons:
Takes time while parsing links
Minor app glitches
2. Internet Download Manager – the best downloader if you can pay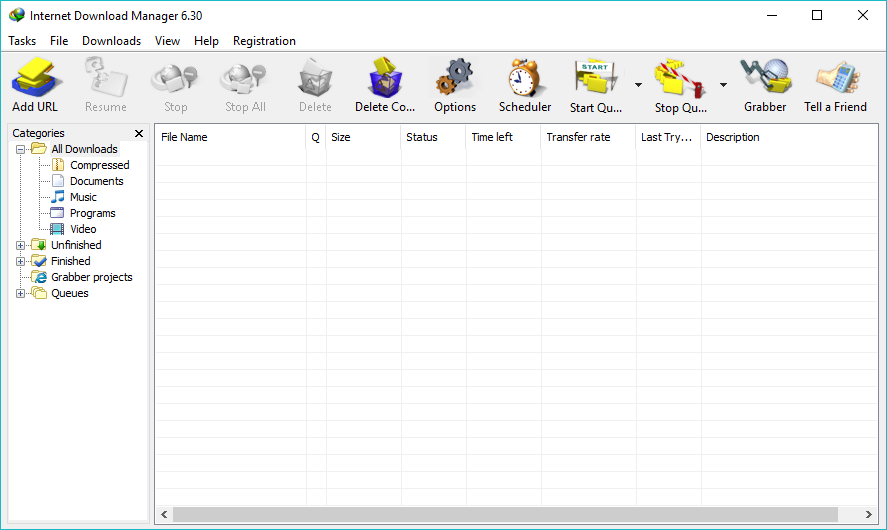 Probably, it's because of IDM that so many people are familiar with the term download manager. It's 2021, there might exist many powerful free download manager software, but it's still hard to defeat IDM. It can boost the file download speed on people's machines by up to five times. And this shouldn't be confused with the available bandwidth.
IDM can efficiently manage batch downloads, provides different options for download queues, fetch download links from web pages, and video streaming sites. One thing the users feel assured about is the reliability; I can remember resuming downloads on my desktop even after it accidentally shut down.
Even with all the good things it has to offer, one of the reasons why users might not want to prefer IDM is because it comes at a price. But it offers a 30-day trial offer. So, you can get your hands on it before buying it.
Pros:
Great download speeds at all times
Efficient parallel downloads
Supports downloading from popular video hosting websites
Supports proxy servers, FTP and SFTP protocols as well
Cons:
High price
Not-so-modern looking user interface
3. EagleGet Download Accelerator – a simple file downloader for Windows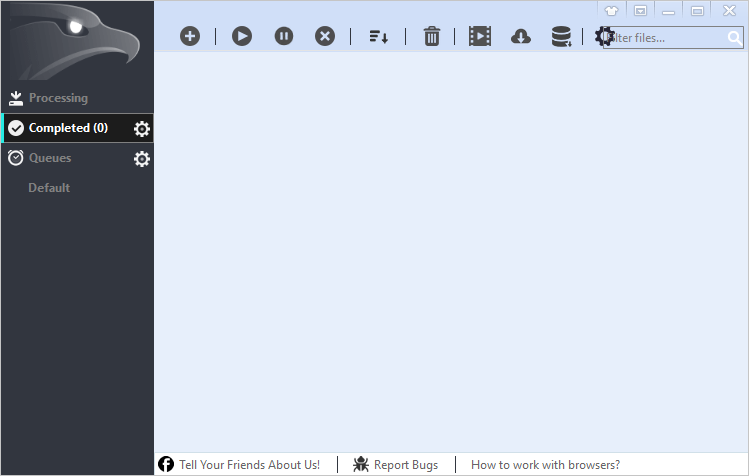 The one featuring its minimalistic user interface is the download manager we know by the name EagleGet. You can customize the theme with solid colors or some custom image as the background.
The file downloader for Windows 10/11 can fetch videos from various streaming sites, including YouTube using its Media Grabber. There is a Video Sniffer tool that can be used to download videos for which a download link is not there. After the downloads get completed, you can also configure the free download manager to check for malware using the installed AV software on your system.
The reason why EagleGet counts among the best download manager software for Windows is because of the ease-of-access it offers to the users. It isn't bloated with features that are mostly of no use to everyday users.
Pros:
Efficient download handling
Built-in malware checker tool
Support for sequential downloads
Cons:
Displays ads
Doesn't offer many browser tools
4. Ninja Internet Download Manager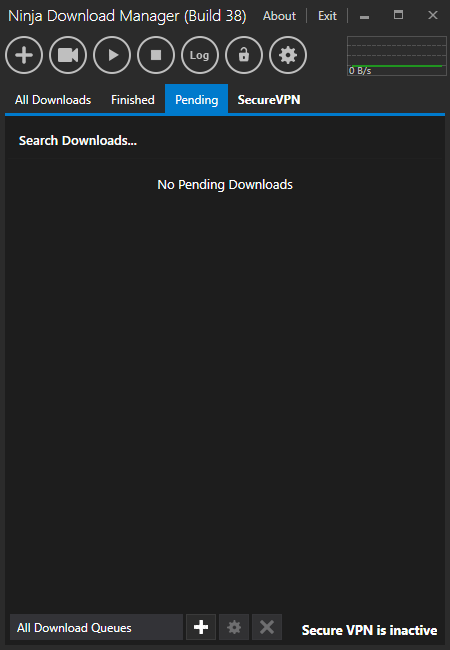 If the appearance of software matters to you more than anything else, be prepared to get pleased by the modern UI of Ninja Download Manager.
And it's not just the appearance, this excellent IDM alternative stuffs tons of powerful features under the hood to be a ninja when it comes to downloading files faster. NDM for short, in addition to its robust download accelerator, it comes with the built-in media converter and can download streaming videos in up to 1080p quality if available.
Ninja downloader supports sequential file writing, allowing users to preview an audio or video file before the download finishes on their machine. Users can limit the download speed and also control the number of simultaneous connections for a file download.
As per the latest updates, only the Pro version of Ninja Downloader exists now which can be purchased for $19.
Pros:
Easy to use interface
Supports parallel downloads
Offers download scheduling
Has sequential downloads feature
Cons:
Parsing of media on non-popular websites is not supported
No free version
5. BitComet – free download manager + torrent downloader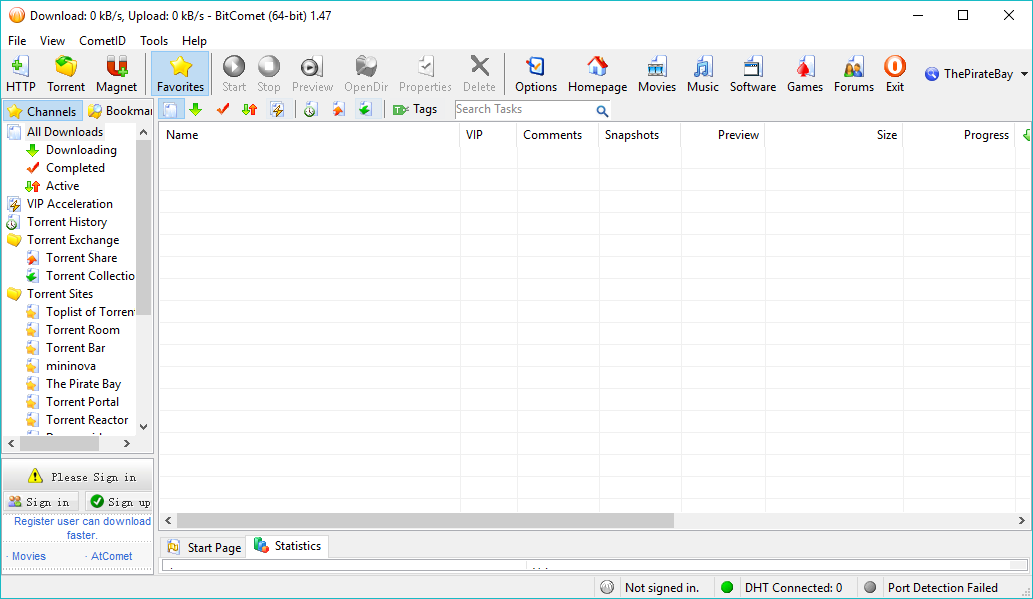 Talking about BitComet, you might have heard of it more when referring to torrent downloader software. But BitComet also comes with support for HTTP and FTP protocols, allowing it to act as a download manager.
It might not have a visual appearance as pleasing as other top download manager software, BitComet comes with all the essential file downloader features.
BitComet offers seamless integration with web browsers, remote file download, virus scan post download, download scheduling, etc. Also, this downloader for PC comes with capabilities to resume downloads even if you restart your PC or use a different internet connection, similar to IDM and other apps.
Pros:
Efficient file downloads
Offers browser integration
Also acts as a torrent client
Cons:
Outdated user interface
Minor app glitches
6. JDownloader2 – an open source file downloader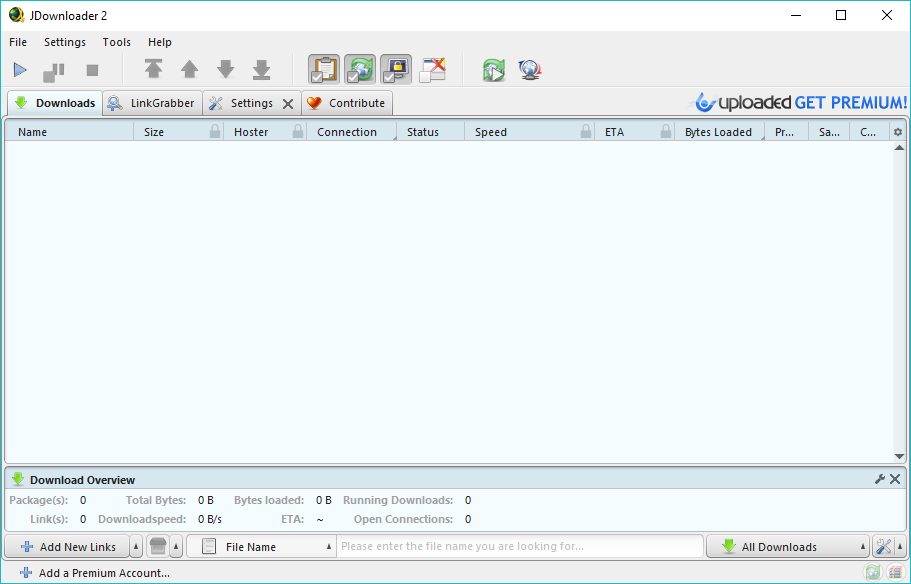 If you're in search of an open source download manager for Windows 10/11, then, JDownloader2 could be the answer for you. The free download manager is a rejuvenated version of the original software which had to shut down after legal actions.
JDownloader2 includes an optical character recognition to solve CAPTCHA you usually encounter on download sites. It can automatically extract RAR files after download, comes with a link grabber tool to fetch all the downloadable links on a web page, and support for around 300 decryption plugins.
The download accelerator can be controlled remotely via the JDownloader web interface and apps for mobile platforms. All of these features make JDownloader2 a worthy choice for the best free download manager.
Pros:
Completely free app
Supports multiple parallel downloads
Support for video hosting websites
Can add any plugin from a large library
Cons:
Outdated user interface
Confusing tools
7. Internet Download Accelerator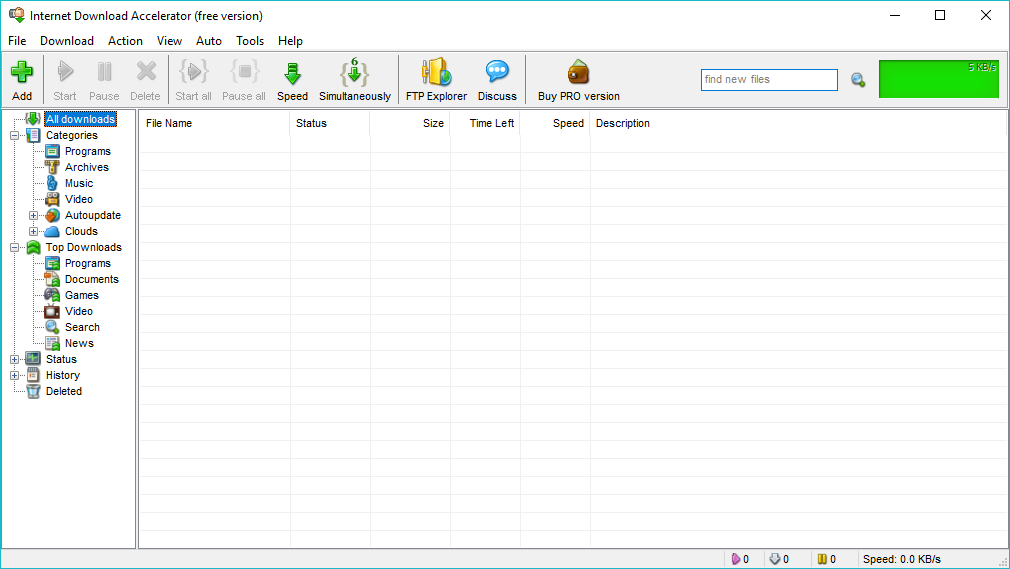 Also known as IDA, it's a free download manager developed by a Ukranian company called WestByte. It comes with support for HTTP, HTTPS, and FTP protocols and provides integration for Chrome, Edge, Firefox, Opera, Safari, etc. web browsers.
IDA has a built-in site manager to save the username and passwords of websites. Users can preview the contents of a RAR file before downloading it. One of the things I like about IDA is its quick update schedule.
Recent updates to the free download accelerator have added support for downloading videos from popular video services and the ability to play a video while it's being downloaded, cool, right? The download manager reminds you of its existence on your PC via a floating window, which could be sometimes annoying as it stays on top of other windows.
Apart from the free, IDA also comes in a paid family version, it adds technical support, removes annoying ads, provides 3 lifetime licenses. You can get it for $24.95.
Pros:
Supports browser integration
Can resume stopped downloads
Easy management of downloaded files
Cons:
Mediocre download features
Limited multi-threading capability
8. Xtreme Download Manager (XDM)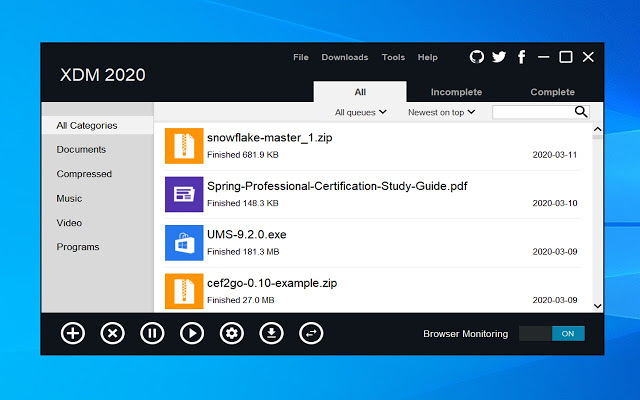 Xtreme Download Manager is a renowned download manager. It is one of the oldest and and popular download managers available for Windows, Linux, and macOS users. The app downloads video content from major video platforms efficiently and has great sorting options.
XDM works with all file formats and can perform paraller downloads at maximum speeds efficiently. Moreover, the app is completely free to use.
Pros:
Supports downloading from all websites with browser integration
Supports downloading entire playlists
Offers scheduling downloads
Cons:
Mediocre user interface
Minor app glitches
9. uGet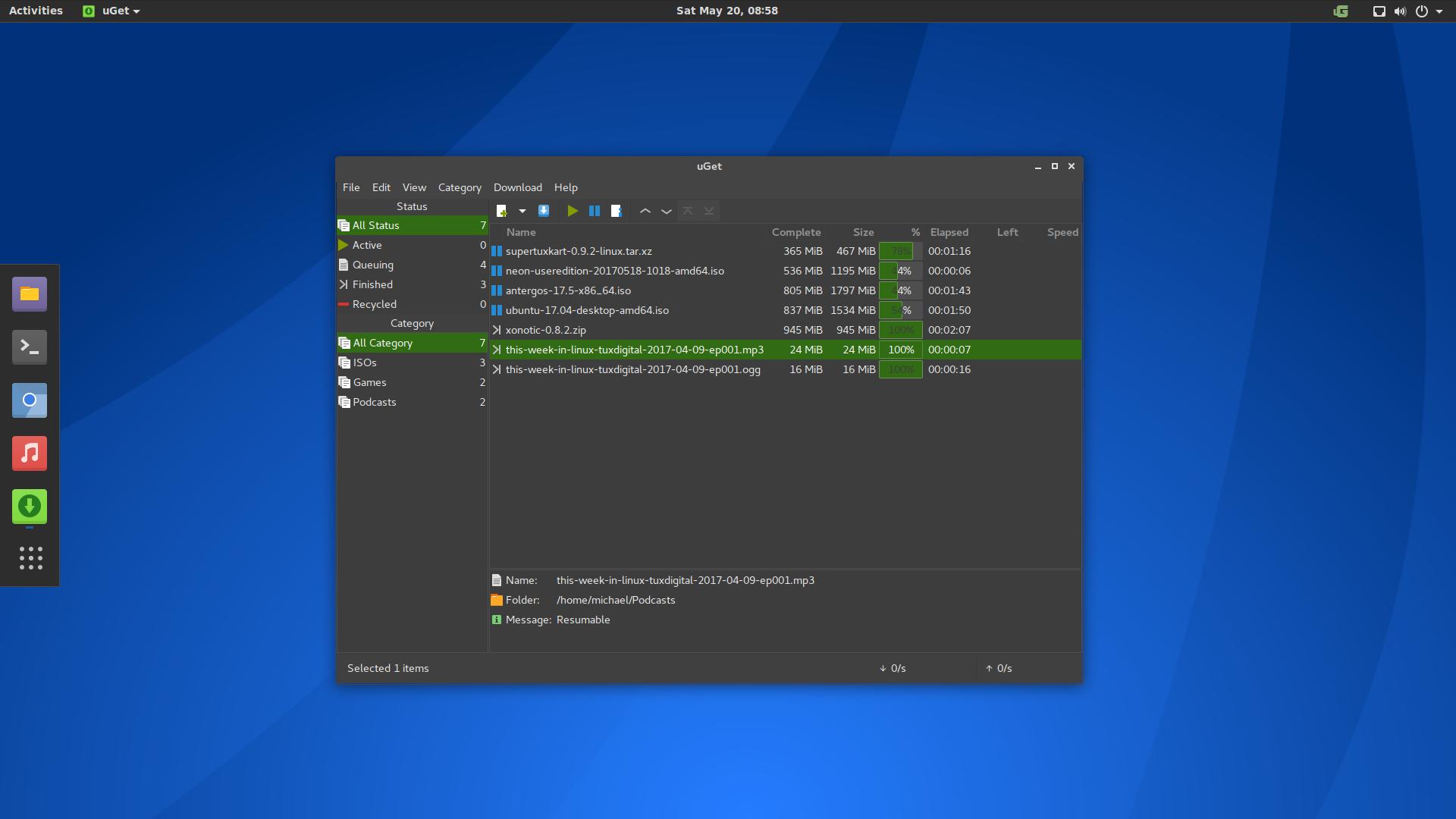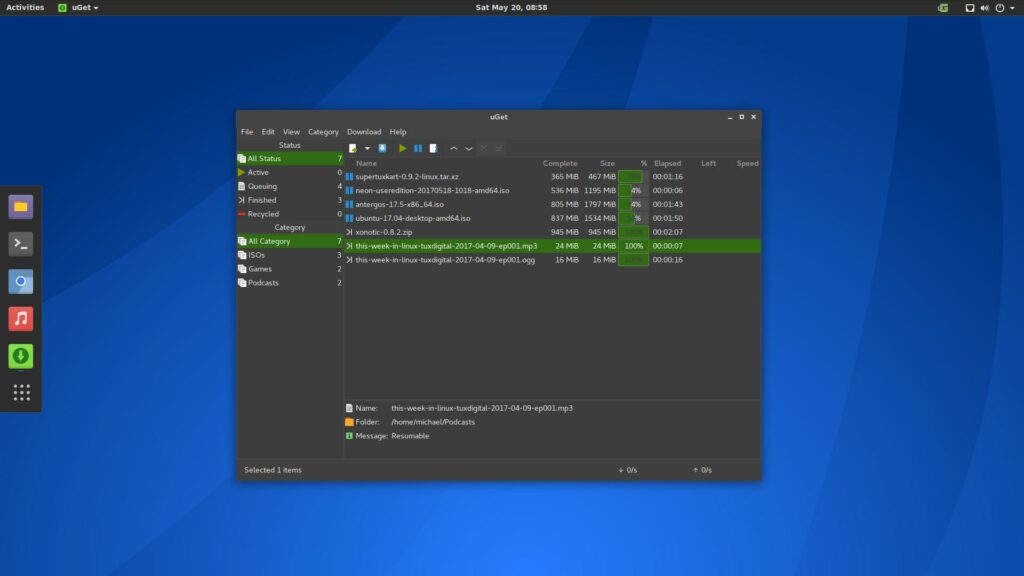 There exist more open-sourced apps than you could think of. uGet is another free download manager for Windows which offers a variety of features. It houses multi-connection downloads, batch downloads, and the ability to resume stopped downloads.
Even better, the app has a built-in dark mode. uGet can download files from supported links that you copy. The download speeds are great and it works as it should. Again, the app is completely free for all users.
Pros:
Dark mode feature
Offers browser integration
Support for batch downloads
Cons:
Issues while installation
10. aria2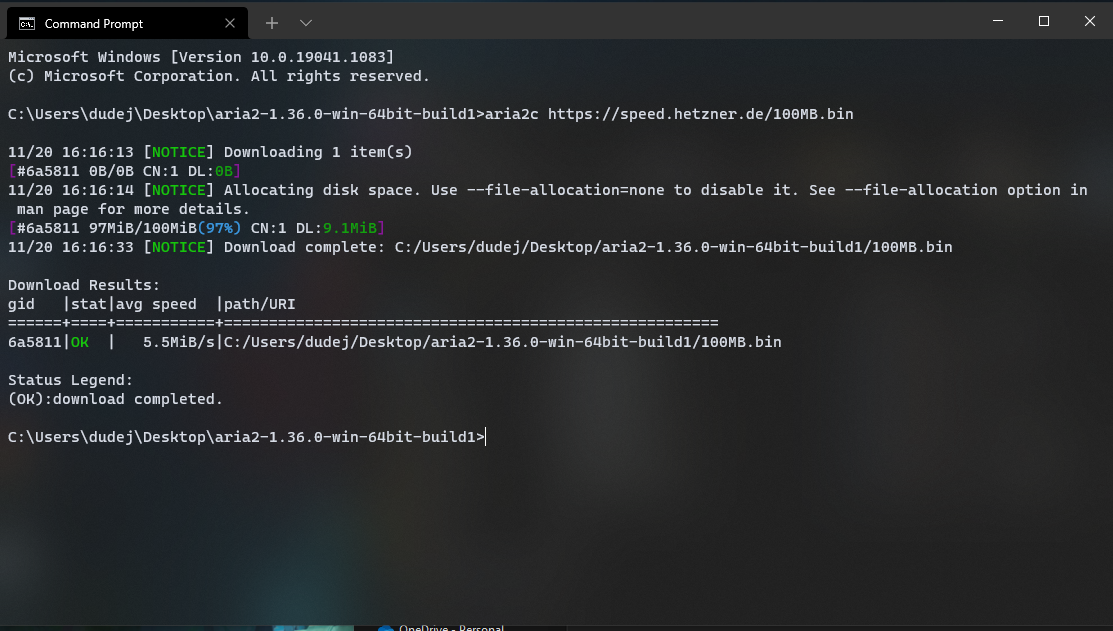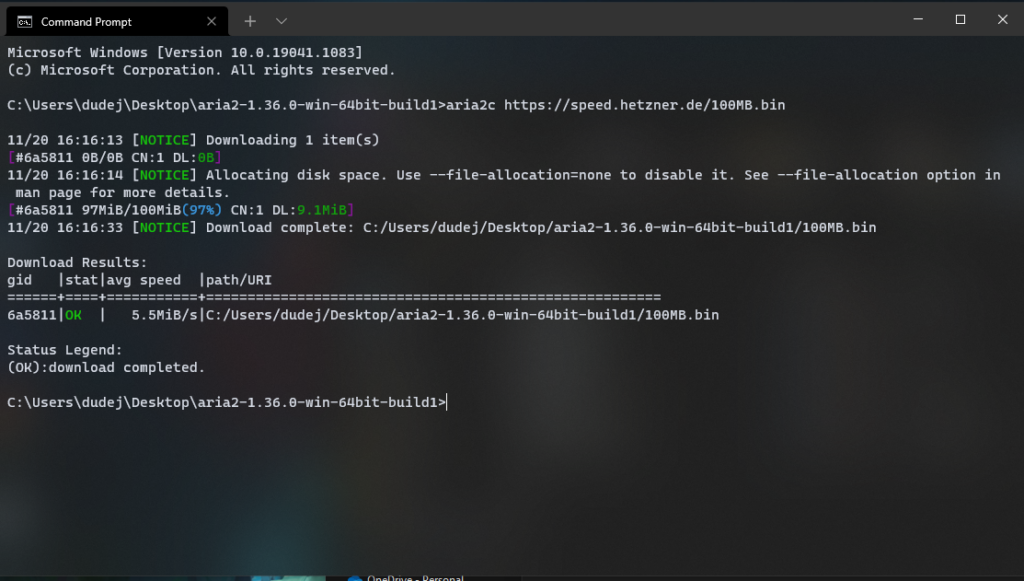 Unlike all the others on this list, aria2 is a command line download tool. It supports all internet protocols including BitTorrent and Metalink. The aria2 utility handles file downloads of large files very efficiently and offers a ton of other features for advanced users.
You can make use of it as a full-fledged torrent client while using other features as batch downloads, parallel downloading, and more. It is the most lightweight, yet the most powerful free download utility that you can use.
Pros:
Lightweight
Efficient download management
Open source
Cons:
No GUI
Not suitable for all users
Editor's Choice
Apparently, it would be pretty hard to suggest one for the best download manager for Windows 10/11. But you can go for FDM, Ninja free, and EagleGet if you aren't in the mood to spend money.
Otherwise, IDM and Ninja would be a choice while choosing a top paid download manager. For the user's who want the best of both worlds, BitComet can fulfill their torrent and file download needs efficiently.
What features to look for in a download manager?
The answer is simple – you want a download manager that captures downloads from your browser and downloads the files at maximum speeds possible and has good sorting options. Among the list of the provided download managers, most of them offer all these features.
Although, you should try a few to pick a final choice. A download manager with batch downloads, segment downloads, download resume feature, and good browser integration is all that you need.