The bundled Apple services subscription plan, Apple One, has been launched in India. The country gets the Individual and Family plan options, priced at Rs 195/month and Rs 365/month.
Apple introduced the bundles last month with the Individual, Family, and Premier plans, but didn't announce the Apple One release date. Now the service is launched in India, minus the Premier plan. This translates to no 2TB iCloud space or Apple News+ for users in India.
Apple One Plans And Pricing in India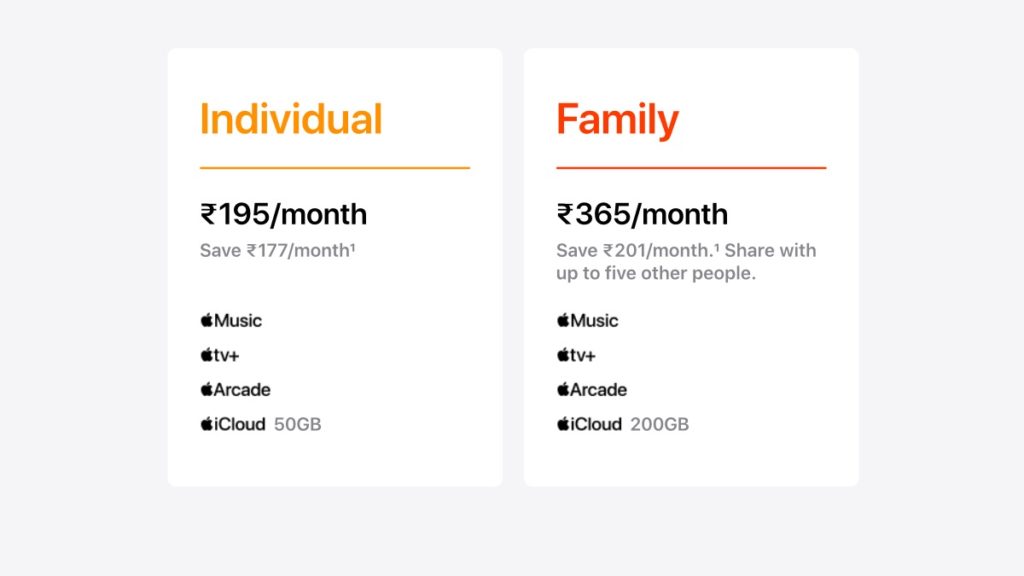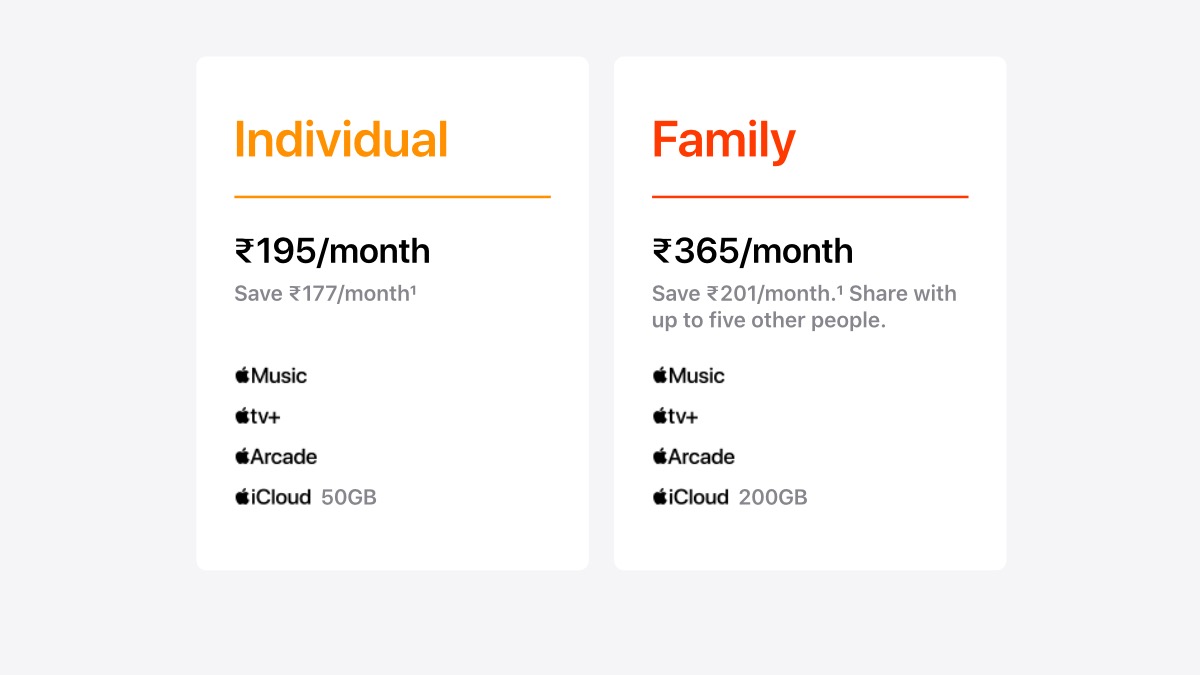 In India, the Apple bundle brings Individual and Family plans for the Apple One service. Starting with the individual plan, you get Apple Music, Apple TV+, Apple Arcade, and 50GB iCloud storage for Rs 195/month. If you go with the family plan instead, you get the same bundle but with an upgraded 200GB iCloud storage for Rs 365/month. As the name suggests, the family plan lets you share your Apple One Plan with up to 5 family members.
Also Read: 256GB iPhone Vs 200GB iCloud Online Storage: Pros And Cons Explained
If we do the math here, then the standard Apple Music, Apple TV+, Apple Arcade subscriptions will cost you Rs 99/month each. Combined, the trio will cost you Rs 297/month. Throw in the additional 50GB iCloud space (priced at Rs 75/month), and the total goes up to Rs 372. So if you get an Apple One subscription, you're saving Rs 177/month and getting the exact same services. The family plan saves you Rs 201/month.
There's a third Apple One bundle as well, which isn't coming to India. The premier plan, which includes Apple News+ and the upcoming Apple Fitness+, isn't available for Indian users right now. Another benefit of the premier plan is 2TB iCloud space with family sharing. If you use Apple Music, Apple TV+, Apple Arcade, and need additional iCloud storage, Apple One bundles are a great deal. You can get an Apple One subscription here.