Chinese smartphone manufacturer Xiaomi has finally unveiled its new wireless AR smart glasses. The company showed off the prototype AR headset at Mobile World Congress (MWC), calling it the "first wireless AR glass to utilize distributed computing." The AR glasses use Qualcomm Snapdragon XR2 Gen 1 chipset similar to the Meta Quest 2 and Pro.
While the company didn't share the full specs, they did showcase a few highlight features. The device is called 'Xiaomi Wireless AR Glass Discovery Edition' and is more or less a prototype despite being such an amazing product.
Xiaomi Wireless AR Smart Glass Features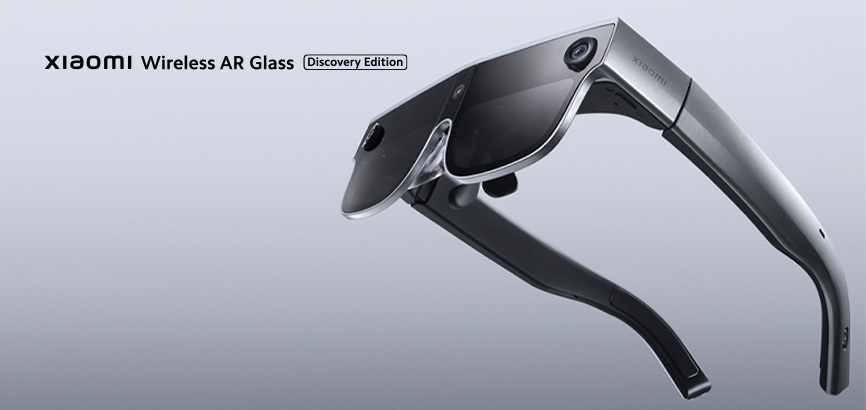 The AR glasses feature two micro OLED displays with "retina-level" resolution and 58 pixels per degree (PPD). The company has yet to announce a resolution or FoV for the device. However, In a hands-on session, XDA Developers surmised that the displays "pump out full HD visuals at 1,200 nits of brightness."
They also mentioned that the product felt ready for production, with the only issue being the short battery life. It seems Xiaomi is trying to improve the battery life and reduce the cost of production before launching the AR glasses. The company also showcased a similar prototype AR device in 2021.
AR smart glasses also need a compatible smartphone to play AR games and apps. Fortunately, the device can be connected wirelessly with a latency of just 50ms, which is hard to notice. Users can also use onboard hand-tracking and smartphone-based touch controls to interact with the apps.
The device supports hand tracking using the cameras on the front end of the glass. According to Xiaomi, the AR glasses weigh 126g and even feature an attachable glasses clip for near-sighted users. The device also features electrochromic lenses that adapt to different lighting conditions and even have a 'blackout mode' to function as a VR headset.
There are no details on the price or availability of the Xiaomi AR glasses yet. However, the company is working closely with Qualcomm to ensure compatibility with Snapdragon Spaces-ready smartphones. Let us know your thoughts about AR glasses in the comment section below.