Xiaomi has been testing an app drawer in MIUI devices for a long time. But against the grain, it didn't include the feature in the latest MIUI 11 update.
In its place, the Chinese smartphone maker announced that devices running MIUI 11 would soon get an app drawer.
While there is no official news on the app drawer feature roll-out, we have discovered a way to get the app drawer on MIUI 11 devices right now.
How to get the app drawer in MIUI 11 devices?
The app drawer is part of the MIUI system launcher. Back in November, the alpha build of MIUI launcher enabled app drawer in several Xiaomi devices; however, the update was restricted to devices running MIUI 11 China ROM.
Now, the latest preview version of MIUI system launcher enables app drawer on devices running MIUI 11 Global ROM as well. Here is how to enable the app drawer on your Xiaomi device –
Download the MIUI system launcher latest alpha build
Open the installation package

Enable "Allow from this source" in the Install unknown apps settings (if applicable)
Once the build is installed, long-press on the home screen

Tap on Settings, select more. This will take you to Home screen settings
Now, tap on "Home screen."
Select "With app drawer" home screen layout
Now, swipe up on the home screen to use the much-awaited app drawer on your Xiaomi device.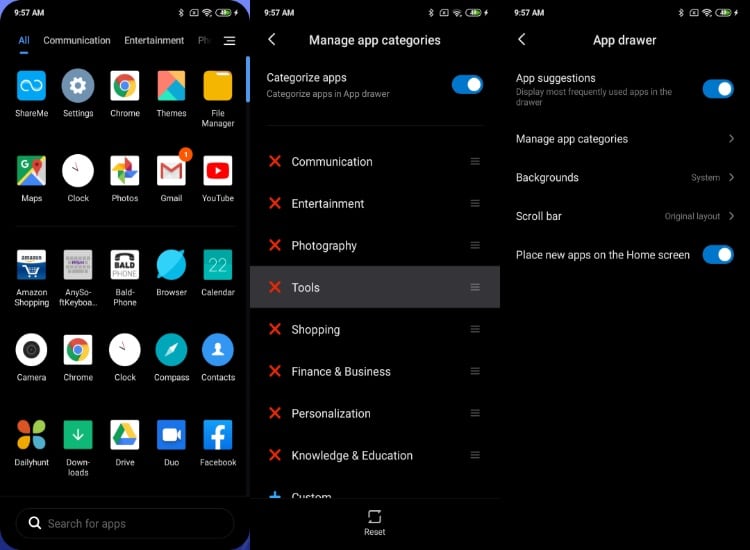 Users can also make changes to the app drawer, such as which app categories to display, changing the background color, and much more.