Android 10 went out live two months ago, smartphone users still Google search every day to see if their device is lucky enough to get the latest Android update.
But Xiaomi users, on the other hand, are not nearly as excited about Android 10 as they are about MIUI 11 — the next-gen OS update for Xiaomi and Redmi devices.
Let's look at some of the main aspects of the MIUI 11 such as MIUI 11 release date, features and the list of supported Mi and Redmi devices. In a nutshell, everything you need to know about the upcoming MIUI update.
MIUI 11 Release Date in India
Xiaomi first unveiled the MIUI 11 China ROM at the Mi Mix Alpha event in September. One month later, Xiaomi announced the MIUI 11 Global ROM at an event in New Delhi India on October 16th.
MIUI 11 Best Features
Xiaomi has been working on the MIUI 11 for a long period of time, it goes without saying the latest update from Xaiomi packs a bunch of cool features
1. Design changes to UI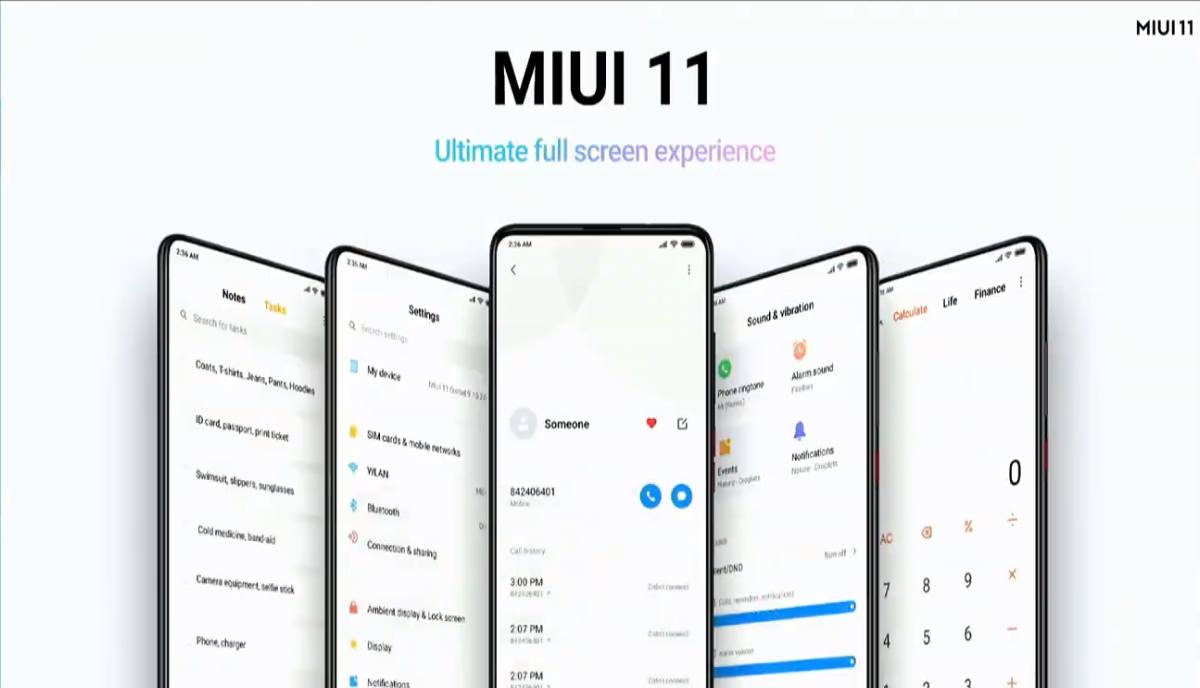 With the MIUI 11, the Chinese tech giant has tried to add a minimalistic design to the interface.
The most noticeable part is the new colorful iconography on the settings page. Also, there is a new font titled 'Milan Pro', alongside plenty of white space all over the place. There are new lock animations as well.
MIUI 11 also features dynamic video wallpapers that one can apply to the home screen.
2.Mi Share file-transfer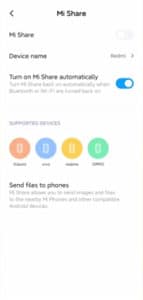 Back in August, Xiaomi joined hands with Oppo and Vivo, under the "Inter-Transfer Alliance group" to create an Air-Drop-like superfast file transfer feature.
The feature, known as Mi Share is made finally made available with the MIUI 11. Located under the connection and sharing feature settings, the feature enables Xiaomi users to exchange photos, files, and documents to other devices such as Vivo, Realme and Oppo via a single tap.
We haven't tested the feature, meanwhile, Xiaomi claims that he file-transfer will work on Bluetooth and will deliver speeds up to 20 MB/s.
3. Enhanced Always-On-Display
Always-on-display has been always appreciated by Mi users. In the next MIUI version, users will see more customization options in the feature.
With the Redmi K20 series, Xaiomi brought interesting clock styles on the always-on display. This time, Xiaomi is adding dynamic clock styles, new patterns and options to add customized personal text on the always-on display.
The latest MIUI update also adds edge lighting on the lock screen that will show up as soon a new notification arrives on your Xiaomi device.
4. Digital Wellbeing, or should I say Screen Time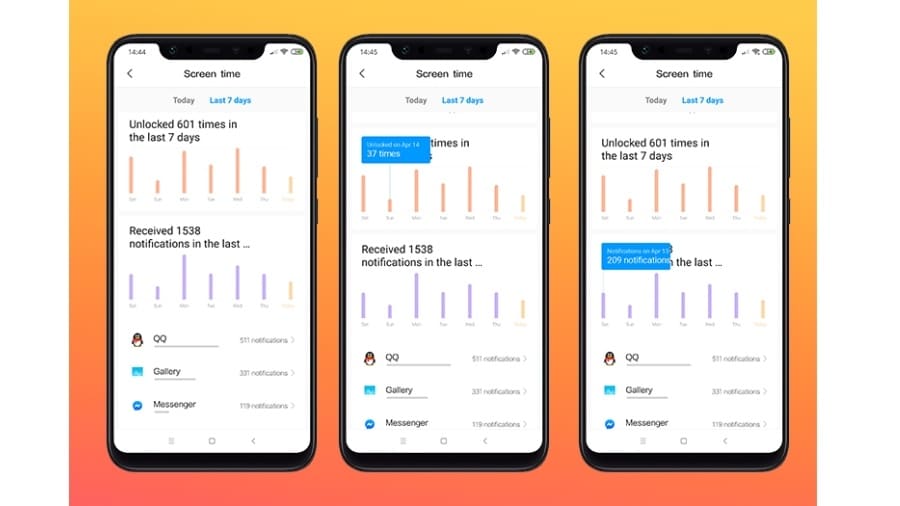 The Android 9 Pie feature rusting on MIUI 10 beta versions has finally issued to all Xiaomi users with MIUI 11.
Digital Wellbeing or Screen Time for Xiaomi users will allow users to track the time spent on their smartphones. They will also be able to limit the time spent on applications.
If you can't wait to get Digital Wellbeing, here is a method to get Digital Wellbeing features on your current Xiaomi device.
5. Quick Replies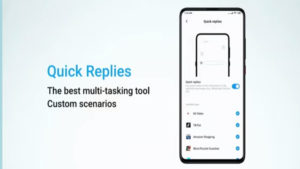 Xiaomi MIUI 11 includes the "Quick Reply" feature that was first introduced in the Android 9 Pie. This will allow users to reply to the home screen without needing to open the application.
So, if you would click on a notification while using a different app, the feature will allow you to reply to the notification then and there without taking you to a separate app.
5. Ultra Power Saving Mode
If you have upgraded to the MIUI 11, you will find an Ultra Power Saving mode is under the Battery settings.
With this mode, all apps and features except texts and calls will be turned off.
The color of the screen will turn black and white. Other than that, you would be able to allow only a certain number of apps while the power saving mode is active.
6. Mi Work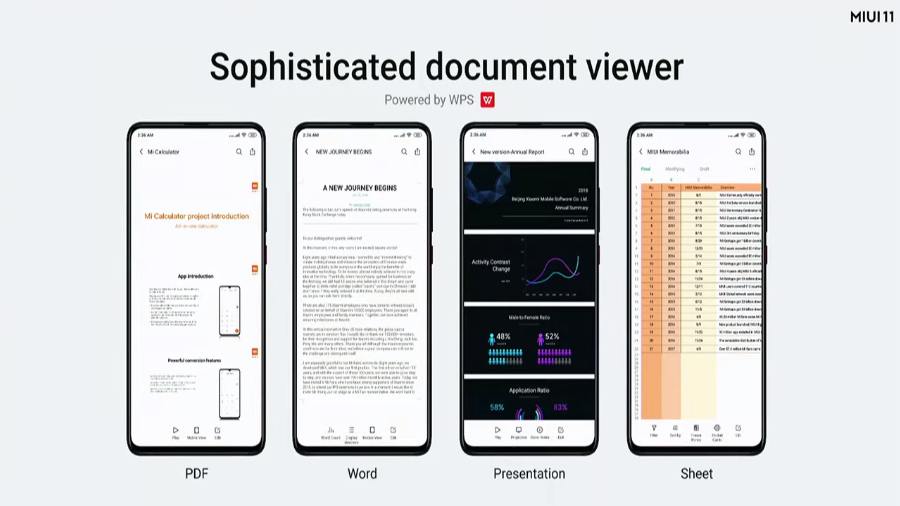 In order to improve the productivity of users, Xaiomi has overhauled the file manager app by introducing thumbnails of files based on the file type.
The highlight of the new file manager app is that you can view documents without needing any extra software. Xiaomi has also added Task functionality under the To-Do app and users can access the created tasks just by right-swiping on the home screen.
7. What else is new in MIUI 11 Global ROM?
System-Wide Dark more with Dark Mode scheduler
Dynamic ambient sounds for alarms, ringtones and more
Casting documents, photos, games, etc with ScreenCast
Wireless printing
MIUI 11 list of supported devices
In parallel to Android users desperately waiting for Android 10 on their devices, we are seeing a similar emotion in the Xiaomi fans for MIUI 11.
Here is the complete list of Xiaomi and Redmi devices receiving the MIUI 11 Global ROM –
Phase I [22- 31 October]
POCO F1
Redmi K20
Redmi Y3
Redmi 7
Redmi Note 7
Redmi Note 7s
Redmi Note 7 Pro
Phase II [4 – 12 November]
Redmi K20 Pro
Redmi 6
Redmi 7 Pro
Redmi 6A
Redmi Note 5
Redmi Note 5 Pro
Redmi 5
Redmi 5A
Redmi Note 4
Redmi Y1
Redmi Y1 Lite
Redmi Y2
Redmi 4
Mi Mix 2
Mi Max 2
Phase III [13 – 29 November]
Redmi Note 6 Pro
Redmi 7A
Redmi 8
Redmi 8A
Redmi Note 8
Phase III [18 – 26 December]
And how can we forget about the Xiaomi Android One series? Mi devices that get the authentic bonafide Android experience seen in the likes of Google Pixel 3.
Mi A2 and Mi A3 are certain to get Android 10, however, it's difficult to say about Mi A1 considering it was released way back in 2017.
How to Get MIUI 11 on your Xiaomi device?
Users can either wait for the official MIUI 11 stable version to roll out or they can install the beta versions.
While there is no knowledge of the beta versions of the global ROM, Xiaomi has started rolling out a closed beta version of MIUI 11 China ROM.
Currently, Android 10 based MIUI 11 closed beta version has been rolled out Xiaomi Mi 8, Mi Mix 2S, and Mi Mix 3.