Staying anonymous has become the need of the hour right now. And no, using the incognito or private mode in your web browser will get you nowhere. Your internet provider can track the websites you visit — this is where we talk about virtual private networks that help people achieve anonymity on the web.
Now, there are many good VPN services, but the security they offer comes at a price. What if you just want to visit any blocked website, change your region, or do some work that's not a top-secret project? For example, when your government has blocked access to YouTube. Here, you can use many free VPN services that offer a decent amount of features at no cost.
Moving on the similar lines, we have created a list of some of the best free VPNs that you can use right now on your PC or smartphones. What's the great part is some of these don't require you to go through complex setups and jumble through too many confusing features.
In your free time, you can read more about virtual private networks:
5 Best Free VPN Services For 2020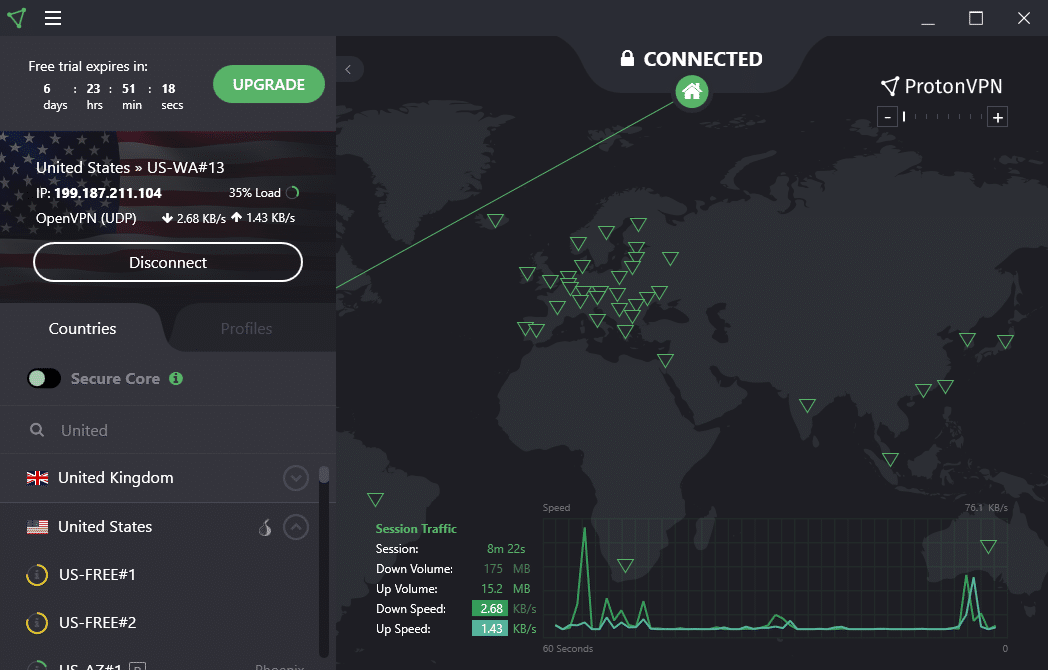 It is a free VPN service offered by Proton Technologies, which is the company behind the popular, secure email service ProtonMail. Although you can go with paid plans, the free version of ProtonVPN offers enough features and security to get the ball rolling.
It doesn't seem to cut down in the security department, an area where no-cost VPNs usually fall short. One of the highlights of ProtonVPN is it provides free VPN software for Windows 10, Android, iOS, and other leading platforms.
What's great about ProtonVPN?
Provides free unlimited VPN bandwidth for the user
Doesn't show any ads
Doesn't log users' data
Users can access free VPN servers in 3 countries
Provides decent speeds over the VPN connection (less than paid version)
What's the bad part?
Offers only one simultaneous connection
Requires user account to work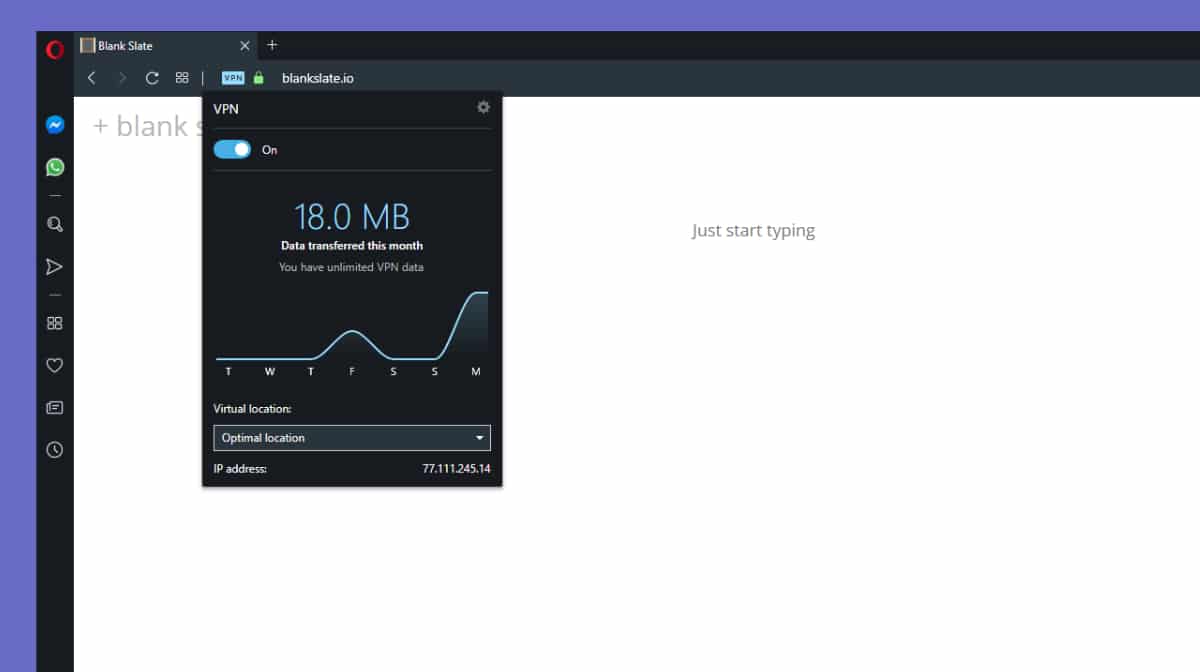 You might have heard about the popular Opera browser. It also comes with a free unlimited VPN built-in that prevents third-party sites from tracking you by hiding your IP address.
It's a great option for those who want to unblock websites in their region. The VPN service is available for Windows 10, macOS, Linux machines via the Opera browser. Recently, it has been made available for Android as well.
What's great about Opera Free VPN?
Works inside the browser (No separate installation required)
Doesn't log user data
Doesn't display any ads
Works in incognito mode
Provides free VPN servers in America, Asia, and Europe
Can bypass VPN for default search engines
What's the bad part?
Can't be used with other apps
3. Cloudflare VPN (Android, iOS)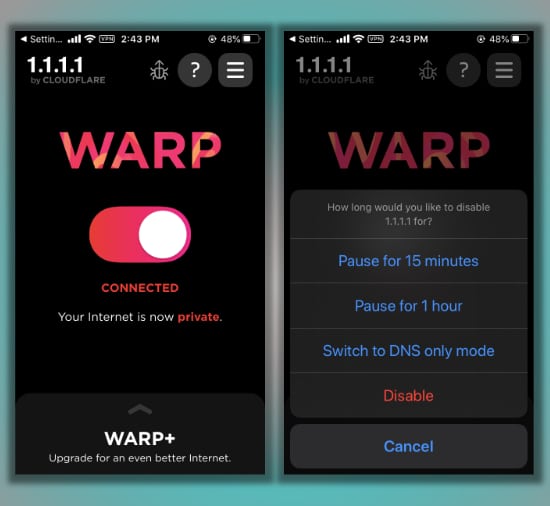 Cloudflare is mostly known as a web infrastructure and CDN provider. But recently, it has forayed into other areas, including DNS and virtual private networks.
The company launched its free VPN for Android and iOS, called Warp, back in October 2019. You can use the same via dedicated apps for both platforms.
However, because of the way it works, Cloudflare has mentioned that Warp should be seen differently from regular VPN services.
What's great about Cloudflare VPN?
1.1.1.1 app has a neat UI and single-click VPN setup
Provides custom DNS for faster lookup queries
Can be enabled/disabled for WiFi and Cellular networks
Can be configured to pause for specific WiFi networks
Increases VPN bandwidth by 1GB per referral
What's the bad part?
Limited VPN bandwidth available to users
PC version not available for VPN service
4. Speedtest VPN (Android, iOS)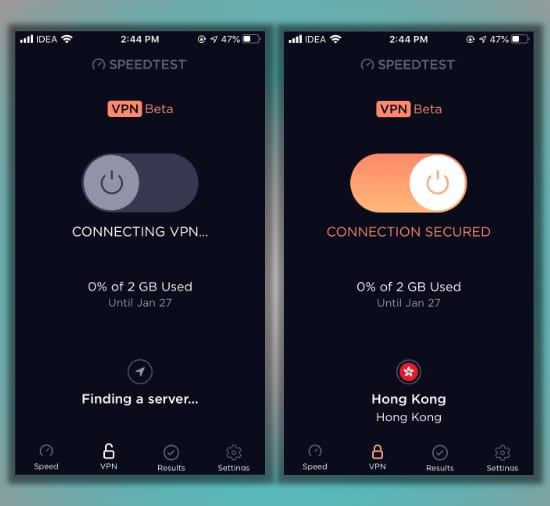 The latest option in town, Speedtest VPN, is provided by Ookla that is already known for its popular internet speed test tool.
The VPN service is offered for free but comes with a data cap that could turn down some users. It's available for Android and iOS right now via the Speedtest app, with a PC version coming in the future.
What's great about Speedtest VPN?
Comes built-in with the Speedtest app for Android and iOS
Supports zero-logs policy and doesn't collect online activity
No noticeable degradation in download speeds
No account required to use the VPN service
What's the bad part?
User can't pick a server location
Offers limited VPN bandwidth (2GB per month)
Interested in knowing about free Open Source Virutal Private Networks, do check out the list of opensource vpn servers that you can use in 2022.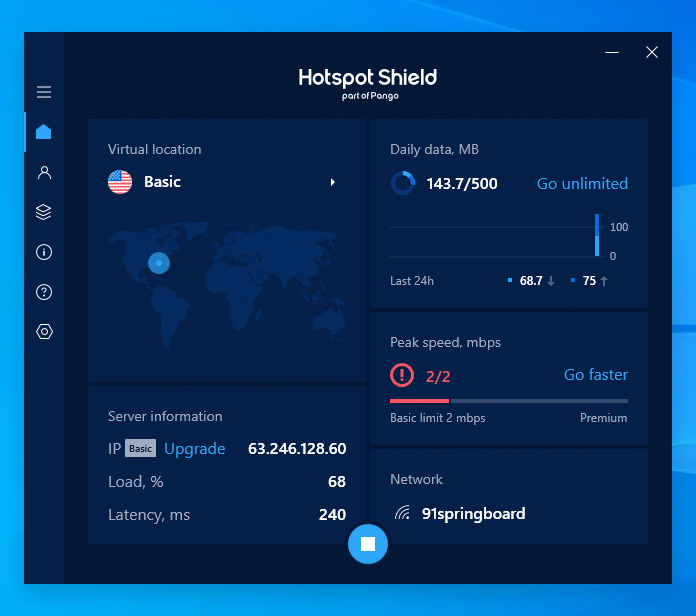 When it comes to the best free VPNs for PC and smartphone, Hotspot Shield is quite a known name in the market. This VPN service is owned and operated by the US-based internet company AnchorFree.
However, as happens with no-cost VPN services, privacy is one thing you shouldn't expect here also. In the past, VPNMentor discovered DNS leak problems with Hotspot Shield that are known to have fixed in updated versions. Therefore, we recommend that you use it for tasks that do not involve the exchange of confidential information.
What's great about Hotspot Shield?
Provides single-click free VPN connectivity
Works across the operating system and all apps
Shows stats such as download speed, latency, load, bandwidth used, etc.
What's the bad part?
VPN download bandwidth is not limited
A limited number of servers under the free plan
So, these are some of the free VPN services you can use for casual purposes. We'll try to update this list with more free VPNs in the future.
Are free VPNs safe?
Of course, you can't expect super-strong encryption and increased anonymity when you're not paying for a VPN service. But if you're getting a VPN service from a company like Proton Technologies that is widely recognized for its privacy-focused offerings, you can feel a bit relaxed. Opera Free VPN also delivers very stable performance and doesn't show ads which means less tracking.
In short, if we talk about the service itself, there are some good free VPNs that you can call safe. Talking about the level of security and privacy they offer is another story. These VPNs can be a great option for everyday browsing on the web and unblock websites you can access in your area.