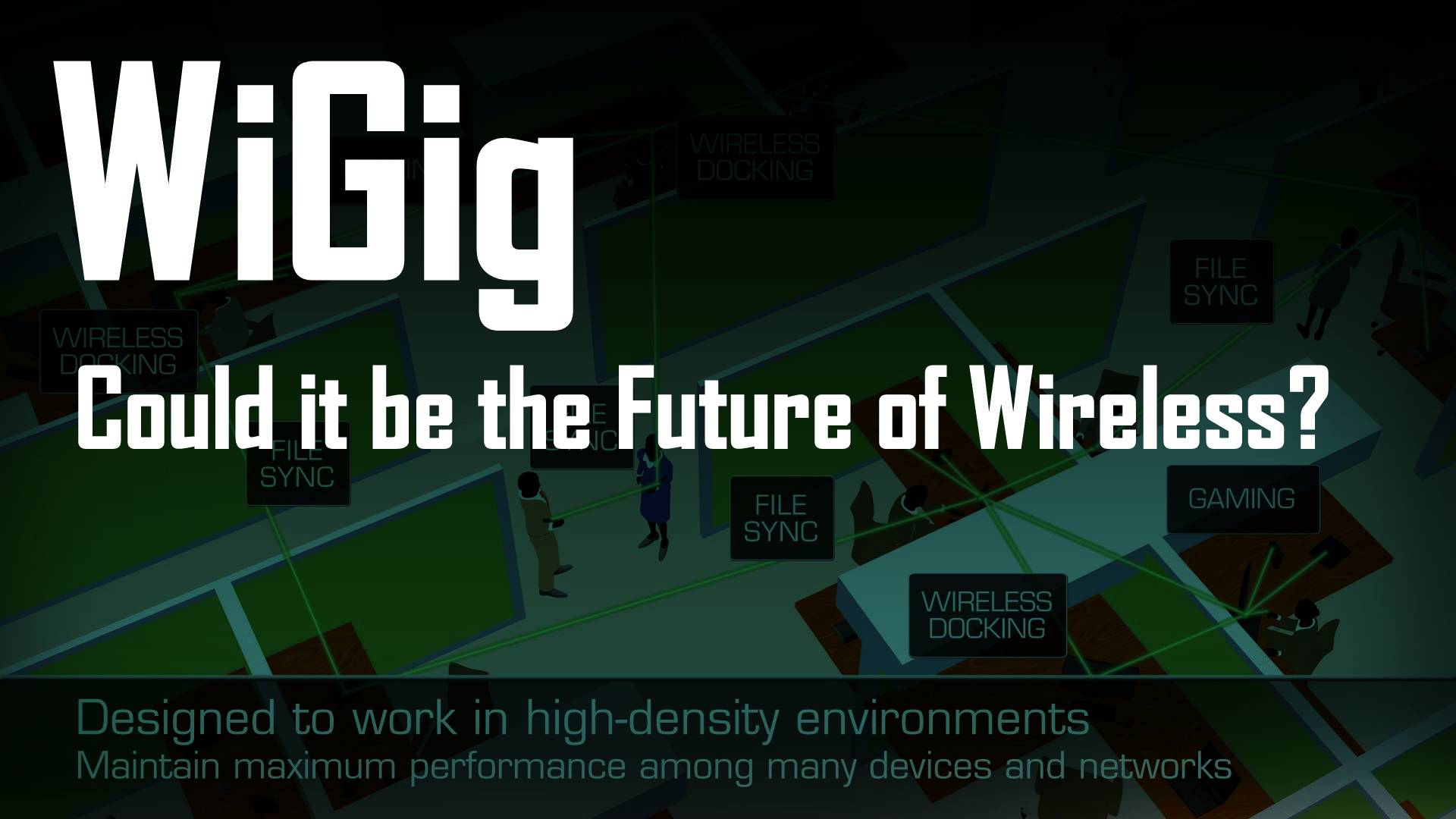 Short Bytes: WiGig Alliance has been working on a new specification set that'll allow devices to attain speeds up to 7 Gbits/s while operating on the unlicensed 60 GHz spectrum. Let's know about WiGig in detail.
I
f you're the one who finds himself a slave in the bunch of all the cables and versatility of those cables regarding
different interfaces they've
, then you must read further. WiGig, a new technology has taken the responsibility to fight for your freedom and provide you a cable-free life.
Wireless Gigabit Alliance, or simply WiGig, was structured to facilitate the use of unlicensed 60GHz spectrum so as to harness multi-gigabit speeds with low latency and mark a new chapter in the history of wireless communication technologies. As of now, WiGig has been absorbed into the WiFi alliance which was in March 2013, and efforts are made to create devices having the capabilities of both WiFi and WiGig specifications.
WiGig has been promoting the IEEE 802.11 ad protocol since 2009, released its version 1.1 certification-ready specifications set in June 2011. WiGig has its aim to eliminate the need for wired communication between the devices, so you'll not be needing an HDMI cable once you start using WiGig-enabled devices. They've been working on enhancing the network performance so that devices do not feel the need of wires to transmit audio or video signals to other devices. It means you can be completely wireless.
WiGig does include the support for existing WiFi bands. Their tri-band enabled devices can simultaneously work on 2.4 GHz, 5 GHz, and 60 GHz. They only drawback of the high speed 60 GHz band is, it doesn't pose enough capabilities to teleport your data through walls, they can't penetrate through walls hence the WiGig devices are intelligent enough to use the low-frequency bands when a user moves away from the device. But the 60 GHz waves do have the guts to reflect from walls and ceilings using the beam forming powers built right into WiGig devices.
WiGig uses the 60 GHz spectrum to provide speeds up to 7 Gbits/s, came into existence with an aim to create an environment, where all the devices will be connected to each other all the time ready to share the data at a blink of an eye.
Where can it be used?
WiGig has been used to create wireless DisplayPort interface with High Bandwidth Digital Content Protection 2.0 feature.
Streaming of uncompressed videos wirelessly to display monitors, HDTV, etc.
It can be used to provide high-speed connection that can be for wireless storage devices and enable a constant connection between two devices at multi-gigabit speeds.
Collaborations:
WiGig has tied-up with USB so that its technology can be used to provide wireless powers to our most familiar friend. The goal is to create a Wireless USB interface supporting both USB 2.0 and USB 3.0.
VESA (Video Electronics Standards Association) has partnered with WiGig Alliance to come up with a formal specifications set and a certification program for Wireless DisplayPort devices providing multi-gigabit capabilities to the DisplayPort interface.
Other Fighters in the Ring:
WiGig is no single fighter alive, has its opponents, and they are also working very hard to be the ultimate heavyweight champion. UltraGig, or WirelessHD in the past, is a technology also working on 60GHz spectrum so as to provide wireless transmission of audio and video signals to display devices. The consortium is solely owned by Silicon Image, has been backed up by big names like Broadcom, Toshiba, Intel, LG, Samsung, etc.
Winding Up:
WiGig marks the commencement of a new era in the field of wireless communications. It'll change the way how we interact with our devices and will transform the whole ecosystem of devices into something we can't imagine how seamlessly will homogenize with our lives. WiGig is still in its nascent stage, and no more of it can be expected at this point of time. But there will be devices, sooner than we expect which will traverse the unfathomed extremity of wireless communications.
Update: Several manufacturers including TP-Link (Talon AD7200, you can get it on Amazon via this link.) and Netgear have launched their WiGig enabled routers in the market. However, these high-priced routers are still beyond the reach of the common households.
Also Read: Best Flying Cars of The Future, Pick Your Ride
Want to know more about WiGig, have a look at this video:
What if you are given a chance to use the WiGig, write your thoughts in the comments section below.