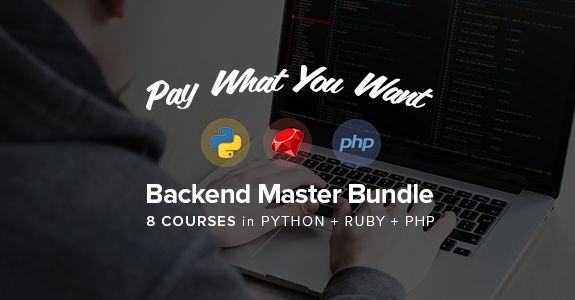 Short Bytes: Today, we are bringing to you the Back-End Developer Bundle that will teach you everything about building your own websites and apps. This pack contains 8 courses and you can grab them by paying what you want.
W
hile talking about web design and the new trends arriving on the scene, we forget about the back-end code that runs all the games and apps. So, if you are interested in building your own apps and websites, you can grab this Back-End Developer Bundle by
paying what you want
.
This Back-End Developer Bundle includes a variety of courses, ranging from Python, Ruby, and PHP. With these eight courses and 95 hours of training content, you will learn everything from scratch.
You'll find this bundle helpful even if you are just a beginner in the programming world. With this course, you get the liberty to start everything at your own pace and become the master of these three key back-end languages.
And, 10% of the profits from purchases will go to Project HOPE. This charitable organization delivers essential supplies and medical assistance to disaster affected areas.
Take a look the complete bundle:
Learn Useable PHP in 14 Days Course
PHP for Absolute Beginners Course
Learn PHP Programming from Scratch Course
Beginner Python & Django Programming Course
Advanced Ruby Programming: 10 Steps to Mastery Course
Intermediate Python Course
Python for Beginners
Ruby Programming for Beginners
How does Pay What You Want work: With "Pay What You Want" bundles, you can get something amazing for as little as you want to pay. And if you beat the average price, you'll get the complete Back-End Developer Bundle.
Are you ready to get started?
Grab it here on fossBytes Deals: Back-End Developer Bundle