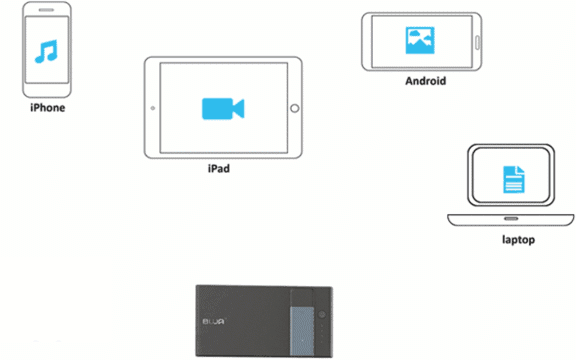 Short Bytes: U+ is a portable, wireless multimedia and data storage device perfect for family travel and everyday business needs. It is an all-in-one wireless storage device, serving as a multimedia center, seamless backup storage, external charger, and more. And it is all integrated and accessible through an easy to use App.
U+
was developed by BWA, a company formed in 2013, primarily focused on creating technology which can enable people to easily access their videos, music and business documents anywhere, anytime.
U+ is a product which fulfills that goal, it is a very powerful, yet simple, small, and portable wireless storage device.
Below are the features of U+ wireless storage device:
WIRELESS! All controlled by an APP via Direct Wi-Fi (device to device/ P2P) connection, no external data needed
Up to 12 hours continuous working time & 20 hours standby time
Supports MP4, MOV, AVI, RMVB, MKV, etc. mainstream video play
Built-in 1080P high definition video decoder to ensure smooth video playing
Supports up to 5 users watching any movie (or accessing any content) stored on U+.  Great for family road trips.  Kids watch their content, adult passengers watch their content, all streamed through U+.
Watch movies, listen to music, and access to business files, all at your fingertip. An all-in-one travel companion for business professionals
Unique power docking station with 4000mAh, can charge your devices whenever low on power
Instantly transfer files between U+ and your devices
Take selfies at ease with any easy to use selfie button
Low battery reminder
Customized naming of your photos for easy search
2 capacity options: 16G and 32G
Components of U+ includes Qualcomm CPU and WIFI, Samsung DDRII, high-speed Universal Flash Storage to ensure high-quality performance.
U+ is a well-designed product and it is available with two storage capacity options: 16GB and 32GB. U+ weighs around 4.6 ounces (130 grams). About the size of an iPhone 6, it is small enough to fit in any handbag or briefcase. It is even small enough to comfortably fit in your jacket pocket.
On the performance side, U+ has great performance. It is made up of components including Qualcomm CPU, Samsung RAM, high-speed flash memory to give a better experience.
https://youtu.be/6_tSt5-1Ieo
U+ is running its campaign on Kickstarter and will reach its target pretty soon. If you like it, can get your early access kit here at Kickstarter.
Did you like this device? Tell us in the comments.
Also read: Nextbit Robin is a Stunning Low-cost Phone With Free Unlimited Storage