Here's what will happen if you don't accept the WhatsApp policy. You can either comply with the new policy, or you can look for WhatsApp alternatives. Earlier this year, the new WhatsApp privacy policy was taken back by the company when it came under fire from a large section of its users.
Later, WhatsApp made a second attempt at explaining its new privacy policy. The company issued more detailed clarifications about what's in the new WhatsApp privacy policy. So if you're asking "what happens if I don't accept WhatsApp privacy policy?" — here's the answer.
Agree To WhatsApp Privacy Policy, Or Suffer.
If you disagree with the WhatsApp privacy policy after May 15, your WhatsApp account will effectively become a piece of trash. WhatsApp has created an FAQ page showing the stages of making an account inactive.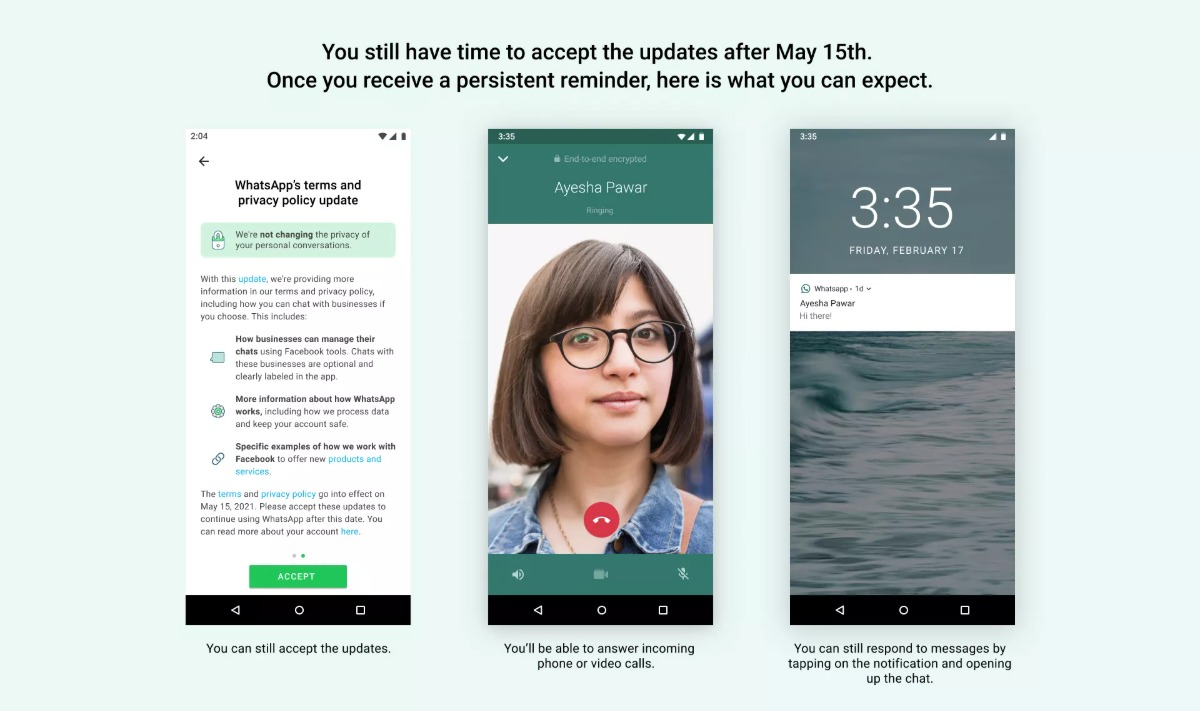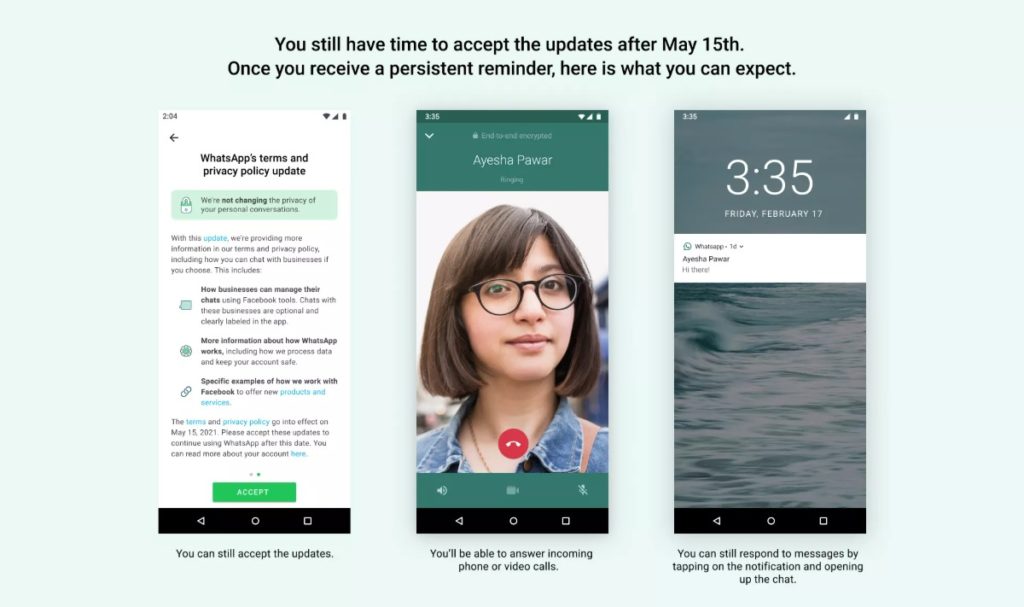 Round 1
During the initial days, WhatsApp won't allow you to access your chat list but allow you to make phone calls and video calls.
When the FAQ page appeared first in February WhatsApp said that users "won't have full functionality" until they accept the policy and "won't be able to read and send messages from the app."
WhatsApp has now updated the FAW page. You can see and respond to incoming messages as well as phone/video calls through notifications on your device.
Round 2
If you don't change your mind after a few weeks, WhatsApp will increase the difficulty level of the game. It will stop sending any messages, audio/video calls, or notifications to your device.
No, WhatsApp won't delete your account!
Continuing its previous stance, the instant messaging app has further clarified that your account won't be deleted if you don't accept the WhatsApp privacy policy.
However, it adds that the policy for inactive accounts would still apply. This means if your WhatsApp app is not connected to the internet for 120 days, your account would be considered inactive and deleted.
"An internet connection is required for an account to be active. If a user has WhatsApp open on their device, but they don't have an internet connection, then the account will be inactive," reads the support page.
One catch here is that WhatsApp says the data locally stored on your device will remain intact and it will reappear when you reregister from the same device. There is no mention of when (or if) the Google Drive/iCloud backup will be deleted and whether you'll be kicked out of WhatsApp groups. This generally happens when you manually delete your WhatsApp account.
If you're planning to switch to a different messaging app, you easily transfer your WhatsApp chats and groups to Telegram and the Signal app.
A Gun To The Head?
We understand that a platform needs to collect some data to function and offer the kind of integration WhatsApp offers. From placing food orders to getting movie tickets in my inbox, it is certainly convenient.
However, enforcing a WhatsApp business policy update to every user is unfair. The company can offer one-time permissions for collection and access to such data. That way, you can allow or decline sharing data with a particular business, even with WhatsApp.
Android and iOS offer one-time permissions for access to device location and other services. It is a tried and tested method, and it gives users control over when they want to share their data. From where I see it, WhatsApp is cutting off basic features to make users accept a policy that can and should be entirely optional.