If you arrived at this page, I am sure you must be looking for the best WhatsApp alternatives that are privacy-focused, given the recent policy changes implemented by the instant messaging app. Six years ago, when Facebook acquired WhatsApp, we all knew that it was a matter of time before our personal data would be shared with the social media giant. And I don't think there was any doubt about how that data will be used.
Well, that day has finally arrived with WhatsApp's updated privacy policy speaking loud and clear. WhatsApp is now forcing users to either accept the new policies or lose access to the messaging platform going forward. While the Facebook-owned platform continues to remain a free app with its so-called end-to-end encryption, it seeks your consent to collect and share your personal data with Facebook and Instagram.
Also, with Facebook evolving into Meta, we can only imagine the level of "integration" Zuckerberg has planned for WhatsApp, Facebook, and Instagram. Nonetheless, if you seek good privacy-focused alternatives that are far less intrusive than WhatsApp, this is the list for you.
Top 7 Privacy-Focused WhatsApp Alternatives In 2021
Fortunately, for those who wish to escape the all-seeing eye of Facebook and maintain their privacy, not all is lost. There are several other secure messaging apps that serve just like WhatsApp but won't invade your personal space. I have compiled them here:
| | | | | |
| --- | --- | --- | --- | --- |
| S. No. | Best WhatsApp Alternatives | Transfer Protocols | Encryption Used | Best Privacy Features |
| 1. | Signal | HTTPS/SIP Over WebSockets | Signal Protocol (X3DH + Double Ratchet + AES 256) | No User Records, Self-Destructing Messages |
| 2. | Session | TOR Onion Http | Modified Signal Protocol | No Phone Number Required, Decentralized Network |
| 3. | Threema | HTTPS | NaCl + AES 256 (Validation Logging) | No logging of IP Addresses or Metadata |
| 4. | iMessage | HTTPS/GSM | Double AES 128 | E2E Encryption, Make Payments |
| 5. | Elements | HTTPS | Matrix Network | E2E Encryption, Decentralized Storage |
| 6. | Wickr me | HTTPS | Wickr Secure Messaging Protocol | No IP Address Logs, Anonymity |
| 7. | Viber | HTTP/HTTPS – RTP (SRTP) | Double Ratchet | Invisible status, Secret Chats, Lock Messages With PIN |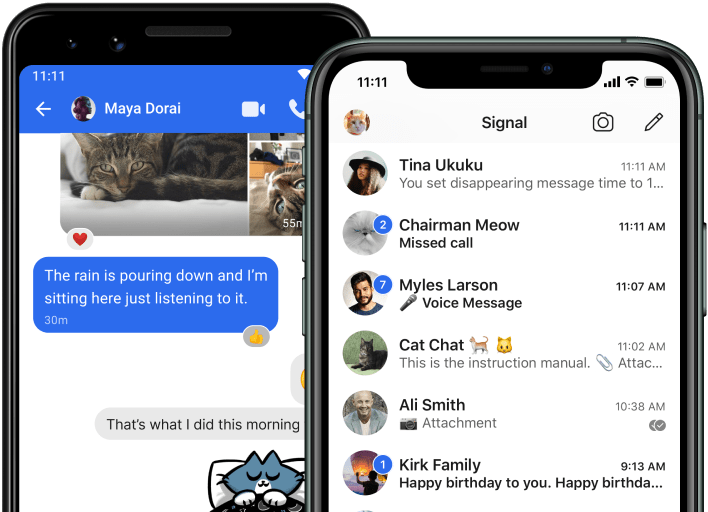 Signal is the best privacy-focused WhatsApp alternative you could go for in 2021. Don't believe me? Well, for starters, it does not collect any user information and offers end-to-end encryption just like WhatsApp. On creating a new profile, all it asks is your mobile number, but that too is not linked to your profile.
The phone number acts more like a numeric username in the case of Signal messenger. It is used to generate a private key which is just used for account registration and not for tracking you exactly. If this isn't enough, Signal has been endorsed by the likes of Edward Snowden, Elon Musk, and several other privacy/data security advocates.
In terms of features, you get one on one chats, groups, video/audio calls, disappearing messages, as well as a privacy lock to keep your personal messages away from the prying eyes of friends and family members. Its easy-to-use interface will make you forget WhatsApp in no time!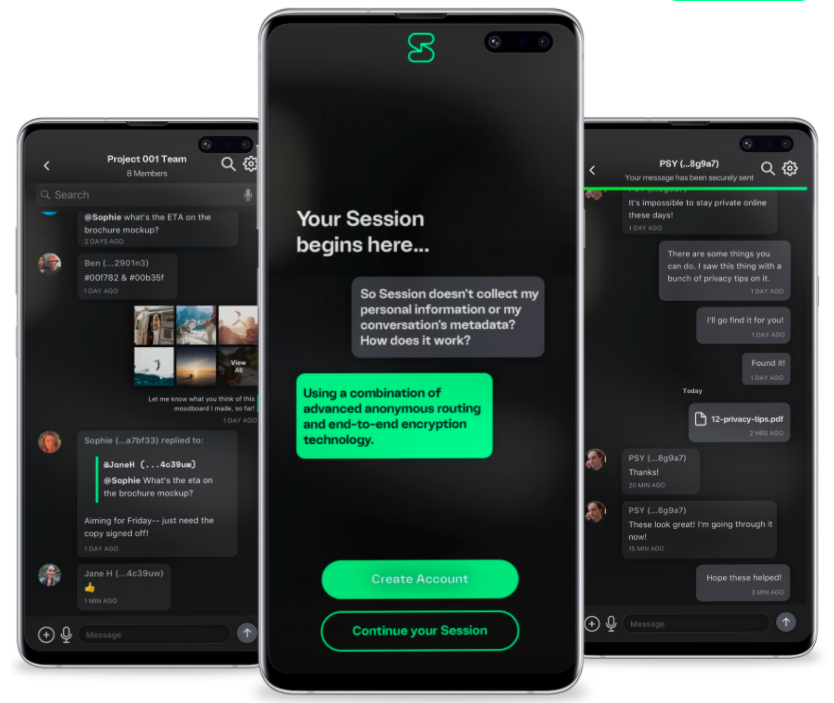 The first line of Session's privacy policy reads, "Session never knows who you are, who you're talking to, or the contents of your messages." The fact that it is an end-to-end encrypted messenger that focuses on reducing your sensitive metadata makes it one of the best WhatsApp alternatives in 2022 for users who want absolute privacy and freedom from any form of surveillance.
Session doesn't store any identifying information such as your IP address or your user agent, your phone number (yes! it works without number), e-mail ID, or any other information that can be tied to your real identity or used to create a user profile based on your activity. So you'll always remain anonymous on this platform.
This alternative to WhatsApp is open-source and offers a beautiful dark mode for users. You can do everything like group calls, voice notes, send attachments, etc., like WhatsApp. For a smooth multi-device switching experience, it uses a different solution from Signal's session management algorithm which protects your anonymity on a greater level.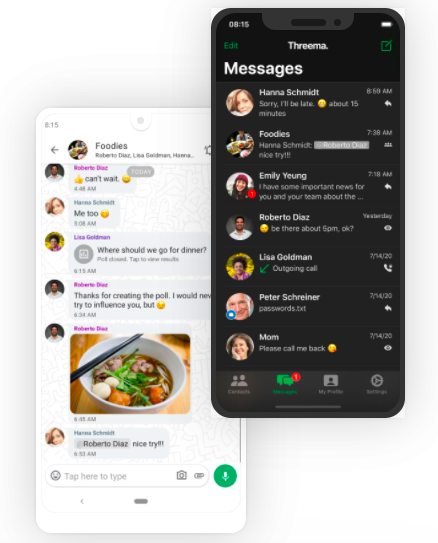 Threema, a messaging app like WhatsApp, takes security very seriously and encrypts all the data, including messages, shared files, and even status updates. It doesn't even require you to enter an email address or phone number to create an account. This offers an even higher level of anonymity.
What makes Threema one of the best WhatsApp alternatives is the fact that it is open source and does not log IP Addresses or metadata that helps in tracking users or profiling them. However, unlike the apps mentioned above, Threema is not a free app, and it doesn't offer a free trial either. You'd have to pay a monthly fee for the facility it provides.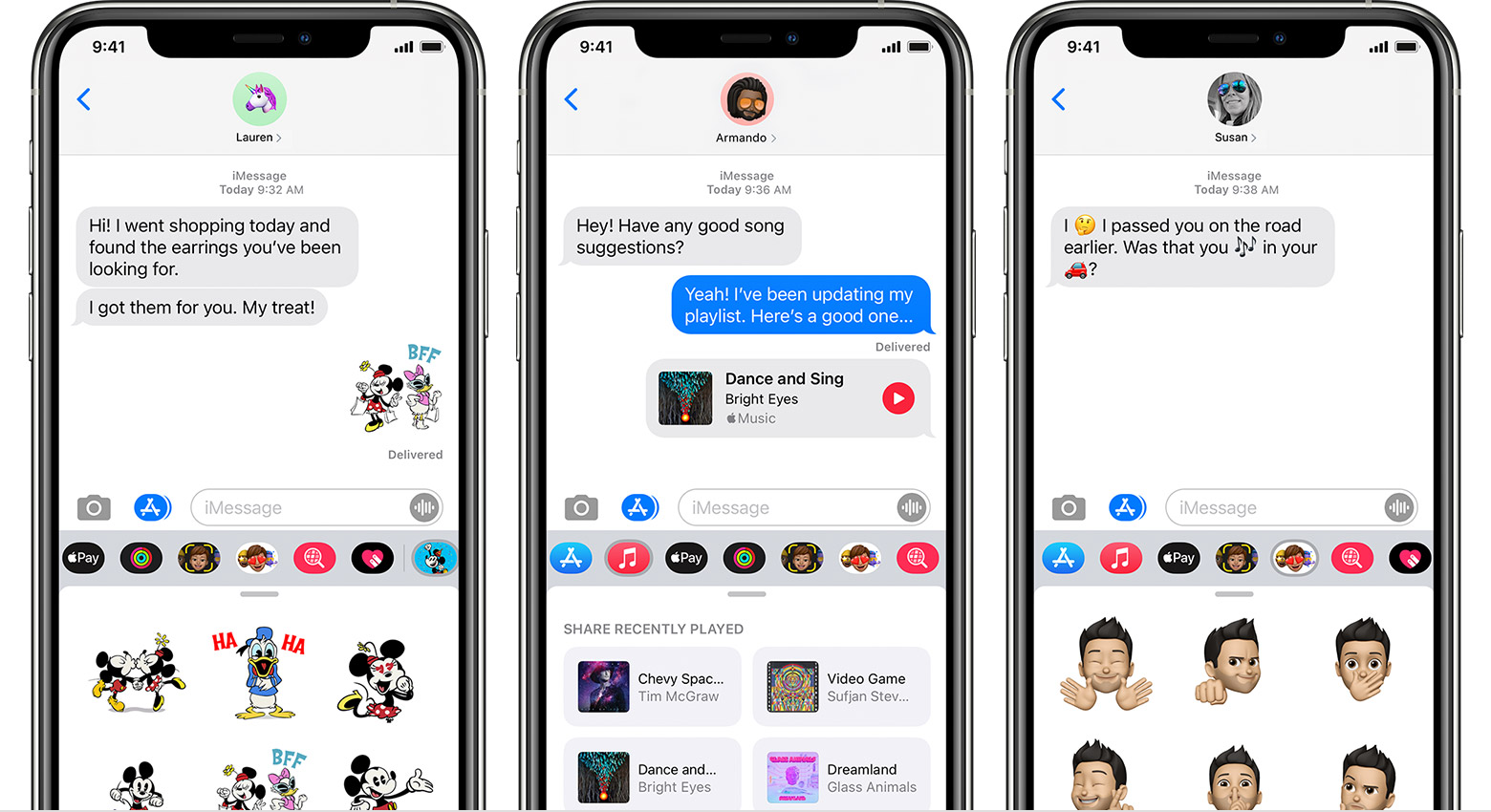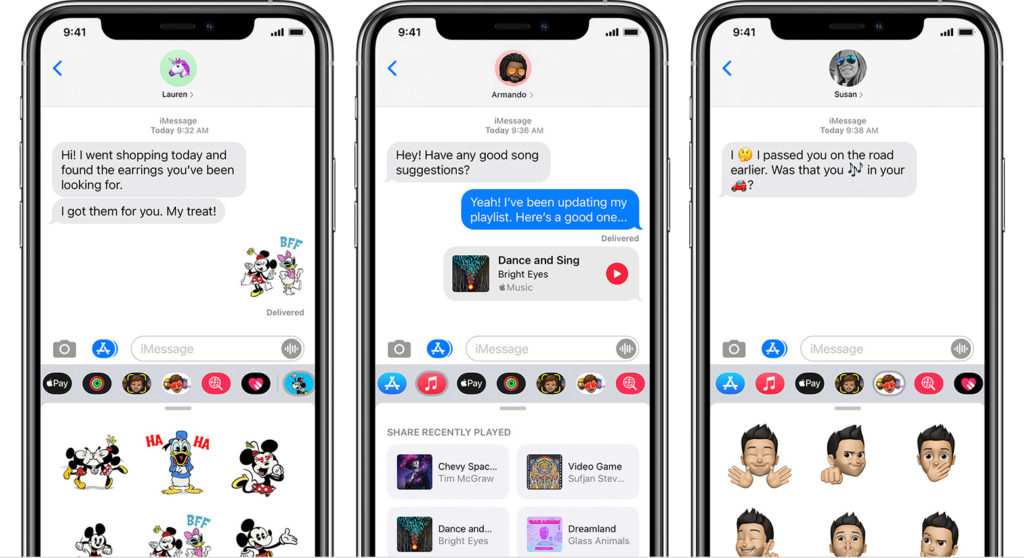 iPhone users are already familiar with iMessage, and it is an Apple exclusive app, but it is still worth mentioning when we talk about the best alternatives to Whatsapp in 2021. The reason is pretty simple: Apple gets the privacy game right more often than others.
iMessage also supports end-to-end encryption for maximum privacy. Apple encrypts iMessage on your device, so even it can't read messages while they're in transmission between devices. To read your messages, one either needs to have access to an unlocked Apple device that was a participant in the chat or the device's passcode or biometric login or backups.
As far as UI is concerned, iMessage is pretty impressive with its simple yet attractive interface. It lets you merge SMS with iMessage so that you can access all of it in one place. Apple also gave iMessage a facelift and new features with iOS 15. You can also make FaceTime calls over iMessage, and stream content using SharePlay from any of your Apple devices. The only con here is that iMessage is Apple exclusive, and you can't set statuses on this app like WhatsApp.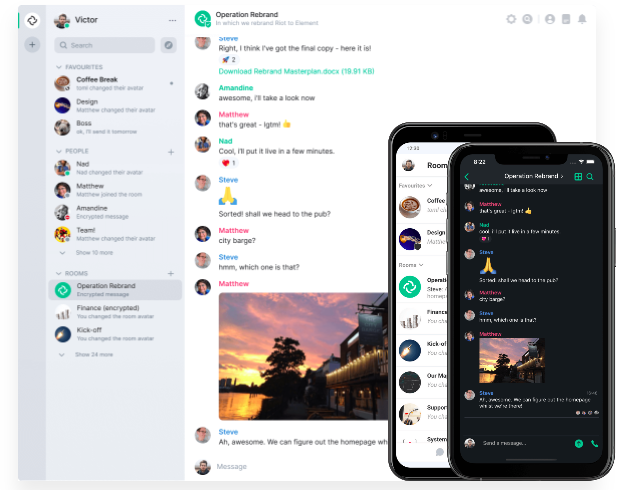 You might have previously come across Element under the names Riot or Vector. Apart from end-to-end encryption, it also offers decentralized storage, so when you sign up, you get to choose a server to host your messages– either pick a free one, host your own, or pay for one (mostly for enterprise).
Apart from that, you get all the features you need in this WhatsApp alternative, such as public and private rooms, file sharing, extensive control over notifications, read receipts, audio and video calling, and more. The best part is that it also runs directly on the browser if you don't feel like using the app on your smartphone. You don't need any personal identification details like email ID or phone number to sign up, thus maintaining your anonymity.
You get a secret key when you sign up on Element, and this key is needed to log into new devices (along with your username and password), so make sure you don't lose it. Apart from this, just like Slack, you can integrate other platforms too, like Google, Facebook, SMS, Skype, etc., for a seamless experience. Now, this is just an added feature but if you want to remain anonymous, I'd suggest not integrating any of these apps as they track you.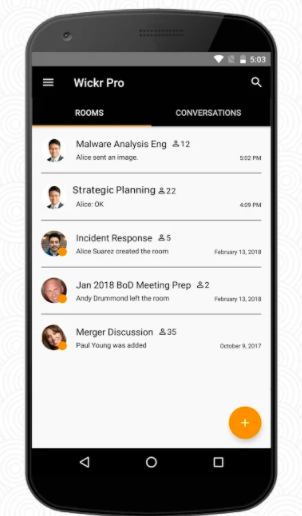 Wickr Me offers end-to-end encryption using the Encryption algorithms AES 256, ECDH521, and RSA 4096, with Perfect Forward Secrecy (PFS). It lets you create anonymous accounts and send disappearing messages and attachments which you don't want to exist forever. All user content is wiped from the device after the message expires.
Since Wickr Me does not log IP Addresses or Unique Device ID or record user metadata, it is easier to maintain anonymity on this platform. The app distinguishes its users based on their anonymous usernames. So only the person who has the correct credentials can log into a Wickr Me account.
The company has no way to identify the owner of a Wickr Me account because it has no access to your personal information. Even if you link a phone number in Wickr Me that data get encrypted and cannot be read by the company — which makes it one of the best WhatsApp alternatives.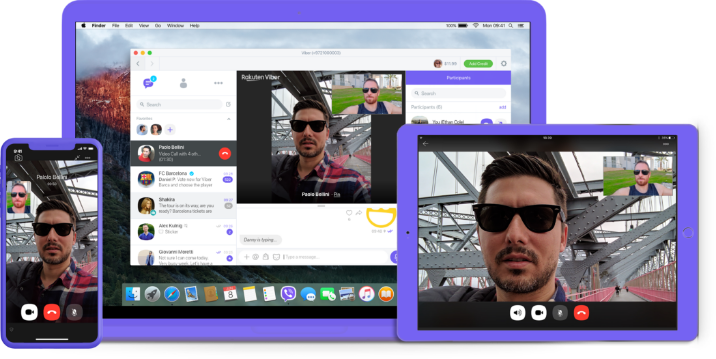 Viber is one of the oldest messaging apps that continues to serve as one of the best alternatives to WhatsApp in 2021. All messages on Viber are end-to-end encrypted and can be set on self-delete mode with a timer. The app also offers a Trusted Contacts feature that helps you verify the other user's identity in a chat by swapping secret keys. So Viber will update you if your contact changes their account details in the future.
Just like WhatsApp, Viber displays your online status, but you can disable this if you ever need to hide it. You can also disable read receipts, hide conversations, and lock messages with a PIN code.
This WhatsApp alternative lets you make audio and video calls to your contacts free of charge and just like Skype, it offers international calls at affordable rates. Meanwhile, you can also check out our article on alternatives to google play store here!
Secure Messaging With Best WhatsApp Alternatives In 2022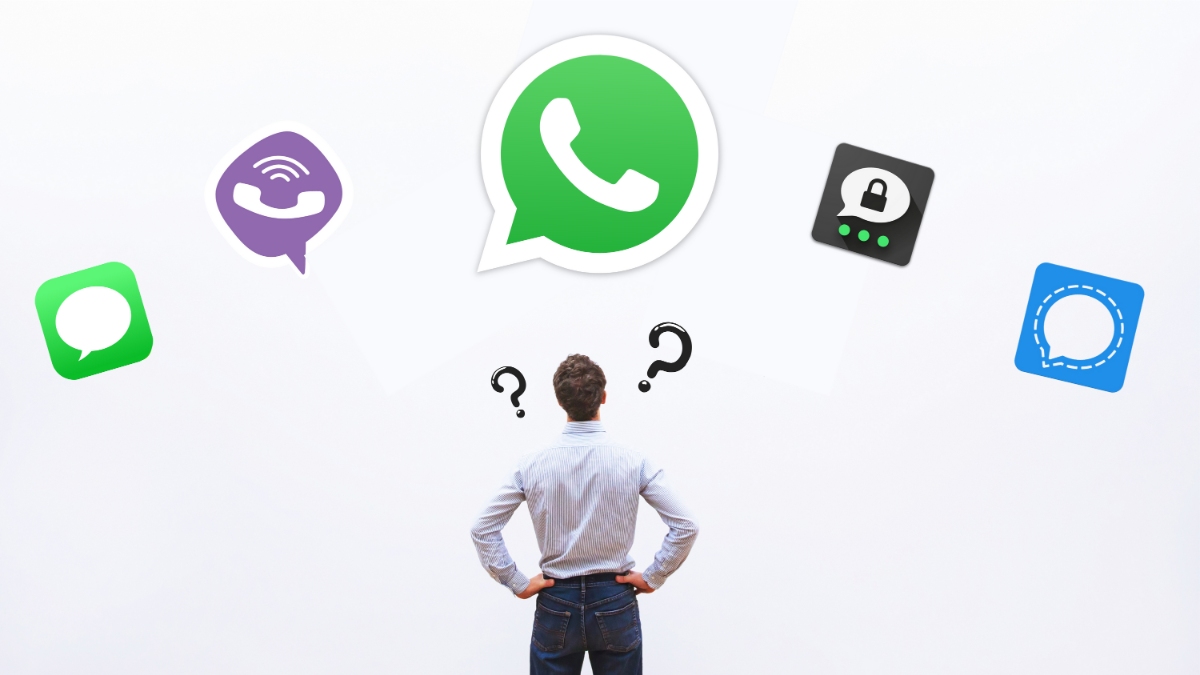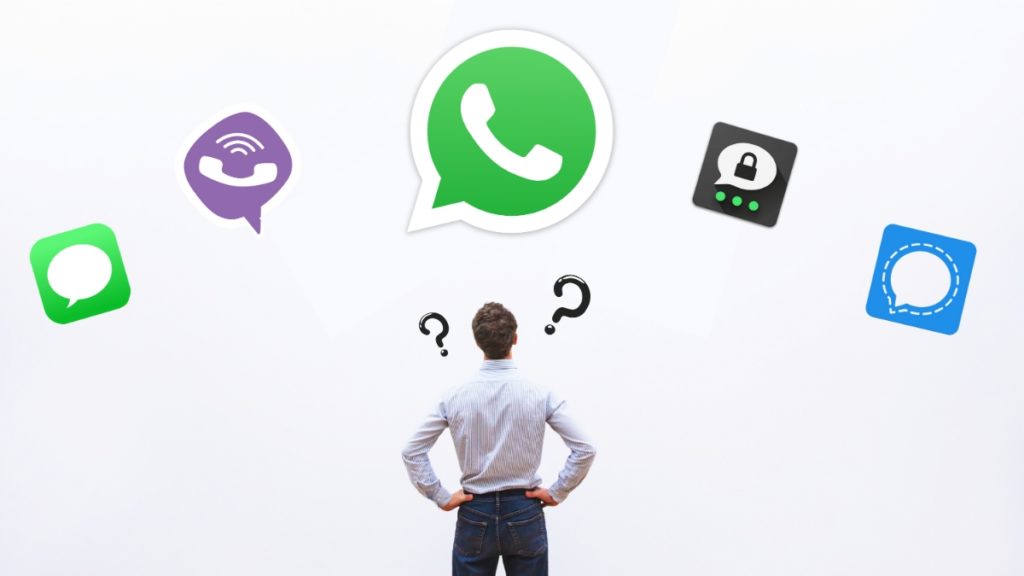 So these were the best apps like WhatsApp that are even better than WhatsApp on some front. Please note that I have compiled this list based on how secure an app is, how much data it stores on you, or has the ability to track your activities and create a user profile on you.
While these WhatsApp alternatives offer greater privacy, it's important to keep in mind that it's 2022, and the concept of privacy in messaging apps is becoming trickier day by day. As rightly said by Edward Snowden, "Online privacy is a myth." But we can always prevent the invasion of our privacy by opting for more privacy-focused WhatsApp competitors.
Meanwhile, if you feel that there is some worthy app that deserves to be on this list, feel free to drop your comments.