The WhatsApp privacy policy update debate is back on the roll. It is so because the company is yet again attempting to roll out the update. Although this time with much more clarity, the policies remain pretty much the same, and the questions remain unanswered.
The company announced in the past that it will attempt a second rollout. Since we already know about the WhatsApp privacy policy update for WhatsApp business, you can read about them in detail here. What's new is that this time, WhatsApp is unapologetic about the policy, and has issued clarifications from its end. Here's everything you need to know about it.
WhatsApp Privacy Policy: Attitude Adjustment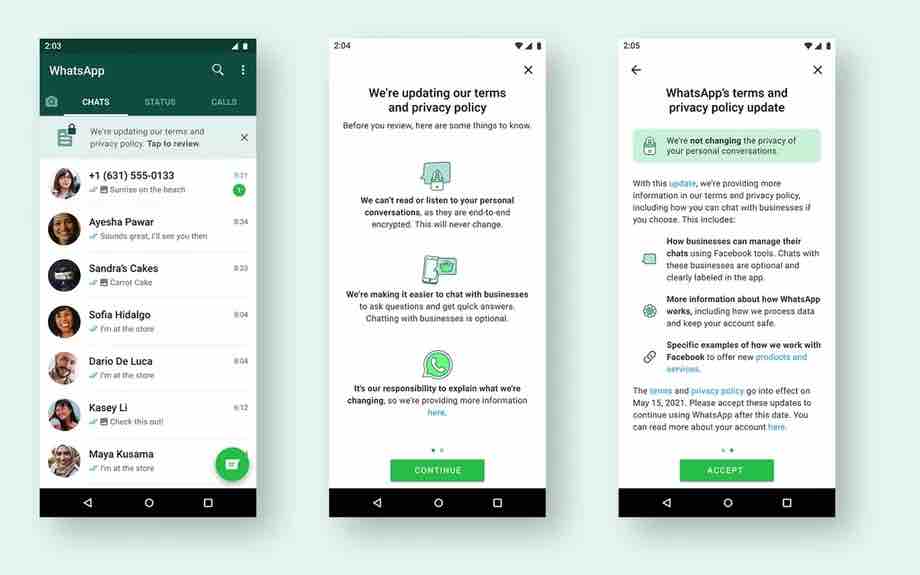 One of the major things we saw this time is an attitude change in the way WhatsApp is updating its terms. You'll soon see banners in WhatsApp, clarifying the new privacy policy. In the past too, we've seen WhatsApp status defending its new terms of services.
While the new policy applies majorly to WhatsApp business accounts only, it needs your consent whenever you chat with a business account. According to WhatsApp, the new policy allows businesses to use Facebook to manage inventory across platforms. Also, it will let WhatsApp business account holders generate automated replies for some queries.
For instance, when you book movie tickets with your mobile number, you can now receive those tickets on WhatsApp. It is an auto-generated message and it is convenient to be able to use those tickets from your inbox. Aside from these changes, there's not much that directly addresses businesses or customers.
However, Facebook's ownership of WhatsApp also means that your WhatsApp data will be used to target ads on Facebook. A simple example of this is when you interact with a business on WhatsApp, you're likely to see similar "relevant" ads on Facebook and Instagram.
The Unanswered Questions
We can appreciate Facebook and WhatsApp for this second attempt at updating the policies. The company is trying to counter any confusion around it which is good. What it lacks, is a clarification on how it will treat certain business accounts.
Let's assume a doctor or a lawyer is using a WhatsApp business account with Facebook integration to manage appointments. So far, it was clear that a doctor-patient chat or a client-attorney conversation is privileged information. This means it cannot be seen by any third-party.
But with the policy update, the automation is likely to feed some data to Facebook and WhatsApp. There are concerns around the privacy of doctor-patient and client-attorney conversations. If there's any possibility of the private chats being monitor, it needs to be addressed.
We've reached out to WhatsApp for a comment on the matter and will update the story if they respond. Till then, it isn't clear how encryption will work for doctors, lawyers, and other personnel using WhatsApp business and accepting the new policy.
WhatsApp To Telegram And Signal: Not Taking Names But Kicking It
In a recent blog post about WhatsApp privacy policy update, the company briefly talked about alternatives. The post reads, "We understand some people may check out other apps to see what they have to offer. We've seen some of our competitors try to get away with claiming they can't see people's messages."
Here, the platform is referring to alternatives like Telegram and Signal, which became popular as people didn't want to accept the new terms of services by WhatsApp. The company said that it wants to make its apps safe and reliable, hence requires some data to do so.
We also partially agree with this. WhatsApp has indeed grown into a simple and powerful app in the past few years. However, the new policy that shares user's data with Facebook to target ads is somewhere out of tune with WhatsApp as we know it.